Comics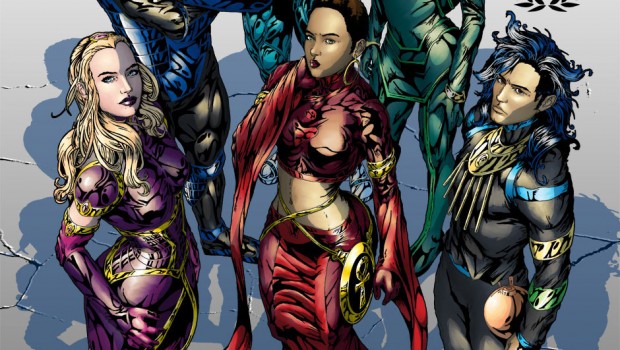 Published on October 2nd, 2015 | by Adam Atkinson
Indie Comic Corner – Celflux (Issues 1 and 2 Review) – Archer-Mcbain & Mcbain Jr.
Summary: Celflux is the story of a civilization ravaged by civil war. A civilization of planets that could not stand each other, but had created a peace treaty to try and maintain some remembrance of culture.
Welcome back to Indie Comic Corner, the comic review where we look for the indie comics that want/need a little more push. This week I was approached by Everard J. Mcbain Jr. about reviewing his comic Celflux, and I have to admit, I actually had heard of this one. I had been debating on it for sometime, but had really only heard good things about the flow, the story, and the artwork. I was already going into this expecting great things. Man was I ever happy I did.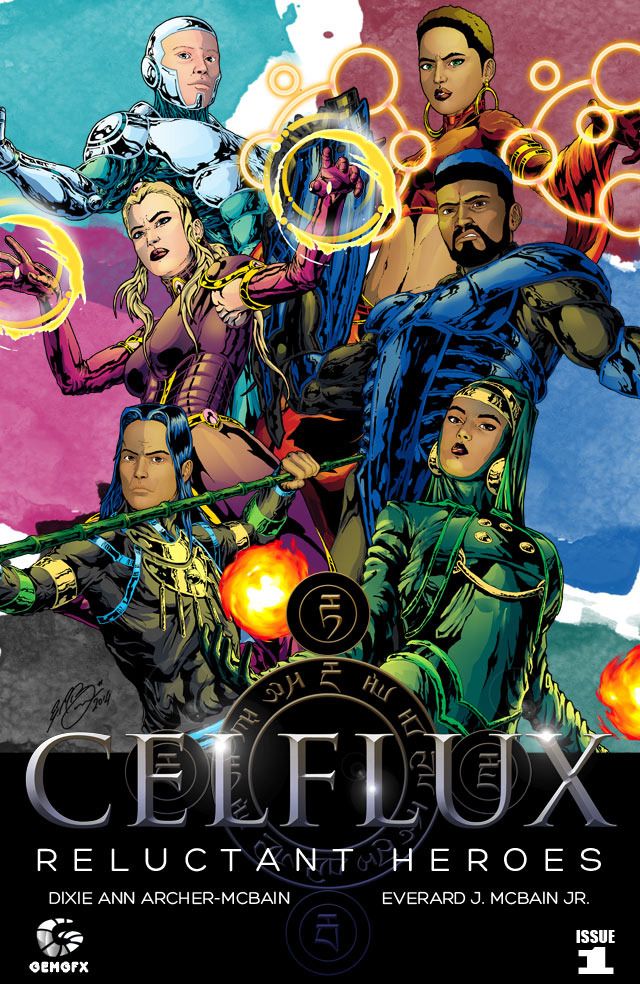 Celflux is the story of a civilization ravaged by civil war. A civilization of planets that could not stand each other, but had created a peace treaty to try and maintain some remembrance of culture. The Keepers are the governing body who help to rule over the people, keeping them as happy as they can, while secretly manipulating life in the background. Tricking the average person to believe that things are all perfect except for a small group of rebels known as The Dissidents.
Little did they know, one of their own Dr. Louis De Planq, has been secretly working on some sort of project, which is kept quite secret even from the reader in the opening issue. We do know it involves several people who have no memory of why they are in the same room together, but some memory of their life before being there. I will go as far as to say they are probably the last hope of a dying nation.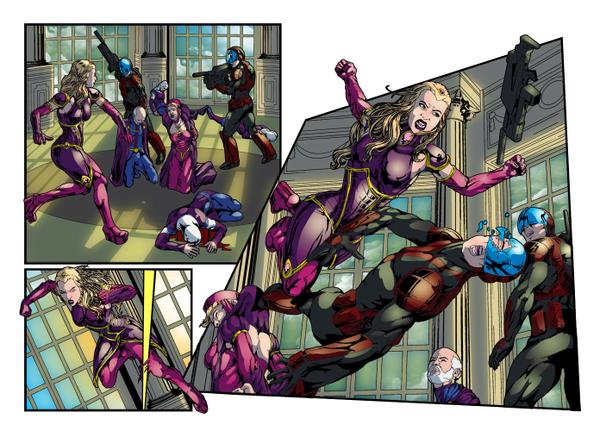 Writing – 4
The writing in this comic, done by Dixie Ann Archer-Mcbain, is exactly what I would want from a first issue. I was quite surprised at her ability to captivate a reader, and keep your attention with so many twists and turns your head is spinning. From amazingly well written dialogue, to the classic ability to keep a reader guessing, I would go as far to say that she is going to really get known if this writing is the norm.
The only small negative I have was the opening prologue. I feel it did suit the comic, and was needed, but I found just that small piece a bit confusing and hard to stumble through. Considering the amount of dialogue, thought, and character development, I have to say bravo on the work!
Artwork – 3.5
I was thoroughly impressed with Everard J. Mcbain Jr.'s ability to make a believable character from something so far fetched. His art is dynamic, and the action scenes are absolutely stunning. Visually, this sometimes felt like a painting with a story, and that is perfect in my books. His entire art is very much on par with most of the professionals in the game today, which should tell you that it is amazing.
I had so many positives, but only two real negatives at all. First would be the proportions on the bodies. Some angled shots made the characters look very wonky, but the overall character design was absolutely spot on, so I know it probably just comes from needing a small amount of practice with impractical body movement. Second is some of the backgrounds almost seem too clean. I know it sounds weird, but it almost looks like some of them are just a lot of lines being drawn with a ruler. This is a PERSONAL preference though, I just love seeing all the extra work in the background of most comic panels.
Lets see what Everard had to say about his work.
1) Where did the idea for this story come from?
My wife and I found the inspiration for the characters from aspects of our own personalities and the personalities of people around us. The main character Okira, has been a concept of mine for almost 18years. She's modeled after the strong, benevolent, self-sacrificial, female figures that we've both known all our lives. My wife, my mother, and my sister, and my wife's mother are all strong black women so I modeled her after them. For the other character's, I developed their personalities based upon aspects of my own. Not the good aspects either, but the bad. The aspects of my personality that I'm not that proud of. I figured they would be the most interesting parts, and would make for more interesting characters.
The inspiration for the story comes from a melting pot of world views, conspiracy theories, philosophy and New Age beliefs. It's set in a fictional world, but can easily mirror our present world in terms of events and the direction our world is headed in. It also explores a link between science and spirituality.
2) What process do you use when writing/illustrating this comic?
We have a somewhat unconventional method of creating each comic. We usually begin with the general idea of what we want the particular issue to contain. Then we do a basic plot draft or outline of the plot. I then begin the page drafts and layouts. Then I begin illustrating each page based on those layouts. I do inks first. Then flats. Then I do the colors and effects. We actually do the dialogue last. My wife and I go through the illustrated pages and create the dialogue as we look at the illustrated pages. When the dialogue is done the issue is done.
3) What advice do you have for future creators?
Don't get into making comics unless it's something you love. Don't do it for money. Don't do it for fame. Do it because you love it. Do it because you love comics and you want to tell stories. If you do it for the money, you'll be seriously disappointed. There are many other talented creators out there doing exactly what you are doing and who are also trying to make it big. The reality is, unless you are lucky and become and an overnight sensation, you more than likely will be at it for years before anyone even knows your name. So let your motivation be your love for what you are doing. That will sustain you.
4) Where can we read, buy, or support your comic?
Celflux is available for purchace on Amazon, Barns & Noble, Comixology and DriveThruComics. Just search "Celflux" on any of those platforms. You can read Celflux issue no.1 and 2 online free by signing up to the Celflux website at celflux.com. Registration is free.
Thanks for taking the time out of your busy schedule to chat with us. Please get back to work, I need to see more!
Adam's Top Indie Comics
Celflux
Virgin Wolf
Highwayman
Vice