Games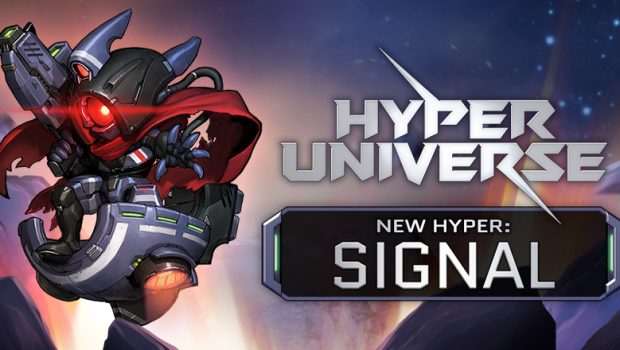 Published on September 25th, 2017 | by Admin
INCOMING SIGNAL! HYPER UNIVERSE'S CYBERNETIC SNIPER ENTERS THE BATTLEFIELD TODAY
LOS ANGELES – Sept. 21, 2017 – Hyper Universe is rolling out another Early Access content update for fans today, introducing an all-new Hyper – Signal and a new capture the points gameplay mode. The new mode and Cube Bonus Event will be available for a limited time until Oct. 4.
Hyper Universe offers a unique take on the multiplayer online battle arena (MOBA) genre with its 4v4 side-scrolling combat. Players fight as Hypers, each belonging to one of six character classes from a diverse set of both new and traditional MOBA roles. The unique talents of each Hyper can make or break a team's success in battle.
This newest Hyper Universe content update, available now on Steam, features:
New Hyper – Signal: This bounty hunter chooses to keep a distance from enemies as he utilizes his sharpshooting skills to inflict lethal blows from afar. Signal's target scan ability also grants vision to enemies, so trying to hide from this sharpshooter will prove ineffective. During Early Access, players can purchase this new Hyper in the game for 15,000 GP (Game Points), which can be earned from playing matches or completing the tutorial.
New Event Map – Fortress of the Guardians: Until Oct. 4, Early Access players must team up and capture a random number of shrines throughout the new map. A team that captures more shrines than the other will earn 25 points, and each team needs a total of 100 points to win the round. In time, new shrine locations will randomly appear, making for frantic and chaotic gameplay.
Service Region Updates: Hyper Universe will also begin supporting more countries including South East Asia and Japan.
Cube Bonus Reward: Players can earn at least double the amount of Hyper cubes until Oct. 4., granting them more opportunities to earn Hyper skins, emotes and emblems.
Join Early Access today and get 24 Hypers unlocked from the start with their unique gear (worth an estimated $120), plus 4 more are unlocked upon leveling up. Play Hyper Universe, brawl it out with your friends, and give the development team your valuable feedback to shape the game as it moves towards official launch.
Both Steam and Nexon Launcher gamers can get on board with Hyper Universe Early Access for $15.99. For more information visit, HU Steam Store Page or HU Official Website.