Blu-ray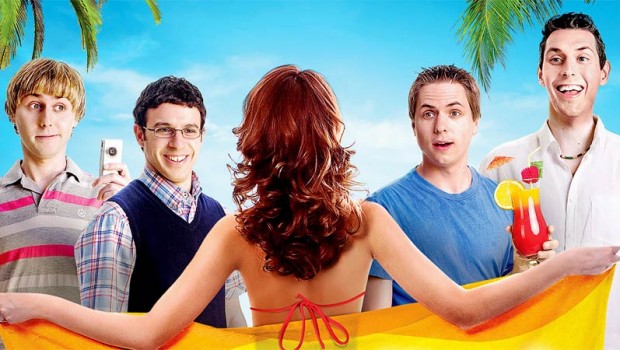 Published on December 22nd, 2014 | by admin
The Inbetweeners 2 Blu-ray Review
Summary: The Inbetweeners 2 is definitely a must watch movie, especially if you love all things The Inbetweeners or still enjoy juvenile and at times politically incorrect humour!
The Inbetweeners 2
Director – Damon Beesley & Iain Morris
Actors – Simon Bird/James Buckley/Joe Thomas/Blake Harrison
Film Genre – Comedy
Label – RoadshowRegion Coding – B (Blu-Ray)
TV Standard – PAL
Year of Release – 2014
Primary Format – Movies/TV – Blu-Ray
Reviewer – Peter Bourke
Neil (Black Anderson), Will (Simon Bird), Simon (Joe Thomas) and Jay (James Buckley), former students of Rudge Park Comprehensive once again return for another thoroughly amusing adventure as they visit Australia and become involved in all sorts of misadventures that will have you crying and cringing from too much laughter.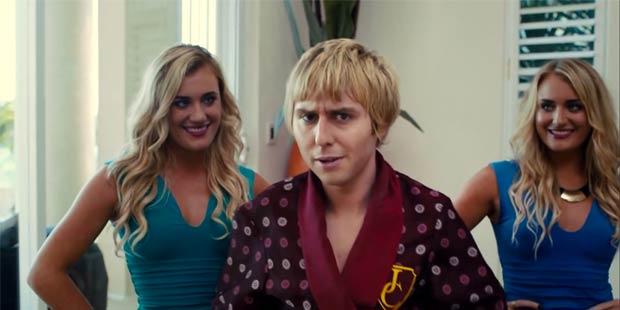 Originally a TV series which spawned a very successfully film, the gang from The Inbetweeeners are bigger and better than ever as directors/writers Damon Beesley and Iain Morris bring their A-game once again to the big screen as they create a cleverly crafted comedy about four very average yet loveable individuals.
The story begins in England with Neil, Will and Simon deciding to visit Australia in order to join Jay on his gap year as he wrote an e-mail to Neil stating that this country is the sex capital of the world and not only does he run a prestigious nightclub but he wakes up with a new woman every morning.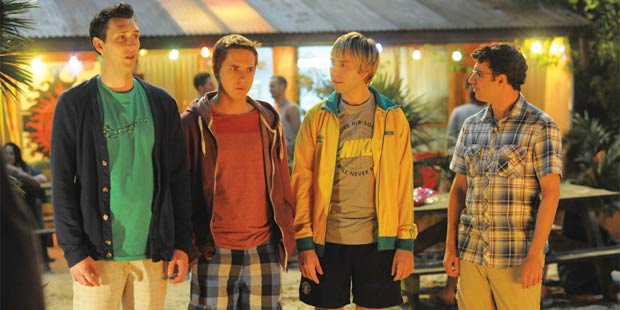 However when they arrive unexpectedly, they discover that Jay does work in a nightclub but his job is to support the patrons in the toilet and to ensure that everything is clean. Furthermore, Jay is not living in a mansion but rather in the front yard of his uncle's (David Field) home in a tent with a special hole in the ground should he get a little randy.
As result, these four friends decide to tour Australia and when Will meets his former primary school friend Katie (Emily Berrington) who happens to quite beautiful, she suggests that they follow her to Bryon Bay when she sends him mixed messages.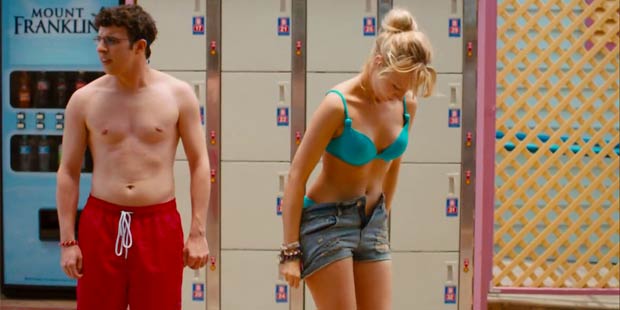 Jumping in Jay's recently purchased car from his cousin that not only has a naked girl painted on the bonnet but it features a homage to Peter Andre's 'Mysterious Girl', they follow Katie's tourist bus to Byron Bay and from there, the laughs go into overdrive.
To compound the situation, Simon has accidentally proposed to his nut job girlfriend Lucy (Tamla Kari) in the UK because of Uncle Bryan, Neil accidentally kills a dolphin by feeding it junk food and Jay pines for his ex-girlfriend Jane (Lydia Rose Bewley) as he attempts not to cry whenever she is mentioned.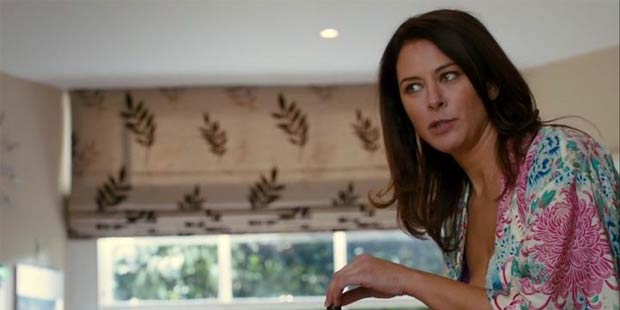 However the most amusing moment in the film, besides Will engaging in a sexual act that goes horribly wrong due to his rape alarm given to him by his mother Polly (Belinda Stewart-Wilson), Will who has irritable bowel syndrome accidentally defecates on a waterslide which causes a head-on collision with one of the gangs face. It's almost too funny for words.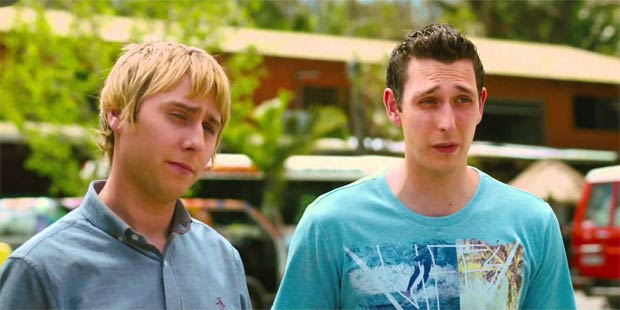 Another brilliant scene is when the guys break down in the middle of the desert and in order for Simon's thirst to be satisfied, he asks Neil to perform the ultimate sacrifice. So yes, The Inbetweeners 2 may be juvenile with a fair amount of gutter humour but somehow it actually works and thanks to writers/directors Damon Beesley and Iain Morris, they create one of the best and very memorable stories of The Inbetweeners to date.
Besides our usual four suspects, there's also some great scenes with the beautiful Emily Berrington as Katie, Will's mum Polly (Polly MacKenzie) plus her "new" boyfriend and the overprotective Lucy who is played exceptionally well by Tamla Kari as she violently cuts up Simon's beloved hoodies. Overall, The Inbetweeners 2 succeeds on a variety of levels and is definitely a worthy comedy to your collection.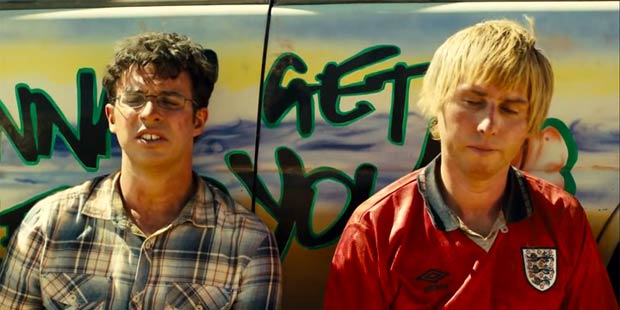 Special Features, Video & Audio
Add in over 2 and half hours of bonus content that includes interviews, the making of, deleted scenes and amusing video diaries and the special features of this release is quite exceptional and all worth a watch! Given that, the Inbetweeners 2 is well presented on Blu-ray with exceptional video quality that boasts sharp images and vibrant colours which sometimes make a few of the gags even more disgusting. Add in a great audio track with an awesome soundtrack and this is one high quality release from Roadshow.
Final Thoughts?
The Inbetweeners 2 is definitely a must watch movie, especially if you love all things The Inbetweeners or still enjoy juvenile and at times politically incorrect humour! What a laugh!