Films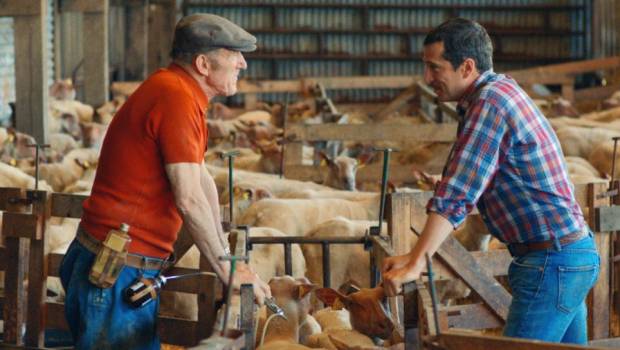 Published on November 25th, 2020 | by Damien Straker
In the Name of the Land – Film Review
Reviewed by Damien Straker on the 25th of November 2020
Palace Films presents a film by Edouard Bergeon
Produced by Philip Boëffard, Serge Hayat, and Christophe Rossignon
Written by Edouard Bergeon, Emmanuel Courcol, and Bruno Ulmer
Starring Guillaume Canet, Veerle Baetens, Anthony Bajon, Rufus, Samir Guesmi, and Yona Kervern
Cinematography Eric Dumont
Music Thomas Dappelo
Rating: M
Running Time: 103 minutes
Release Date: the 26th of November 2020
In the tragic French drama In the Name of the Land, astonishing visuals fail to substitute nuance and thematic depth. Evidently, well-intentioned true stories do not always make great films. Though the French would disagree. In Europe, the film was a huge box‑office success. Its verisimilitude and strong rural atmosphere are courtesy of its director, Edouard Bergeon. He is a photojournalist who directed the documentary The Sons of the Land (2012) where he filmed a livestock farmer for over a year. For Bergeon, the crisis of farmers suffering is aching and personal. Land, his fictional debut, is based on his father's tragic life as a farmer in the late 1970s. Crushed under the weight of providing for his family, he ended his life in 1999. The film is dedicated to Bergeon's parents. Its lead actor, Guillaume Canet, also grew up in the countryside. He immersed himself in the rural lifestyle to mirror Bergeon's father. The performances and authentic setting account for why French audiences overlooked the film's shortcomings, but an opportunity for a more subtle cautionary tale was missed.
The premise of Land's screenplay, written by Bergeon, Emmanuel Courcol, and Bruno Ulmer, is promising. The story is about a farmer named Pierre (Canet). He returns from a ranch in Wyoming, US, to tend to his father's sheep farm in the Mayenne district of France. His father, Jacques (Amelie's Rufus), offers to sign over the farm to him while retaining ownership of the land. Pierre and his partner, Claire (Veerle Baetens), marry and willingly control the farm. Over nearly twenty years, it allows them to provide for their children. Their son, Thomas (Anthony Bajon), is studying agriculture but is currently more interested in cycling. He tells a friend he is willing to wait before controlling the farm. The family conflict amplifies when it is apparent that the farm has financial problems. To resolve these issues, Pierre expands the infrastructure by opening a chicken farm. Despite relinquishing control, Jacques voices his disapproval. His solution to any problem is that people must work harder. 'Work is the only cure', he says. However, the chicken feeder Pierre purchases falters, which heightens his anxiety. Later, a large fire damages the property and sends Pierre on a devastating emotional spiral. His self-destruction prevents him from witnessing Thomas' maturity.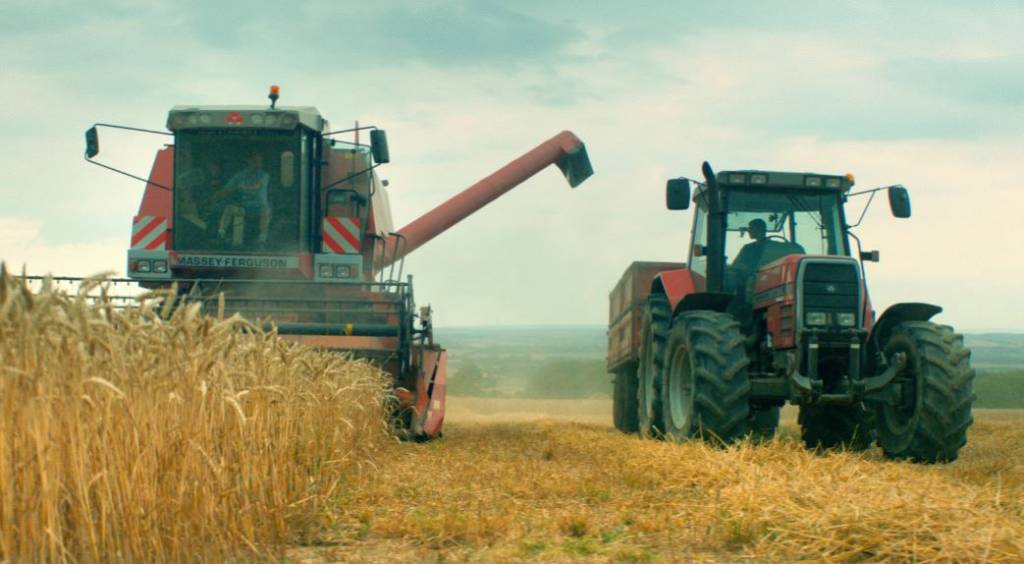 The greatest assets of this flawed but cinematic film are Eric Dumont's cinematography and the location shooting in the region of Alpes Mancelles. The film opens with a gorgeous wide shot of a field. The static frame is disrupted as we see Pierre stumbling across the ground and approaching the camera. It is a strong opening image that foreshadows the trauma that will unsettle the farm's beauty. The rest of Land's visuals encompass a naturalistic poetry that is pure cinema. From the broad planes where horses freely gallop to the tall wheat fields that blossom under heavy sunlight, there is no understating this French Western's handsomeness. Even the machinery, such as the tractors, is vividly photographed and authenticates farming life. However, two visual missteps typify its unsubtlety. The first is a cheesy Christmas montage filmed through a window where the family happily shares presents. The second is a silly scene where Claire stands alone on a beach. It cuts to a cornball flashback where she remembers everyone playing in the surf together. Its mawkish, unnecessary, and detracts from Land's realism.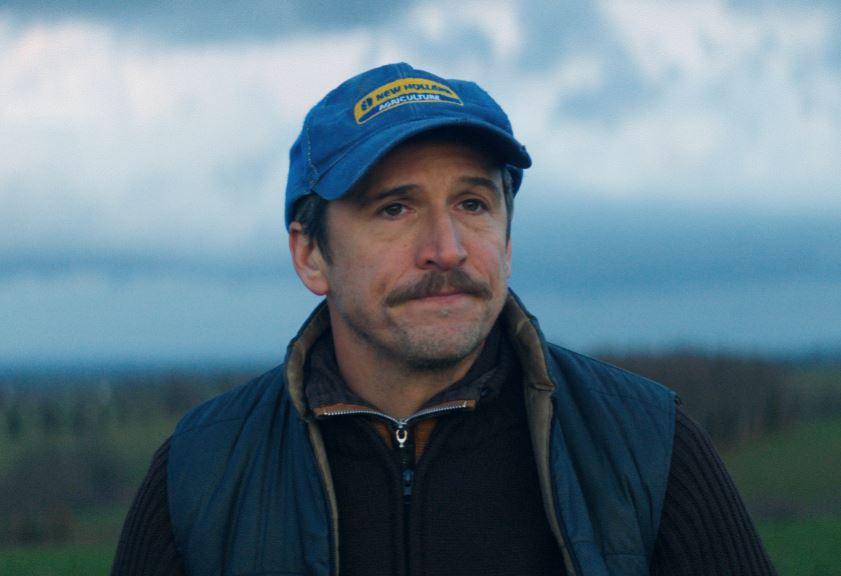 The heavy-handed nature of Bergeon's writing and direction continues in the second half. What commences as an interesting parable about a father and son's approach to modernity dispenses with originality and plot and materialises into a collection of melodramatic episodes. The fire and rising debt account for Pierre's physical deterioration. He then resists his doctor's orders and demands to know who is working on the property. He is also filmed smoking heavily and crying in the shower. These slightly cliche images capably reflect his depression. Yet the harder Bergeon presses us to feel Pierre's pain, the more transparent his schematics become. One example is a laughably comic scene where Pierre sees his family leaving for a wedding. He grows hysterical, accuses them of abandoning him, and then draws a large kitchen knife. The scene is terribly overwrought, especially when Pierre presses the blade against his throat until someone smashes through a window to wrestle it from his hands. This destructive behaviour paints Pierre as increasingly unlikeable. Furthermore, his goals dilute into broad targets that lack dramatic endpoints, such as making his farm profitable and perhaps earning his father's love.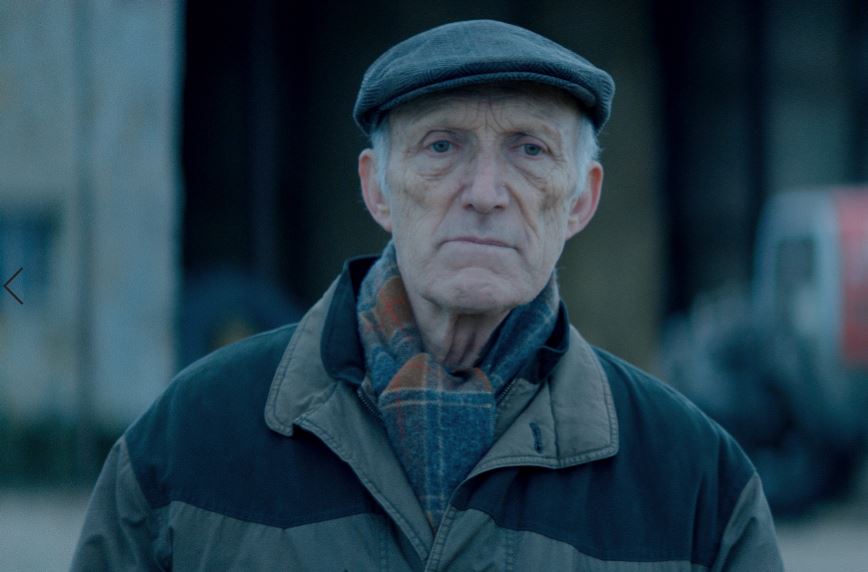 Land stumbles as a convincing biography and a political critique of social forces burdening farmers. While based on a painful tragedy close to his heart, Bergeon concedes he relied on his memories because he did not have records of his father. It accounts for the story's one-dimensional form and reliance on melodrama and sentimentality. Translating a true story into a film results in using plot devices and clichés to fill in the blanks. The film tests one decent idea, which is that Pierre's deterioration blinds him from Thomas' growth. It would be more dramatically potent if Thomas' subplot were substantial. Instead, a handful of cute scenes sees him romance a young woman without conflict. Otherwise, the emphasis on overwrought melodrama leaves us with little reflection besides Pierre's decline. The levity is minimal because his stint in rehab barely registers. As a political case study, it is also flimsy. The first half underlines how institutions allow farmers to fall into debt. However, the fire also suggests that Pierre's poor investment is compounded by a stroke of bad luck. When asked if Land was a social activist film, Bergeon said it is in the subtext but remained coy and instead described its authenticity.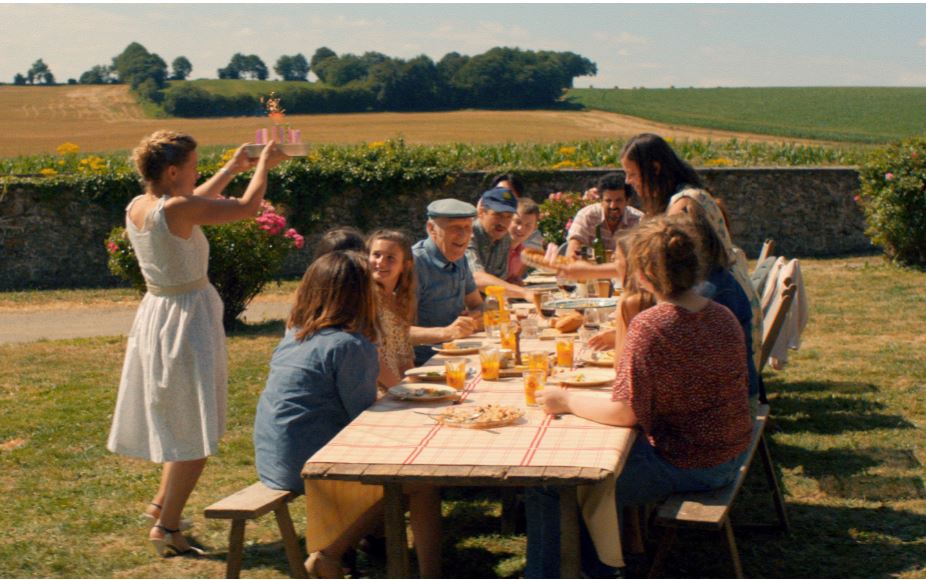 Despite the uneven material, the cast's portrayal of a fractured household cannot be faulted. Guillaume Canet dedicated a lot of time towards immersing himself into Pierre. His physical resemblance to Bergeon's father, achieved by losing several kilos, adds poignancy. He was even gifted a pair of the old man's boots and wore them to connect to the role. His performance capably shows Pierre's physical strain as he declines under the weight of debt and the frustration of being unable to work when ill. It is a visible departure from the happy, loving man in the first half. One early scene that could have used another take is when Pierre and his father engage in a shouting match inside the chicken farm. Nonetheless, veteran actor Rufus has a wonderfully lived‑in face that gently expresses Jacques' discontent, especially to Pierre marrying Claire. Veerle Baetens and Anthony Bajon are fine as Claire and Thomas, but their arcs are undercooked. Admirably, Claire continues supporting the family but her scenes in the accountant's office are bland. As mentioned, the subplot with Thomas feels largely superfluous aside from Pierre not realising his growing interest in farming.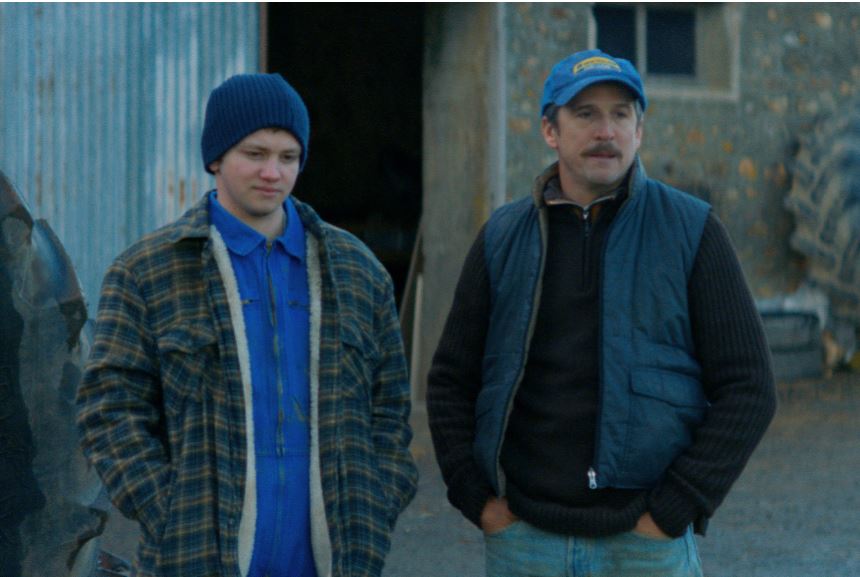 Despite its gorgeous photography and noble intentions, In the Name of the Land's dramatic potential is unfulfilled. The first half evokes a Biblical tale of fathers and sons in conflict about how to support their families. The naturalistic photography is stunning and reinforces the authenticity of farming life. However, Bergeon needed to enhance his script's subplots and sharpen his political aims. Rather than becoming a moving family tribute, Land is an increasingly episodic melodrama. The emotional impact is diluted the longer Bergeon isolates Pierre's decline as the dramatic fulcrum. It is a pity because the story emerges from a terribly painful place in Bergeon's life. His intentions of remembering his father are understandable and there is room for further exploration of the challenges of agriculture. It is a social and environmental problem people here in Australia know too well. One hopes that in the future Bergeon can create additional farming stories but refine his dramatic techniques.
Summary: The visuals are stunning but an opportunity for a more subtle cautionary tale was missed.