Games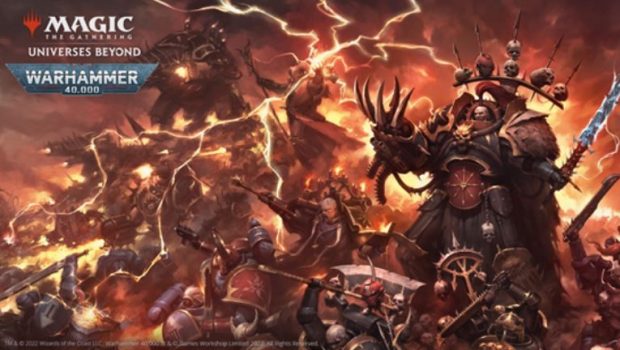 Published on October 8th, 2022 | by Adrian Gunning
In the grim darkness of the far future there is only war… and Magic.
Wizards of the Coast will be releasing WARHAMMER 40,000 Commander Decks, its first non–Secret Lair Universes Beyond release for Magic: The Gathering (MTG), for tabletop on 7 October.
In an epic collaboration of two tabletop titans, Warhammer 40,000 and Magic: The Gathering, this release brings the grimdark lore, iconic art, warring factions, and war-torn tabletop gameplay of the Warhammer 40,000 universe into Magic's Multiverse with four Commander decks and three adjacent Secret Lair products. Each deck is ready-to-play, built around the distinctive strategies and battle-hardened warlords of one or more factions from Warhammer 40,000's war-torn galaxy, and comes in two versions: a regular version and collector's edition.
The four commander decks that also come in a Collector's Edition are:
·        Tyranid Swarm (green-blue-red)·        Forces of the Imperium (white-blue-black)·        Necron Dynasties (mono-black)·        The Ruinous Powers (blue-black-red)
The Collector's Edition comes fully foiled with the never-before-seen special surge foil and has the same card content.
Fans will be able to experience and explore their favourite lore and characters in a whole new collectible way. Magic celebrates and rewards creativity (hours and hours of creativity!) and dedicated planning just like Warhammer 40,000 and allows Warhammer fans to step into the Power Armour (or carapace) of their favourite warlords for the first time.
The set offers the grimdark lore and brutal storytelling of one of tabletop gaming's ultimate titans. New commanders, new mechanics, and brand-new artwork bring a host of new deckbuilding options and all of them more brutal than the last. It merges Warhammer's tactical brutality with Magic's strategic spellslinging, delivering everything the dark heart of a Magic + Warhammer 40,000 fan could desire. Spells for the Spell Throne!
For collectors looking for the blingiest cards and collectibles, Warhammer 40,000 Commander Deck Collectors Editions are the flashiest way to experience Magic in the 41st millennium.
About Universes Beyond
Universes Beyond promises Magic fans a combination of the gameplay and history/lore they love and the characters, lore, art style, and experience of other iconic fantasy settings.
For Magic fans, Universes Beyond transports them into the other fandoms they love deeply (such as Middle-earth), letting them play, explore, and experience the world's greatest strategy game with a new look and feel.
For non-Magic fans, Universes Beyond allows individual fandoms the ability to see and experience the world they love in a whole new way—to take an active role within a beloved setting.
For more information on Warhammer 40,000 Commander Decks, visit https://magic.wizards.com/en/articles/archive/news/first-look-magic-gatherings-universes-beyond-warhammer-40000-collaboration