Films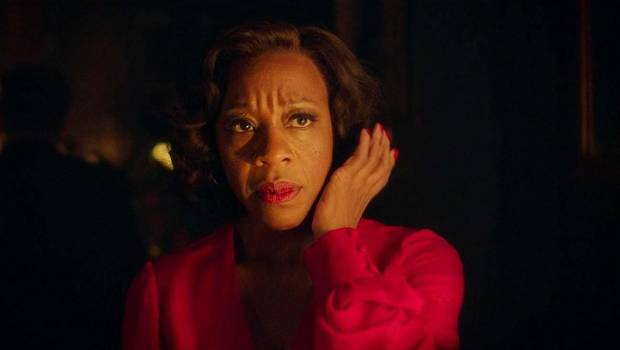 Published on March 11th, 2020 | by Harris Dang
In Fabric – Film Review
Reviewed by Harris Dang on the 10th of March 2020
Arcadia Distribution presents a film by Peter Strickland
Produced by Andrew Starke
Written by Peter Strickland
Starring Marianne Jean-Baptiste, Hayley Squires, Leo Bill, Gwendoline Christie, Julian Barratt, Steve Oram, Barry Adamson, Jaygann Ayeh, Richard Bremmer, Terry Bird, Fatma Mohamed, and Sidse Babett Knudsen
Edited by Matyas Fekete
Running Time: 118 minutes
Rating: MA15+
Release Date: the 12th of March 2020
If there is one emerging filmmaker from Britain that should excite filmgoers, it is acclaimed filmmaker Peter Strickland. His filmography commenced with an amazing debut, the low-budget crime drama Katalin Varga (2009). He has also made visually spectacular works that homage the sensibilities of European cinema to wonderful effect.
Some notable inclusions are Berberian Sound Studio (2012), which is a love-letter to Italian giallos in the horror pastiche, the psychedelic concert film Bjork: Biophilia Live (2014), and the beautifully reverential touches to the work of Luis Bunuel and Walerian Borowczyk in the erotic drama The Duke of Burgundy (2014). Evidently, Strickland is a filmmaker worth following.
His latest project, In Fabric, returns to psychological horror, ala Sound Studio. The premise resembles either a ridiculously entertaining B-grade horror flick or something more cerebral. Will it be worth the wait?
Marianne Jean-Baptiste stars as Sheila Woodchapel, a bank teller and single mother to Vince (Jaygann Ayeh). She lives a stressful livelihood where she must balance a social life via blind dates, the many criticisms from her co-workers (Julian Barratt and Steve Oram), and the fact that Vince has a new girlfriend, Gwen (Game of Thrones' Gwendoline Christie).
Aiming to look out for number one, Sheila prepares for her next blind date by visiting a department store, Dentley and Soper's, to buy a dress. A beautiful, flowing red dress catches her eye and a creepy store clerk, Miss Luckmoore (Strickland regular Fatma Mohamed), encourages her to purchase it. Little does Sheila know that the dress possesses more than an eye-catching appearance.
Strickland's filmography is strengthened by never making the same film twice. While In Fabric resembles a spiritual repeat of Sound Studio, the final result is a genre mix of psychological horror and black comedy. It succeeds, unnerves, and provokes shocks and guffaws in equal measure.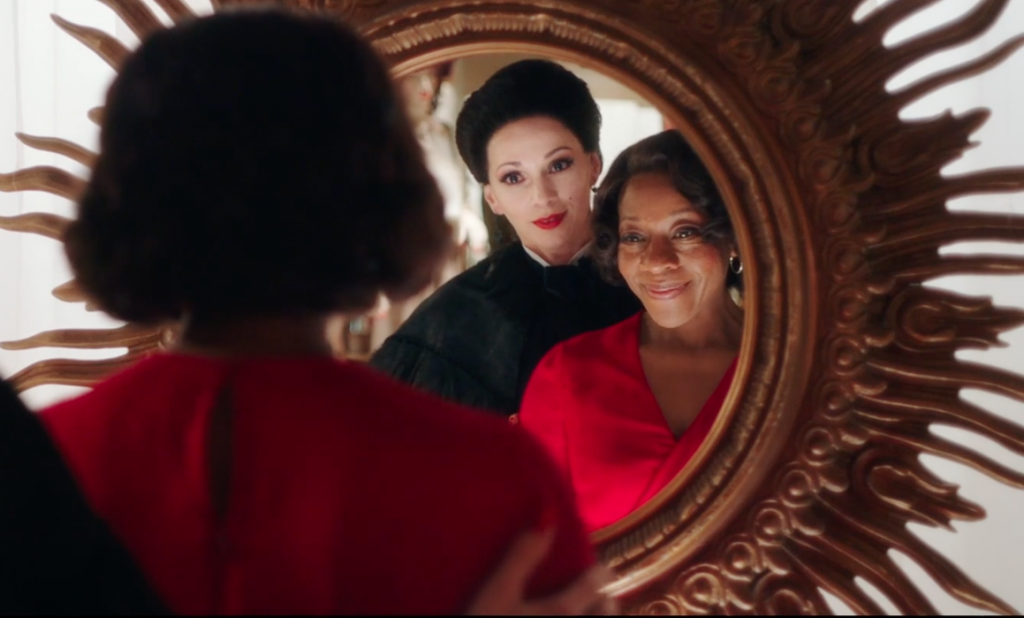 As expected from a Strickland film, In Fabric is visually and aurally compelling. Its technical achievements are attributable to Australian cinematographer Ari Wegner, the trippy Goblin‑esque musical score by Cavern of Anti-Matter, and editor Matyas Fekete (also a Strickland regular).
The crew creates a world and sets a pace that is believably off-kilter yet mesmerising. It makes the audience uneasy and unable to deter from the controlled chaos. Making an article of clothing look malevolent on-screen is difficult but Strickland and the crew meet the challenge.
While the film's style sounds pretentious, and its visual palette and direction reinforce that impression, it is nothing but symbolism wrapped in an art installation. Strickland knows that the best horror is finding fear in what happens around us. In the case of In Fabric, the main theme is consumerism. The idea has been previously explored in the horror genre, specifically George A. Romero's zombie flick Dawn of the Dead (1978). However, Strickland and his production crew ensure it is smothered over the characters due to the set designs, including a 1980s‑esque setting via products and catalogues, and the performances.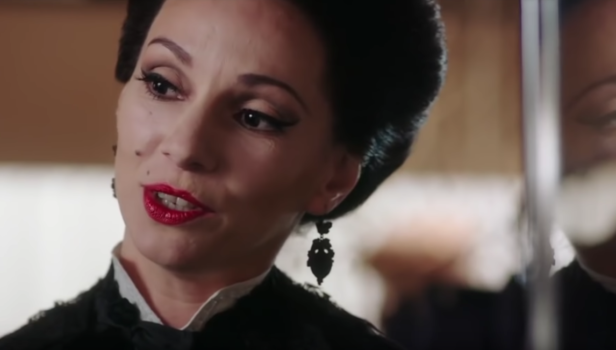 Jean-Baptiste is great as Sheila and gives a compelling three-dimensional performance that explores the struggle, yearning, and desires of the character. Oram and Barratt are an absolute hoot as Sheila's bosses, while Hayley Squires and Leo Bill are effective as an emerging married couple. Christie is amusingly barbed as Gwen and Ayeh is appropriately angsty as Vince. Mohamed steals the show as Miss Luckmoore by nailing the balance between crazy and courtly with aplomb.
As the performances accentuate, customer coercion and satisfaction are satirised to hilariously surreal heights. The characters' behaviour evokes pure repulsion or instant euphoria. One standout scene involves Barratt and Oram being drawn into a washing machine repairman's explanation of a product malfunction. The comedy is acute too, particularly a scene involving masturbation and mannequins. It makes one think Strickland is in on the joke that his films are nothing but pretentious.
As for flaws, the shift from the first half to the second half may deter audiences. It marks a change in genre that some may not appreciate. The film may also be too willfully weird and obscure to the point where audiences may question what the point is after the story ends. Nonetheless, In Fabric remains a fantastic piece of work. It is horrifically scary, hilariously macabre, and intelligently satirical. It is all delivered in a visually reverential and surreal style that proves entrancing and eerie. Highly recommended.
Summary: In Fabric is horrifically scary, hilariously macabre, and intelligently satirical.