Collectibles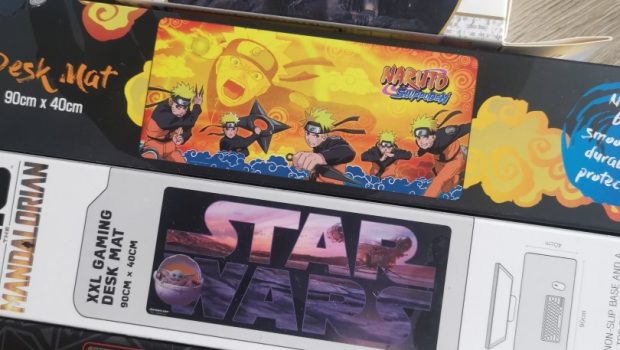 Published on June 26th, 2023 | by Andrew Bistak
Impact Merch XXL Gaming Mat Review
Impact Merch is an Australian company that like their name suggests, distribute gaming and pop culture merchandise that well, do make an impact. Best of all, their "merch" are officially licensed that means you're getting a quality item, not some cheap overseas knock-off from eBay. Even the ancient Greeks had a saying for this, caveat emptor, buyer beware.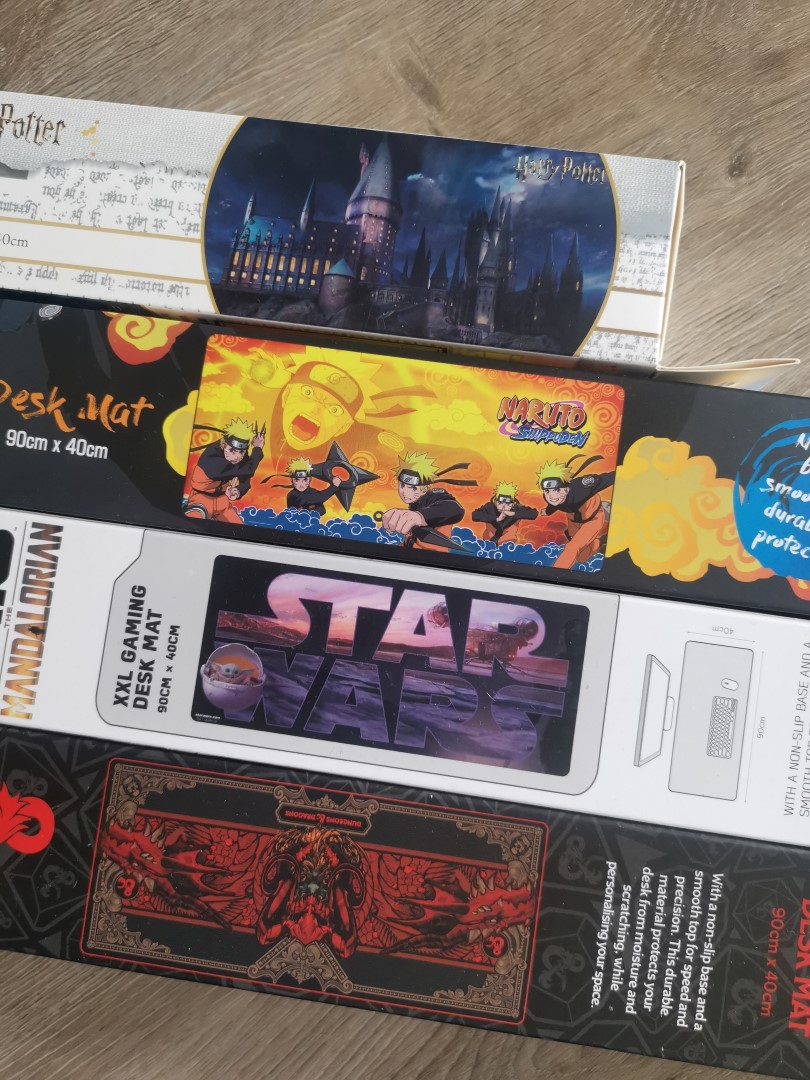 Fortunately this is not the case for us at Impulse Gamer because as the title states, we're checking out a handful of XXL gaming mats from Impact Merch that celebrate a wide variety of both gaming and pop culture genres which are available from JB Hi-Fi and Mighty Ape at just $34.98AUD (June 2023).
Check out some of the XXL gaming mats below from Impact Merch: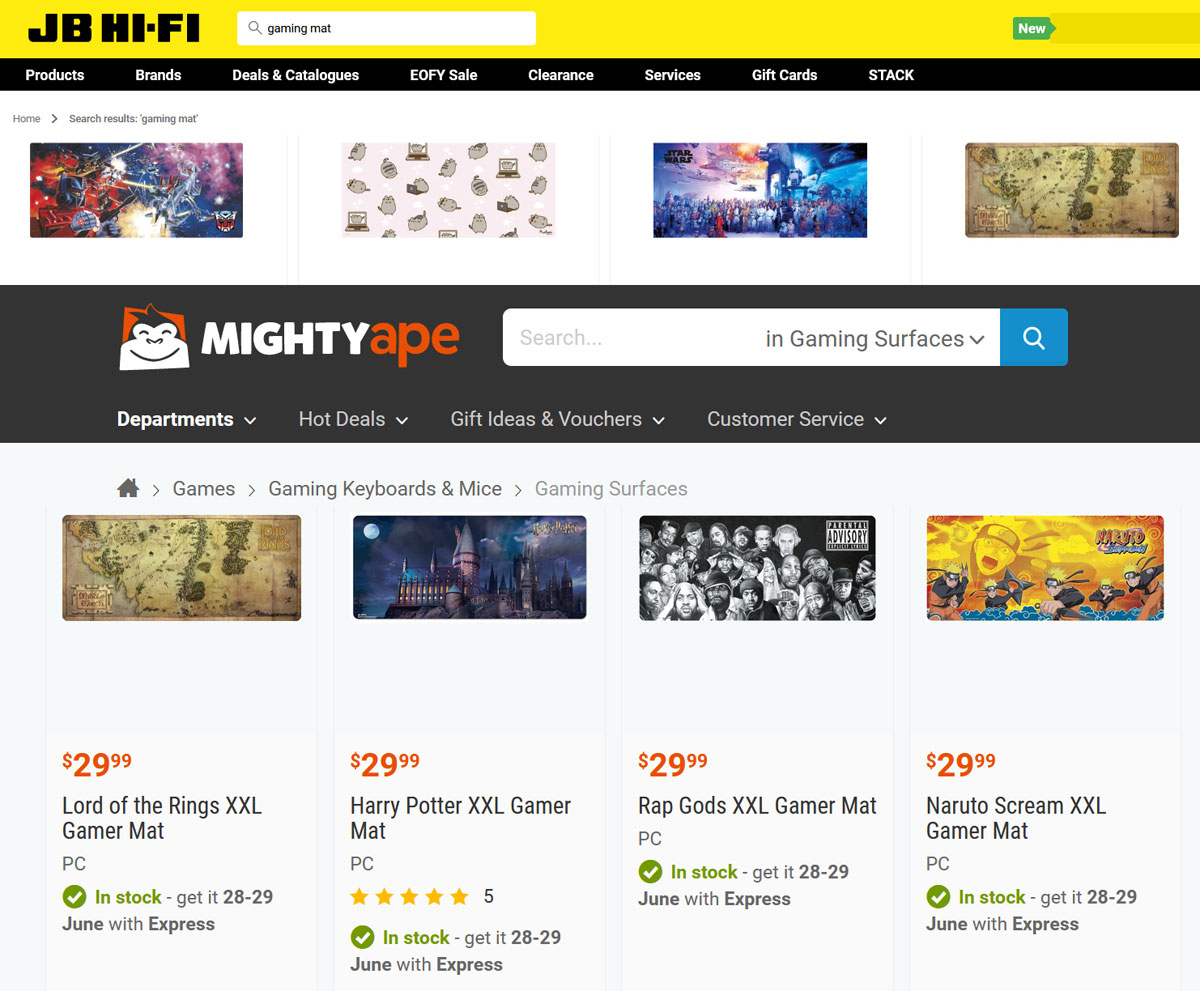 As they are XXL gaming mats (or desk gaming mats), they measure at a whopping 90 x 40cm that allow you to place both your keyboard and mouse which makes the transition from keyboard to mouse a smoother experience.
So thanks to Impact Merch, we're checking out four of their XXL gaming mats that are from Dungeons & Dragon, Harry Potter, Naruto and Star Wars that all channel these amazing universes directly to the mat which captures a unique aspect such as Hogwarts School of Witchcraft and Wizardry.
The Unboxing
All the gaming mats are well packed from Impact Merch with the exterior of the box featuring the regalia from each of the perspective pop culture and gaming franchises.
In terms of setup, you simply open the box and take out the scroll-like mat and then lay it onto your desk and just like a spell from Harry Potter "Expelliarmus" you're all-set to play. Unlike thinner mats, the ones from Impact Merch automatically rollout without any indentations or bumps that lie flat immediately which is a huge bonus for those wanting to get straight back on their computer.
Further, the quality of the fabric is excellent and feels very sturdy as is the stitching around the mat itself. However the highlight are the images on the mats that have been faithfully recreated in fabric with sharp images and strong colours. The mats also channel the colour palettes well with Naruto being quite vibrant and Star Wars a much more earthly palette.
Obviously they are great for gaming courtesy of the smooth surface, particularly with games such as Call of Duty Modern Warfare or the new Diablo IV. Further, they feel comfortable on your hands, wrist and lower arm which makes using the mouse / keyboard combo a treat opposed to a wooden or laminate type desk.
Final Thoughts?
If you're looking to celebrate your favourite pop culture film or gaming world with a XXL gaming mat, then you're in luck because Impact Merch have a design that suits your inner fan.
All in all, these mats not only look amazing but are well created that will definitely meet your needs on the virtual battlefield. Lastly, they are perfectly priced at under $35 which make it very affordable, especially if you want to celebrate more than just one franchise.
Recommended!
The Impact Merch XXL Gaming Mats can be purchased from:
Australia
https://www.jbhifi.com.au/search?query=gaming%20mat&page=1&hitsPerPage=36&toggle%5BonPromotion%5D=false&saleItems=false
New Zealand
https://www.mightyape.co.nz/games/gaming-keyboards-mice/gaming-surface?q=brand%7Eimpact-merch