Games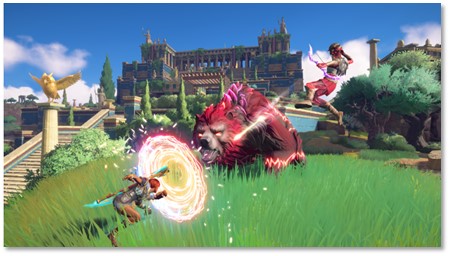 Published on December 4th, 2020 | by Adrian Gunning
Immortals Fenyx Rising Available Now
Ubisoft has announced that Immortals Fenyx Rising™ is now available worldwide on Stadia, Xbox Series X|S, Xbox One consoles, PlayStation®5, PlayStation®4, Nintendo Switch™ system, Amazon Luna, the Epic Games Store and Ubisoft Store on Windows PC as well as on Ubisoft+, the subscription service from Ubisoft.*
Developed by the team at Ubisoft Quebec,** developers of Assassin's Creed® Odyssey, Immortals Fenyx Rising is an exciting new IP that takes grand mythological adventure to new heights. Players will embody Fenyx, a new winged hero, on a quest to save the Greek gods and their home from a dark curse. Only by mastering the legendary powers of the gods, overcoming heroic trials and confronting powerful mythological beasts, will Fenyx be able to take on Typhon, the deadliest Titan in Greek mythology.
Immortals Fenyx Rising is an uplifting and witty take on the open world action-adventure genre and is full of rewarding exploration through dynamic traversal. Sprint across open fields, climb enormous mountains and glide through the skies to discover all the secrets of each region inspired by the Greek gods across the Golden Isle.
An exhilarating experience for all heroes at heart, the game features action-packed gameplay, fast-paced aerial and melee combat and stories inspired by Greek mythology. Players will face off against giant creatures like the Cyclops, Minotaur and Medusa. With the help of godly abilities, the Sword of Achilles, Bow of Odysseus and Wings of Daidalos, players will launch themselves up into the air to deal with the immensity of these creatures. In addition to combat, players' logic and strategy will be challenged by puzzles, from individual world puzzles all the way up to the epic Vaults of Tartaros.
All pre-orders will include a bonus quest, When the Road Gets Rocky. Immortals Fenyx Rising Gold Edition includes the base game, season pass and additional in-game content. Upcoming in-game content included with the season pass will introduce all-new gods, mythology, heroes, landscapes and gameplay styles in three DLCs: A New God, Myths of the Eastern Realm and The Lost Gods. The post-launch plan also includes free in-game events, weekly vault challenges and daily quests. The season pass can also be purchased separately.
For more information about Immortals Fenyx Rising, please visit immortalsfenyxrising.com. For the latest news on Immortals Fenyx Rising and other Ubisoft games, visit news.ubisoft.com.