Games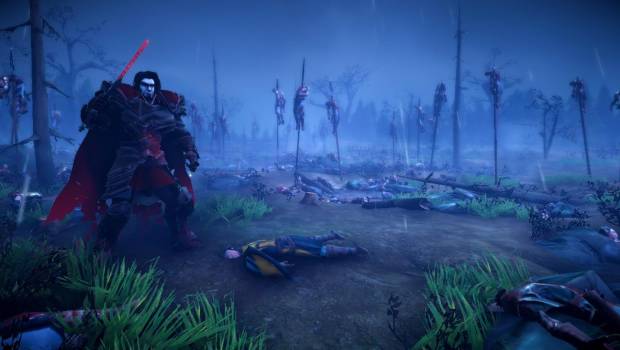 Published on August 26th, 2020 | by Adrian Gunning
IMMORTAL REALMS: VAMPIRE WARS SHARES TASTY NEW SCREENSHOTS AHEAD OF NINTENDO SWITCH™ DEBUT
Publisher Kalypso Media and developer Palindrome Interactive today shared an assortment of brand-new screenshots from the Nintendo Switch™ version of the upcoming vampiric strategy title Immortal Realms: Vampire Wars.
The game's turn-based combat makes it the perfect addition to the Nintendo Switch™ catalogue, allowing players to explore the over-world as a variety of different vampire clans and tackle each of the game's three unique campaigns at their own pace.
Immortal Realms: Vampire Wars will launch on 28th August for Nintendo Switch™, Windows PC, PlayStation 4, and Xbox One.
Information:
Immortal Realms: Vampire Wars is an engaging strategy game set in a dark vampire world in turmoil, that combines empire management and turn-based vampiric combat. Descend into a mythical world filled with horrors, legends and compelling gothic epos paired with a challenging game experience.
Features:
The truth unfolds: Discover the secrets of Nemire, and experience an enthralling story spanning 12 meticulously crafted missions and four unique environments, from the perspective of four mighty vampire lords, each with their own goals and agendas
Discover the bloodlines: Command one of three unique vampire clans with distinctive units, powers, gameplay mechanics and characters. Play as the bloodthirsty Dracul, monstrous Nosfernus, or mysterious Moroia
Vampiric powers: Powerful spells and abilities enhance the gameplay and provide a refreshing take on the genre. Each clan and vampire lord has access to their own set of abilities, which can be synergized into powerful combinations
Strategy & tactics: Command legendary armies, recruit new units and unlock crucial technologies in the strategic Kingdom Mode, and put tactical skills to the test in the action-packed Battle Mode
Varied content: Choose from three different gameplay modes: the story-driven Campaign, the open-world Sandbox, and the hard-fought Skirmish.