Books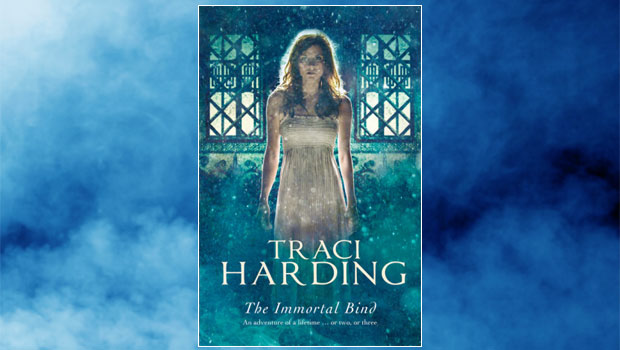 Published on February 18th, 2017 | by Tony Smith
The Immortal Bind Book Review
Summary: The Immortal Bind Book by Traci Harding is an engaging read through time and space as we follow two cursed souls
When Sara, living in Australia comes across an intriguing antique chair, she is unaware that her blissful life is soon about to change. Unbeknownst to her, the exact same chair is given as a birthday present to a reclusive artist named John in England which is the catalyst to their woes as they are taken on an adventure through time in order to stop an ancient evil. So when I received this book to review, I had no idea to what the content held inside besides its mysterious title and cover. However being familiar with writer Traci Harding, I had some inclination on to what to expect and thankfully I was pleasantly surprised.
So these twin antique chairs hold a special power and when both Sara and Jon sit in these chairs and fall asleep, they are taken to another time and place. However we soon learn that these are not dreams but reality as the users can interact with the people from this time period, however there is a common thread in each place that they visit. This thread is love and as the story unfolds, we discover that Sara and John are star-crossed lovers who have been cursed by a nefarious entity. Eventually they realise that in order to halt this constant cycle, they must break the curse and thus begins this mysterious adventure of discovery and redemption.
Furthermore and in the present, these two ancient lovers are separated by space and they must work out how to end this curse and finally be together after thousands of years as soul mates. Initially the story is a little dark because when these lovers discover themselves, it always ends with them being separated by the evil that surrounds them. To compound the situation and just when you think they will be together, disaster strikes which makes you quite invested in the plight of these characters. Although you can probably guess the ending of The Immortal Bind, there's some great twists to be found which really made it difficult to put this book down.
In terms of writing, Traci Harding succeeds in creating a compelling world from different times and both characters are equally as interesting. Sure they are slightly different each time they are reincarnated but they still share common similarities and of course this lost love. They are both interesting and well developed protagonists and the evil force which is keeping them apart is explored well, without it coming off as a cliché. 

Final Thoughts?

The Immortal Bind is another great novel from author Traci Harding which takes a familiar premise and turns it into something unique and cleverly crafted. Add in interesting characters, some great world-building and an ancient curse and The Immortal Bind will you captivated from start to finish as you cross times and places in order to break this evil cycle.