Events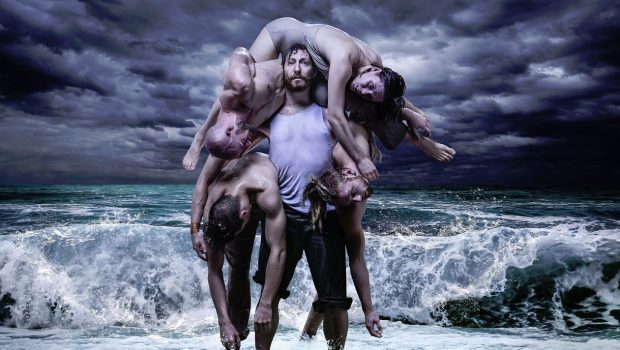 Published on May 31st, 2016 | by admin
Il Ritorno by Circa at Arts Centre Melbourne
MELBOURNE, TUESDAY 31 MAY 2016 — Circa's groundbreaking new work, Il Ritorno, fusing its world famous stripped-back acrobatics with baroque opera, will be performed at Arts Centre Melbourne's Playhouse from 17-20 August. Over 75 taut minutes, it retells Claudio Monteverdi's Il Ritorno D'Ulisse in Patria, intermingling it with folk songs and new compositions and percolating it through the lens of Primo Levi's post WW2 European displacement.
The stage is awash with bodies tumbling, lifting and clutching. Then, out of the darkness and gnawed by nostalgia, the Greek hero Ulysses appears after 20 long years of war and wanderings. Will he reach his faithful wife Penelope before she succumbs to her suitors? Il Ritorno D'Ulisse in Patria is taken from the second half of Homer's Odyssey, and tells how constancy and virtue are ultimately rewarded, treachery and deception overcome.
At the core of Il Ritorno is the hunger to return home – saturated with loss and war, powered by longing and haunted by the past. Il Ritorno is created by circus visionary Yaron Lifschitz, in collaboration with composer and arranger Quincy Grant, and is performed by an outstanding cast of singers and accompanists who join the famed members of Brisbane's Circa Ensemble.
"Sometimes, as they say in the movies, 'this one is personal'. That is how I feel about Il Ritorno,'' Lifschitz said.
"It is personal because Primo Levi's account of returning from the innermost circle of hell that was Auschwitz only to end up in the vast expanse of the Russian steppe was tinged with the same crushing nostalgia, post-traumatic memory and cold hope that I heard beating at the heart of Monteverdi's Il Ritorno D'Ulisse in Patria."
"It is only through good fortune and the caprices of history that my family ended in the sun of Australia rather than the fires of that evil and it is beholden on us to tell of it."
"When we challenge ourselves, when we make it personal, when we try to communicate difficult, inexpressible things and when we share them, raw, vulnerable and without the safety net of convention ….we have continued to help a little to keep culture alive – culture which may be our only defence." 
"…exquisite; a timely exploration of diaspora and loss, longing and homecoming, which fuses circus and opera to compelling effect." Arts Hub ★★★★ ½
"Il Ritorno offers a powerful vision of humanity and compassion… a luminous new work." The Australian
Image: Photographer Damien Bredberg 
Arts Centre Melbourne presents Circa's
Il Ritorno
Arts Centre Melbourne, Playhouse
17-20 August
artscentremelbourne.com.au