News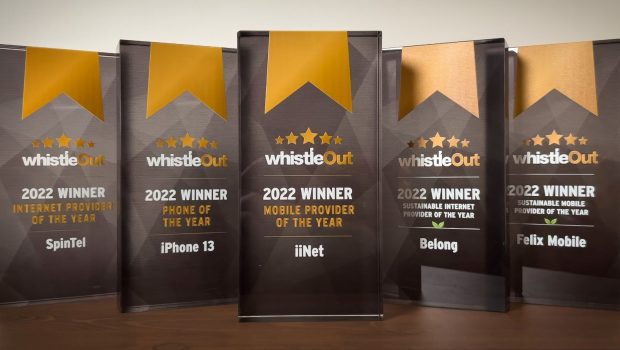 Published on August 1st, 2022 | by Adrian Gunning
iiNet and Spintel take top honours at the 2022 WhistleOut Awards
WhistleOut, Australia's dedicated phone and internet comparison service, today announced the winners of the 2022 WhistleOut Awards. The biggest winners were iiNet and Spintel, taking out the Mobile and Internet Provider of the Year Awards. Apple swept many of the device categories, including collecting Phone of the Year for the iPhone 13, while Felix Mobile and Belong won the inaugural Sustainable Mobile and Internet Provider categories.
"The WhistleOut Awards highlight the telco providers that consistently offer customers the best value throughout the year, while also calling out the best deals from the last 12 months. Anyone that's interested in getting a better telco package will find something of interest from our winners," said WhistleOut Publisher, Joseph Hanlon.
"This year we introduced the Sustainability Awards for Mobile and Internet Providers. Implementing sustainability practices into telco organisations isn't only important from an ecological perspective, it's becoming increasingly important to stakeholders and the choices they make. These awards look at the steps Australian telcos are taking to lessen their environmental impact in areas like CO2 emissions, sustainable energy sourcing, waste management and the sustainable practices of their supply chain partners.
"The WhistleOut awards make a great starting point for people looking to find a new telco plan or device, and winning any of our categories should put that provider on your shortlist," said Hanlon.
"The WhistleOut Awards also recognise the best phones introduced over the last 12 months, including options for people on limited budgets and for those who are looking for special features. Apple secured four of the six awards on offer, including the Phone of the Year for the iPhone 13, Best Phone Camera for the iPhone 13 Pro, Best High Performance Phone for the iPhone 13 Pro Max, and Manufacturer of the Year.
All the 2022 WhistleOut Award winners are listed below, and for full details including all the runner up providers please visit the WhistleOut Mobile Awards and Internet Awards pages.
Best Phone Plans
Mobile Provider of the Year: iiNet
Sustainable Mobile Provider of the Year: Felix Mobile
Best SIM-Only Provider, Value Plans: Moose Mobile
Best SIM-Only Provider, Large Plans: Life
Best Prepaid Provider, Value Plans: Coles Mobile
Best Prepaid Provider, Large Plans: TPG
Best Provider, iPhone Plans: Vodafone
Best Provider, Samsung Plans: Vodafone
Best Provider, International Calls: amaysim
Best Provider, Plans for Kids: iiNet
Best Phone Plan Promotion: Telstra
Best Internet Plans
Internet Provider of the Year: Spintel
Sustainable Internet Provider of the Year: Belong
Best Unlimited NBN Provider: Tangerine
Best Premium NBN Provider: Spintel
Best Fixed Wireless NBN Provider: Tangerine
Best Satellite NBN Provider: SkyMesh
Best Mobile Broadband Provider, Everyday Use: Telstra
Best Mobile Broadband Provider, High Use: Optus
Best Home Wireless Broadband Provider: SpinTel
Best Internet Promotion: Origin Broadband
Best Devices
Phone of the Year: iPhone 13
Best Phone Camera: iPhone 13 Pro 
Best Phone Design: OPPO Find N
Best Value Phone: Motorola Edge 20 Fusion
Best High Performance Phone: iPhone 13 Pro Max
Phone Manufacturer of the Year: Apple