Films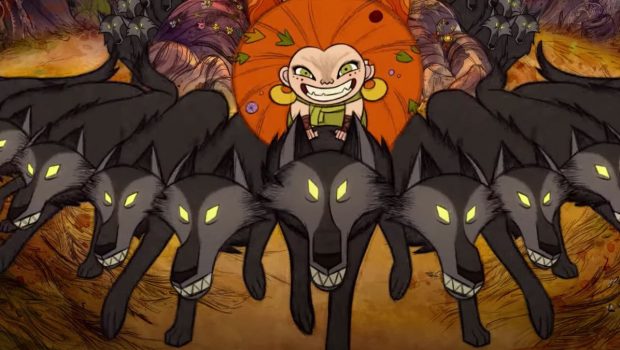 Published on September 13th, 2021 | by Tim Chuma
IFFA 2021: Wolfwalkers (2020)
Summary: This hardly needs me to give it a boost by this stage. Just see it if you have any interest in animation or fantasy stories.
Set a fictional Irish city in the 17th century, a young girl who wants to be a hunter is told to stay in the city by her father who has been tasked with hunting down a pack of wolves in the forest so the lord protectorate can show he can protect the city. She still sneaks out thinking she can help him and finds a young wolf-girl who turns out is a wolfwalker of legend and the adventure really begins.
This movie hardly needs any more hype given all the nominations and awards it has by now. It is the third in a trilogy of Irish folklore tales after the Secret of Kells and Song of the Sea. It is based on old Irish folk tales and the story of St Patrick turning the people who wouldn't convert into wolves.
I was surprised at how political it was but you can hardly make a historical movie about Ireland during this time without it being that even if is a fantasy. There seems to be a heavy influence of the Miyazaki on it with the closest I could compare it to would be Princess Mononoke.
The director themselves said that the scenes in the town were based on the old woodcut propaganda pamphlets about the English saying the Irish were wild and uncivilised and in the forest there were more flowing lines and natural influences. The artwork in the den of the Wolfwalkers is based on old Celtic designs also. The castle and several other buildings were based on real buildings in the city of Kilkenny.
I had heard of the previous movies in the trilogy but did not know the animation studio was based in Kilkenny and this movie had about 200 people working on the animation for it for several years. The director said that computer animation is finally catching up after 20 years of development so you can do more advanced things in 2D animation rather than 3D as Into the Spiderverse proved. He said one thing you can do is go from being awake to into a dream without having to transition and it is clearer what is happening. The scenes with the wolfwalkers seeing the scent trails were modelled in 3D virtual environments first and then animated in 2D so they had an idea of how to draw them.
There are a lot of interesting characters and environments in the movie with the influence leaning more towards Miyazaki than Disney but it is unique and has its own story to tell. I did like the woodcutter who gets put in stocks due to being seditious and the lead character gives him food every day. I have heard there is an art book for the movie that would be worthwhile picking up if you are a fan of animation.
I would say it was more of a family movie rather than being just for kids as a lot of the deeper political stuff would go over kids heads and they would just be into the animals including the wolfwalker girl with wild hair.
The soundtrack is excellent and there is a lot of music in the film. I have heard of some of these artists but have not gotten any of their albums. I would consider just getting the soundtrack to this movie.
An excellent fantasy story where even the conflict is not just a simplistic good guys/bad guys storyline and based on real world politics as much as you can have that in this type of story. Well worth your time and one to pick up on Blu-ray with all the special features when it comes out. Hopefully it comes out as a box set with the previous movies soon enough.
Trailer
Film details:
Directors: Tomm Moore & Ross Stewart
Writers: Will Collins, Tomm Moore & Ross Stewart
Voice cast: Honor Kneafsey, Eva Whittaker, Sean Bean, Simon McBurney, Maria Doyle Kennedy, Jon Kenny, John Morton, Nora Twomey, Oliver McGrath, Paul Young, Niamh Moyles
Animation Studio: Cartoon Salon
Music: Bruno Coulais
Songs written by: Bruno Coulais, Aurora Aksnes, Nico Rebscher, Michelle Leonard, Ross Stewart, Tomm Moore, Kila, Dan Reynolds, Aja Volkman,  The Weeknd, Max Martin, Oscar Holter, DaHeala
Songs performed by: Sofia Coulais, Camille Joutard, Aurora Aksnes (as Aurora), Maria Doyle Kennedy, The Weeknd, Imagine Dragons
Runtime: 103 minutes
Language: English
Genre: Animation, Fantasy, Children/Family
Screening at: Irish Film Festival in Australia