Events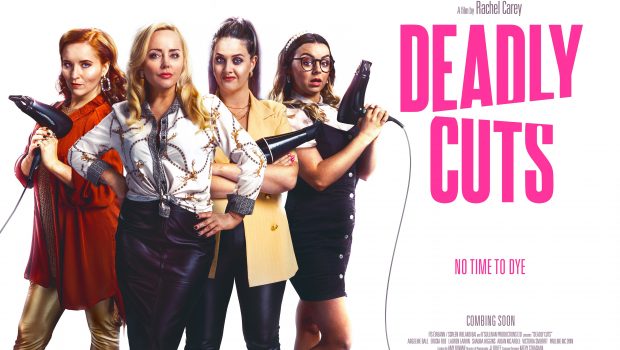 Published on September 13th, 2021 | by Tim Chuma
IFFA 2021: Deadly Cuts (2021) Review
Summary: A fun comedy with darker elements that plays up the "you'll get yours" angle and makes you support people even if they are in the wrong but for the right reasons.
When the staff at the local salon in a run-down area of Dublin finally have enough and kill off a local tough whose gang has been harassing them on the orders of a slimy local MP in the pocket of developers, they decide to keep it to themselves as they are doing their community a favour. A regular check up by the local police officer brings their plan to keep mum about it undone but he also agrees with them.
One of the younger staff members wants to go in a national hairdressing contest, but Michelle (Angeline Ball) who runs the salon has some history with the person who runs it and had a bad experience that she wants to forget.
This was really fun and goes with the audience fulfilment "you'll get yours!" angle that is also popular in Australia like the Castle. Angeline Ball said in the Q&A after the screening that she grew up in a similar background and also used to get taken down to the local salon by her mum every Saturday.
The strip shopping centres that used to be part of the big estates around Dublin are closing down these days Angeline said and a lot of the character is being lost. She did say the same about her work on the Commitments back in the day that a lot of the places featured in that movie are now gone.
I really enjoyed the cast and as it is set in the one shop you get to see how they play off each other. Angeline said it was a very small budget and there was not much to do between takes so they got to know each other really well and had a lot of fun. You can tell as it comes across on screen with the characters and how they get on so well together and seem they would naturally be friends.
The minor characters also do not seem just one-note as they all seem to have another angle to them. Can't really say why, but this does come out later in the movie about some of them in particular.
An excellent comedy with some darker elements and proof that you will support people even they are in the break the lawn but for reasons you agree with. Would also be the same reason bushrangers are so popular in Australia.
Trailer
Film details:
Director: Rachel Carey
Writer: Rachel Carey
Stars: Victoria Smurfit, Angeline Ball, Aidan McArdle
Duration: 90 mins
Genre: Comedy
Screening at: Irish Film Festival in Australia