Hardware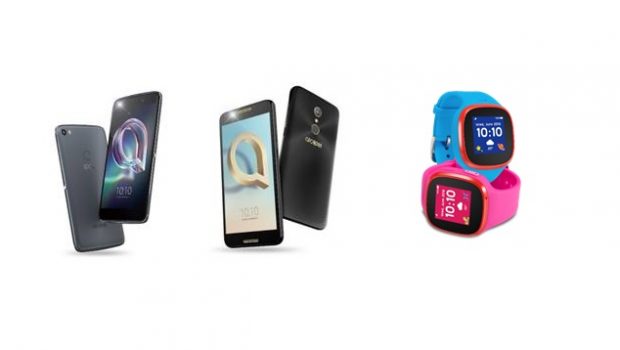 Published on September 1st, 2017 | by Admin
IFA 2017 – Alcatel Unveils Kids Smart Watch and New Devices headed to Oz
IFA – Berlin, September 1, 2017 – Leading global mobile and tablet brand, Alcatel, has today unveiled a range of new and exciting devices that continue to build on its legacy of delivering feature-rich, affordable and lifestyle-driven options for Australian consumers. Launched at the annual IFA show in Berlin, these products will be headed for Australia in the latter stages of 2017 and early 2018, and includes several new smartphones as well as their first smart watch to be launched in Australia.
The MOVETIME Family Watch (MT30) is a clever smartwatch designed for kids that introduces them to the world of mobility, while also providing parents with peace of mind. They have also launched two new smartphones destined for Australia, including their new premium IDOL 5S and an extension of their A Series of products with the launch of the A7.
"Our releases announced today at IFA prove once again that premium and innovative technology can be met with affordability and accessibility. The MOVETIME Family Watch is a particularly exciting addition for us, as we move further into the wearables space. It provides the independence kids crave with the peace of mind parents need, all delivered in a fun, intuitive and affordable smart watch that we can't wait to bring to Australia and New Zealand."zsaid Sam Skontos, VP and Regional Managing Director, Alcatel South-East Asia and Pacific.
Alcatel MOVETIME Family Watch (MT30)
$149, available in Australia in early 2018
The MOVETIME Family Watch (MT30) is a 3G smart watch designed as a daily companion for kids which enables them to call or message their parents and friends, while also providing accurate location tracking and geo-fencing capabilities should children exit a pre-set zone.
Featuring a compact, interactive and colourful design, the Alcatel MOVETIME Family Watch comes with changeable watch faces and wristbands. The touch screen is built with software that is easy for young children to use as they add friends through Bluetooth, send emoji icons and play built-in games.
To keep up with the day-to-day lifestyle of every youngster, the MT30 is IP67 robust, water-proof and dust-proof (up to one meter of static water). With a 450mAh battery, the kids' smartwatch is capable of up to two days of battery life on a single charge.
To provide parental peace of mind, the smartwatch features the integrated GPS capabilities in the Snapdragon™ Wear 2100 platform. This includes a variety of location features such as indoor and outdoor positioning, two-way calling and geo-fencing. The SOS button on the watch enables the device to call for help in an emergency and be located with superior accuracy, while the geo fence feature can send alerts when their device exits a pre-set zone. Through the dedicated MOVETIME Track & Talk app, parents can view their child's whereabouts or contact the device.
The MT30 also provides children with a to-do list and reminder function to help teach time-management. It makes parents' everyday lives easier with an easy way to flag important dates and appointments.
MOVETIME Family Watch MT30 Specifications:
3G Connectivity
Bluetooth
IP67 Robust
Water-Proof (Up to 1 meter of static water)
Dust-proof
Qualcomm® Snapdragon™ Wear 2100
GPS tracking via MOVETIME Track and Talk App
Alcatel A7
$299, available in Australia in early 2018
The A7 is a stylish phone with a modern look, boasting a generous 5.5-inch super bright display and a premium range of finishes. An incredible 16MP rear camera with a wide f/20 aperture and ultrafast phase detection autofocus (PDAF) ensures users capture super clear photos every single time. The crisp 8MP front camera is ideal of selfies and video calls.
The A7 packs a huge 4000mAh battery with 9V1.67A fast charging support, allowing consumers to spend less time powering up and more time where it matters. It enables users to access the fastest mobile broadband speeds, supporting up to Cat6 4G LTE connectivity. Users can also enjoy fast performance when multitasking or gaming with its octa-core processor, 32GB ROM and 3GB RAM, delivering a zero-lag multimedia experience. 
IDOL 5S
$349, available in Australia in early 2018
The stylish IDOL 5S (4G LTE) features a slim 7.5mm metal unibody hosting a super bright 5.2-inch display wrapped in 2.5D curved glass for silky smooth edges. Its front facing dual speakers seamlessly integrate into the metal and glass body to enhance its sleek appearance, while the built-in 'Now' key enables users to pre-set to launch specific apps, tasks or other actions.
Designed to capture crystal clear snapshots, the IDOL 5S features a 12MP rear camera with dual tone LED flash and an 8MP front camera with flash. For the creatives, the IDOL 5S comes with the ability to create Cinemographs (still photos with minor moving elements) and Light Trace (an imaging technique that adds light to an under-illuminated subject while taking a long-exposure photograph). It comes with a MediaTek MT6757CH processor, 32GB ROM and 3GB RAM and 2850 mAh battery.