Comics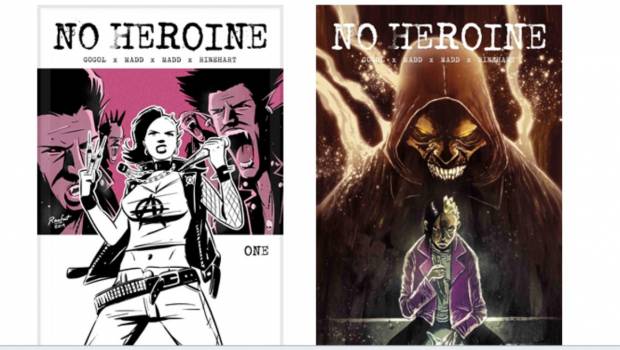 Published on April 1st, 2020 | by Adrian Gunning
If Buffy and Tank Girl Met Somewhere in the Middle, You'd Get NO HEROINE
Hot on the heels of last year's hit series Dead End Kids, Source Point Press is thrilled to announce No Heroine, a supernatural action-drama with a punk rock edge, from Ringo Award-nominated writer Frank Gogol, with art and colors by  The 4th Monkey: Anthology of Awareness father-daughter team, Criss Madd and Shawna Madd. Beyond action and monsters, No Heroine is a deeply personal project for the creative team.
Kayla Vasquez—a recovering heroin addict—just wants to go home to her family. But she's got wrongs to right first. When a friend goes missing, she starts down a long, dark road filled with vampires, werewolves, and one really hard lesson: not everyone is cut out to be a hero.
No Heroine #1: Drugs. Vampires. Punk rock. Clawing her way to her 90th day sober, Kayla sets out to find her missing friend, Sid—the one person she knows can keep her on the straight-and-narrow. The only problem? The gang of heroine-dealing vampires that have him. From the writer of 2019's breakout indie hit Dead End Kids comes a story of a young woman's recovery journey and one hard truth: not everyone is cut out to be a hero.
"It's a story about demons, literal and figurative," said writer Frank Gogol. "Addiction is much more gray than what is portrayed in pop-culture, so I wanted to take an honest look at that experience. It's important to me to shine a light on the recovery part of the cycle. I think addiction is something that touches more people's lives than most of us will ever know. This is a book for those people—whether they've dealt with addiction themselves or have watched a loved one struggle."
"When Frank told me his pitch, I was nervous," said artist Criss Madd. "Being a recovering addict of almost twenty years myself, I was worried that working on a book like this might open some old wounds. In drawing on my personal history to create this book however, the experience has been really cathartic. This is an important book about an important topic. I hope people check it out. I hope people like it. But, really, I just hope it helps people. This is the book I wish I'd had twenty years ago when I was struggling, and if it can be that for someone today, that's what really matters.
No Heroine #1 is now available for preorder through Diamond Previews and is slated to hit shelves June 24, 2020. Variant cover for No Heroine #1 by Ben Templesmith (30 Days of Night). Letters by Sean Rinehart. Cover by Ahmed Raafat.