Films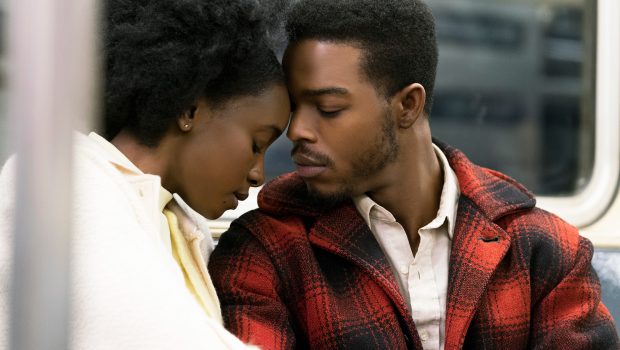 Published on February 14th, 2019 | by Damien Straker
If Beale Street Could Talk – Film Review
Reviewed by Damien Straker on the 14th of February 2019
eOne presents a film by Barry Jenkins
Produced by Megan Ellison, Dede Gardner, Jeremy Kleiner, Adele Romanski, Sara Murphy and Barry Jenkins
Screenplay by Barry Jenkins based on If Beale Street Could Talk by James Baldwin
Starring KiKi Layne, Stephan James, Regina King, Brian Tyree Henry, Colman Domingo, Teyonah Parris, Michael Beach, Dave Franco, Diego Luna, Pedro Pascal and Ed Skrein
Music by Nicholas Britell
Cinematography James Laxton
Edited by Joi McMillon and Nat Sanders
Rating: M
Running Time: 
Release Date: the 14th of February 2019
Hollywood cinema is currently experiencing a renaissance period with African American cinema. Barry Jenkins' social drama Moonlight (2016) surprised many by stunningly winning the Best Picture Oscar. Similarly, Jordan Peele's brilliant horror-comedy Get Out (2017) was one of the best films of the last few years and a huge box office success. Ryan Coogler's comic book movie Black Panther (2018) featured a predominantly black cast and film crew and dominated the box office.
It is now nominated for Best Picture. Steve McQueen's Widows (2018) also proved to be a powerful combination of a crime story, a heist and an examination of racial divisions. It remains a very underrated thriller. The critical and commercial success of these films suggests that Hollywood cinema can no longer cater towards a predominantly white male demographic alone. Barry Jenkins' romantic drama, If Beale Street Could Talk, continues the work of these films by immersing us into the experience of being black. He also proves again his panache for successfully directing actors.
Beale Street is adapted from the 1974 novel by African American author James Baldwin. It is about a young woman named Clementine 'Tish' Rivers (newcomer KiKi Layne) who is pregnant while living in Harlem, New York. The father is Alonzo 'Fonny' Hunt (Stephan James), who is Tish's boyfriend. At the start of the film, which is set in the 1970s, Fonny has been imprisoned for an accusation of rape that he did not commit. He was pointed out in a line-up by Victoria (Emily Rios). Since the accusation, Victoria has disappeared to somewhere in Puerto Rico. While the families of Tish and Fonny are adamant that he did not commit the crime, they are also divided.
Tish's mother Sharon (Regina King), father Joseph (Colman Domingo) and sister Ernestine (Teyonah Parris) celebrate the announcement of her pregnancy. Yet when Fonny's family arrive one evening, a huge argument erupts. They are very religious, and, consequently, Fonny's mother (Aunjanue Ellis) declares their baby is sinful since it was conceived before marriage. Various insults fly between the two families and then a violent action disrupts the celebration entirely. The division between the families leaves the responsibility of challenging the corrupt justice system and freeing Fonny to Tish and her mother. In flashbacks, we see how Tish and Fonny fell in love and who is responsible for his incarceration.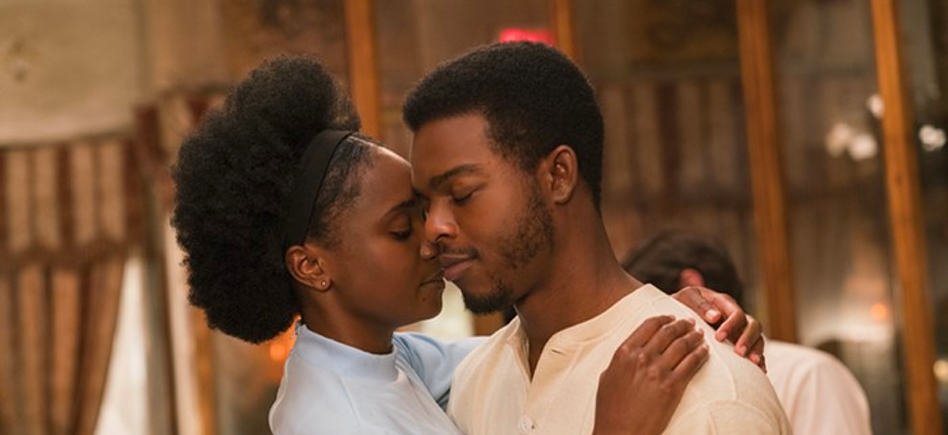 Beale Street's ensemble equals the power of Moonlight's cast. In a remarkable debut, KiKi Layne gives the most impressionable performance as Tish. She is highly attuned to her character's body language, meaning her feelings and trepidation arise with barely a word spoken. Barry Jenkins has also found the most delicate means of photographing her face. In vivid close-ups, he shoots the dark tones of her skin in such a way that it heightens the whites in her eyes. In effect, the lighting increases the vibrancy of her expressions. Stephan James is also impressive because he is charismatic and ignites a loving chemistry with Tish. His body language too suggests a growing sense of fear and dread as his freedom becomes unlikely. The quality of the performances helps us empathise with the couple's struggle.
The side characters memorably dramatise their pain. Brian Tyree Henry from Widows has a powerful moment playing a friend of Fonny out on parole. He recalls the horrors that he experienced while in prison and how brutal it was for him. The sequence reminds us of the time Jenkins provides to his black actors to express their animosity of living in the US. Despite the hype, Regina King only has a relatively small role, but it is pivotal and climaxes with a devastating breakdown scene. The two fathers also share great chemistry together in an early scene and when they develop a plan to help Fonny.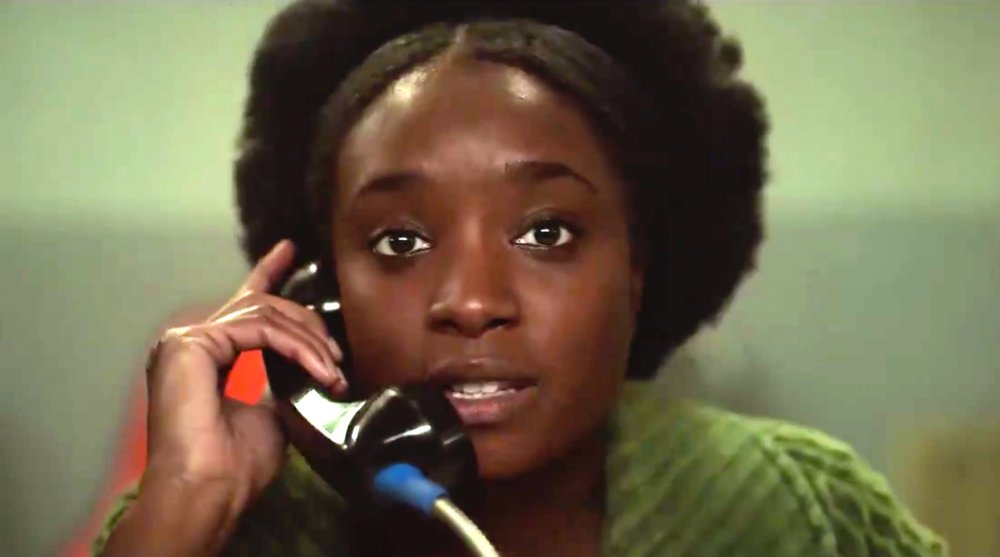 All the actors are embedded in interesting scenes that create a potent mixture of family drama, optimism and racial tension. The film's best sequence is the early confrontation between the two families. The energy the two families use to combat each other verges on Shakespearean. Some of the dialogue and the insults are darkly funny until a shocking moment where a family member grows violent. The humour and the edge of the scene helps to show the contrasts between the two groups.
Barry Jenkins proves again that he has an eye for striking cinematic images. One of the most attractive shots is a long shot of a red umbrella as Fonny and Tish walk together in the rainfall one night. It shows the singularity of their relationship and their hopefulness for love against a bleak backdrop. In another stylish moment, Jenkins films Tish working in a perfume store. Her voice over outlines the difference between the way that she is treated by African American men and white men. The latter are more aggressive when taking perfume samples, opting to grab her arm to smell the fragrance.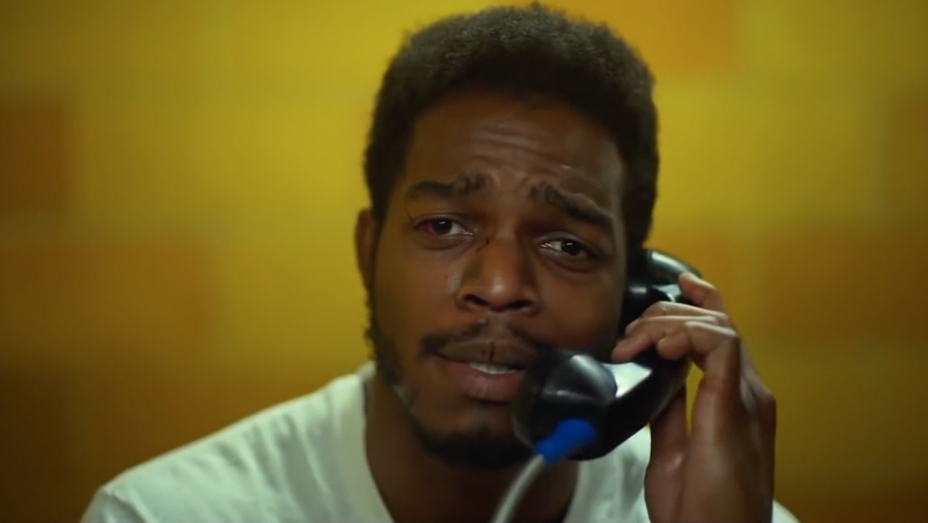 There is also great levity and humour during a construction site scene. Tish and Fonny discuss their future together, including where they will live. Since the spot is still under construction, Tish is understandably sceptical. Fonny remains reassuring and confident. He explains where all their furniture will be placed. Humorously, he and his Jewish landlord (Dave Franco) lift invisible furniture together and put it in place. Tish then asks then where her stove is going. The way the light pours through a back window in this sequence provides her with a luminous glow. The sequence is funny but also reflects a sense of hopefulness about the couple's future even when it is not always tangible.
The moments of beauty and humour are pivotal in adding levity to the bleak story. This is difficult, challenging material, proving that that Jenkins is unflinching in approach adult themes, such as race relations, injustice, allegations and corruption of the law. The material is rich but sometimes the volume of flashbacks to their early relationship detracts from the time given to the present-day scenes. For example, a thread where the two dads are undertaking a hustling job is not elaborated upon and does not reach any dramatic heights. Meanwhile, the ending is highly open-ended and ambiguous. It rests entirely on your interpretation of a small hand gesture.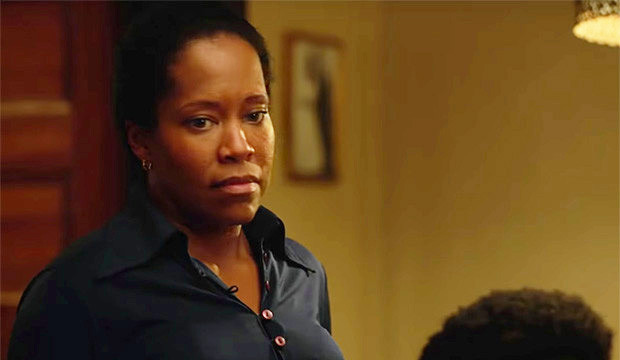 Some might view Beale Street as problematic considering the #MeToo movement. The film was written by Jenkins at the same time as Moonlight, which predates the movement. There is a difficult scene where Tish's mother tries pressuring Victoria in Puerto Rico into changing her mind about the case. She argues she did not see Fonny commit the crime because it was dark. There is a strong New York Times article by Aisha Harris who has seen the film twice and has read James Baldwin's novel. She says that she felt complex and conflicting emotions in this scene. 'While the story primes us to side with Sharon and her family, I found it painful to hear her echo statements we've heard from men and women coming to the defense of their friends, partners or family members who have been accused of sexual assault', she writes. However, Harris also concedes that the film is adamant that Fonny was framed by a white cop.
Nothing detracts from the quality of the ensemble's performances. All the actors capably express their inner-most feelings about their happiness in each other's company and the fearfulness of being a person of colour in America. They are the embodiment and faces of Barry Jenkins' vision. His aim is to immerse us into and empathise with the experience of being black. Through his lens, we live out their most beautiful dreams and then partake in a nightmare where the corrupt justice system sees them disintegrate into ash. The quirks of the narrative structure do not detract from the impacting characters moments and the humanity brought forth by the talented actors.
Summary: Nothing detracts from the quality of the ensemble's performances. All the actors capably express their inner-most feelings about their happiness in each other's company and the fearfulness of being a person of colour in America.