Comics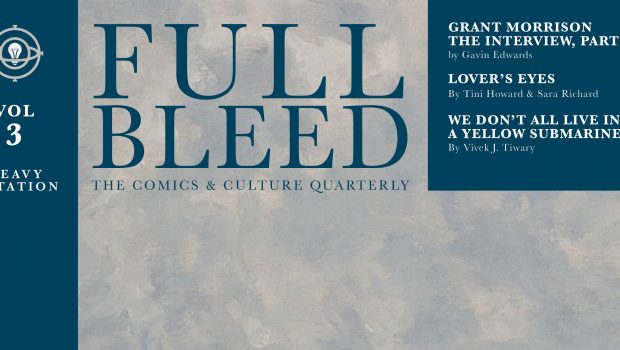 Published on December 12th, 2018 | by Dana Folkard
IDW Launches Kickstarter for FULL BLEED VOL. 3: HEAVY ROTATION
IDW Publishing is launching a Kickstarter for the third volume of FULL BLEED, the acclaimed print-only 200-page hardcover magazine. When funded on Kickstarter, FULL BLEED VOL. 3: HEAVY ROTATION will include a cornucopia of features, including a provocative and long-lost interview with bestselling comic book writer Grant Morrison, discussing his feud with writer Alan Moore; a conversation between music legends Metallica's Kirk Hammett and Anthrax's Scott Ian; interviews with with comic book legend Geof Darrow, and contributions by Julia Alekseyeva, Abdulkareem Baba Aminu, Peter Bagge, Tini Howard, Gideon Kendall, Roger Langridge, Joe Lansdale, Erin Nations, Benjamin Percy, Jon Raymond, Sara Richard, Vivek J. Tiwary, Noah Van Sciver; Shannon Wheeler, and many more.
FULL BLEED is curated and edited by IDW Publishing's Dirk Wood, alongside IDW Publishing Former CEO/Founder Ted Adams. When funded through Kickstarter, pledges will be delivered to backers next year. The FULL BLEED Kickstarter campaign is live as of Tuesday, December 11th and runs for 30 days.
"FULL BLEED is like Rolling Stone, the old Comics Journals, and an art book had a baby," said Creative Director Dirk Wood, "We're so proud to bring this baby into the world and now we're coming to you. In days of yore, when running a magazine, one had to rely on two important sources of revenue — advertising and subscriptions.The bottom line is FULL BLEED is 100% ad free. To realistically sustain a publication of this magnitude, reaching out directly to fans is necessary. Kickstarter provides us the opportunity to interact with prospective readers, not compromise on quality, and remain free of advertising. So tell your friends."
"FULL BLEED #1 was a hell of a book," said LOCKE & KEY writer Joe Hill. " I'm excited to see the series continue. Jump in. The water's great."
By merging the best in comics, fiction, non-fiction, deep dive interviews, opinion, history, think-pieces and more, FULL BLEED is a reading experience like no other, and a beautiful addition to any bookshelf. Looking through an international lens, but filtered through the unique perspective of the IDW:PDX satellite office in Portland Oregon, FULL BLEED tackles all aspects of the creative culture, and beyond — comics, music, film, tv, fine art, photography, design, politics and more. FULL BLEED seeks total diversity: diversity in content, diversity in creators and contributors, diversity in genre.
FULL BLEED VOL. 3: HEAVY ROTATION features:
The Grant Morrison Interview, Part One, By Gavin Edwards, illustration by Peter Bagge
Monsters of Rock: An interview with Metallica's Kirk Hammett, and Anthrax's Scott Ian, concerning their shared history and love of all things horror and genre, By Russell Sheath, illustration by Tony Shasteen
We Don't All Live in a Yellow Submarine: An Essay, By Vivek J. Tiwary
The Watering Shed: A brand-new short story featuring Hap & Leonard, By award-winning novelist Joe Lansdale
Lover's Eyes: An Essay, By Tini Howard, with illustrations by Sara Richard
Arizona Daisy: A new comic, By Roger Langridge
May 1968: The Revolution that Almost Was – A comic essay, By Julia Alekseyeva
Black's In: When a "Blackout" is a Good Thing,  Text and illustrations by Abdulkareem Baba Aminu
Following the Bloody Trail of the Shaolin Cowboy: An interview with Geof Darrow, featuring never-before-seen art, by Hannah Means-Shannon
The Underdream: A new comic, By Josh O'Neill and Gideon Kendall
The Lost Boys of the U-Boat Bremen: Chapter Three, By Phillip Kennedy Johnson and Steve Beach
Down Mexico Way: A travel log, By Jarrett Melendez, with illustration from Danica Brine
Uncharted Part Two: A short story, By Benjamin Percy with spot illustrations by Brent Schoonover
The Shapes: A new comic, By Adam Knave & Andrew Losq
New short comics from Shannon Wheeler, Jennifer Hayden and Noah Van Sciver
A personal tale of young love gone wrong, By award-winning novelist and screenwriter, Jon Raymond
The Big Smoke, a photo essay, By Joel Meadows
Blade Runner: Technology Steals the Soul — An essay, By Tom Waltz, with illustration by Santipérez
The Five Most Important Underground Cartoonists, an essay, By Bob Levin
Home: A new comic by Erin Nations
Premiering today on Kickstarter is the new volume of the flagship publication from IDW's Portland satellite office: FULL BLEED VOL. 3: HEAVY ROTATION!