Comics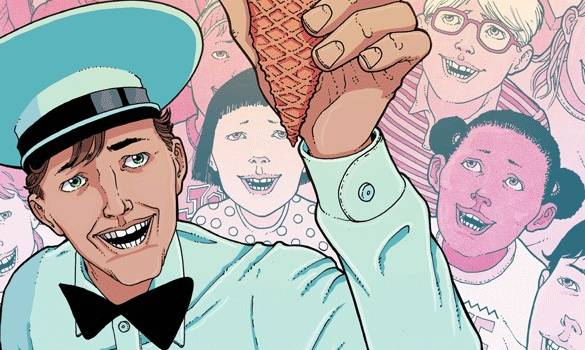 Published on May 2nd, 2018 | by Dana Folkard
ICE CREAM MAN, VOL. 1 DELIVERS CHILLS, THRILLS, AND KILLS!
Writer W. Maxwell Prince (ONE WEEK IN THE LIBRARY, The Electric Sublime), artist Martín Morazzo (SNOWFALL, GREAT PACIFIC, The Electric Sublime), and colorist Chris O'Halloran (GENERATION GONE, Black Panther) team up for ICE CREAM MAN, VOL. 1: RAINBOW SPRINKLES this June. The trade paperback will collect issues #1-4 of the ongoing series.
Chocolate, vanilla, existential horror, addiction, musical fantasy…there's a flavor for everyone's misery.
ICE CREAM MAN is a genre-defying comic book series, featuring disparate "one-shot" tales of sorrow, wonder, and redemption. Each installment features its own cast of strange characters, dealing with their own special sundae of suffering. And on the periphery of all of them, like the twinkly music of his colorful truck, is the Ice Cream Man—a weaver of stories, a purveyor of sweet treats. Friend. Foe. God. Demon. The man who, with a snap of his fingers—lickety split!—can change the course of your life forever.
ICE CREAM MAN, VOL. 1: RAINBOW SPRINKLES (Diamond code: APR180546, ISBN: 978-1-5343-0675-2) arrives in comic shops Wednesday, June 20th and bookstores Tuesday, June 26th. It can be preordered via Amazon, Barnes & Noble, Books-A-Million, Indiebound, and Indigo.
Select praise for ICE CREAM MAN:
"ICE CREAM MAN is a trippy, twisted, and surreal ride into suburban horror, and it's just damn fun to read." 
—Monkeys Fighting Robots
"This series is an achievement in design and imagination, and it is incredibly good." —The Oregonian
"Penciler Martín Morazzo has an evocatively brittle approach to line work and a talent for upsetting facial expressions, and colorist Chris O'Halloran infuses everything with block colors that, like the ice cream, seems simple but contains much sinister import." —Vulture
"A haunting horror tale that is both entertaining and eerie." —Impulse Gamer
"Prince is fast building an unusual resume in comics, and Morazzo's style recalls the precise line work of greats like Frank Quitely. You'll never look at ice cream trucks the same way after this one." —Paste Magazine
"ICE CREAM MAN is an ever-smiling, ghoulishly jolly thing." —Doom Rocket
"Prince's work ups the ante with a precisely-crafted page-turner, sporting crisp line work by Morazzo and the dreamlike colors of O'Halloran." —Publishers Weekly