Comics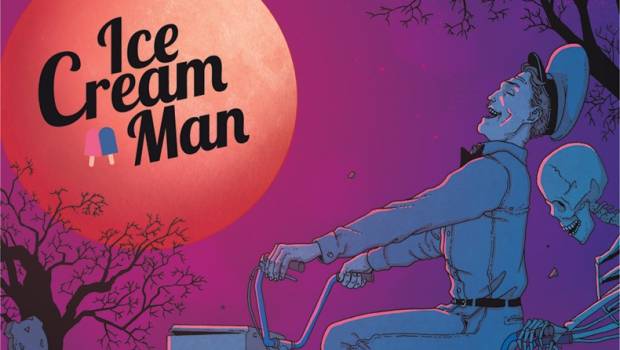 Published on April 25th, 2018 | by Dana Folkard
ICE CREAM MAN #4 REVIEW
Summary: Another disturbing tale of horror.
This week we delve once again into another menacing tale, as the fourth chapter in this wicked series is here. Selfishness, regret and death lurk in the shadows of this dark tale, as the ice cream man plays maniacal puppeteer once again.
This issue follows the story of Joel, a man who is getting ready to attend the funeral of his best friend, Chris. After the funeral, Joel is approached by his best friend's estranged father who proposes that they go out for a drink. After a few bevvies, Joel begins to question Chris' father about why he left his family all those years ago. With the conversation turning personal, things quickly progress to guilty admissions, regretful revelations and a desire to be able to hug his son once again. Meanwhile, a strange and unpleasant interlude interrupts the story, revealing the ever-present influence that the ice cream man has, and how no one, not even the dead are able to escape his sticky little fingers.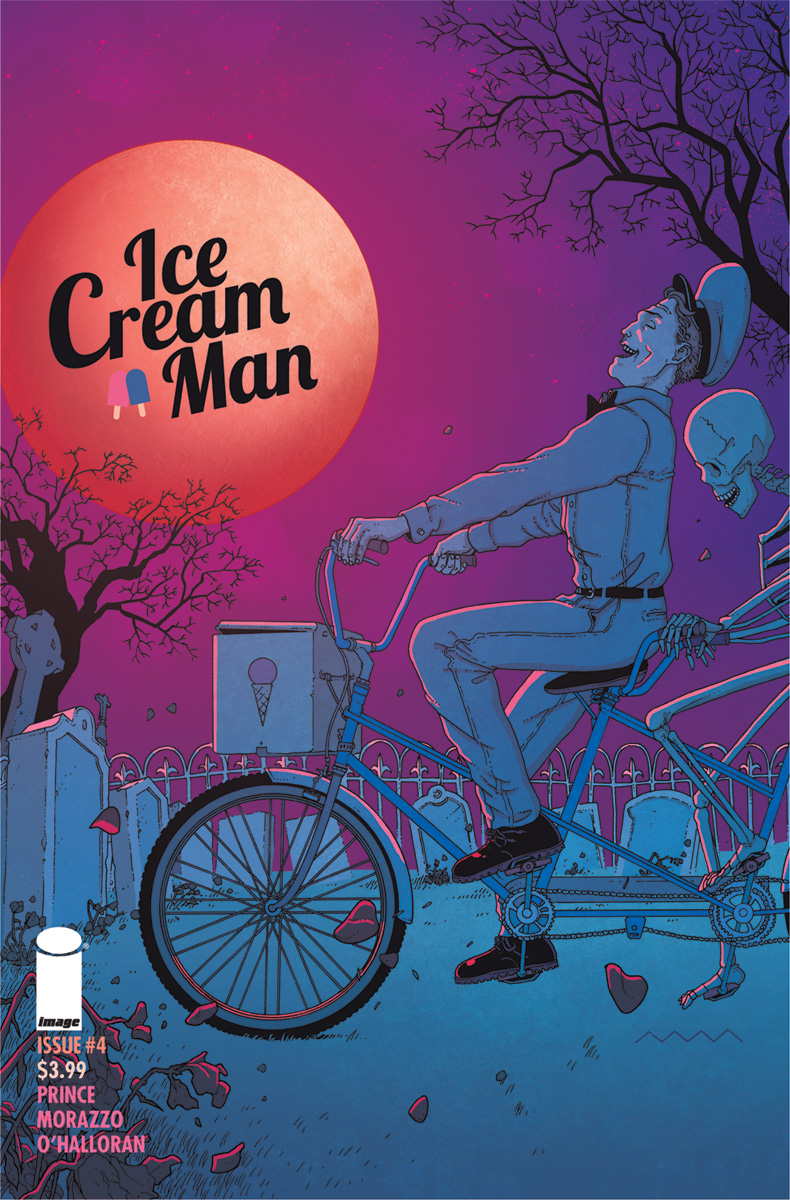 Once again, W. Maxwell Prince weaves another disturbing tale of horror that is both clever and menacing. I quite enjoyed the strange flow of dialogue between Joel and Chris' father, revealing that Joel is going through some kind of midlife crisis. The story takes a bit of a shocking and unexpected turn towards the end, revealing some disturbing events that involve the dead man and the ice cream man. I won't reveal much about what transpires, but what I will say is that it's rather unpleasant and I feel a bit bad for saying this, but kinda funny as well. Unfortunately, I found that the resolution of this story was a little disjointed and odd, with one particular scene involving Joel making me question what was going on. I will say that the ice cream man has me intrigued once again, and I'm beginning to think that he is some kind of hellspawn demon who has taken up residence here. Clearly, he takes pleasure in using the people of this town as his personal playthings, but what I'm curious about is how far his torment of them will go?
Martin Morazzo's art is all kinds of creepy, from his intense and unhinged looking expressions to the outright graphic scenes involving Chris. I really love the contrast of the neat suburban setting along with the sinister horror unfolding within this place. Most of the time it's subtle, forcing you to look for small clues dotted throughout each scene, which ultimately fosters the feeling that something is weird and not quite right about this place. It's as of we are looking at a pretty façade that is rotten and dilapidated behind the scenes. I also really like Morazzo's layouts that flow in an effortless way, with nothing feeling disjointed or awkward on the page. I find the colouring by Chris O'Halloran to be very effective in helping to reinforce the overall menacing and uneasy tone of this story. The night scenes are  particularly pretty with a vibrant and eye-catching palette. There is also a lovely sense of light that is achieved with the colouring, which helps to create a sense of atmosphere and depth.
Overall, I found this to be an enjoyable chapter in this series. I liked the interaction between Joel and Chris' father and I also loved the horrifying interlude that we see involving Chris. There was one particular scene involving Joel and Chris' father that bugged me a little, but aside from that I thought it was pretty ace.
I'm giving this issue 3.8 out of 5 stars!
---
COMIC DETAILS
CREATIVE TEAM: W. Maxwell Prince, Martin Morazzo and Chris O'Halloran
PUBLISHER: Image Comics
PUBLICATION DATE: April 25, 2018
REVIEWER: Dana Folkard