Blu-ray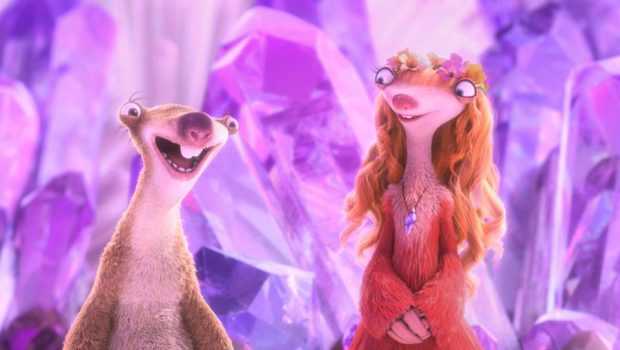 Published on October 13th, 2016 | by Admin
ICE AGE COLLISION COURSE: Sid & Brooke!
Our reporter sat down with Sid the Sloth from the new 3D animated adventure Ice Age: Collision Course who claims to be an expert on dating and courtship. We asked him to share some advice with our lovelorn readers, with a little help from his fellow sloth Brooke.
Q: Sid, what are the mistakes most people make when it comes to dating?
SID: Great, great question. The number one mistake people make is not putting themselves out there enough. It's never too early to say, "I love you! Marry me! PLEASSSSSEEEEEE MARRY ME!"
Q: Even on a first date?
SID: Especially on a first date! There might not be a second date!! Put it out there immediately. That usually guarantees that there will be a second date.
Q: Does that really work?
SID: It's never failed! I mean, there were a couple of times when I was supposed to go on a second date with someone and then they cancelled, but it had nothing to do with me. They had a sudden tooth ache or their sister's uncle's half-cousin's brother-in-law was sick. Actually, several of them seem to have distant relatives who are suddenly ill, come to think of it.
Q: Brooke, you're a sloth. What do you think of Sid's advice?
BROOKE: I think it's pretty compelling!
Q: Really?
SID: Wait… really???
BROOKE: Yeah, I mean, no one's ever asked me out, so I wouldn't know how to respond if they want to marry me, but I bet I'd be thrilled.
Q: What do you think is the secret to a healthy relationship, Brooke?
BROOKE: Well, I think it's important that both parties are willing to admit to their mistakes, no matter how many mistakes they make.
SID: Great, that makes me the perfect date. I make tons of mistakes!
Q: Are there any red flags people should be aware of before they get into a relationship?
BROOKE: Well, some people won't date someone who's from a very different background, but I think opposites attract. Now, since people tell me I'm smart, pretty and a good conversationalist, I guess I'm looking for…
SID: A witless, woolly wonder with a toothy smile, like me!
Q: That brings up an interest point… Sid, would you date a sloth that was hundreds of years older than you?
SID: You know, I always say, age is just a number, and I'm not too good with numbers anyway.
Q: Sid and Brooke, what do you think is the key to a successful date?
BROOKE: I think an evening stroll under the stars sounds romantic. . .
SID: I'm more of a pick-wax-out-of-each-other's-ears kind of guy, but sure, walking sounds nice, too!
ICE AGE COLLISION COURSE IS AVAILABLE ON BLU-RAY, DIGITAL & DVD 26 OCTOBER 2016