Films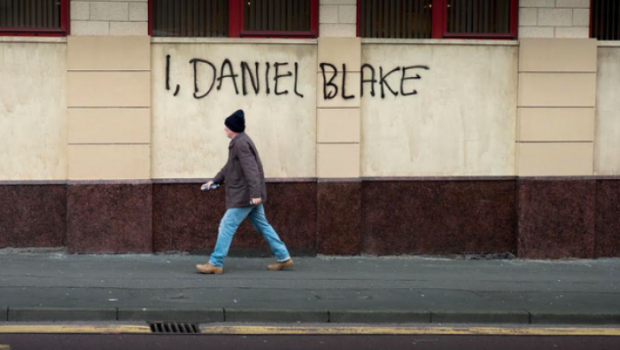 Published on December 4th, 2016 | by Curtis Mayfield
I, Daniel Blake – Film Review
Reviewed by Curtis Mayfield M-H on the 24th of November 2016
Transmission Films presents a film by Ken Loach
Written by Paul Laverty
Produced by Rebecca O'Brien
Starring: Dave Johns, Hayley Squires, Dylan McKiernan & Briana Shann
Music by George Fenton
Cinematography: Robbie Ryan
Edited by Jonathan Morris
Running Time: 100 minutes
Rating: MA15+
Release Date: the 17th of November 2016
From time to time there are movies that are made with so much realism and slowness that the story on screen could be mistaken for a documentary. Well this can most definitely be said about I, Daniel Blake, a film about Britain's working class getting a raw deal and the western welfare system that sometimes causes more stress than relief. Daniel Blake (Dave Johns) is a widower and an out of work carpenter who's bordering on retirement age. The old fella is quick witted and loved by those who know him in the community and is also a bit of smartarse. A heart attack has put him in a horrible situation where his doctors say he's unfit to work but the welfare system unfairly deems him fit for work and won't provide support. It's this rock and a hard place situation that creates frustration for both Daniel and us. Long scenes showing Daniel on the phone with the welfare office and even longer and heart breaking scenes of him strolling the streets looking for non-existent work will (unfortunately) be relatable to a global working class audience. It's this kind of pacing and societal self-reflection that proves that director Ken Loach and screenplay writer Paul Laverty are sympathetic and possibly empathetic to those on struggle street.
As Daniel gets bullied and slowly broken down by the frustrations and impracticalities of England's welfare system, this film still manages to find an even more heartbreaking level. While waiting in line at the welfare office Daniel sees a mother and two young children being kicked out of the building by Shelia (Sharon Percy), a welfare worker who is so heartless you'll quickly learn to hate her. Katie (Hayley Squires) has been forced to move from London to Newcastle so she can put a government assisted roof over her and her two children's heads. Scenes of Katie going without food so her kids can eat are mixed in with her being caught for stealing sanitary pads and make for some tear-jerking moments. Daniel and Katie may be at different ends of their lives but they share something by living below the poverty line and soon become pillars in each other's lives. Both desperately want to work but can't find anyone willing to hire them. Again the frustration for us as well as them is taken even further. The two characters both have feisty personalities that make for some funny moments in a very depressing but touching movie. One standout moment is put on display when Daniel catches someone letting their dog do its business in front of his flat. A lot of four letter words are expressed and Daniel's punk rock ways are exposed. Dave Johns plays the title character with enough power and charm that he quickly becomes an endearing character. We want to see him succeed since he represents a disenfranchised community. The exact same can be said of Katie who's very sweet but no pushover.
Similar to a Richard Linklater movie, almost everything and nothing happens in this movie. We are given a bit more context than a Linklater narrative since these characters are framed in a tragic story that involves poverty and desperation. It's the realistic dialogue, pacing and characters of I, Daniel Blake that makes this one of 2016's best movies. Though Daniel is a lovable, personable character, which is shown through his interactions with his community, this is a far cry from a feel good movie. Following Daniel and Katie's poignant journeys may be too much to handle but the movie's depressing backdrop highlights the kindness of other characters. For example, there's Ann (played by Kate Rutter), a welfare worker who is very sympathetic to the people that come to her for help. Her character offers us a glimmer of hope that Daniel will make it through. Loach does offer some funny moments that work as a much needed relief from this tragic story. Seeing the middle-aged Daniel use a computer for the first time to sign up for welfare is both endearing and sad. I, Daniel Blake proves that movies about genuine people and real-life situations are still as important as ever in an age where superheroes are king and the real is simply forgotten.
Summary: I, Daniel Blake proves that movies about genuine people and real-life situations are still as important as ever