Films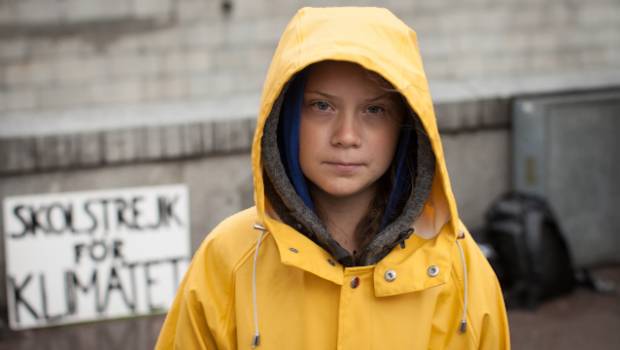 Published on October 23rd, 2020 | by Damien Straker
I Am Greta – Film Review
Reviewed by Damien Straker on the 23rd of October 2020
Madman Films presents by Nathan Grossman
Produced by Fredrik Heinig and Cecilia Nessen
Starring Greta Thunberg and Svante Thunberg
Music by Rebekka Karijord and Jon Ekstrand
Cinematography Nathan Grossman
Edited by Charlotte Landelius and Hanna Lejonqvist
Rating: M
Running Time: 97 minutes
Release Date: in cinemas on the 16th of October (limited) and the 14th of November on DocPlay
They told her to shut up. They said she was a virtue signalling brat. They demanded she return to school. Thankfully, the angry barbs from mostly male right-wing commentators failed to stifle Greta Thunberg's momentum. In 2018, the painfully shy, pint-sized Swedish student sat outside her nation's parliament with a simple cardboard sign. It read 'school strike for climate'.
At fifteen, her decision to boycott school every Friday stemmed from her laser-like focus on urgent climate action. Her intensity on the topic arose from watching a school documentary. The video prompted her to ask why the world's leaders remain passive on this immediate crisis.
In this affecting documentary, two men are integral to Greta's journey. The first is her doting father, Svante. He exudes a pivotal calmness that meets Greta's autistic needs. The second man is director Nathan Grossman. The Swedish documentarian and photographer studied at the Stockholm Academy of Dramatic Arts. He has also been a photographer for Rolling Stone India. One of his short films, 'The Toaster Challenge', is available to watch online. It features an Olympic cyclist attempting to power a toaster, which reflects the amount of energy required to fuel a small item.
In I Am Greta, Grossman's direction remains observant and sparse. He resists infusing dense scientific facts about the environment. Instead, he offers a study of activism. He underlines the banality of preparation and the necessary sacrifices. The overall composition of the narrative resembles a father and daughter road movie.
Grossman's challenge as a filmmaker is matching Greta's perseverance. Unaware of the cultural movement that would follow, he first filmed her outside the Swedish Parliament. While only a one-man crew, he accompanied Greta and Svante to major events, including the 2018 United Nations Climate Change Conference. Most impressively, he filmed them on the violent sea journey to New York. This was when Greta was invited to speak at the 2019 UN Climate Action Summit. She resisted air travel and braved the Atlantic Ocean using a wind-powered boat.
To say Grossman fails to provide new angles is short-sighted. He said he wanted to draw sympathy towards people like Greta to ensure they are not isolated. He also wanted to show the gap between scientists and politicians. Greta's words frequently highlight the distance. She describes politicians as being in a 'role playing game' and rightly quips that they are more interested in photo-ops than being proactive on climate change.
The film's understated direction is essential in building sympathy for Greta. In the early scenes, Grossman frames her on the edge of the screen. The blocking reflects her place in society as lonely and subdued. In another scene, she walks into a school lunchroom without contact. She comments on moments like this by saying, 'I was always left out'.
However, by omitting his own voice, Grossman allows us to interpret similar images for ourselves. For example, his emphasis on the banality of preparation is pivotal. Greta is filmed packing cans for the journey and fussing over her speech. Some might argue this is filler, but Grossman is juxtaposing the slow preparation of activism with surprisingly moving scenes of large-scale demonstrations. Without overstatement, these scenes gently illustrate Greta's authenticity regarding reduced consumption and how she writes her own speeches.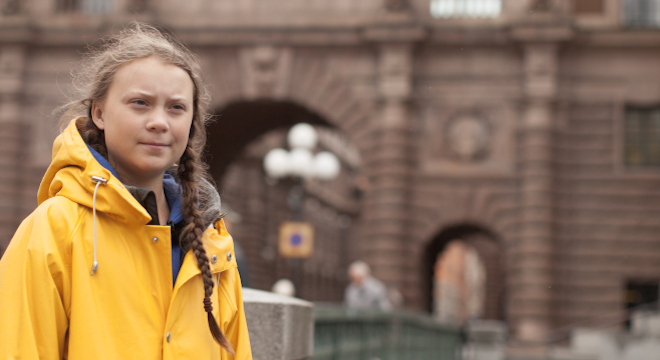 Scarce biographical details amplify the message that those personally challenged can develop a meaningful voice. Svante recalls that when Greta was younger, she almost starved to death and stayed silent for hours. Her selective muteness, resulting from autism, meant for years she would only talk to her own family members. There is a troubling scene filmed from afar where Svante urges her to eat something and that people expecting her can wait.
However, Greta's early struggles with communication makes her impression on major public figures remarkable. There is a funny scene where she meets Arnold Schwarzenegger who is sympathetic to her cause. She also meets French Prime Minister Emmanuel Macron and Pope Francis. The incredible feat shows that ordinary people can be proactive and capture the attention of major public figures.
I Am Greta recalls the embarrassing criticism from right-wing critics that Greta and other activists faced. It is cringing seeing her witness the troubling commentary. Yet in response to death threats and violence, she holds strong by saying, 'I am honestly not that scared'. She is also undeterred by an insufferable rogues' gallery of male critics, including Donald Trump, Jair Bolsonaro, Andrew Bolt, Alan Jones, and Scott Morrison. Her relationship with her dad deliberately counters these men who long to keep young women silent, passive, and afraid.
The critics' hysteria, including angrily ridiculing Greta and other students for striking during the 'Fridays for Future' movement, evokes laughs. It is not because their words are intentionally funny. It is because of how thin-skinned and narrow-minded they are in struggling to suppress facts and change. They continue to be threatened by someone incredibly young, disarming, but visibly intelligent. Greta's assessment of these climate sceptics is best articulated when she states, 'humanity treats nature like a bottomless bag of candy'.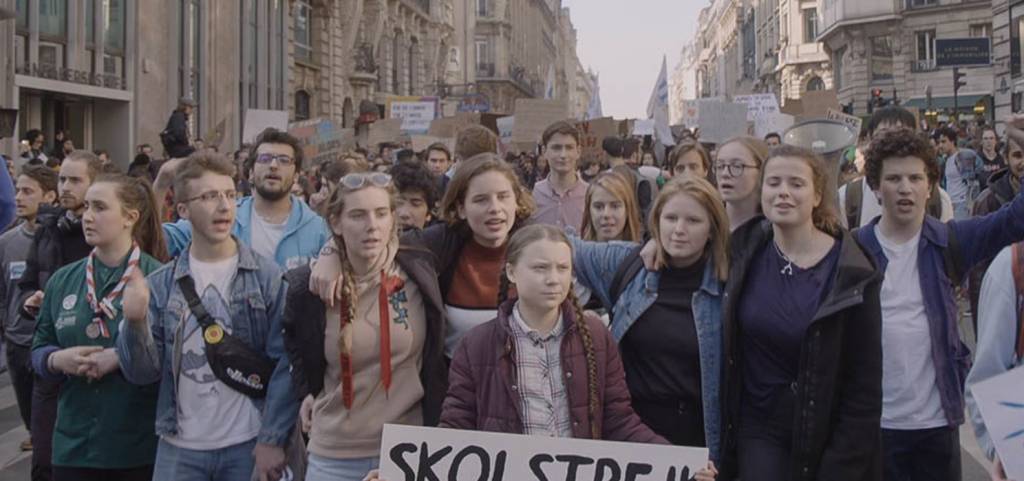 The way Grossman captures the banality of activism and Greta's preparation heightens the significance of her story. Despite her challenging upbringing, her ability to communicate her fears and factual evidence on a global scale is undeniably moving. She is portrayed as tired, shy, and hungry but ultimately persistent with her goals.
Seeing her undertake the ocean journey firsthand also brings new context to when she stressed her dreams were taken from her. We fully understand the sacrifices she made to highlight a crisis that should have been addressed years ago.
People longing to suppress her are oblivious to the symbolism. She's an ordinary person effectively challenging the modern era's most powerful figures. Hollywood often tells us that the smallest person can change the world and Grossman's thesis is the same. If she can do it, why can't you?
Summary: Hollywood often tells us that the smallest person can change the world and director Nathan Grossman's thesis is the same. If Greta can do it, why can't you?