Hardware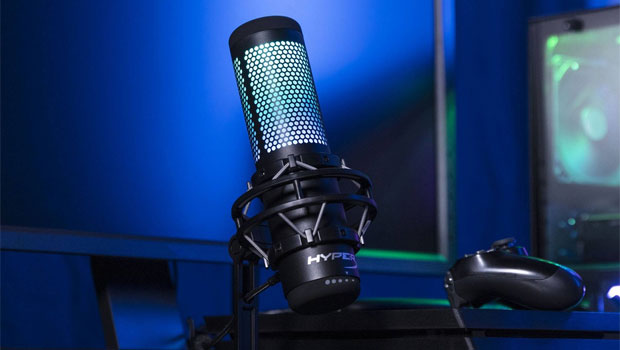 Published on October 5th, 2021 | by James Wright
HyperX Quadcast S Review
Summary: The HyperX Quadcast S provides excellent value for money to help produce those professional recordings for streaming or podcasts... well, all audio content creation actually!
4.7
Professional recordings!
The HyperX QuadCast™ is the ideal all-inclusive standalone microphone for the aspiring streamer or podcaster looking for a condenser mic with quality sound… The QuadCast family is certified by Discord and TeamSpeak™ so you can ensure that your microphone is broadcasting loud and clear for all your followers and listeners, and you can also monitor your mic in real time using the convenient headphone jack on the back of the mic. Compatible with PC, PS5™, PS4™, and Mac® as well as major streaming platforms like Streamlabs OBS, OBS Studio, and XSplit so you'll be able to deliver quality sound to anyone tuning in.
– HyperX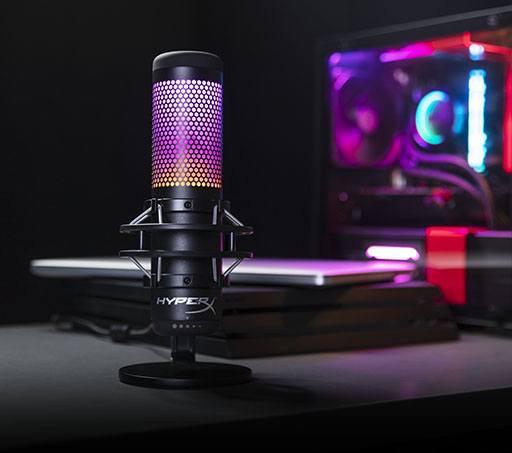 If you're looking to stream your gaming (Twitch, YouTube) or just create your own gaming podcasts or videos, then the HyperX QuadCast S delivers an excellent broadcast microphone option that simply connects to your gaming rig's USB port. It also comes with a variety of features to ensure that your voice is perfectly captured, including easy to use software that will make you sound like a professional from a recording studio.
Features
Dynamic RGB lighting effects customizable with HyperX NGENUITY Software
Anti-Vibration shock mount
Tap-to-Mute sensor with LED indicator
Four selectable polar patterns
Mount adapter included
Convenient gain control adjustment
Internal pop filter
Built-in headphone jack
Multi-device and program compatibility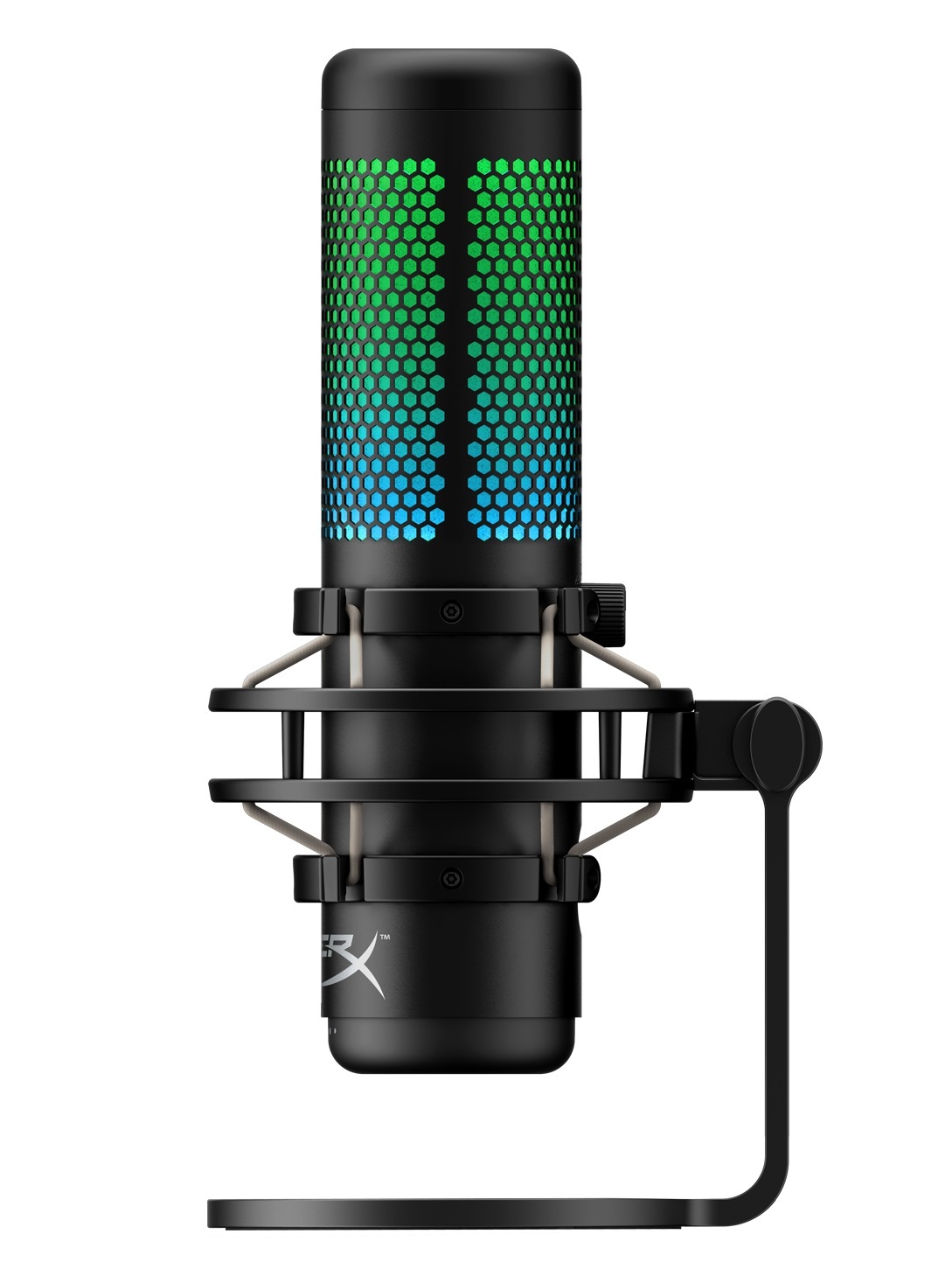 Well packed from HyperX and once freed from its packaging, aesthetically, the QuadCast S looks like a great desktop microphone that successfully adds a gamer to broadcast microphone, not to mention this company's RGB lighting features which really makes it quite unique. I also like how solid this microphone, opposed to a piece of plastic fantastic as the metal really adds a level of sturdiness to its overall build quality. Additionally it's a great weight at just under a kilogram at 710grams!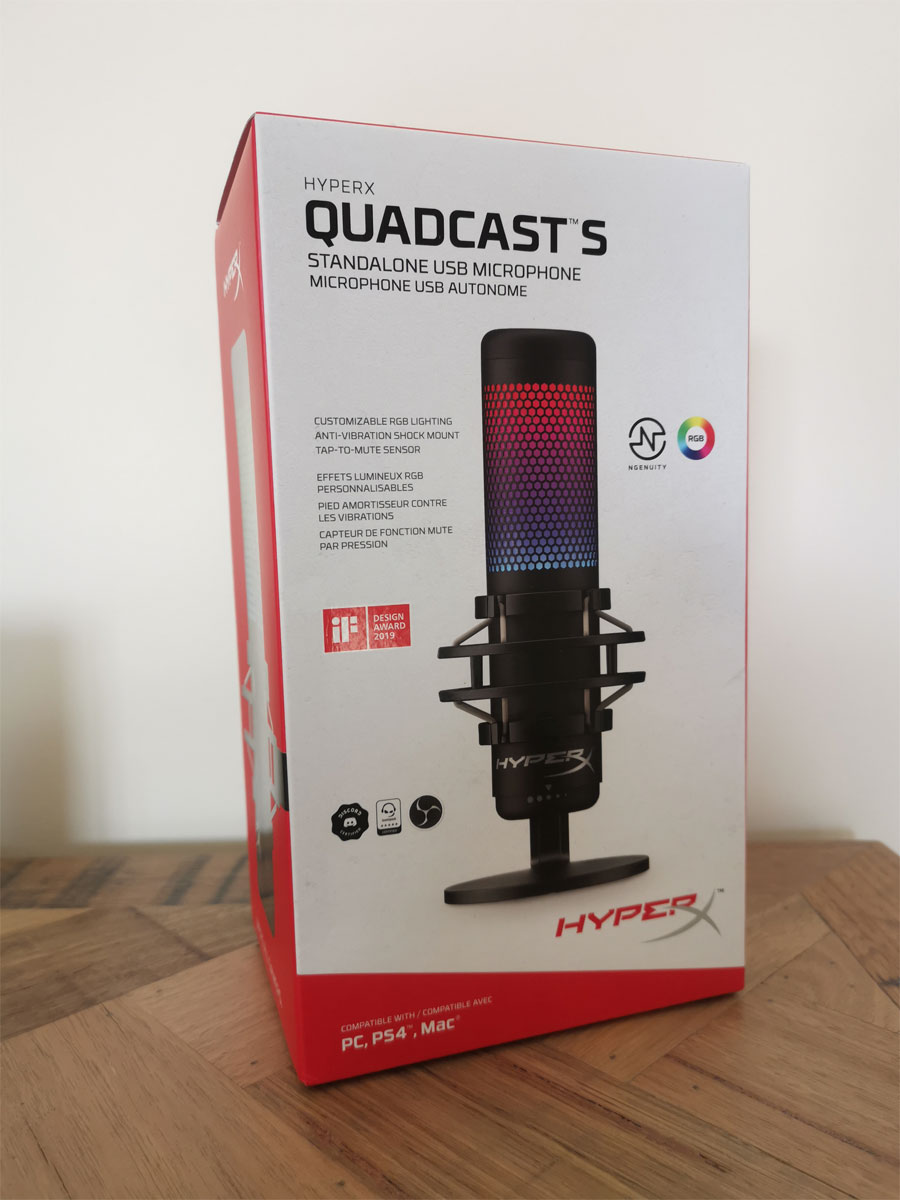 Controls are also well placed on the HyperX QuadCast S that includes a well-positioned mute button on the top cap which even allows you to change the mic sensitivity by turning it. Additionally on the bottom cap is a gain wheel and near the bottom is a dial that allows you to change between the four polar patterns that include cardioid, omnidirectional, stereo and bidirectional. There is a USB-C port on the back, including a 3.5mm headphone jack.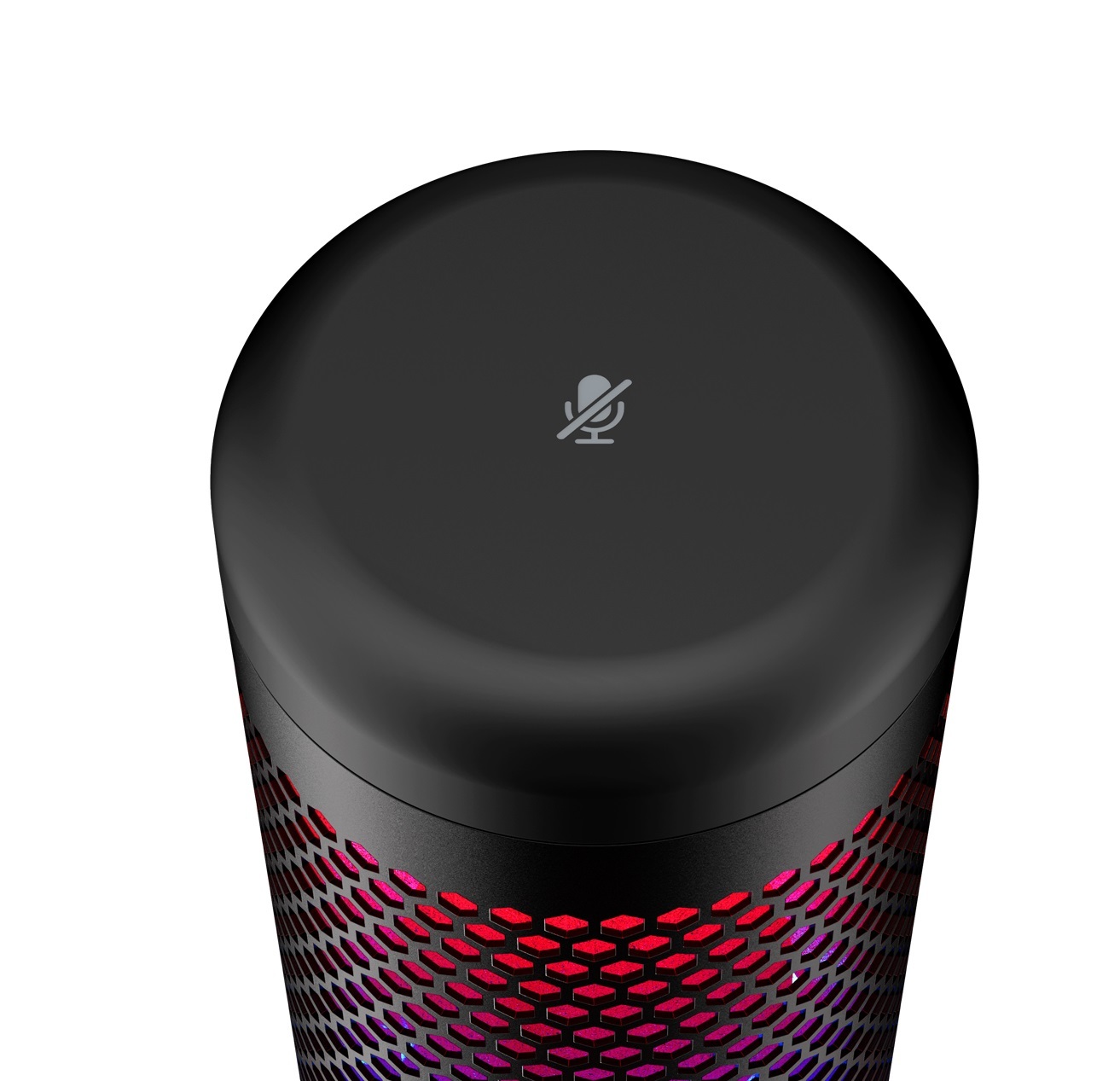 Another highlight is that the microphones comes an anti-vibration shock that ensures your recording won't be hindered by accidentally noises thanks to elastic rope suspension. While you can use it as a desk microphone, there is also a there is also a 3/8" and 5/8" adapter to attach to a "boom mic". Lastly, it comes with a very generous 3 metre cable!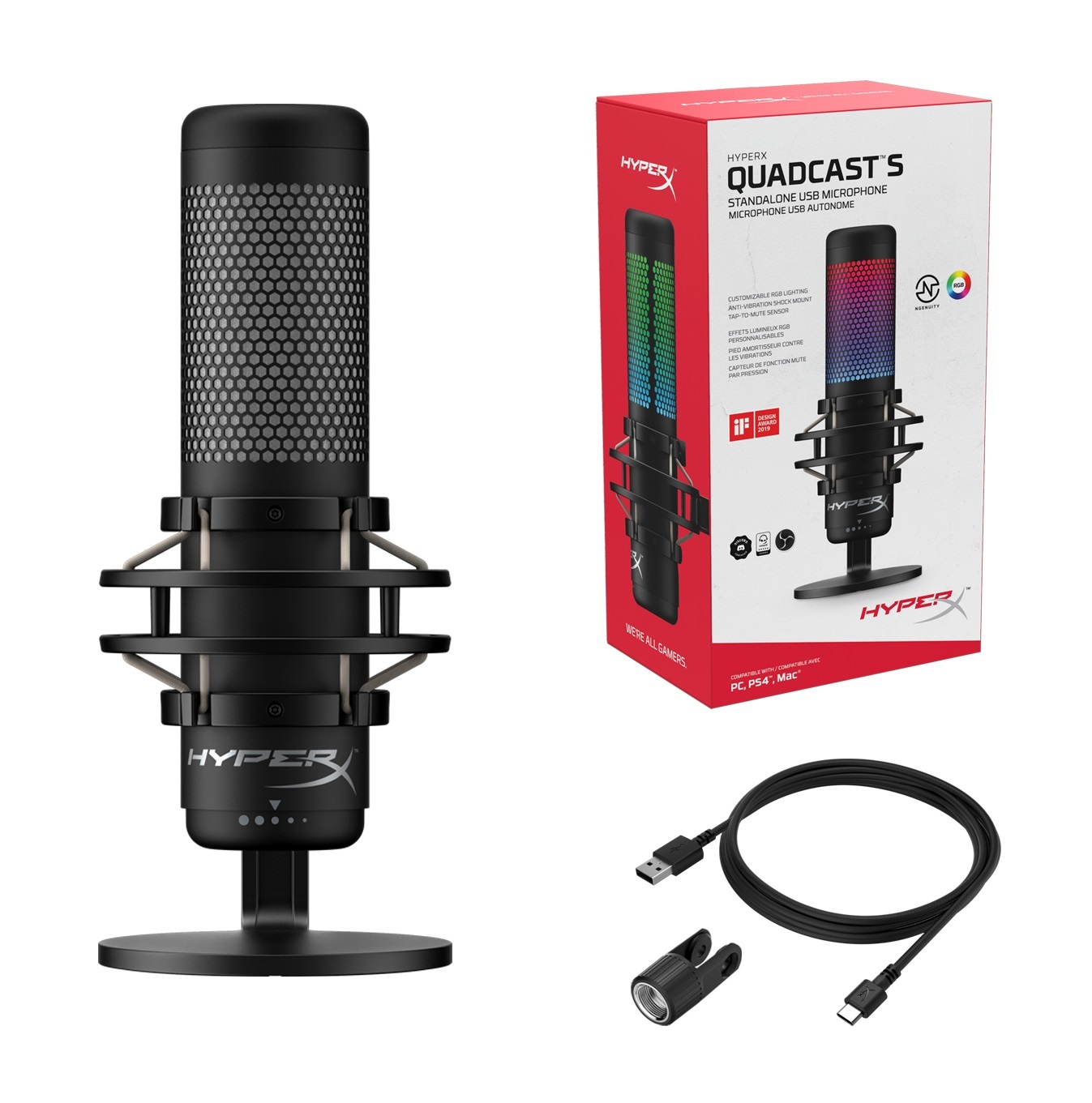 Once up and running, the QuadCast S does a remarkable job at capturing your audio and more importantly, minimising and even eliminating background audio. In terms of audio, the QuadCast S comes with three 14mm condensers with a frequency response of 20Hz to 20kHz plus a sensitivity rating of -36dB. For sampling which is perfect for all creation is 48Hz with a 16-bit bitrate.
Due to the internal audio mechanics, I must admit that the QuadCast S captured our words like a professional broadcaster, even with two of us present and while there are other higher quality specs out there, this HyperX microphone is no slouch when comes to its audio capture. Needless to say, everything was clear and smooth and the inclusion of an internal pop filter definitely adds another layer of professionalism and again, you can control a wide variety of facets of this microphone on the fly.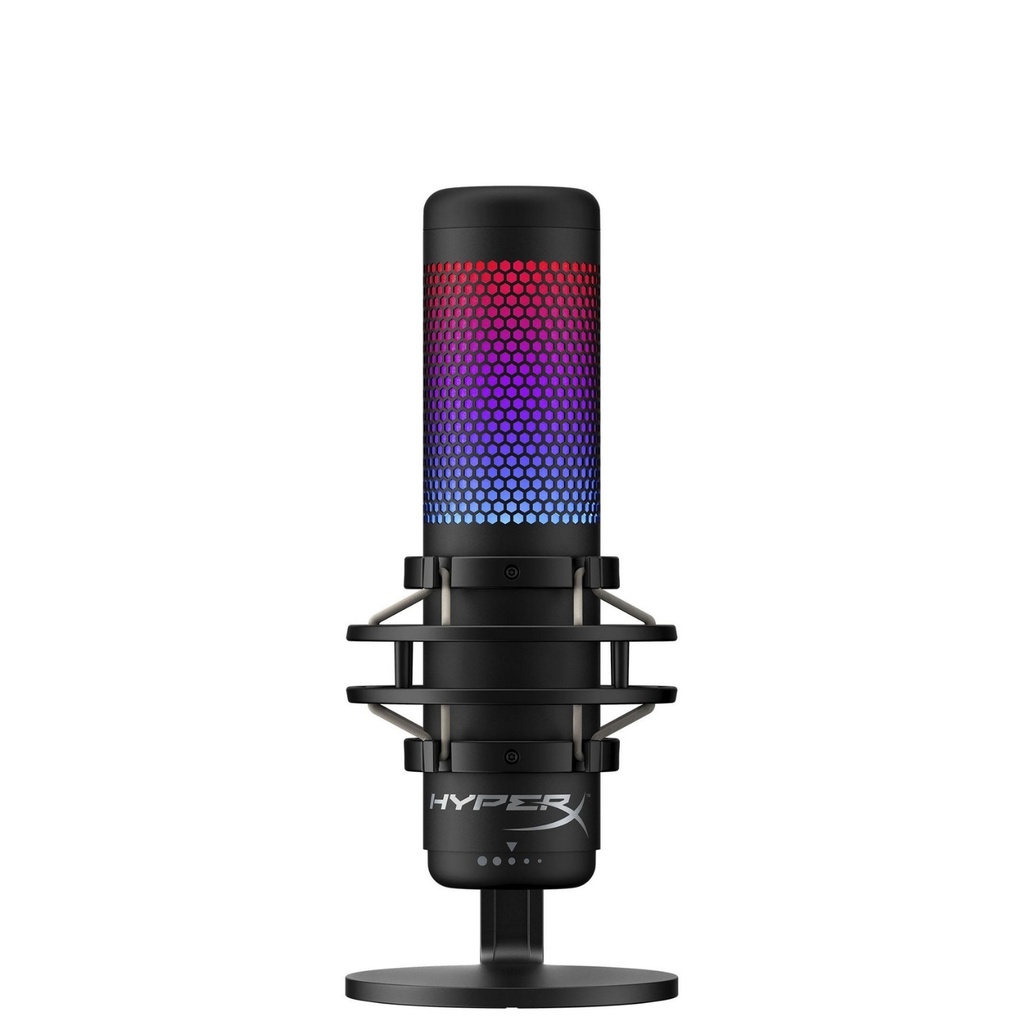 The RGB lighting effects is fully customisable through the HyperX NGENUITY Software which allows you to create some impressive effects such as wave or breathing from over 16.9 million colours, including two different lighting zones. The app also allows you to tweak the microphone such as volume and monitoring levels. Best of all, the software allows users of all tech levels to tweak the microphone without having an IT degree.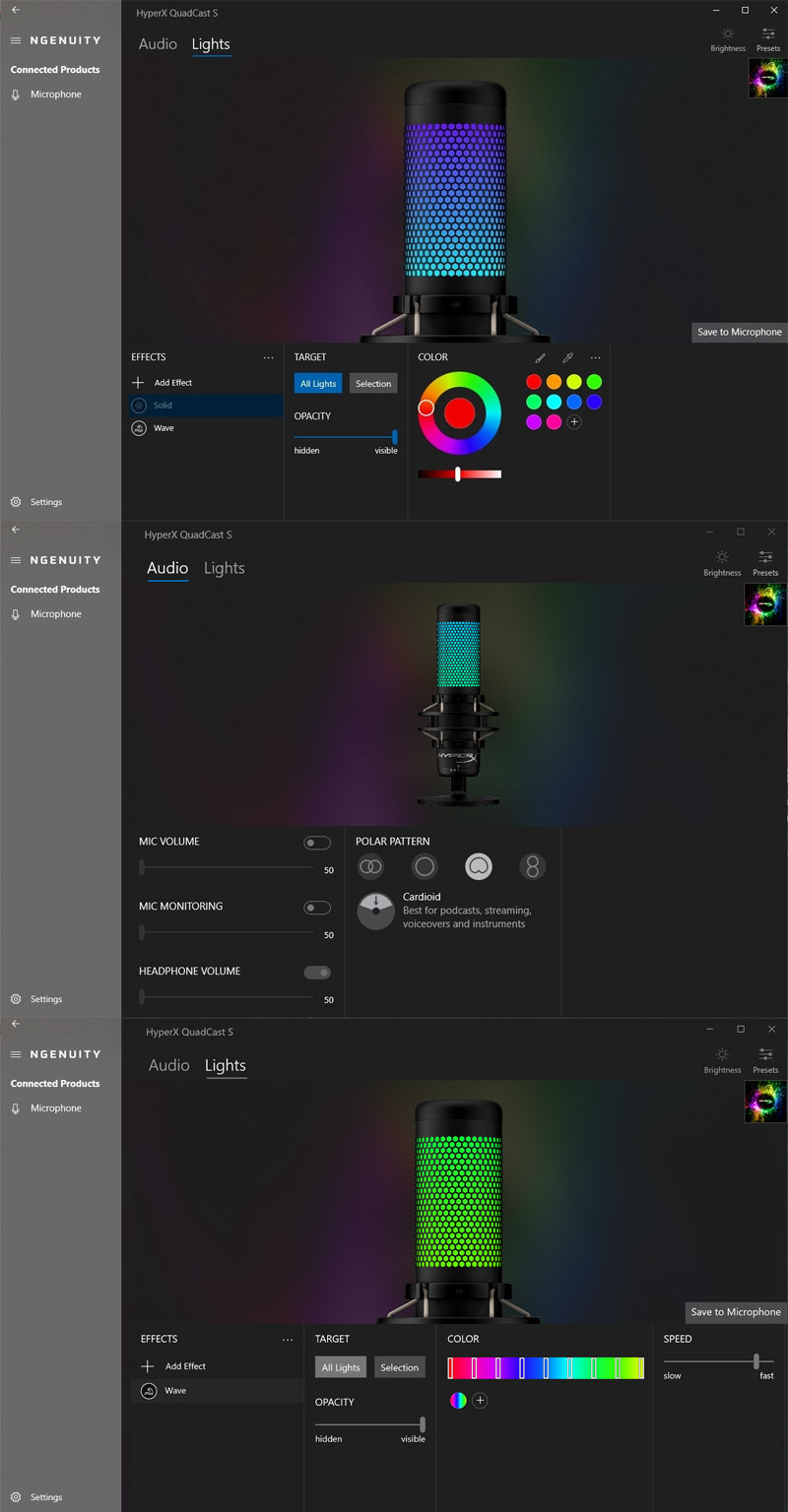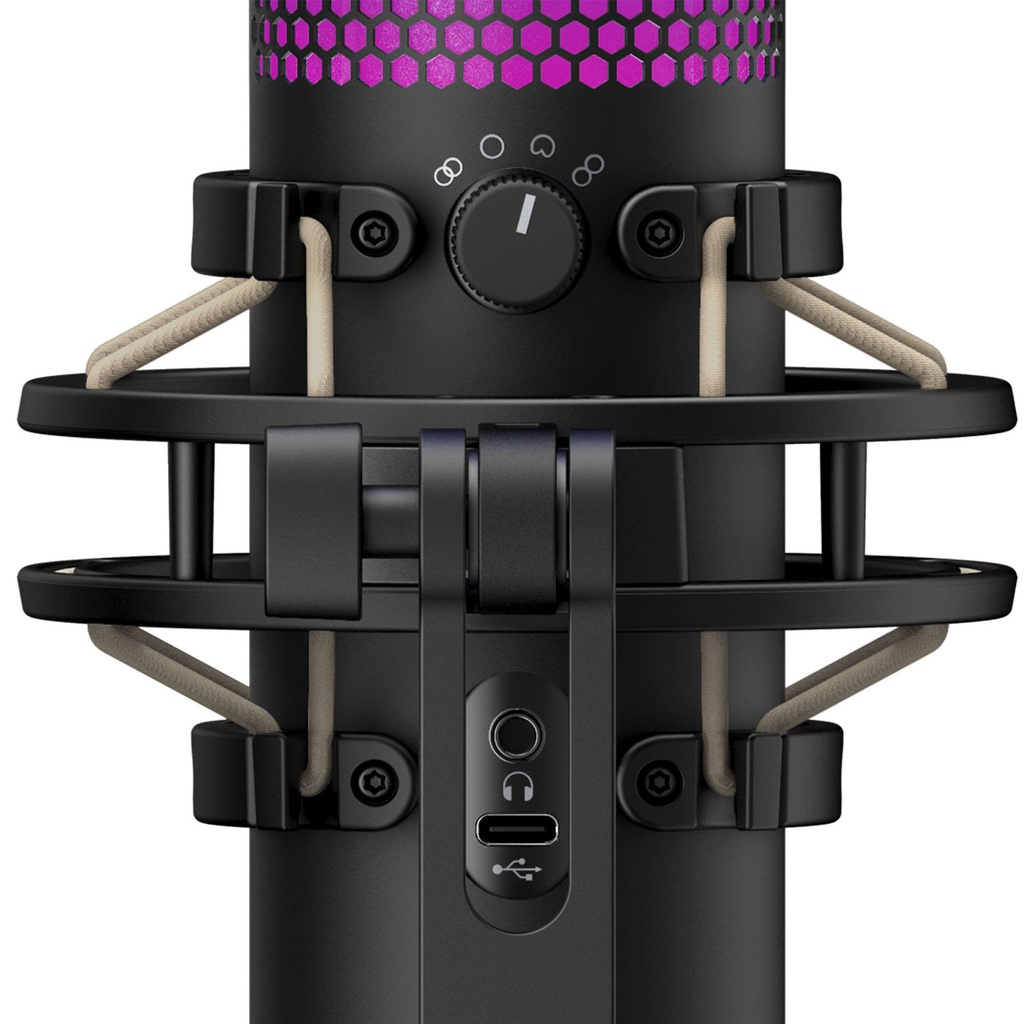 Final Thoughts?
If you're looking for an affordable microphone for your streaming and content needs, have a look at the HyperX QuadCast S as provides some excellent value money for money, including good, no impressive audio recordings that is quite affordably priced.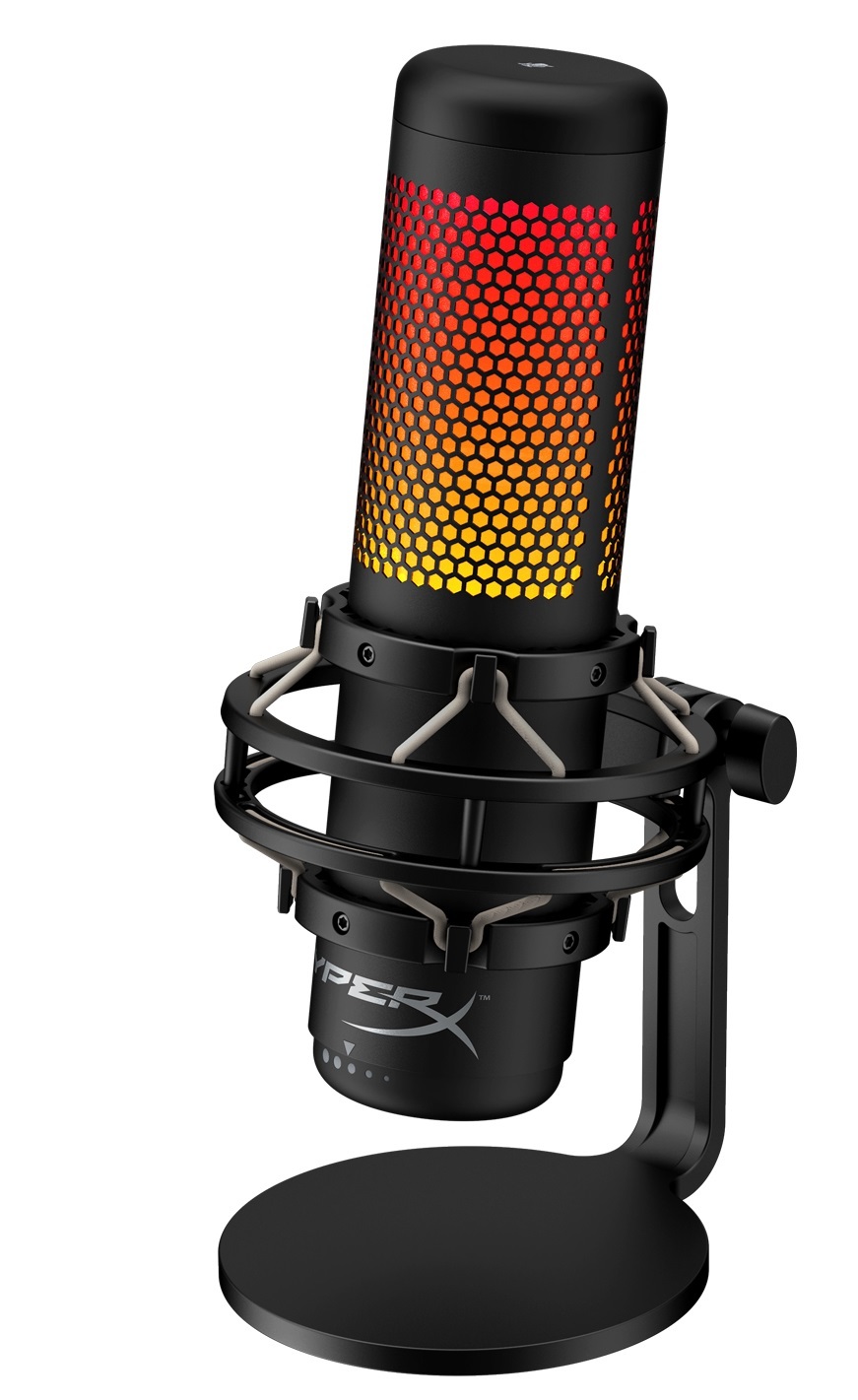 Features:
Radiant RGB lighting with dynamic effects
Anti-Vibration shock mount
Tap-to-Mute sensor with LED indicator
Four selectable polar patterns
Convenient gain control adjustment
Customizable via HyperX NGENUITY Software
Mount adapter, built-in pop filter, and headphone jack
Multi-device and program compatibility
Microphone:
Power consumption: 5V 220mA (white light)
Sample/bit rate: 48kHz/16-bit
Element: Electret condenser microphone
Condenser type: Three 14mm condensers
Polar patterns: Stereo, Omnidirectional, Cardioid, Bidirectional
Frequency response: 20Hz–20kHz
Sensitivity: –36dB (1V/Pa at 1kHz)
Cable length: 3m
Weight:

Microphone: 254g
Shock mount and stand: 360g
Total with USB cable: 710g

Lighting: RGB (16,777,216 colors)
Light effects: 2 zones*
Connection type: USB-C to USB-A
*2 zone RGB lighting customizable with HyperX NGENUITY software
Headphone Output:
Impedance: 32 Ω
Frequency response: 20Hz – 20kHz
Maximum power output: 7mW
THD: ≤ 0.05% (1kHz/0dBFS)
SNR: ≥ 90dB (1kHZ, RL=∞)