Hardware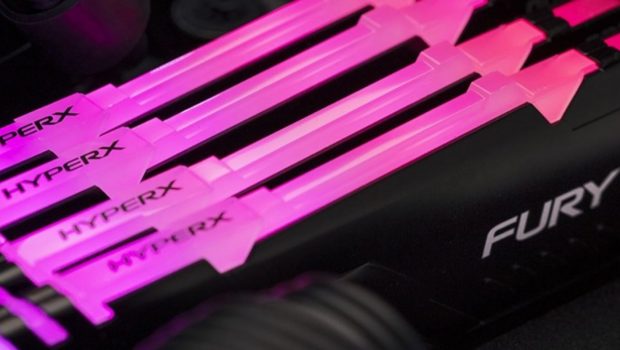 Published on October 3rd, 2019 | by Tony Smith
HyperX Fury RGB DDR4-3200 Review (HX432C16FB3AK2/16)
Summary: HyperX Fury RGB DDR4-3200 is true performance grade RAM with looks to match! (HX432C16FB3AK2/16)
Welcome to the new Fury RGB DDR-4 from HyperX that has been designed for PC gamers and aesthetically speaking, this is probably some of the most stylish looking memory available, including a kaleidoscope of "powered" colours that will make your PC literally glow!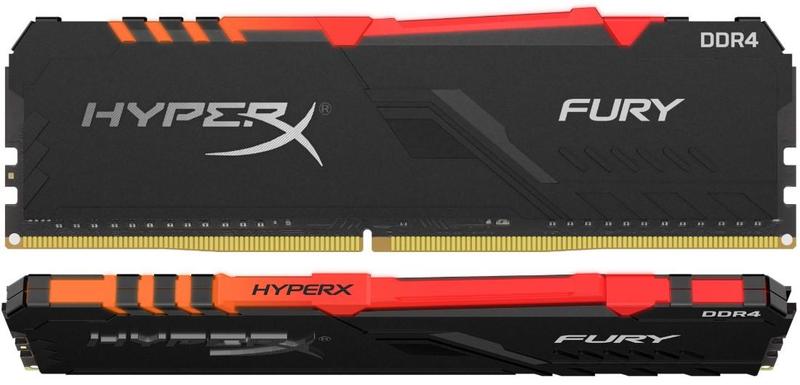 For those gamers who have a clear computer case, you're in for a treat because with the inclusion of an RGB light bar built into the DDR4 themselves and with additional software, you're able to see your PC memory come to life with a variety of special lighting effects like heartbeat or comet plus a whole wealth of colour combinations to throw into the mix.
And yes, I'll reiterate again.. it does look that cool, especially when the lights go out!
Supporting this technology is infrared sync technology that allows each module to communicate with each other in order to help create these amazing special effects and lighting combination. Impressive to say the least… and more importantly, the RAM is quite affordably priced from $145AUD (October 2019).
Highlights
Stunning RGB lighting with aggressive style
Patent pending HyperX Infrared Sync Technology
Intel XMP-ready profiles optimized for Intel's latest chipsets
Plug N Play functionality
HyperX Fury RGB 16GB DDR4-3200 Specifications
| | |
| --- | --- |
| Form Factor | UDIMM |
| XMP Ready | Yes |
| Plug N Play | Yes |
| Speeds | 2400, 2666, 3000, 3200, 3466 |
| CAS Latencies | 15, 16 |
| Voltages | 1.2V, 1.35V |
| Module Capacities | 8GB, 16GB |
| Kit Capacities | 16GB, 32GB, 64GB |
| Single Modules | Yes |
| Dual Channel Kits | Yes |
| Quad Channel Kits | Yes |
| PCB Color | Black |
| Heat Spreader | Black |
| Height | 41.24mm |
| Warranty | Lifetime |
#: Compatibility: SRock, ASUS Aura, Gigabyte RGB Fusion and MSI Mystic Light Sync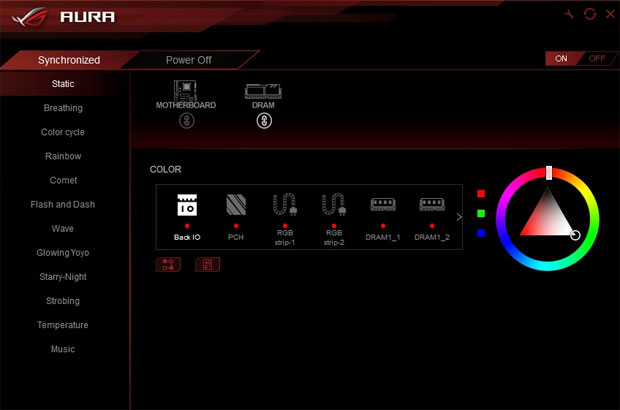 For the uninitiated, DDR4 stands for "double data rate fourth generation synchronous dynamic random-access memory" and this standard boasts some of the fastest RAM available for PC gamers as a result of improved efficiency, increased transfer rates and decreased voltage.
Furthermore, each module supports the Intel Extreme Memory Profile (v2.0) or XMP and has been tested to run at DDR4-3200 with a low latency timing of 16-18-18 at 1.35 volts. Here the factory timing parameters that the Fury RGB DDR-4 supports;
Default (JEDEC): DDR4-2400 CL17-17-17 @1.2V
XMP Profile #1: DDR4-3200 CL16-18-18 @1.35V
XMP Profile #2: DDR4-3000 CL15-17-17 @1.35V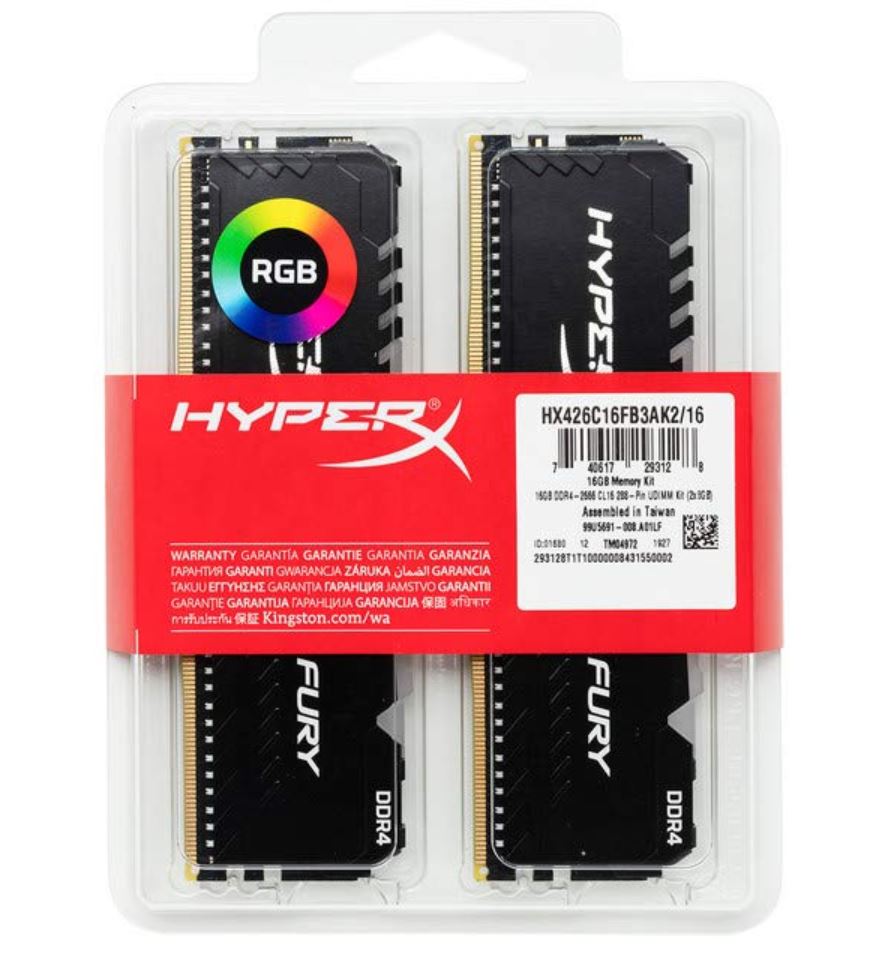 Out of the box, the first thing that I noticed was the professional and sturdy build and the RAM is a good size with a height of 41.34mm and a width of 7mm that includes the heatsink. As a result, this would easily fit most gaming cases with no issues whatsoever for installation. Once installed into our test machine (powered by an Intel Core i9900K), our motherboard automatically detected the Fury RGB DDR4 and we were ready to go.

Benchmarks
The first benchmark we used with the HyperX Fury was AIDA64. AIDA64 (https://www.aida64.com) is a system information, diagnostics and benchmarking solution for Windows PC that supports an excellent memory testing module that highlights speed and latency to name a few of the features.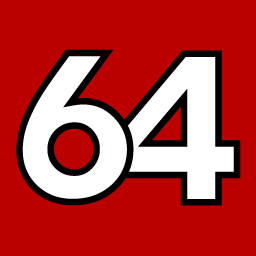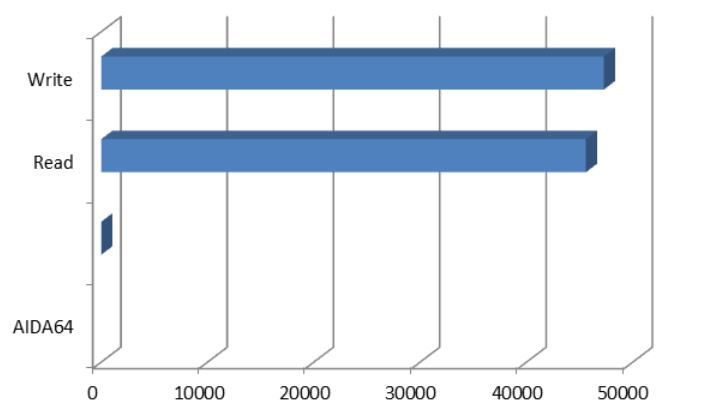 #: Read speed 45,601 / write speed 47,284
Next-up was PCMark, another popular benchmarking tool that is also from the same company as the excellent 3Mark. Unlike specific tests, PCMark is a more generalist test that targets everyday usage, including more office based software. The HyperX Fury RGB DDR4 scored a respectable 7,289 which once again puts this memory in the mid to upper echelon.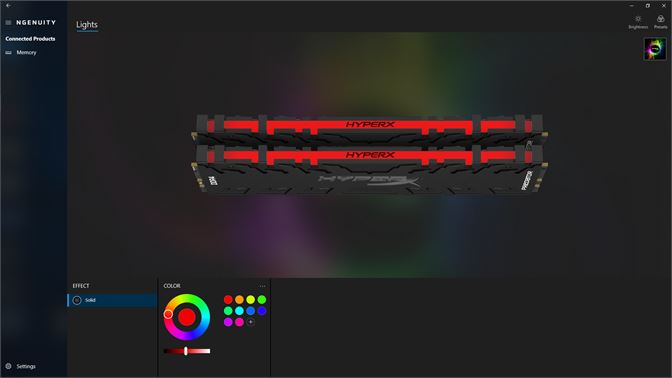 In terms of controlling the RAM, the most straightforward way is via HyperX's Ngenuity software which easily allows you to "program" your modules. If you have other HyperX products such as mice or keyboards, you can sync all these products together.
Final Thoughts?
The HyperX Fury RGB DDR4 successfully combines both aesthetics and more importantly performance to deliver gamers and PC enthusiasts a flawless experience for their systems. So if you're in the market for a new system or upgrade, the HyperX Fury RGB DDR4 definitely tick the right boxes, particularly with amazing kaleidoscope of colours and special effects.
For more information, please visit https://www.hyperxgaming.com/us/memory/fury-ddr4-rgb
Fury RGB DDR-4 Features 
Power Supply: VDD = 1.2V Typical
VDDQ = 1.2V Typical
VPP = 2.5V Typical
VDDSPD = 2.2V to 3.6V
On-Die termination (ODT)
16 internal banks; 4 groups of 4 banks each
Bi-Directional Differential Data Strobe
8 bit pre-fetch
Burst Length (BL) switch on-the-fly BL8 or BC4(Burst Chop)
Height 1.624" (41.24mm), w/heatsink