Hardware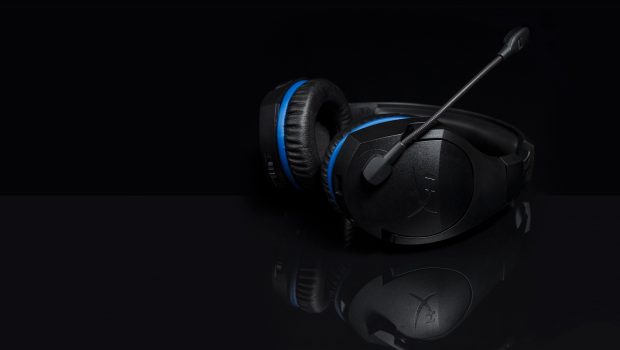 Published on July 20th, 2019 | by Nathan Misa
HyperX Cloud Stinger Wireless Gaming Headset for Review
Summary: HyperX Cloud Stinger Wireless Gaming Headset is a solid sub-$99 option for PC and PlayStation 4 gamers, with clean audio and a plug-and-play design.
Reader infomartion: The HyperX Cloud Stinger Wireless Gaming Headset is a multiplatform headset and as a result, this review focused on the PlayStation 4 experience. However on the PC, the experience is almost identical to that of the PS4 with no issues of audio quality with this lightweight and comfortable entry-level gaming headset. So whether you own a PS4, a PC or both, the HyperX Cloud Stinger Wireless Gaming Headset provides excellent value for money.
As a PlayStation 4 Pro owner with an ungodly number of hours sunk into multiplayer titles like Rainbow Six Siege, a recurring issue I've had while using PS-branded wireless headsets is the inconsistent microphone quality and a lack of comfort for extended gaming sessions.
There's a large number of budget headsets out there that offer great audio, but unfortunately skimp on the mic voice quality. Many also expect us to make do with bulky, rigid frames that need to be adjusted constantly. In my experience, clarity and comfort has been elusive.
Priced at $99 AUD, HyperX's Cloud Stinger Wireless Gaming Headset has done a solid job to fill that gap at an affordable entry-point. It offers a comfortable closed cup design, clear audio and crisp microphone volume, and can be used out-of-the-box with a simple USB adapter.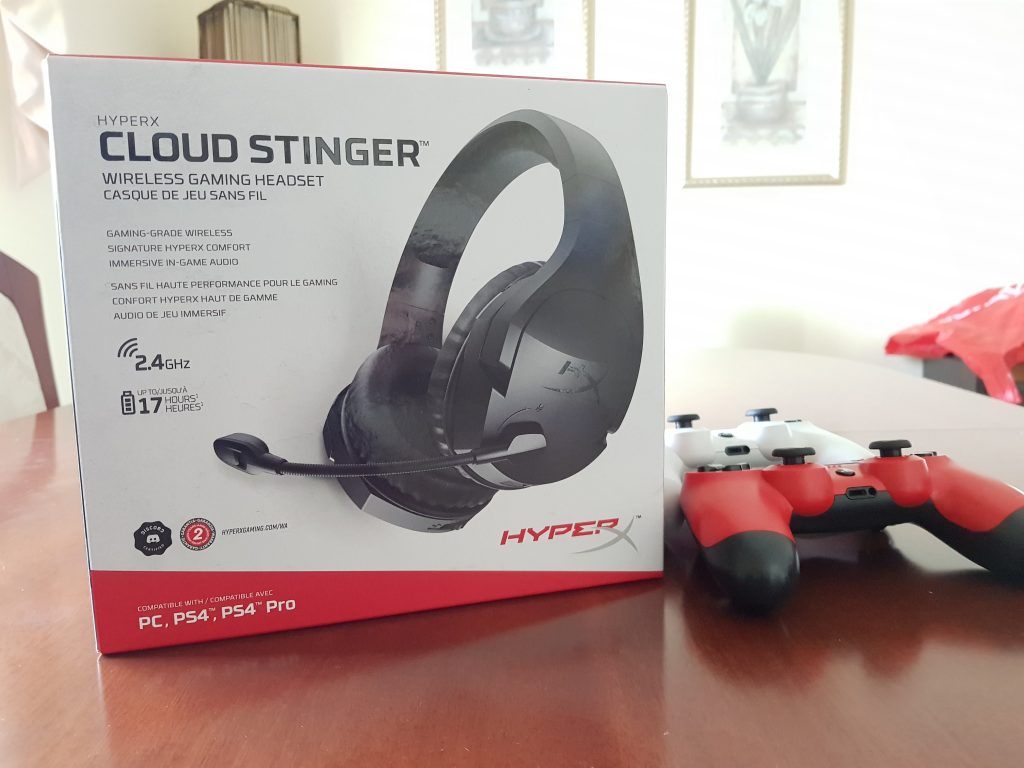 During my 10+ hours of testing, my team-mates could hear me more clearly than with stock headsets, my ears didn't feel like squashed sardines, and I didn't have to recharge the battery for that entire time-frame. For straight-forward gaming needs, the Cloud Stinger is steadfast.
Before I break down my personal overview of the HyperX Cloud Stinger Wireless Gaming Headset's pros and cons during my testing, here's a list of its features and specifications:
HyperX Cloud Stinger Wireless Gaming Headset 2019 Technical Specifications
Headphones
Driver: Dynamic, 50mm with neodymium magnets
Type: Circumaural, Closed back
Frequency response: 20Hz-20,000Hz
Impedance: 32
Sound pressure level: 109dBSPL/mW at 1kHz
T.H.D.: < 2%
Weight: 270g
Cable length and type: USB charging cable (1m)
Microphone
Element: Electret condenser microphone
Polar pattern: Noise-cancelling
Frequency response: 100Hz-7,000Hz
Sensitivity: -47dBV (0dB=1V/Pa,1kHz)
Battery life: 17 hours
Battery Charge Time: About 2.5 hours
Wireless Range: 2.4GHzUp to 12 meters
In-line control
Analog volume control wheel
Swivel-to-mute noise-cancelling microphone
Package Contents
HyperX Cloud Stinger Wireless Gaming Headset
USB Adaptor
USB Charge Cable
Two Year Warranty
Free Tech Support
Design & Comfort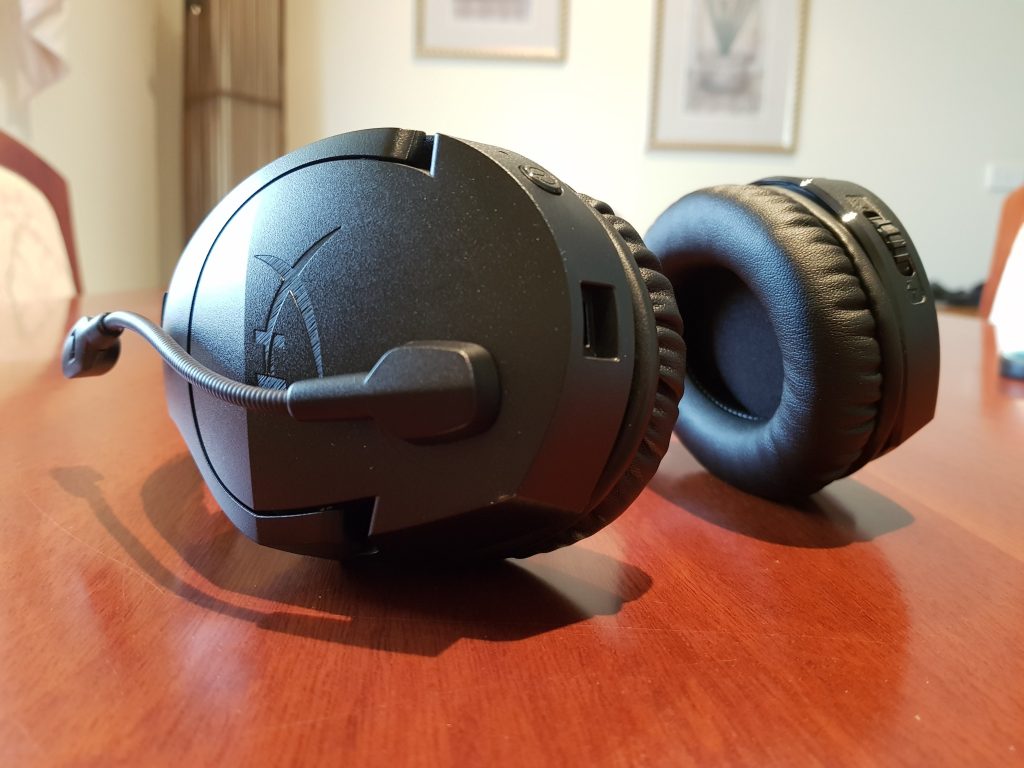 The Cloud Stinger Wireless's all-black design gives it a no-nonsense, understated look. The only branding present is the HyperX logo etched on each ear cup and top of the headband; considering the number of overly gaudy headsets on the market, it's definitely appreciated. It also comes in a black/blue colour scheme for the PS4-specific edition, which looks equally as clean.
The wireless headset sports a sturdy chassis made of plastic and steel, a padded headband with adjustable steel sliders, and over-the-ear cups covered with soft pleather. The memory foam used in the headband and ear cups is comfortable for hour-long gaming sessions and provides a decent fit for a guy with a big head and big ears. Each ear cup can rotate 90 degrees, so the headset can lay flat on a surface or around your neck when it's not in use.
In short, it's a neat-looking, lightweight and no-frills headset that's durable and comfy to boot.
Features & Setup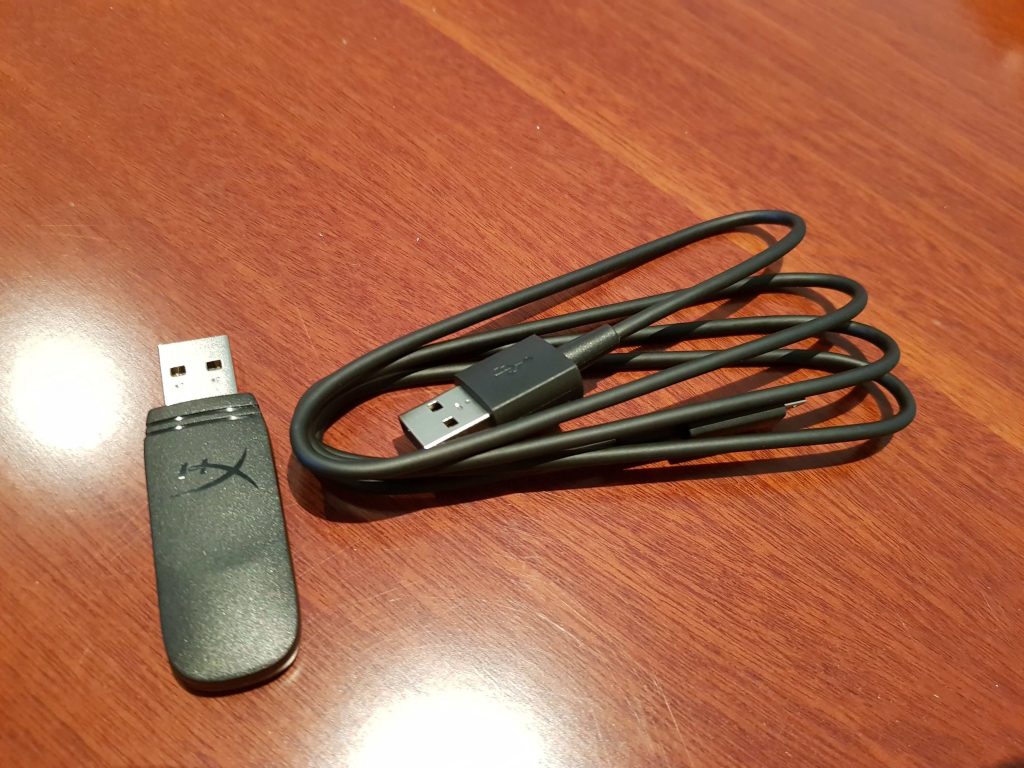 The Cloud Stinger Wireless's right ear cup has a volume dial, while the left has a micro-USB charging port, power button and boom microphone. The mic itself is not retractable or removal, but it is swivel-to-mute, meaning you just have to push it up to mute your voice on-the-fly.
The package contains a USB thumb drive that acts as the 2.4Ghz adapter for the headset to wirelessly connect to your PC or PlayStation 4. All I had to do was plug it into a free port on my console, wait until it flashed blue light, and the headset was ready to use without any fiddling.
While I personally enjoy its simplicity, it's important to note the Cloud Stinger Wireless does lack several control options that many other contemporary wireless headsets boast. There's no separate dial for chat or game volume, no 3.5mm audio jack and no software configuration for advanced audio and connection tinkering. You can't customise equalisation or surround sound, or build custom soundscape profiles – but a budget headset has to make cuts somewhere.
Overall, this is a wireless gaming headset that is focused, above all else, on plug-and-play.
Connectivity & Battery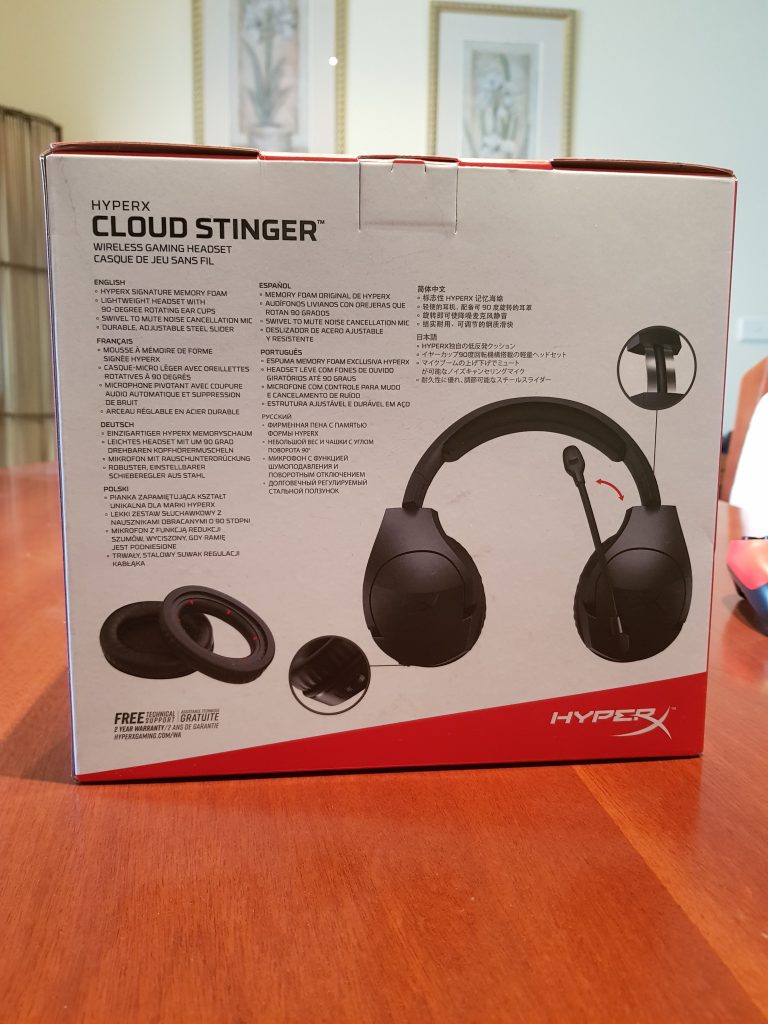 Connectivity is perhaps the one area the HyperX Cloud Stinger faltered during my testing.
Playing on my PS4 Pro just five-metres away, the Cloud Stinger unfortunately dropped connection with my console at regular intervals over the course of several hour-long sessions. It always re-connects within seconds, but the sound resets to its default state and requires manual fine-tuning. My household is full of Wi-Fi devices, but modern headsets need to accommodate.
However, outside of the drop-outs, I experienced no lag or audio stuttering.
Official battery life for the Cloud Stinger Wireless is touted to be up to 17 hours on a single charge, and I found that boast to be accurate during my review testing, give or take one or two hours. It takes around 3 hours to charge fully. The LED indicator on the power button flashes different colours to alert you to how much battery life remains, but there's no clear percentage.
Sound & Voice Quality
Reflecting its sturdy design, the Cloud Stinger Wireless offers solid sound quality that easily outclasses many of the other sub-$100 wireless gaming headsets on the market.
The closed ear cups contain 50mm drivers that deliver clear mids, highs and thumpy bass. Playing shooters like Doom and Rainbow Six Siege offered up some satisfying boom whenever firefights or explosions occurred. However, playing through many dialogue-heavy scenes with plenty of ambient noise in the background made it clear to me that higher-quality headsets with surround sound are probably still better if you prefer nuanced detail for maximum immersion. Still, major value for money on offer here.
The microphone's audio is incredibly clear for a headset of this price-tag. It picked up my voice clearly with minimal background noise, owing to in-built noise-cancelling feature, and my teammates reported clear voice without the tinny sound that plagues my other headsets.
The Final Verdict
The HyperX Cloud Stinger Wireless Gaming Headset is a solid mid-range option for PlayStation 4 (and PC) gamers who want to avoid an overly expensive price tag, ditch the cords, and have all the features required for an extended gaming session; crisp in-game audio, clear microphone quality and ergonomic comfort. Performance and value-wise, it ticks the right boxes, with only a few niggling connectivity issues preventing it from being the perfect budget headset.
Yes, it doesn't have a 3.5mm jack, or customisation options or a separate chat volume dial. But if you're like me and just want to jump into the game with a comfy headset with above-standard volume quality, this is a great sub-$99 AUD option for plug-and-play gaming today.
Features Round-up
Gaming-grade wireless ideal for PS4™ systems
Signature HyperX comfort
Immersive in-game audio

Durable, adjustable steel sliders

Long-lasting battery life

Swivel-to-mute noise-cancellation microphone

Two Year warranty