Hardware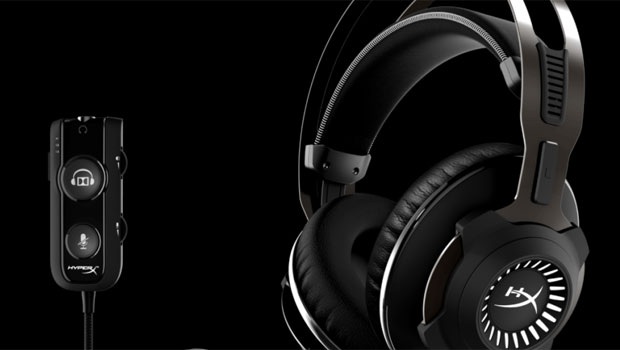 Published on October 16th, 2017 | by Admin
HyperX Cloud Revolver S Headset Review
The Cloud Revolver from HyperX promises gamers a better audio experience thanks to its Plug N Play Dolby Surround 7.1 which successfully creates positional audio within the cups of the headset. Unlike other headsets which may require software, the advanced USB Audio Control Box with its inbuilt DSP Sound Card does all the work on the fly. It also boasts some BOOMING audio thanks to its next-gen 50mm drivers which successfully recreates your virtual gaming worlds with crisp audio and some exceptional depth with good levels.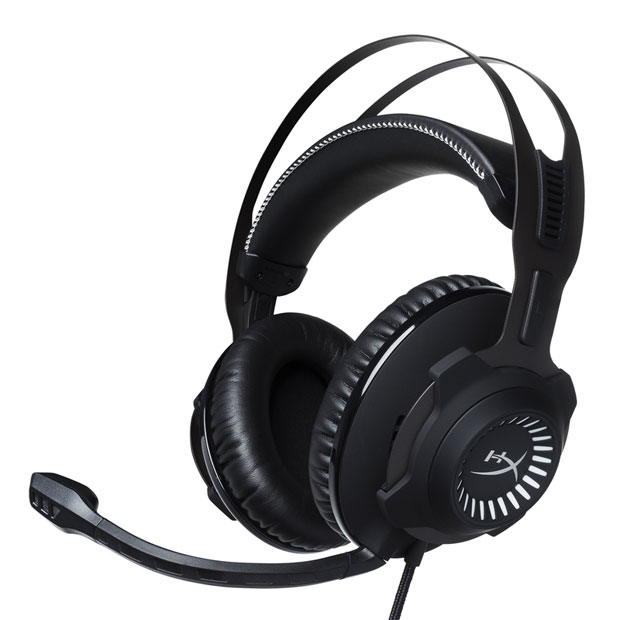 Furthermore, the HyperX Cloud Revolver S is quite a comfortable headset to wear as the developers have added memory foam which makes wearing this headset, especially for gaming a very comfortable experience which also serves as noise cancellation. However let's delve a little deeper into the HyperX Cloud Revolver S Headset and what makes it such an impressive product for gamers below;
Features
Dolby Surround Sound – New USB audio dongle for plug-and-play surround sound and built-in high quality sound card
Developed by Gamers – Three Pre-set Equalizer Settings, independent volume and microphone mute buttons, and backlit LED to quickly check active modes
New Design – Wider headband, matte black finish and HyperX Signature Memory Foam
Premium Performance – No software or separate audio box required, unlike competing headsets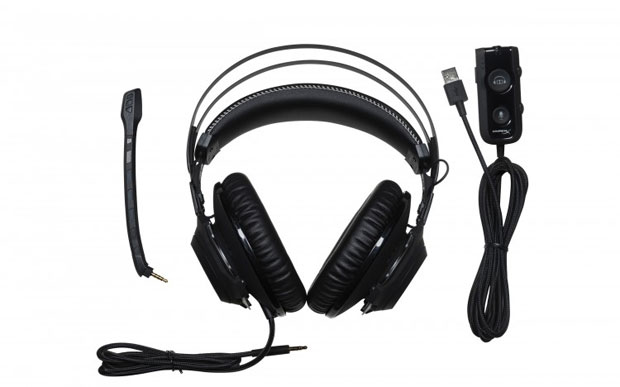 Specifications
Driver: Dynamic, 50mm with neodymium magnets
Type: Circumaural, Closed back
Frequency response: 12Hz–28,000 Hz
Impedance: 30 Ω
Sound pressure level: 100.5dBSPL/mW at 1kHz
T.H.D.: < 2%
Input power: Rated 30mW, Maximum 500mW
Weight: 360g
Weight with mic: 376g
Cable length:Headset: 1mAudio Control Box: 2.2mPC extension cable: 2m
Connection Type:Headset: 3.5mm plug (4 pole)Audio Control Box: USBPC extension cable: 3.5mm stereo and mic plugs
Element: Electret condenser microphone
Polar pattern: Bi-directional, Noise-canceling
Microphone Frequency response: 50Hz-18,000 Hz
Part Number: HX-HSCRS-GM/NA
Like other HyperX products, the Cloud Revolver S Headset comes professionally packed from the company which really looks like a high-end product from its packaging. Out of the box, the first thing that captured me was the design itself. The headset screams gamer and although it does look like other HyperX headsets, it actually one of the more comfortable ones.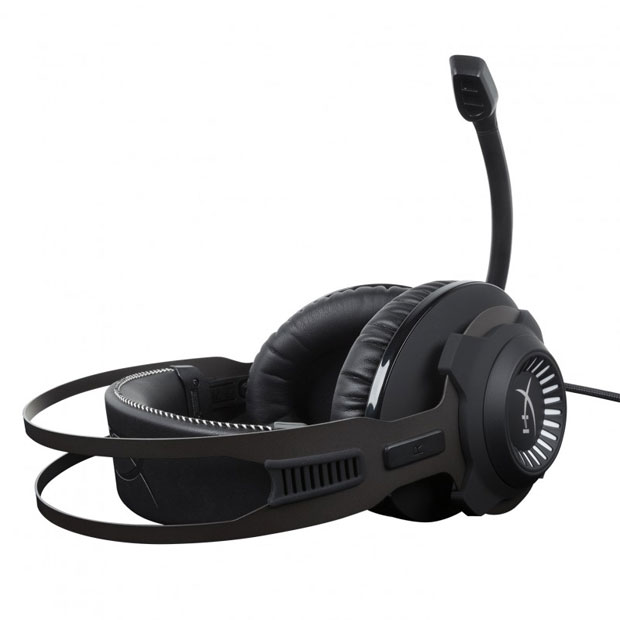 It also comes with a detachable microphone and has inbuilt controls to help adjust the audio on the fly. Wearing the headset religiously for the last couple of weeks, I had no issues with it being uncomfortable and the memory foam definitely added to the overall design of the Cloud Revolver S. The build quality is quite good and the entire product and its components, especially the steel frame feels very sturdy and will hopefully last quite a long time.
Installation of the… well, there's actually hardly any installing needed. All you do is connect the Plug N Play Dolby Surround 7.1 adapter into a spare USB port and presto, installation is complete! If you don't have USB, you can connect it directly into a 3.5m port like your Smart Phone (if it still has one) or your Xbox One or PC sound card.
The Dolby Surround 7.1 adapter also has a button that allows you to switch between three presets that include bass boost, flat and vocals. Furthermore, there are two volume controls on the dongle, one of the headset and the other for the microphone volume and lastly, there is a button for the microphone (on/off) and enabling the Dolby Surround 7.1. All in all, a well designed product.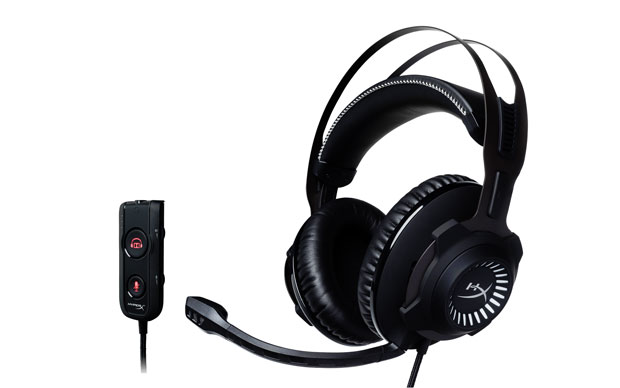 The audio quality of the Cloud Revolver S was great!
Gaming, especially with its faux Dolby 7.1 created the illusion of positional audio placement and games such as Tomb Raider, Doom and StarCraft II definitely made the experience a much more immersive one. Blu-rays and music sounded equally as good and I must commend HyperX on their excellent use of bass which didn't sound too loud or became too distorted if the volume was too loud.
Speaking of volume, the Cloud Revolver S produced excellent levels, even on the louder end of the spectrum. In terms of the detachable microphone, my colleagues and online friends reported that it was quite crisp and did minimize background noise. All in all, this is an impressive headset from HyperX that ticks all the right boxes when it comes to gaming, audio quality and online gaming.
Final Thoughts?
The HyperX Cloud Revolver S Headset is a decent product from this company and definitely targets gamers very well. It's design is quite flawless and if you need to upgrade your existing gamer headset, we would suggest that you check out the HyperX Cloud S Revolver!