Hardware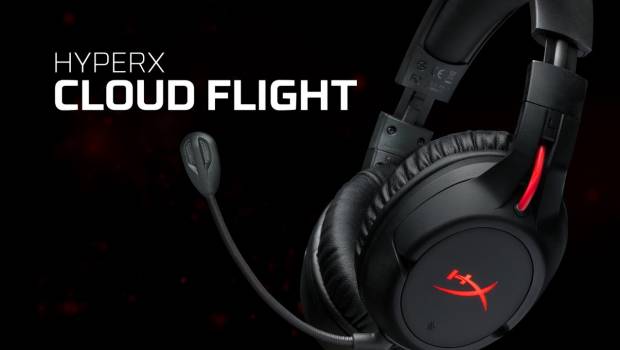 Published on February 21st, 2018 | by Tony Smith
HyperX Cloud Flight Gaming Headset Review
Summary: HyperX Cloud Flight Gaming Headset is a great all-round wireless headset, particularly for PS4 and PC gamers that boasts excellent battery life and decent audio quality.
Welcome to the HyperX Cloud Flight Gaming Headset that delivers a very holistic audio experience for the player and more importantly, a cord free (aka wireless) experience that for many, is the only way to go. Add in some very competent audio features with strong clarity and levels, a comfortable design and flawless installation on the PlayStation 4, PlayStation 4 Pro and PC thanks to plug and play, and you have everything you need to get into the sound zone.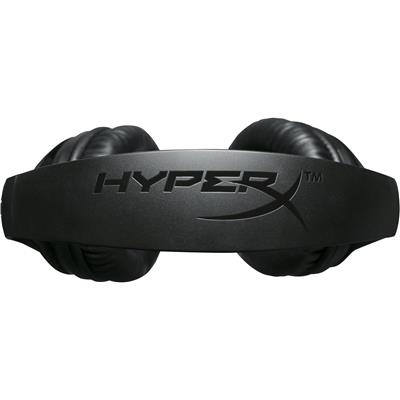 It should also be noted that as it has a 3.5mm audio connection, the headset can be used on other devices like an Xbox One, Smart Phone or even a Nintendo Switch. This really expands the scope of this gaming headset that is great for users who own multiple devices as many gamers do.
Key Features
GAMING-GRADE WIRELESS WITH EXTRA-LONG BATTERY LIFE
Solid wireless connection and 30-hour [1] battery life allow you to game uninterrupted for longer.
SIGNATURE HYPERX COMFORT
Stay comfortable even during long, late-night gaming sessions.
IMMERSIVE AUDIO ENHANCES YOUR GAMING
Crystal-clear lows, mids and highs help enhance the ambiance of your games.
DURABLE, ADJUSTABLE STEEL SLIDER
Cloud Flight is built to last and endure daily wear and tear.
PC, PS4™ AND PS4™ PRO READY
One wireless headset for your PC and PS4 gaming needs. Cloud Flight is also headphone compatible with devices that support a 3.5mm connection [2] via the included cable.
90° ROTATING EAR CUPS FEATURING LED LIGHTING EFFECTS
Stylish LED ear cups that rotate for additional comfort.
CONVENIENT EAR CUP AUDIO AND MIC CONTROLS
Quickly access the controls for LED effects, mic mute, volume and power on the ear cups.
DETACHABLE NOISE-CANCELLATION MICROPHONE
Plug in to communicate with your team, or detach to relax with music.
Well packed from HyperX, this company ensures you have everything you need to start your audio experience and besides the good audio, the other selling point of this headset is the 30 hour battery life which really helps it speed away from its competitors.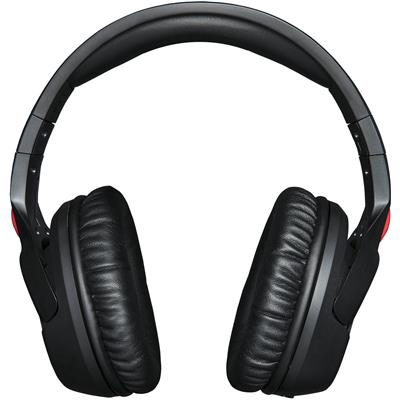 The overall design of the HyperX Cloud Flight is decent with well-placed controls, cushioned ear cups and a very lightweight design that seriously makes you forget that you are wearing this gaming headset. Visually, the Cloud Flight mimics the appearance of other HyperX headsets with its distinct black and red colouring plus the logo of this company on both ear cups which glows when powered, including a breathing special effect thanks to its LEDs.
The only slight drawback of the Cloud Flight is that it does look and feel a little 'too' plastic but thankfully it's quite comfortable to wear for those long gaming sessions. Furthermore to its design, the left ear cup has a 3.5mm audio connection, microUSB charging port and the ability to mute by the microphone by pushing on the cup.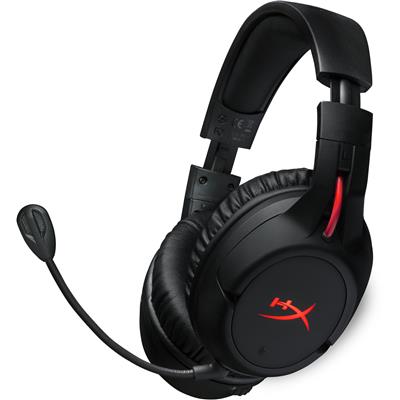 The removable microphone is connected to the left ear cup with the volume controls on the right. Installation was easy and once the wireless dongle was connected to the USB on either our PS4 or PC, we were ready to go and the wireless distance is almost 20 metres with no audio issues during our testing.
As the Cloud Flight is a wireless headset, a special mention should be made about the battery life. According to HyperX, the headset will last a whopping 30 hours of wireless use if do you not use the LED feature which is quite impressive.This is definitely a major selling point and less charging is always good in our books.
The Cloud Flight is also powered by Dynamic 50mm drivers with neodymium magnets which produces a good overall sound experience. Given the size, cost and wireless features, games did sound more enhanced and whether that was Overwatch, Call of Duty World War II or Tomb Raider, it allowed us to hear the subtleties of this virtual world. It also produced some strong bass as well. This also worked well on movies and whether this was Wonder Woman, Blade Runner 2049 or a variety of music genres, the HyperX Cloud Flight Gaming Headset delivered in all realms of audio.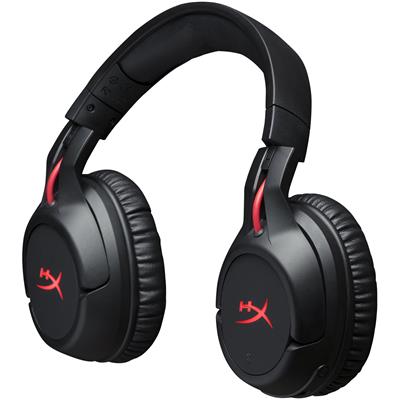 The microphone quality was good and we had no issues from our teammates or enemies on our virtual battlefields. I also love the ability to fast mute the microphone by pushing the left ear cup which really comes in handy plus there is an element of noise cancellation. Given that, the controls are well placed and easily allows you to tweak the headset that becomes second nature just after a short amount of time.
Final Thoughts?
The HyperX Cloud Flight is great value for money that offers excellent wireless capabilities, good audio and a very long battery life. Furthermore, it's quite comfortable and setup is virtually non-existent. Given that it is a PlayStation 4 and PC gaming headset, you can use this on other devices such as the Xbox One or Nintendo Switch via the 3.5mm connection or any device which uses this input that is great for those who want to use this product on other devices.
All in all, a good-round solid wireless gaming headset from HyperX that is quite comfortable.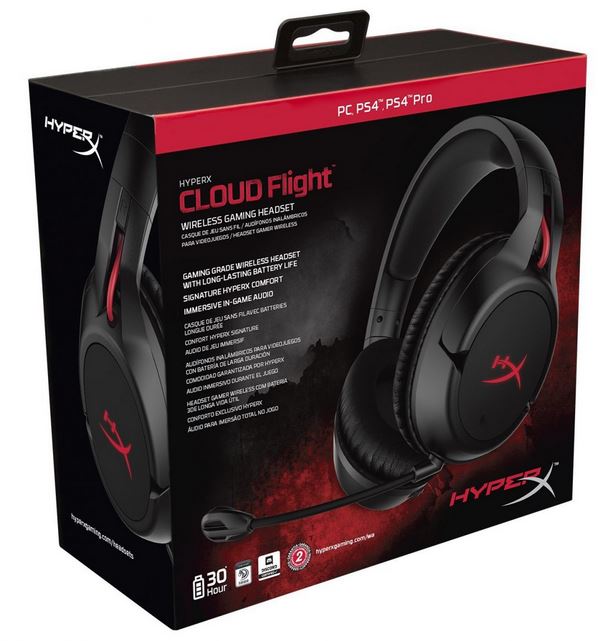 TECHNICAL SPECIFICATIONS
Headphone
Driver dynamic, 50mm with neodymium magnets
Type circumaural, closed back
Frequency response wireless: 20Hz–20,000Hz analogue: 15Hz–23,000Hz
Impedance 32 Ω
Sound pressure level 106dBSPL/mW at 1kHz
T.H.D. < 2%
Weight 300g
Weight w/ mic and cable 315g
Cable length and type USB charge cable (1m) + detachable 3.5mm headphone cable (1.3m)
Microphone
Element electret condenser microphone
Polar pattern noise-cancelling
Frequency response 100Hz-7,000 Hz
Sensitivity -45dBV (0dB=1V/Pa,1kHz)
Battery life [1]
30 hours – LED off
18 hours – breathing LED
13 hours – solid LED
Wireless Range [3]
1 Tested at 50% headphone volume with LED off.
2 Mic and earcup control functions not supported while using wired connection.
3 Wireless range may vary due to environmental conditions.