Hardware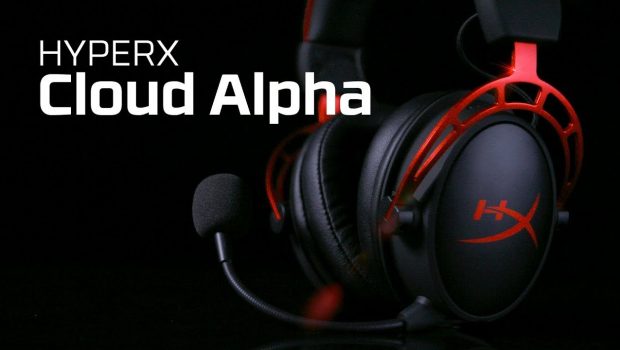 Published on November 16th, 2017 | by Tony Smith
HyperX Cloud Alpha Review
Summary: The HyperX Cloud Alpha is an all-round quality gaming headphone that is quite affordably priced!
HyperX have released an affordable gaming headset that provides all-round value for the consumer but more importantly, it produces quality audio. The first thing you notice about the HyperX Cloud Alpha is its aesthetics which uses a combination of materials that is highlighted by its aluminum design with faux leather. It also has memory foam ear cups which are quite comfortable on the ears as is wearing the headband for long periods of time. HyperX have even included a protective pouch which allows you to safely store the headset away, including all the cables needed to connect this device.
TECHNICAL SPECIFICATIONS
Headphone
Driver: Custom dynamic, 50mm with neodymium magnets
Type: Circumaural, closed back
Frequency response: 13Hz–27,000Hz
Impedance: 65 Ω
Sound pressure level: 98dBSPL/mW at 1kHz
T.H.D.: < 1%
Weight: 298g
Weight with mic & cable: 336g
Cable length and type: Detachable headset cable (1.3m) + PC extension cable (2m)
Connection: Detachable headset cable – 3.5mm plug (4 pole) + PC extension cable – 3.5mm stereo and mic plugs
Microphone
Element: Electret condenser microphone
Polar pattern: Noise-cancelling
Frequency response: 50Hz-18,000Hz
Sensitivity: -43dBV (0dB=1V/Pa,1kHz)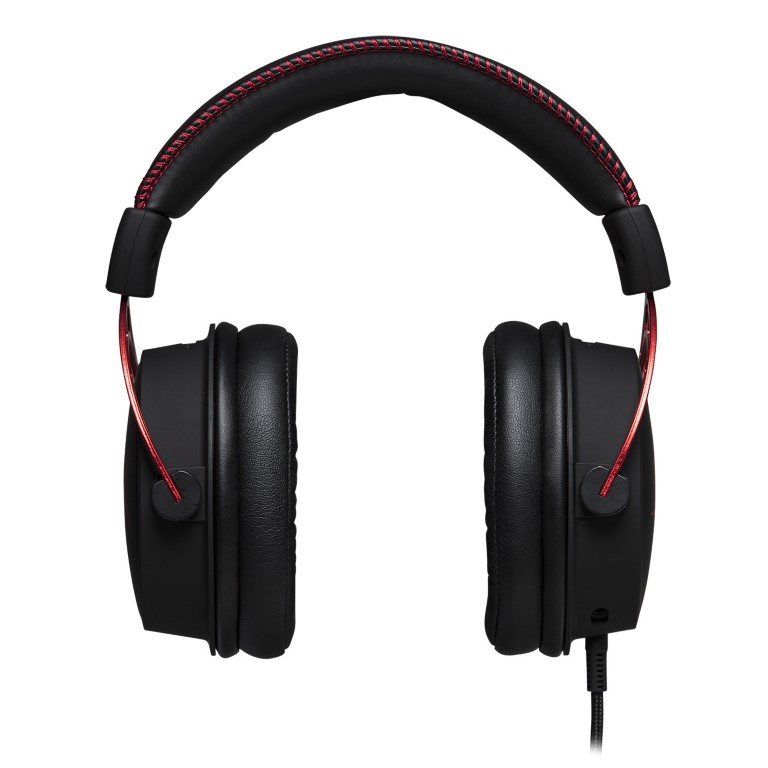 Besides gaming, the HyperX Cloud Alpha can be used on any device which uses a 3.5mm audio connection and for online games, it comes with a removable microphone. The headset also comes with a very long 3.5mm cable which easily allows you to connect it into different devices such as your iPhone of PlayStation 4 controller. There is an in-line remote which allows you to change the volume of the audio plus a mute button for the microphone which are well placed. PC desktop gamers will also be pleased with the extension cord included in this pack which allows you to connect the headphones into your audio and microphone port on your computer without it being too short.
Using this headset religiously for the last few weeks, I noticed that the headset is quite light and doesn't get too heavy even for the longest bouts of gaming. The memory foam ear cups also produce an element of noise cancellation as it dulls background sound. Furthermore, the microphone works well and we had no issues with our colleagues and friends when we used the Cloud Alpha for online gaming. We even noticed that it did reduce some of the background sounds quite well.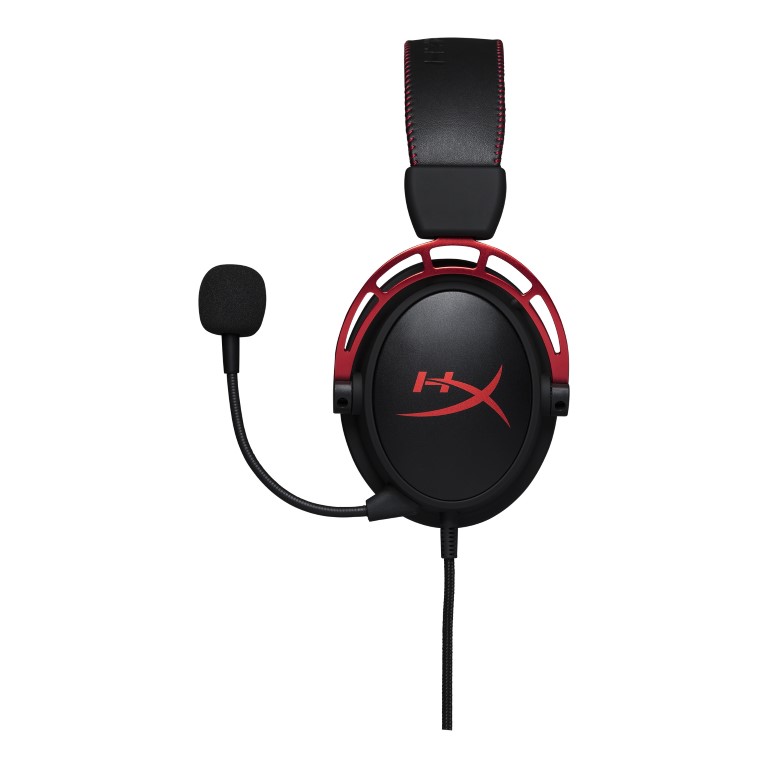 When it comes to audio, the HyperX Cloud Alpha produced some very clear audio with good levels and strong bass. Although the bass does get a little distorted at times, the majority of audio was spot on and the stereo element worked well in gaming, particularly in shooters. The Cloud Alpha is also powered by Dual Chamber Driver technology which helps split the various levels of audio into different elements to reduce distortion and improve clarity which we found enhanced the audio.
We tested the HyperX Cloud Alpha with a variety of games that included Call of Duty WWII, Destiny 2, Assassin's Creed Origins and Tomb Raider with all games sounding great. The directional audio of the Cloud Alpha definitely moved the sound around well within the ear cups. Furthermore, the headset works well with music from classic to hard rock and films such as Wonder Woman and Deadpool with no issues whatsoever but just clear distorted free audio. The battle scene in Wonder Woman sounded spectacular as did the craziness of Call of Duty WWII.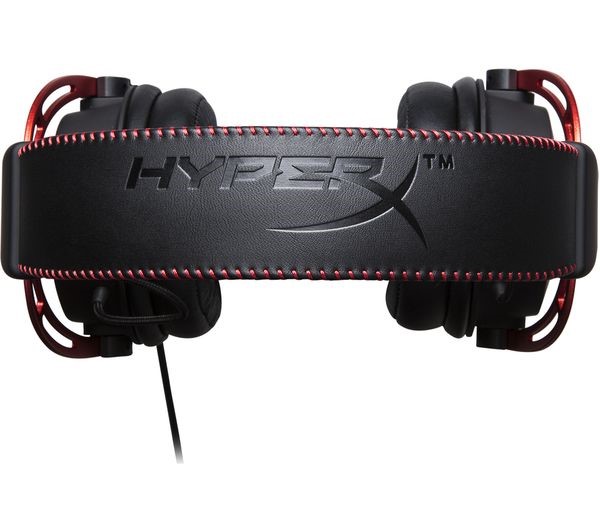 Final Thoughts?
At around $150.00AUD (Nov 2017), even cheaper if you search online, the HyperX Cloud Alpha is excellent value for money that gives gamers a premium product at a fraction of the cost. More importantly, it's quite comfortable to use, can be connected to a variety of 3.5mm devices and boasts a comfortable design. So if you're looking at a replacement headset for your gaming needs, check out the HyperX Cloud Alpha which is getting rave reviews from across the globe.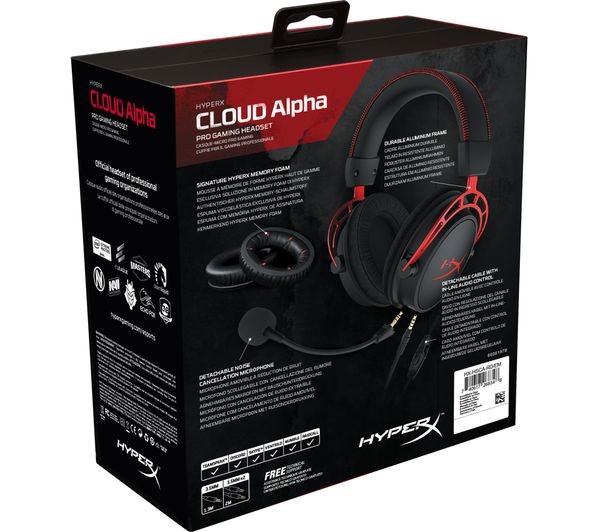 Official Blurb:
Get the Alpha, BE the Alpha.
HyperX™ Cloud Alpha's ground-breaking Dual Chamber Drivers design will give your audio more distinction and clarity by reducing distortion. The dual chambers separate the bass from the mids and highs, allowing optimal tuning for cleaner, smoother sound. The Cloud Alpha headset builds upon HyperX's foundation of signature award-winning comfort with premium red memory foam, expanded headband and softer, more pliable leatherette. The aluminium frame is built for long-lasting durability and, as requested by players, Cloud Alpha also features a tough, detachable braided cable. The detachable noise-cancellation microphone is certified by Discord and TeamSpeak™, ensuring you'll have great team communication. It's multi-platform compatible with in-line audio controls, so serious gamers on PC, PS4™, Xbox One™ and other platforms with a 3.5mm port will benefit from the bold sound of the Cloud Alpha evolution.
MORE CHAMBERS FOR LESS DISTORTION
With one chamber for bass and a separate one for mids and highs, HyperX Cloud Alpha provides more distinction between sounds and minimises distortion.
SIGNATURE HYPERX COMFORT AND DURABILITY
Cloud Alpha's large earcups are padded with softer, more pliable leatherette, and its tough aluminium frame has been expanded to accommodate larger head sizes.
DETACHABLE BRAIDED CABLE WITH IN-LINE AUDIO CONTROL
Easily adjust volume and mute the mic with convenient in-line audio controls.
DETACHABLE NOISE-CANCELLATION MICROPHONE
Get crystal-clear communications with the TeamSpeak™ and Discord-certified Cloud Alpha.
MULTI-PLATFORM COMPATIBILITY
The versatile Cloud Alpha is designed to work on PC, PS4™, Xbox One™ and other platforms with a 3.5mm port.