Hardware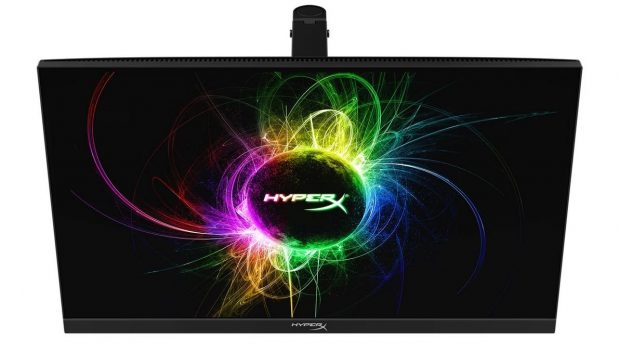 Published on October 2nd, 2023 | by Adrian Gunning
HyperX Armada 25 Review
Summary: The HyperX Armada 25 is pure hyperspeed gaming!
The HyperX Armada 25 is a truly affordably priced gaming monitor that boasts a wealth of features all designed to help bring your virtual environments to life at high speed thanks for frame rates in excess of 200.. Available in two sizes that include 25" (reviewed) and 27", this 240Hz Full High Definition (FHD) display has a resolution of 1920 x 1080 (1080p). Further supporting the performance is adaptive sync technology which synchronises the monitor's refresh rate to that of the GPU's frame rate in order to eliminate screen tearing and game stuttering. However in order to fully utilise the adaptive sync feature, you do need a fast graphics card which supports this technology.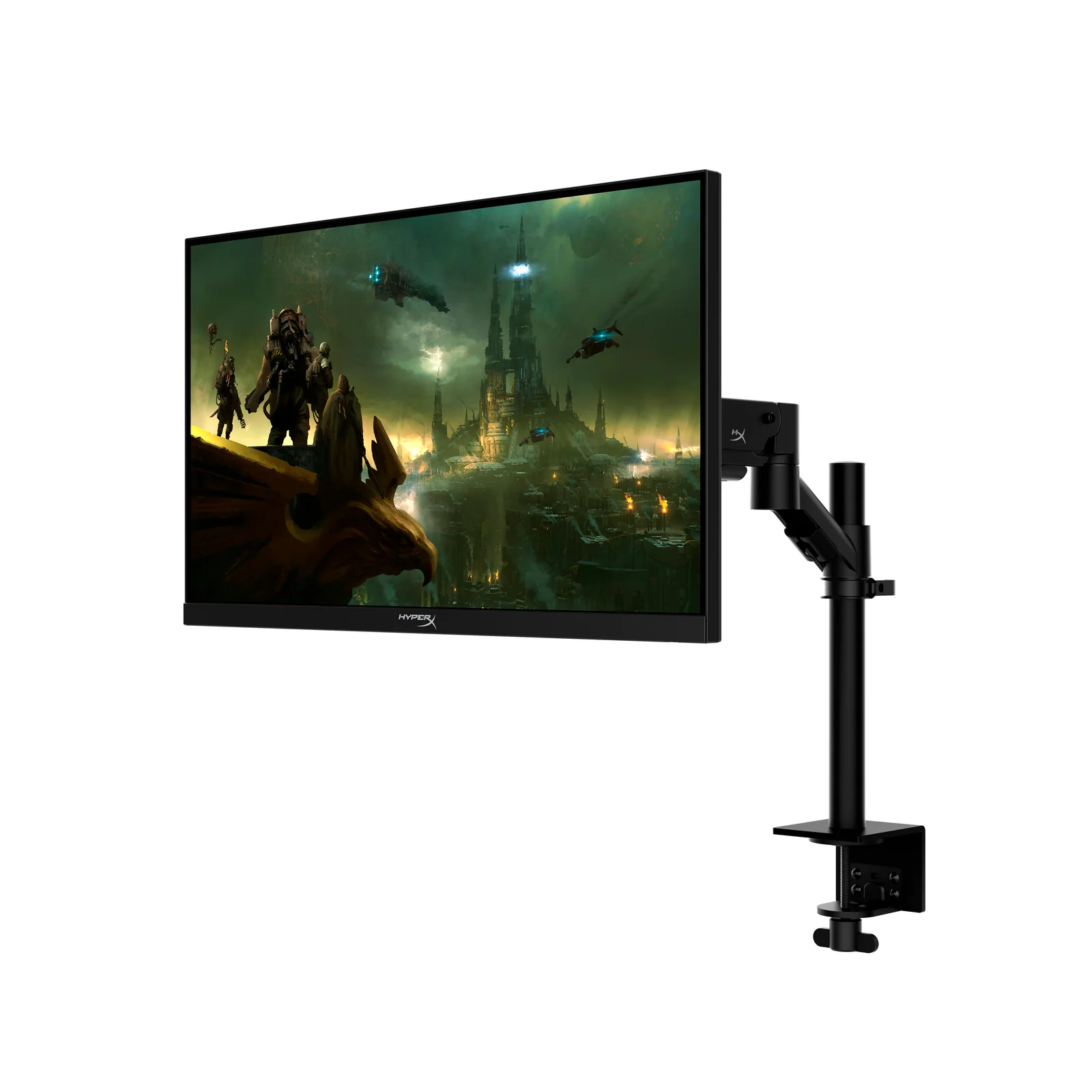 Another highlight of the HyperX Armada 25 is that it comes with its own mounting arm that allows you to mount the monitor on your desk which greatly improves desk space and overall placement and control of the screen. In terms of costs, the Armada 25 is available in Australia from $599AUD (October 2023).
HyperX Armada 25 Specifications
Panel Type / Backlight: IPS / W-LED, edge array
Screen Size / Aspect Ratio: 24.5 inches / 16:9
Max Resolution & Refresh Rate: 1920×1080 @ 240 Hz
Row 3 – Cell 0: G-Sync: 48-240 Hz
Row 4 – Cell 0: FreeSync compatible
Native Color Depth & Gamut: 8-bit / sRGB
Response Time (GTG): 1ms
Brightness (mfr): 400 nits
Contrast (mfr): 1,000:1
Speakers: None
Video Inputs: 1x DisplayPort 1.4
Row 11 – Cell 0: 2x HDMI 2.0
Audio: None
USB 3.0: None
Power Consumption: 19.5w, brightness @ 200 nits
Overall Dimensions: Panel: 21.5 x 13 inches (546 x 330mm)
Row 16 – Cell 0: Clamp footprint: 4 x 4.5 inches (102 x 114mm)
Panel Thickness: 2.4 inches (61mm)
Bezel Width: Top/sides: 0.3 inch (7mm)
Row 19 – Cell 0: Bottom: 0.8 inch (20mm)
Weight: 17.1 pounds (7.8kg)
Warranty: 3 years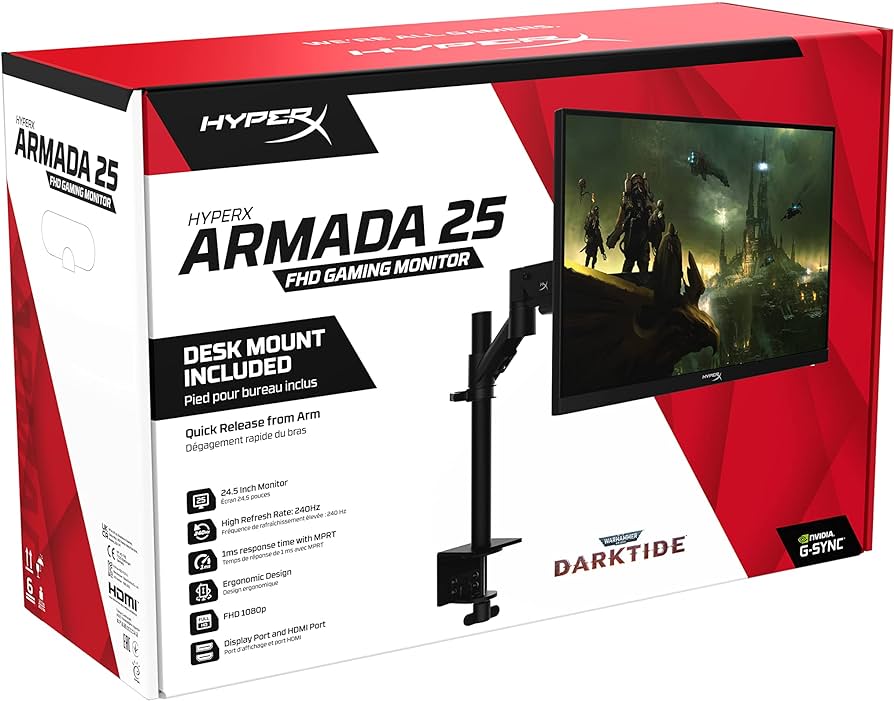 HyperX also includes everything you need to set up this gaming monitor that includes all cables and of course its high quality monitor arm which is a great substitute from the traditional stand. IMHO, monitor arms are far superior as you can position your screen at your desired height with tilting, swivelling and raising it up/down which opens up your desk for more space that is always a bonus.
Unlike a monitor stand that allows you to just place the screen on your desk without any thought, you do need to consider where the monitor arm should be placed on the back of your desk to ensure optimal placement for better views. The arm can also be clamped on your desk (15 to 50 millimeters) or if your desk has a hole for an arm, you can also use that placement option as well and best of all, you can add an additional screen to the same arm.
For me, I simply clamped it onto my desk and presto, I was up and running in around 5 minutes. With the install, I didn't even use a screwdriver as the Armada 25 simply clicks into the monitor arm stand in seconds and there is also a quick release mechanism as well. Instructions are also included plus a cabling system on the back of the screen keeps cords neat.
Gallery
For controls (see below), there is a power button and a small joystick on the back that allows you to tweak the settings and inputs. The menu system of the Armada is well-placed and more importantly, easy to navigate.
In terms of design, it is quite a minimalistic display that comes with the HyperX logo on the front. The thin bezel around the monitor is also a bonus as it allows you to focus more on your gaming without distraction. It is also a superlight monitor which means one person could easily set it up.
When it comes to speed and performance, the HyperX Armada 25 definitely excels in this aspect and 1080p gaming looks fantastic with vibrant colours and crystal clear text. The 240Hz and 1 millisecond response time makes games super smooth and titles such as Starfield, Forza 5, Diablo IV, Fornite II and Call of Duty: Modern Warfare II were a treat to play with no ghosting whatsoever.
Although it does not support HDR, this is generally more noticeable on higher resolution screens, such as 4K, so again no issues. Apart from gaming, surfing the net, using Adobe Photoshop (*) and streaming shows such as Ashoka again produced exceptional video quality with sharp images and vibrant text. All in all, a very strong contender for those gamers looking for a 1080p monitor.
In terms of Photoshop, the screen is a In-Plane Switching (IPS) LCD which creates better real world colours that makes it great for photographers as well, not to mention its fantastic 178°viewing angle. The 400 nit rating creates good brightness, even in rooms affected by too much natural light and the screen worked perfectly with its factory defaults.
What's missing? While speakers and USB would be nice, they are not a deal breaker. Given all the features and excellent response times, this screen was definitely designed for the gamer in mind. Well, a higher resolution would be nice but then again, this greatly increases the cost.
Final Thoughts?
If you're looking for a screen to push your gaming to the max, then the HyperX Armada 25 is indeed that screen. With excellent image quality, no ghosting/tearing and super fast frame rates at 1080 thanks to its , the HyperX Armada 25 ticks all the right boxes to successfully immerse you into your gaming worlds. It's also perfectly priced and if you have a fast graphics card, then the HyperX Armada 25 will probably give you an edge on your battlefields as well.
Recommended!