Events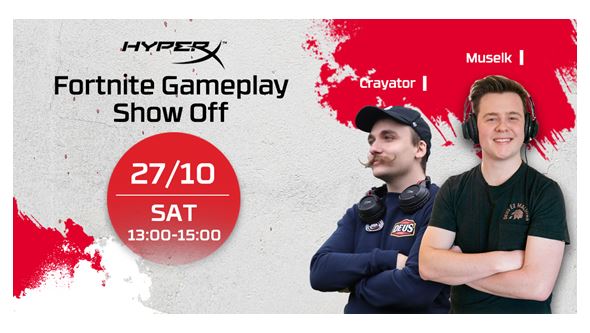 Published on October 18th, 2018 | by Admin
HyperX announces PAX AUS 2018 line up
HyperX returns to PAX AUS in full force this year with plenty of activities to let everyone try out its latest gaming gear! Today, HyperX announced its booth line up for PAX AUS 2018 which includes:
Fortnite with Australia's best pro players, YouTubers, and streamers
PC free play stage for 4v4 gamplay
Console free play across PS4, XBox One, and Nintendo Switch
Prize giveaways from our giant money blowing machine
Gaming competitions with HyperX prizes on the line
Fortnite will be a huge focus on the stand this year with HyperX teaming up with some of Australia's top Fortnite personalities. PAX attendees will have the chance to battle it out with some of their favourite content creators and esports players while trying out the latest and greatest in the HyperX suite of products. Whether you play on PC, PS4, Xbox, or Switch, HyperX have products perfectly suited for Fortnite gameplay and PAX will give you the best opportunity to check this gear out. With Fortnite-themed activities planned across all three days of the show, HyperX is sure to please all Fortnite fans!
Having joined forces with HyperX in September, Australian streaming personalities Muselk, Lachlan, and Crayator, will appear on the HyperX booth, giving fans the chance to test their Fortnite skills either as foes or on a squad. The newly formed Renegades Fortnite Squad will also be there for some Fortnite action.
For those who prefer a console to a PC, HyperX will also have a free-play area featuring Xbox One, Nintendo Switch and PS4 consoles using the latest HyperX audio gear. Try out the new Cloud gaming headset for PS4, CloudX and Cloud Earbuds at any time throughout the show. Street Fighter V competitions on PS4 will also be taking place daily for those keen to win HyperX peripherals.
Those looking to pick up more prizes won't be disappointed either; in addition to Fortnite Squads and Street Fighter V competitions, HyperX will have a money blowing machine running for HyperX Facebook and Twitter fans, giving anyone who enters the chance to score loot.