Hardware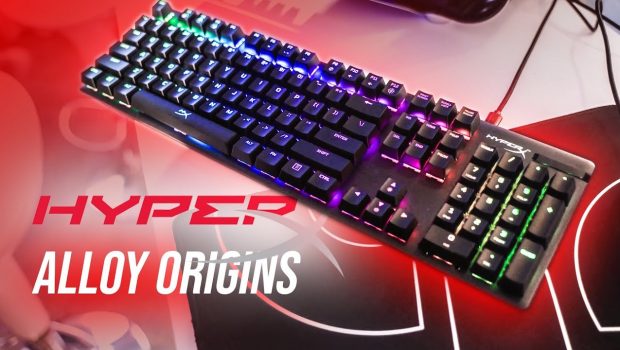 Published on October 31st, 2019 | by Chris O'Connor
HyperX Alloy Origins Mechanical Gaming Keyboard Review
Summary: Solid build, pretty, controllable lights and compact and easy to travel with... what's not to like... other than the clacking?
I'm usually a pretty easy going (hah), low budget type person… if my keyboard breaks I go out and find the cheapest one there is and swap it in. So basically I'm typically tapping away on basic plastic shells that aren't designed to take much abuse.
But then I was offered the HyperX Alloy Origins Mechanical Gaming Keyboard to review and I realized what I was missing. Ok so that's a little hyperbolic but it is a pretty significant difference between basic entry level keyboard and a high quality mechanical keyboard. The first thing I noticed was the massive weight difference. I'm used to the keyboards I use feeling like they would fly apart if you dropped them… the HyperX Alloy Origins feels like it would be your go to household item to use against a home invader… this is no doubt in large part due to it's "full aircraft grade aluminium body"… it's cold to the touch and has a sturdiness I'm not used to feeling in keyboards.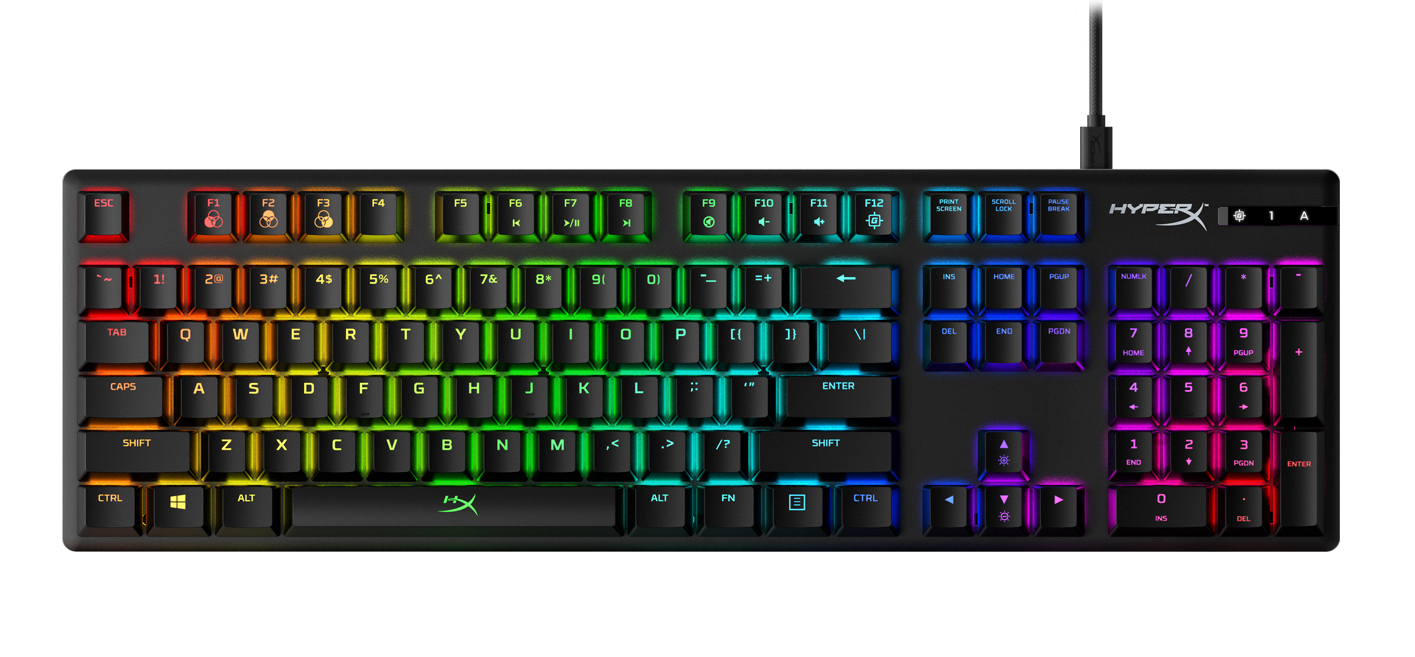 After removing it from it's packaging, the other thing I noticed is how compact it is… and by that I mean it holds all the buttons you know and expect of a keyboard… but without any excess real estate… this is a keyboard of economical proportions. In keeping with that compact nature is the fact that you can actually remove the cable from the back of the keyboard (which uses a USB Type-C cable). Plug and play worked perfectly with my copy of Windows 10… but the fun really kicked off when I grabbed the configuration software.
The configuration software is where the fun really is. Via a lovely on screen representation of your keyboard you can watch as you change the lighting designs in real time (as they occur on the screen… they occur on your keyboard). There are some fun presets such as wave (the default for me), breathe (which has a lovely pulse), swipe and other looped patterns. Then there are the triggered options, explosion, implosion and fade, there's also the reactive "sun". But these are just the effects. You can choose your colours or individual keys… it's all quite mesmerising.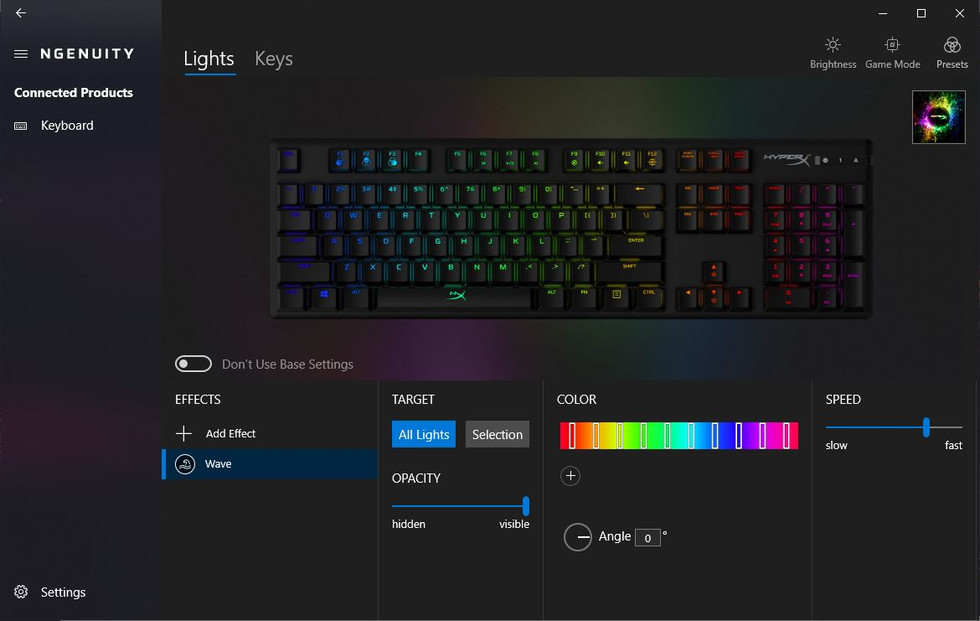 So we have, solid hefty build. We have pretty, programmable lights. We have easy set up and control… surely that's all? Well… no… there is one thing and it's something I've heard a lot about when mention of mechanical keyboards comes up and that's the clack. You see the main difference other than those already mentioned between my cheapy keyboards and this lovely metal beauty is the noise. Mechanical keyboards (certainly this one) are noisy… they make a distinct clack when you type and for those of us who grew up with Sierra Adventure games and the like and have developed at least a decent rudimentary touch typing skill… the speed at which you type impacts the noise you are going to be creating. It's not really a major issue, it reminds me very much of when I used to use my mum's typewriter (it's just missing the "ding" at the end of each line). It might be an issue if your computer is in the same room as your bed and you share that bed with someone else who likes to sleep while you remain at your keyboard… but otherwise, you sort of get used to it.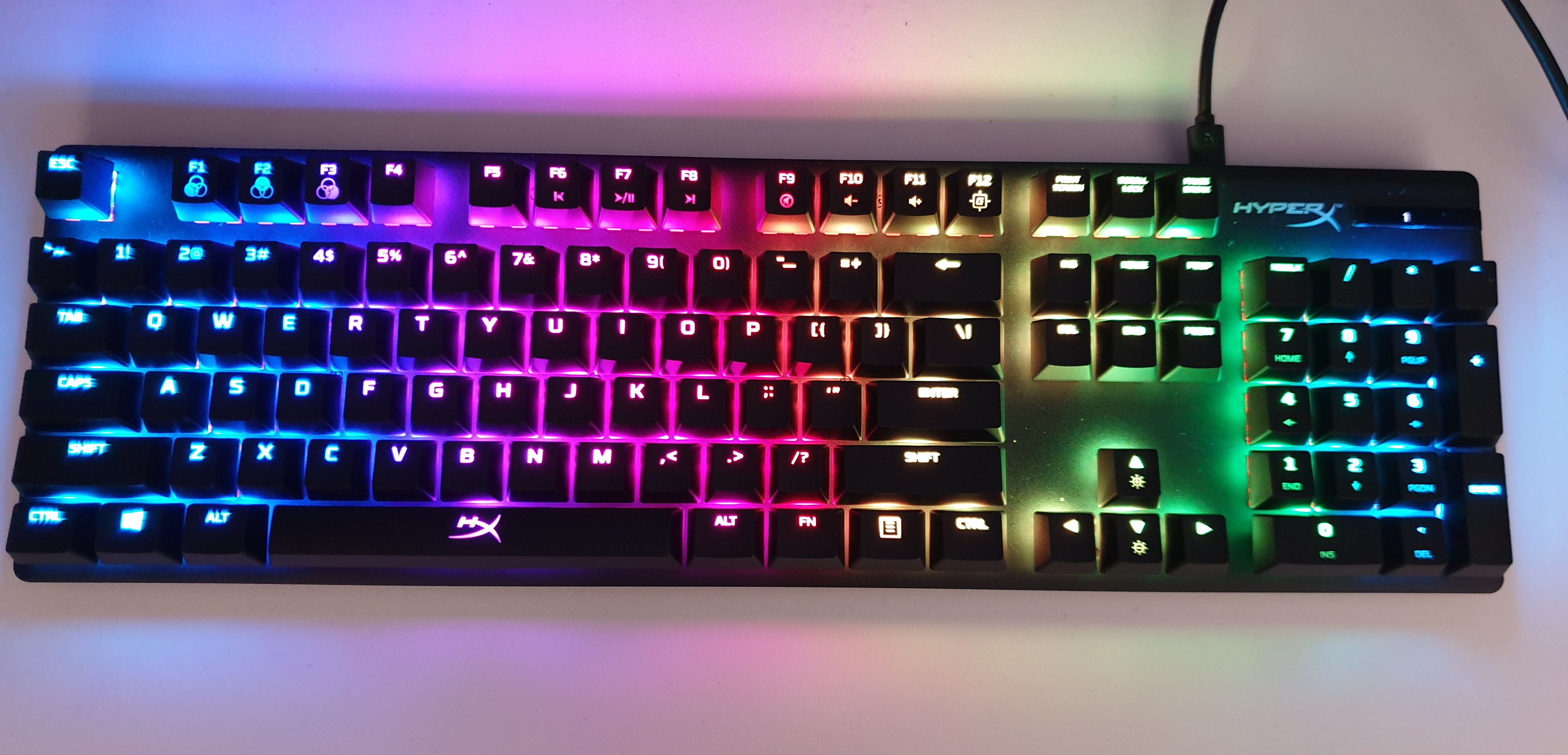 The less artsy but honest reviewers own image of the pretty keyboard!!
Overall, I'm very happy with my pretty new keyboard. I didn't know this was something I wanted but I am loathe to let it go now… it has a nice solid feel, the lights are awesome (and really helpful since I made myself a desk with shelving that kind of cuts out the illumination from the ceiling lights). It certainly costs a lot more than my usual $10 keyboard… but from the feel of this, it is going to last a lot longer too (also that USB Type-C cable has a lovely strong feel to it thanks to it not just being your average rubber sheathed affair.) If you've got the cash to spare and want a study keyboard with some eye candy… I'd jump on this!
Features
HyperX mechanical switches 

Full aircraft-grade aluminum body
Compact, portable design with detachable USB Type-C cable
Dazzling RGB lighting with dynamic effects
Advanced customization with HyperX NGENUITY software
Three adjustable keyboard angles
Onboard memory for three profiles
Game Mode, 100% anti-ghosting, and N-key rollover functionalities
Cable

Type
Detachable, Braided
Length
1.8 m

Dimensions

Width
442.5 mm
Depth
132.5 mm
Height
36.39 mm
Weight (Keyboard and cable)
1075 g

Keyboard

Switch
HyperX Switch
Type
Mechanical
Backlight
RGB (16,777,216 colors)
Light effects
Per key RGB lighting2 and 5 brightness levels
On board memory
3 profiles
Connection type
USB Type-C to USB Type-A
Anti-ghosting
100% anti-ghosting
Key rollover
N-key mode
LED indicator
Yes
Media control
Yes
Game Mode
Yes
OS compatibility
Windows® 10, 8.1, 8, 7

Key Switches

Switch
HyperX Red Switch
Operation Style
Linear
Actuation Force
45g
Key Travel Distance
1.8 mm
Total Travel
3.8 mm
Life Span (Keystrokes)
80 million