Hardware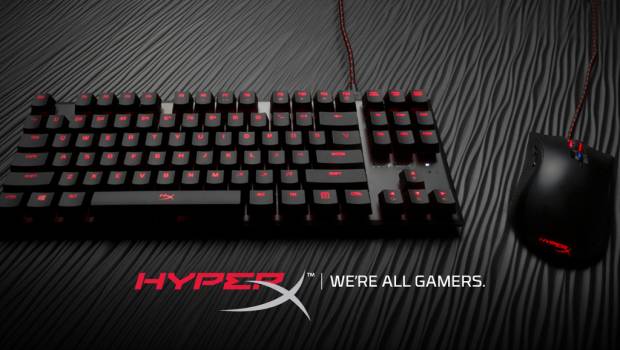 Published on May 16th, 2018 | by James Wright
HyperX Alloy FPS Pro Mechanical Keyboard Review
Summary: HyperX Alloy FPS Pro Mechanical Keyboard is everything you need in an ultra-compact keyboard!
The FPS Pro Mechanical Keyboard from HyperX is ideal for gamers on the go that not only boasts the amazing responsiveness of Cherry MX switches (blue, brown or red) but it's an ultra-compact keyboard with full size keys and comes with everything you need for your gaming needs without being too extravagant. So rather than lumber your full mechanical keyboard to your gaming tournaments, the HyperX FPS Pro Mechanical Keyboard is the perfect alternative that can even be used as your main keyboard.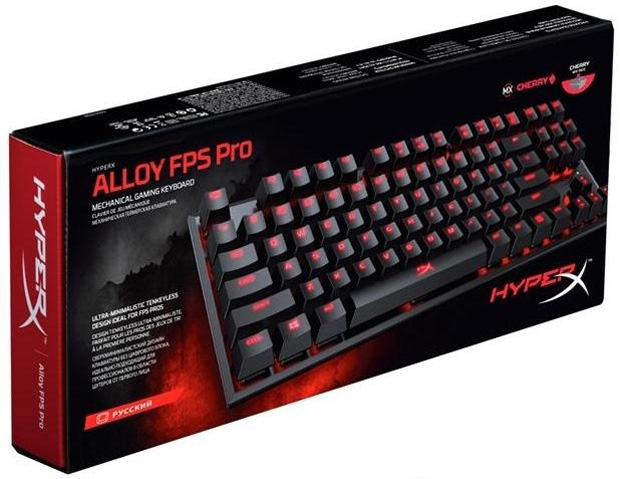 With a recommended retail price of $129.95AUD (May 2018), the HyperX FPS Pro Mechanical Keyboard is quite an affordable product and has been designed to last thanks to its solid-steel frame and high quality switches. Apparently, the keys are designed to last well over 50 million key presses. Although it's quite minimalistic in its design, the first element that we noticed when we unpacked this keyboard was its size.
The biggest difference with a "full-sized" keyboard is that the keypad has been removed on this device which reduces the size quite considerably. It even comes with a detachable USB cable that assists with its portable nature. Needless to say, it's a well-designed keyboard and more importantly gives you access to those ultra-responsive Cherry MX Switches. If Homer Simpson was a gamer, he might even say Mmm… Cherry MX Switches.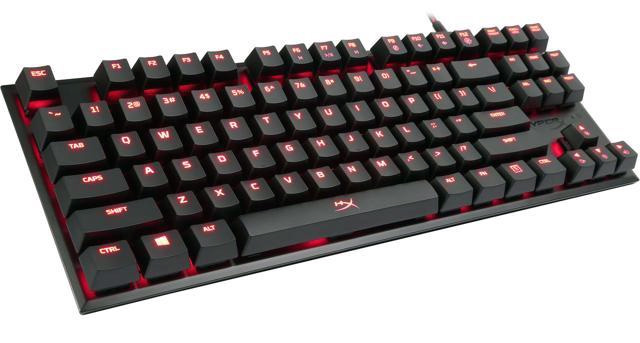 Courtesy of HyperX, here is a summary on the sorceress powers of the Cherry MX colours;
CHERRY MX Blue and CHERRY MX Blue RGB switches are click-style switches that provide much more substantial audible and tactile feedback with each keypress. Click-style keyswitches tend to have higher reset positions and require greater actuation force, so they may perform a bit slower in rapid-tap situations. Gamers and writers who don't mind trading a bit of speed for a definitive aural and tactile keypress confirmation will enjoy these switches.
CHERRY MX Brown and CHERRY MX Brown RGB switches are tactile-style switches, with a bump along the travel path that provides confirmation every time a keypress is registered. These switches are a balance between click switches and linear switches in terms of the audio feedback provided and the force needed to register a keypress. They are preferred by gamers who prioritise accuracy over speed and users who enjoy instantly knowing whether a key has been pressed.
CHERRY MX Red and CHERRY MX Red RGB switches are linear-style switches; their travel path doesn't have the bump used to provide tactile feedback. These switches don't have to reset past that bump to register a repeat press, so gamers who need to rapidly double-tap or triple-tap keys will enjoy the edge in speed. The smoother movement makes these switches quieter than tactile and click switches.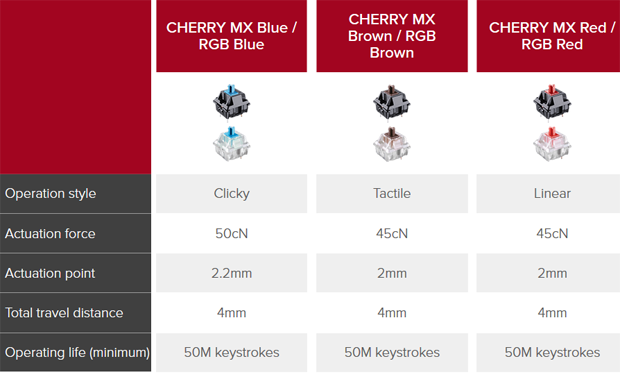 … with that said, we had the chance of reviewing the Cherry MX Red switches that not only felt comfortable to press but it recorded those key strokes instantaneously which is what you need on your virtual battlefields. So if you want speed, particularly for first person shooters, the Cherry MX Red are the switches you are looking for! It's also not as loud as other mechanical switches.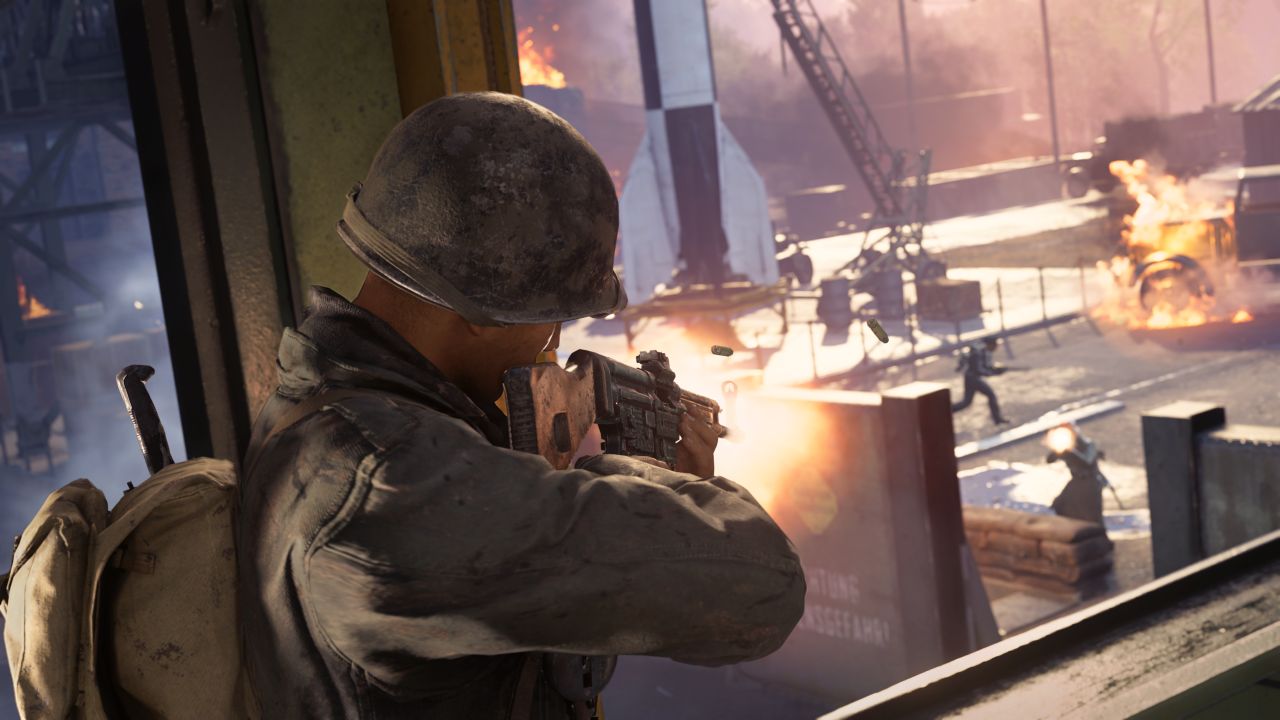 As part of the technology used with the HyperX Alloy FPS Pro, it does allow for anti-ghosting and N-key rollovers that all add to the responsiveness of this product. In terms of testing, we tested the keyboard with Overwatch, Call of Duty World War II, Paladins and The Witcher 3: Blood and Wine with HyperX FPS Pro ticking all the right boxes for our gaming experience. Sure, people would probably call me a noob at Overwatch but I felt that I was bringing my frigging A-game with this keyboard.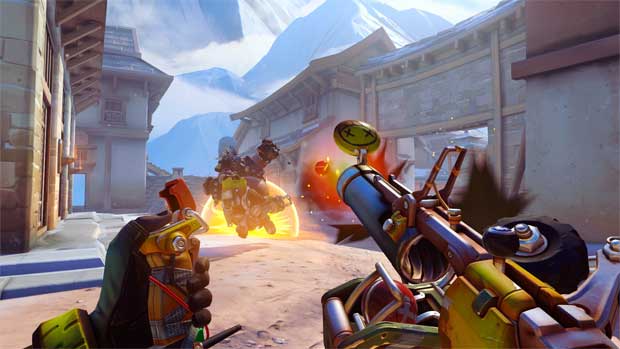 Another highlight is that the HyperX FPS Pro Mechanical Keyboard supports red backlighting with six different pre-sets available that can easily be turned on or off and is controlled through the device itself. Although it may not have the 16.8 million colours of the Skittles rainbow that are featured on other keyboards, this was more than adequate for my gaming needs. It also makes typing in a dimly lit room a treat. As a keyboard for normal typing, it works well and I'm a huge fan of that almost Steam-Punk like press of mechanical keys… although it is more subtle with the Cherry MX Red Switches.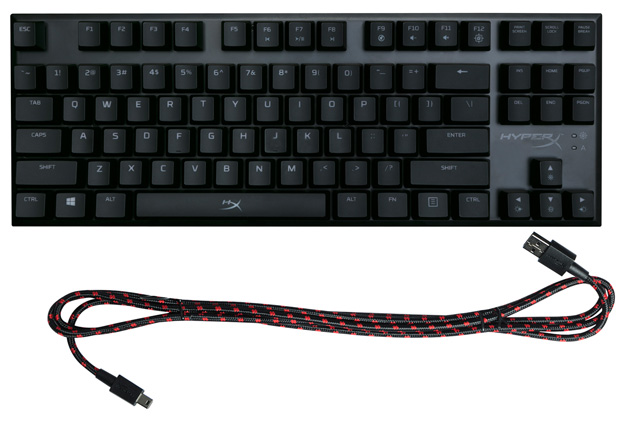 After using this keyboard, I found no short-falls and although I use the keypad quite a bit on my other keyboard, you surprising adapt quite well without it. The only thing missing would be a carry case just to protect the aesthetics of the keyboard itself. However it is a tough keyboard so hopefully for most of us, this will be a moot point.
Final Thoughts?
If you're looking for an ultra-compact and sturdy mechanical keyboard, you should check out the HyperX Alloy FPS Pro Mechanical Keyboard which is available in-store or online. Sure, some of the features are missing from a "full-size" mechanical keyboard, however HyperX should be commended on including the main elements of what a mechanical keyboard should be (including speed) and this my friends is where the Alloy FPS Pro shines and it shines well.
Recommended!