Hardware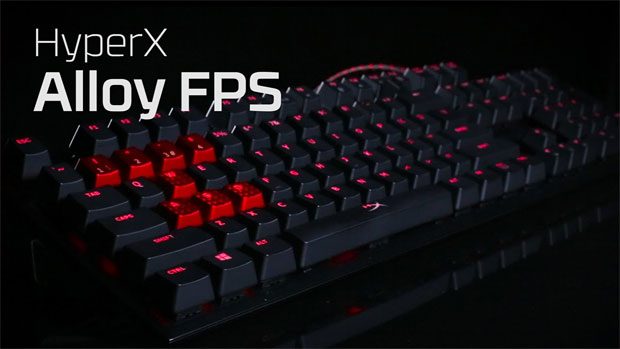 Published on October 10th, 2017 | by Tony Smith
HyperX Alloy FPS Keyboard Review (Cherry MX Blue Switch)
Summary: The HyperX Alloy FPS Keyboard provides you with an excellent compact and portable keyboard!
Straight from HyperX comes their new Alloy FPS keyboard which boasts Cherry MX Blue, Brown and Red mechanical switches for improved keyboard responsiveness with a handful of very useful features to improve your overall gaming experience. However where HyperX Alloy FPS Keyboard stands out from its competitors is its compact full-sized (104) keyboard design.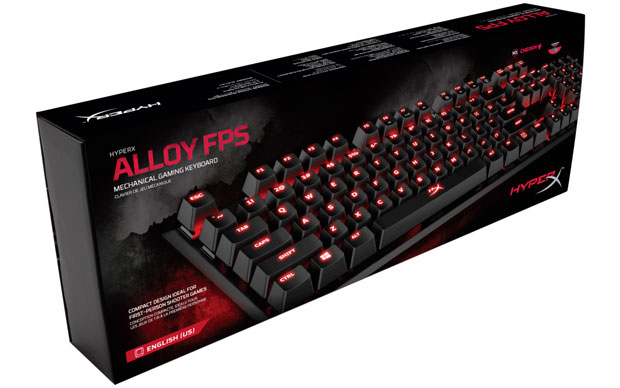 That's right, HyperX have successfully jammed as much they could into compact full-sized keyboard which includes an extremely sturdy steel frame, backlit keys with dynamic lighting and a portable design with a detachable cable. Add in a game mode, N-key rollover functions plus 100% anti-ghosting and you have everything you need in a very compact and portable keyboard as you play at home or at LANs and even eSport events. In terms of specifications, the Alloy FPS offers a polling rate of 1000Hz and measures at 441.65 x 129.38 x 35.59mm with a weight of 1049 grams. It even comes with a handy travel pouch plus eight textured red replacements keys for the Holy FPS keys of 1, 2, 3, 4, W, A, S and D).
The first thing that we noticed out of the box was the minimalistic design of the Alloy FPS keyboard which has been designed as a no-nonsense first person shooter peripheral. It has a jet black design with the HyperX logo on the top right of the keyboard plus a smaller one on the space bar. Given its size, it is a little on the heavier size due to the steel frame and technology used inside but you don't want your keyboard to slide around either. Also, like other HyperX products, it comes professionally packaged from this company and the overall build quality of the Alloy FPS keyboard is very sturdy and also looks pretty damn cool.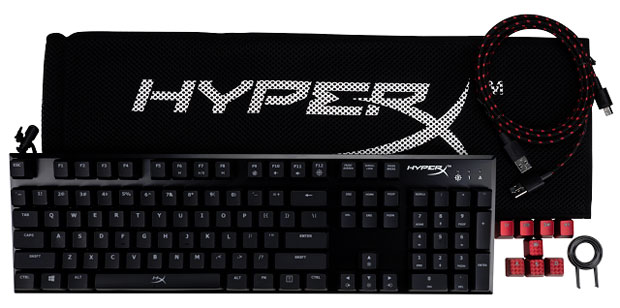 The keys on the keyboard do have that loud 'click', especially with the Cherry MX Blue Switch that we reviewed. With that in mind, Cherry Blue switches have been designed for improved accuracy and greater aural and tactical feedback. Whereas Cherry MX Brown supports a balance of speed, accuracy and comfort with the Cherry not as loud as the Blue and lastly the Cherry MX Red which is a much more quiet experience and still provides ultra-rapid responsiveness.
Furthermore, the keys are full-size and have a slight indentation to help with typing or playing games. Installation was a breeze and all we needed to do was connect the mini-USB braided cable into the keyboard and the other end in our USB 2.0 port. Once connected Windows 10 automatically detected the HyperX Alloy FPS Keyboard and we were ready to use the product. No additional software or drivers are needed for this keyboard.
For average Windows use, including software and surfing the net, the keyboard didn't increase my typing skills but typing a long review such as this one was a little on the louder side. This is not a bad thing mind you but for those not familiar with mechanical switches, it may sound a little loud. The red backlit of the keyboard is 'only' red but that's totally acceptable given the price, however it does offer 5 different levels of brightness and six lighting styles that include always on, breathing, explosion, FPS, trigger and wave (my favourite).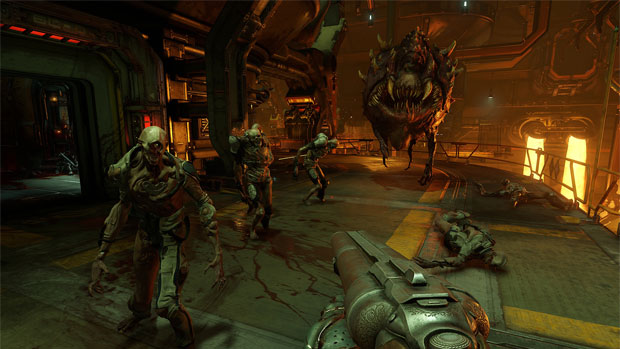 We tested the keyboard on Battlefield 1, Doom, Call of Duty Infinite Warfare and Star Wars Battlefront and I must admit that I really enjoyed the responsiveness of the Cherry MX Blue switches, even with the slightly louder 'click' sound. With the volume up, the additional audio element did provide a soothing element that when I push a key, I know that the job is done. I also found no issues with ghosting, no matter how many keys I pushed. Also as the keyboard is more compact, it does give you more real estate for your mouse.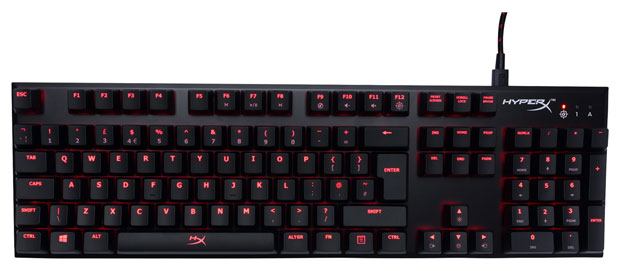 Final Thoughts?
For the price, the HyperX Alloy FPS Keyboard (Cherry MX Blue Switch) is a great budget mechanical keyboard that we could happily recommend to users who want to take their gaming on the road or looking for something affordable. Sure, some software to add macros and change the lighting would be nice but in the real world, I never use different lights and the red worked well. Macros on the other would be handy, however some games do allow you to map certain keys in-game.
Nonetheless, a decent keyboard from HyperX!
Official Specifications
Switch:

 Cherry MX

Type:

 Mechanical

Backlight:

 Single color, Red

Light effects:

 6 LED modes and 5 brightness levels

Connection type:

 USB 2.0 (2 USB connectors)

U

SB Passthrough:

 Yes (mobile phone charging only)

Polling rate:

 1000Hz

Anti-ghosting:

 100 percent anti-ghosting

Key Rollover:

 6-key / N-key modes

Media control:

 Yes

Game Mode:

 Yes

Cable 

Type:

 Detachable, braided

Cable 

Length:

 1.8m

Width:

 441.65mm

Depth:

 129.38mm

Height:

 35.59mm

Weight (Keyboard and cable):

 1049g