Hardware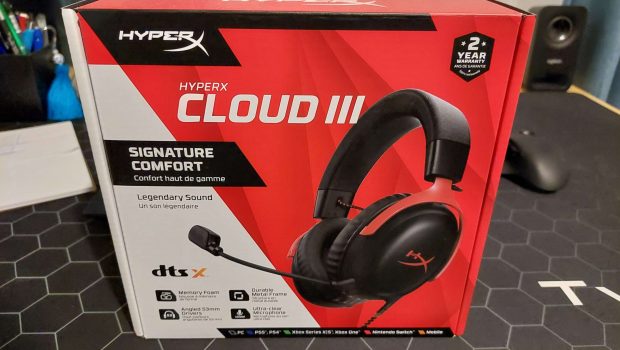 Published on May 30th, 2023 | by Daniel
Hyper X Cloud III Gaming Headset Review
Summary: HyperX Cloud III is the purest, most enjoyable sound experience I'd had to date.
Do you enjoy immersive sound? Do you strive for an experience unlike any other? The look no further than HyperX, a leader in gaming peripherals. They're back at it again with their Cloud range. Introducing the Cloud III gaming headset. One of, if not, the most core range of their headsets available on the market. At first glance, one might thing the Cloud III is a relatively plain looking headset, but don't let its subtle design fool you. There's a reason HyperX are in the big leagues of gaming and this humble little headset is no joke. Come, let me deliver you its secrets.
Inside the beefy case, you'll find the beast itself. Clad in HyperX's signature red and black design with their striking HX logo on the sides. With its sleek look, striking red aluminum frame and simple design. The Cloud III cuts a neat, yet vicious beast in disguise. And boy does it look nice when resting atop my boom mic stand and it's older sibling in the form of my HyperX Quadcast.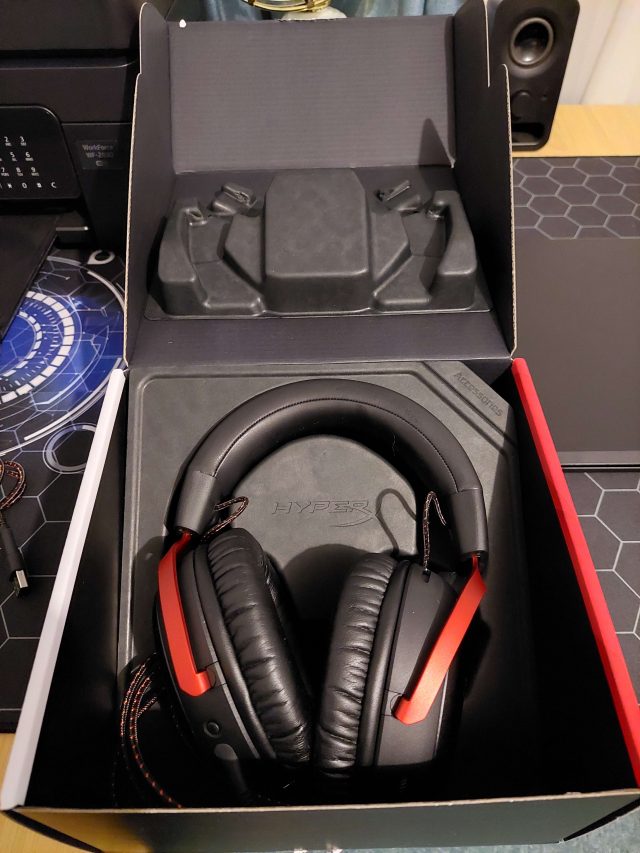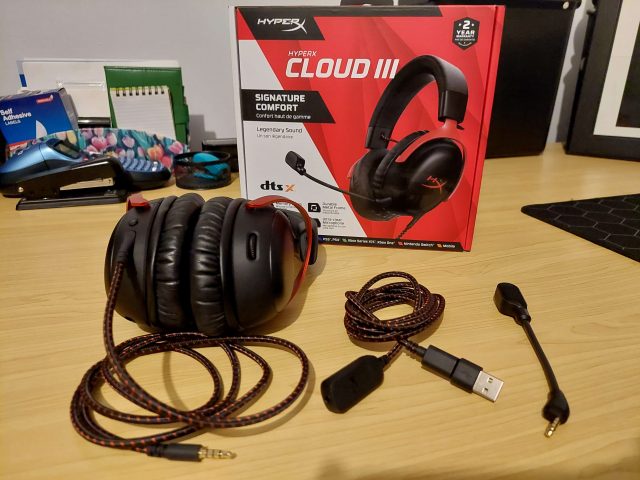 Features
It's most glaringly obvious feature is the detachable microphone. Giving you the freedom of taking it anywhere; from the games room where you and your friends chat, strategise and game. To the outside world where it's quality sound and build make it idea as a simple headset. Using the 2.5mm jack, the sound quality might seem like it lacks a little bass, but once plugged into the computer with usb, it comes alive. Compatible with the NGenuity software, that's where the sound options are endless, and with DTS X Spatial Sound? You'll feel like you're in a movie theatre, with surround sound, all squeezed into the compact design of these elegant and comfortable speakers.
Now let's talk clarity, I have a Hyper X Quadcast mic and it's clear as heck, perhaps a little too clear sometimes. I know it's because I probably need additional filters, but the quality was apparent from the moment I started using it. I've had it for ages now too, so the durability earns a lot of my respect also. Unfortunately it's not compatible with the NGenuity software. But that's where the Cloud III comes in, friends tell me the audio is almost the same level of quality from the dedicated mic that is my beefy Quadcast. For that to be achieved in such a small package like a gaming headset is insane and with some adjustments in the NGenuity software, it really makes a big difference. Paired with the whopping, 53mm angled drivers in the ear pieces, the sound output rivals some of the highest quality headsets money can buy.
But that's not even the highlight of this beast. That would have to go to its versatility. It comes with so many ways to provide you with the clearest, deepest quality of sound that it quite simply, might just replace every headset you've ever used. The 2.5mm jack is designed for controllers and it shows, fitting nice and snuggly into my PS5 controller and my families' Xbox One controller, allowing for instant voice chat with friends in online multiplayer. Or, if you fancy just using it for its quality of sound, you can plug it up to a PC or mobile device, remove the detachable microphone and enjoy some sweet melodies or your favourite videos.
The USB-A is designed for use with the PS5 and PC in mind, for the latter, you can pair it up with the aforementioned NGenuity software for an even better experience. The extra long cable is handy too, giving you about 2m of room to move around, this is especially handy with gaming chairs and their pesky arms that cables easily get tied around and quickly become frustrating to deal with. Meanwhile, pop off the USB-A to reveal a USB-C connection! This is a fantastic hidden gem, meaning I can hook it up to any mobile device, even one's that don't have 2.5mm jacks and even better, you can reattach the microphone for voice calls! Not only that, but since the Nintendo Switch also uses USB-C adapter types, you can even use the headset in both 2.5mm and USB-C modes for either simple sound playback or online chatter! The versatility is easily the most impressive feature that I had a lot of fun playing around with and exploring just how far I could push these simple looking headphones.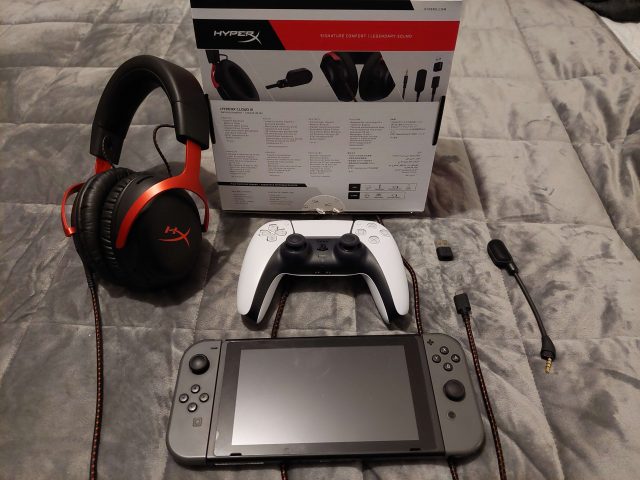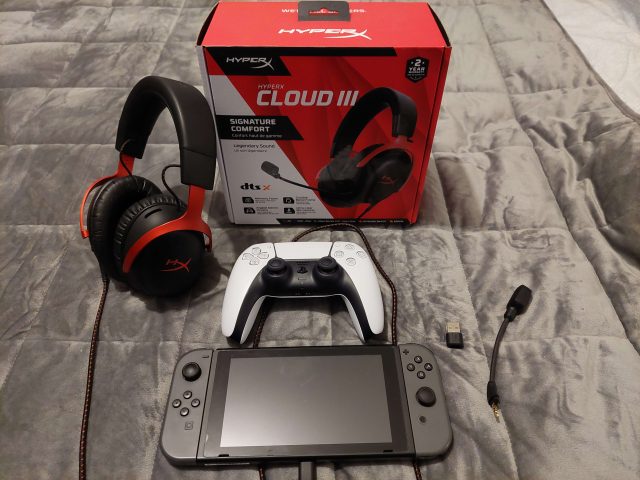 Build Quality/Comfort
Speaking of comfort, the memory foam and leatherette combination feel very nice. I have a pair of Corsair Wireless set that I had been using up to this point and I must say, the difference in fabric to leatherette is by far a huge deal. Both units are equipped with memory foam, but I feel the slightly larger ear pieces and deeper cushions give the Cloud III a leading edge. Too often the Corsairs didn't quite fit over my ears because the wider, rather than deeper pads, just didn't suit the shape of my ears. Over long periods of game, this lack of comfort paired with it's tighter, heavier grip from it's sturdy, yet bulky and stiffer frame would lead to headaches and discomfort.
The Cloud III by comparison is very lightweight, thanks to its aluminum frame. Yet despite this, it feels very strong. Its flexibility and durability put it leagues above the Corsair in this regard and I absolutely swear by it. Other headsets I've used barely stretch to accomodate taking one side off whenever a family member or partner suddenly wants some attention. But the Cloud III's design allows for much greater freedom. Both sides of the unit, like many others, are adjustable to fit pretty much any sized head. And honestly? I'm a big fan of the simplistic, sleek look it's got going for it. Some headsets try to go to the extreme to look otherworldly and while that's an aesthetic that appeals to many, there's an element of refinement or even sophistication with a simpler design.
Does the fact that it's wired make it annoying? Of course it does, even with the elongated cable length thanks to the USB attachment, you can't avoid the frustration of dragging a cable everywhere. But compared to all it's other features and over all comfort? It's simply a no brainer. And if you want the freedom of wireless, just wait a bit longer for the wireless edition of this series. If it's anything like its predecessor the Cloud II Wireless, it's going to be an amazing tool for gamers.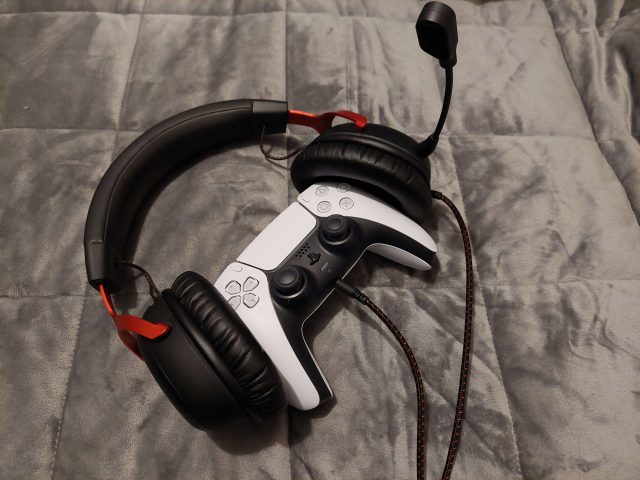 Audio Quality
Now we get to the meaty end of the review. How does the sound stack up to various types of media? It downright eats them up, that's what. Even just used as a basic pair of over ear headphones, the sound is great quality. Easily able to use it to watch a series, your favourite streamer. It's crisp and clear, meaning voice calls and in game chat are top tier. The mic isn't overpowering and can be adjusted as necessary with the flexible arm, with its built in mesh filter it doesn't even need any additional filters. Though these can be applied if desired also.
Once paired with the NGenuity software, the sound is boosted to a whole new level. As mentioned earlier, the software grants the headset it's DTS X Spatial sound. Akin to a home theaters' surround sound, the spatial sound increases the immersion of any gameplay or series/movie and adds so much depth the sound of music. The option for multiple different Equaliser settings mean you have a sound option for everything.
Need more bass for your electronic music or sci-fi series? We got you. Need some treble for that rock ballad or crisper voice chat? You know we got that for you too. Or what if you want everything all at once, to give you the best all rounder? Oh you better believe we got that for you. There is a clear difference with spatial sound turned off too, it's simply better when paired with it's accompanying software and features.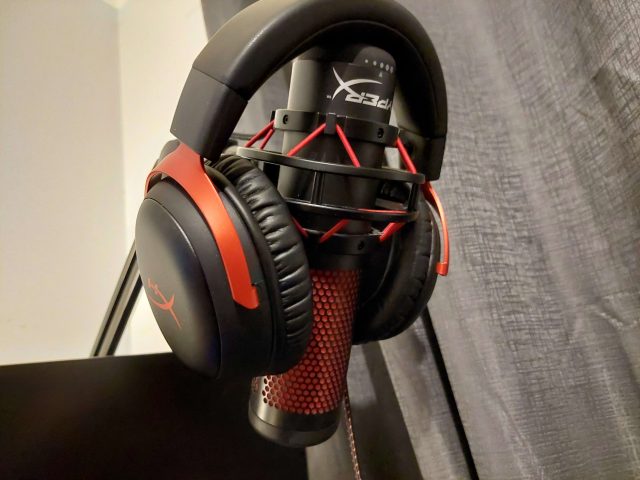 Wrap Up
As a gamer with not a huge budget to spend on all the best tech whenever something new comes out. Opportunities like this are a rare chance for me to experience what it's like having quality products. Though there are a lot of cheaper options that are good quality out there, there is simply no beating, no comparing to top of the line equipment. And the beauty of HyperX is that they have so many variations of their gear, that you're bound to find one that balances out some of the best features with the most affordability. It's why I bought my HyperX Quadcast, it's why I still use it today.
The quality of the sound, the durability of its make and the benefit of it's inbuilt and additional features make it the reason why HyperX is a leading manufacturer of gaming peripherals. And I greatly thank them for the opportunity to test out some of their newest equipment and for their continued push to create the best gaming experiences one can have.