Events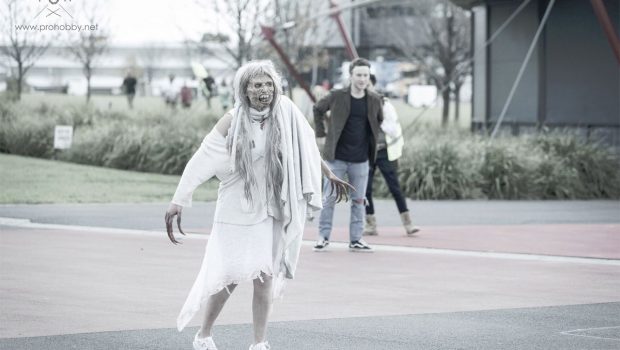 Published on July 27th, 2017 | by Admin
HYBRID WORLD ADELAIDE TO BRING AUSTRALIA'S BIGGEST GAME OF ZOMBIE THEMED TAG TO SOUTH AUSTRALIA
Thursday, July 27, 2017 – Australia's new digital technology event is bringing HYBRID WORLD ADELAIDE'S ZEDTOWN: THE DIVIDED CITY to South Australia for the first time this October.
Taking place on Saturday 7 October during HYBRID WORLD ADELAIDE (HWA), hundreds of players will participate in Australia's biggest game of real-world, zombie-themed tag, driven by dedicated smartphone app technology.
The University of Adelaide's North Terrace campus will be transformed into a divided city where human survivors (the players) take up dart blasters and battle against infected zombies. Over the course of an afternoon, as survivors are hunted down and tagged, they too become infected and transform into zombies. Players hold out for as long as they can using ingenuity, clever tactics and clues via ZEDTOWN's app in a desperate bid to stay human and escape ZEDTOWN.
Hybrid World Adelaide's Creative Director, Janet Gaeta said:
"I'm absolutely thrilled that the first South Australian based ZEDTOWN will be part of the inaugural Hybrid World Adelaide.  I'm sure the players will fully embrace the entire and brilliant ZEDTOWN experience and get right into creating their own stories and factions to outsmart those infected undead and survive for as long as possible, and if they do happen to get tagged, I expect to see the very best Zombies in Australia!"
Players must be aged 18 or over and may bring their own dart blaster. ZEDTOWN organisers recommend NERF blasters, which will also be available for purchase on the day.
ZEDTOWN has run annual games since 2012. Players begin as human survivors. The Zombies escape their containment and spread the virus. As humans are tagged, they become zombified in the makeup tent before returning to the game as the undead on the hunt for humans. Players try to survive to the end, armed with NERF blasters to stun the zombies in their tracks. In this immersive game of Survivors vs Zombies hundreds of players, armed with only their NERF blasters, battle to make it to the final stand in a post-apocalypse-themed adventure. The game ends when the last few human survivors make it to the evacuation point and escape ZEDTOWN.
To purchase tickets for HYBRID WORLD ADELAIDE'S ZEDTOWN: THE DIVIDED CITY at The University of Adelaide on 7 October 2017, visit hybridworldadelaide.org. Registration begins on site at 1pm and the game will start at 2pm. Limited tickets will be available on the day unless sold out prior.
For more information on Hybrid World Adelaide, visit hybridworldadelaide.org.