Comics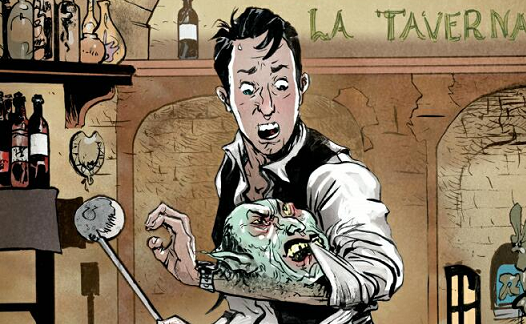 Published on February 28th, 2018 | by Dana Folkard
HUNGRY GHOSTS #2 REVIEW
Summary: The game of 100 candles continues with two new tales of horror.
SPOILER WARNING!
The game of Kaidan continues in Hungry Ghosts #2 as two new storytellers step up to spin their own sinister tales of horror. Artists Mateus Santolouco and Leonardo Manco feature in this issue, lending their talents to bring these two stories to life through their haunting illustrations.
This issue begins with the next chef stepping up to tell his horror story, called Salty Horse. The tale begins on a farm in Spain, where a wealthy Don has developed a rather disturbing appetite for horsemeat. His hunger quickly becomes an unhealthy obsession, as he slowly begins to eat his way through his entire stud of horses. Whilst eating, the Don appears to turn into a possessed animal, with gnashing teeth, crazed eyes and an insatiable hunger that continues to grow. With all of the horses consumed, the Don decides to eat an old warhorse, devouring the poor animal with a voracious appetite and an almost inhuman greed. Later that night, the Don is visited by the spirit of the warhorse, who has a rather unpleasant surprise for him. Remember, you are what you eat!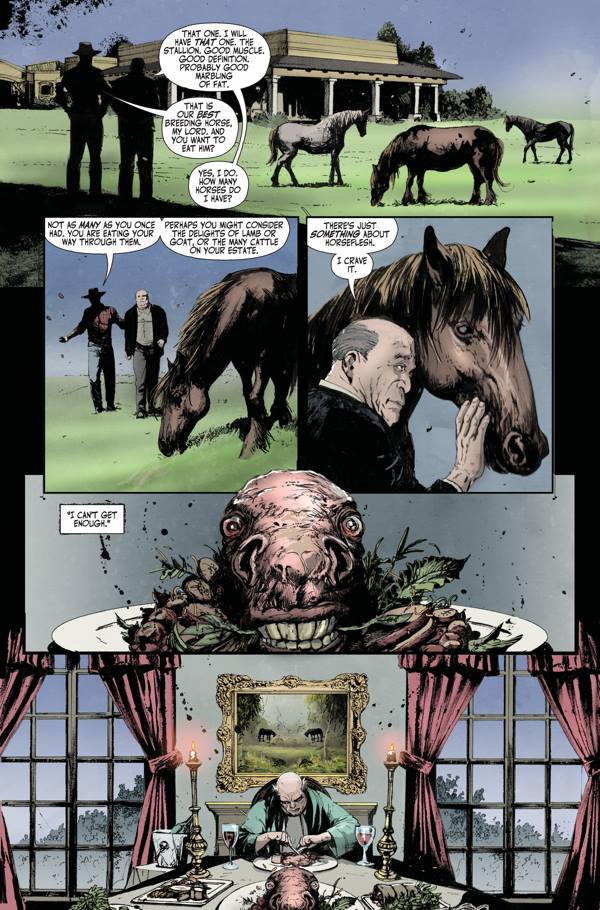 The second tale, The Heads is set in Lombardy between the First and Second World Wars. It follows a young apprentice chef, who has recently lost his master. Desperate for work, he wanders the countryside visiting small towns and villages looking for a new master. Disheartened and down on his luck after encountering numerous rejections, the man sits down in a dark alley, where exhaustion takes hold of him. He is suddenly woken by a strange man, warning him of the dangers of sleeping in this alley as it is haunted by wicked ghosts and spirits. Noticing that he is carrying the tools of his trade, the mysterious man offers him an apprenticeship to work in his kitchen. Unable to refuse such a generous offer, the young man jumps at the opportunity to begin work. After being introduced to his fellow colleagues, where it is revealed that each possess a sad and tragic past, the man then decides to settle down for the night and get some sleep. Sleep, however, isn't on the menu, as he is woken in the dead of night by a strange and unsettling sound. Curious about the noise, he follows it only to encounter a nightmarish scene involving headless bodies and fiendish flying heads.
I really enjoyed the second instalment of Hungry Ghosts, finding both stories to be wonderfully grotesque and entertaining. Being a horse lover, I was immediately repelled by the gluttonous Don and his insatiable appetite, finding him to be a true abomination. I've once encountered a similar story, called Shi no Choji, which is a Japanese tale about a wealthy man who possessed a gluttonous appetite for horsemeat. After consuming his 300 horses, the man is possessed by the spirit of the final horse, who enters his body every night in an incredibly painful and invasive way. I can only assume that this tale inspired Salty Horse, as it is quite similar from what I can remember. I really enjoyed how Anthony Bourdain and Joel Rose adapted it, changing the setting and characters and by doing so, bringing a fresh perspective to the narrative.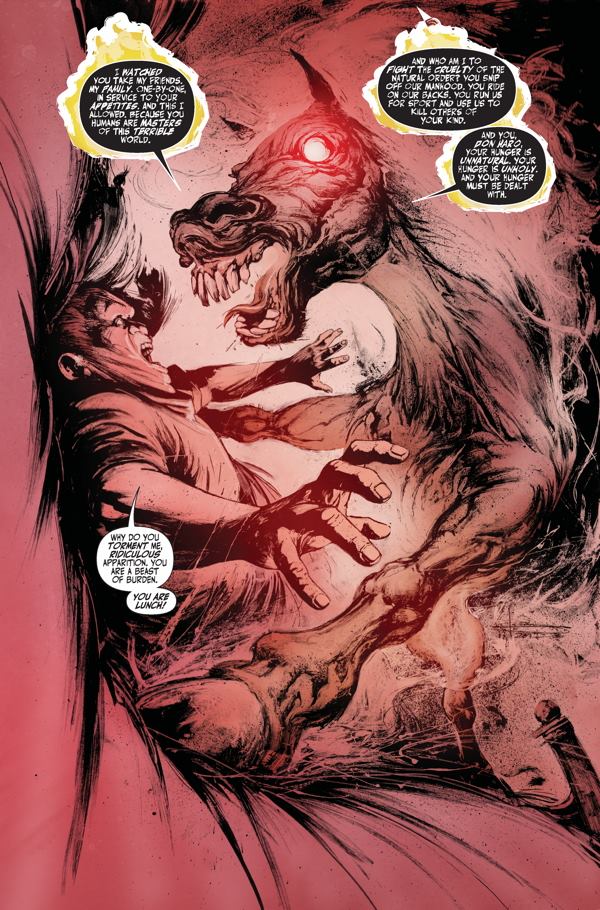 The Heads is also another tale I'm already familiar with, mainly from Mike Mignola story, Heads, where we see Hellboy encounter similar flying heads. From what I know of the original Japanese folktale it is based on monsters called Rokurokubi, who are a kind of demon that has the appearance of a human, but whose heads separates from their bodies at night.  In The Heads, we see the story take place in Italy with the element of food being the focal point. I actually found this story to be quite entertaining and funny, and I couldn't help but giggle at the predicament that the apprentice finds himself in. Nothing good can come from walking around with a head fixed to your arm.
The art by Mateus Santolouco and Leonardo Manco is perfectly fitting for each of these two stories. Leonardo Manco illustrates Salty Horse, visually translating this story through his detailed drawings. I really enjoyed the series of panels where we see the bloated Don in an eating frenzy as he voraciously devours the old warhorse. His gnashing teeth, tearing apart the horses flesh is confronting and grotesque, and even though I'm a horse lover, I loved every moment of that scene! Mateus Santolouco art for The Heads is atmospheric and moody, perfectly amplifying the spooky tone of the narrative. For me, the art in this particular story is all about the intense and engaging expressions of the characters, in particular the young man when he first encounters the headless bodies. I also really loved the flying goblin heads, finding them to be incredibly evil looking and also very funny in their absurdity.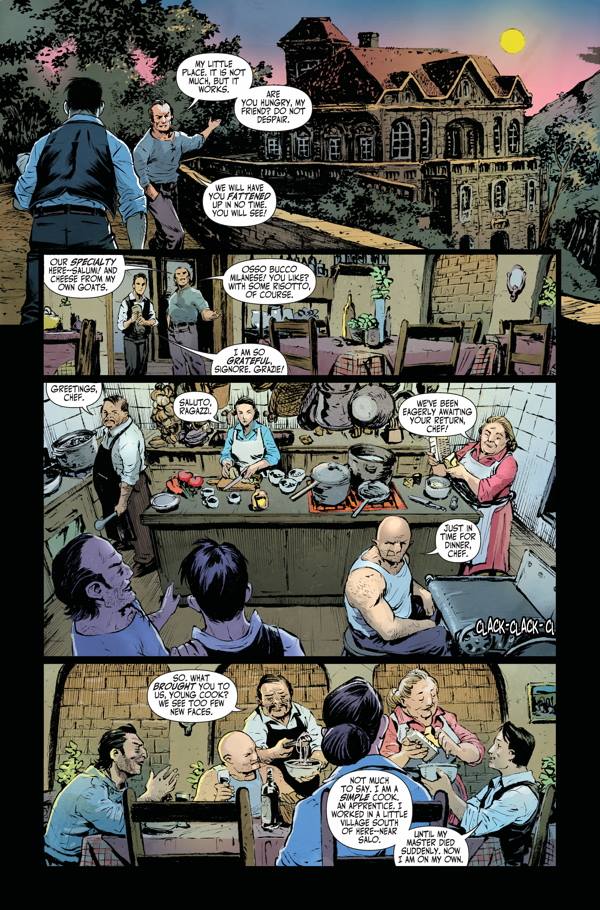 Overall, I really enjoyed this issue of Hungry Ghosts, and even though I'm already familiar with both of these stories, I found that Bourdain and Rose bring a whole new and interesting dynamic through the clever changes that they make. Do yourself a favour and go grab a copy ASAP!
I'm giving this issue 5 out of 5 stars!
---
COMIC DETAILS
CREATIVE TEAM: Anthony Bourdain, Joel Rose, Mateus Santolouco, Leonardo Manco and Jose Villarrubia
PUBLISHER: Dark Horse Comics
PUBLICATION DATE: February 28, 2018
REVIEWER: Dana Folkard