Comics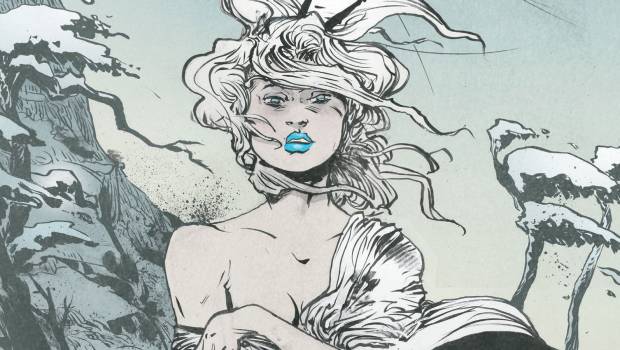 Published on May 9th, 2018 | by Dana Folkard
HUNGRY GHOSTS #4 REVIEW
Summary: The final candles are extinguished as the concluding tales are told.
3.2
Doesn't quite satisfy
The final candles are extinguished as the last tales of horror are told in this concluding issue of Hungry Ghosts. The end is here, but is it any good?
Like previous issues, this one contains two reimagined folktales with a foodie twist. The first story, The Snow Woman delves into a tale about the Yuki Onna, a kind of demonic snow witch, who offers one night of pleasure to a young hunter in exchange for total secrecy about their lusty night. Years pass and the hunter soon learns that keeping a secret is much harder than he thought, and he learns first-hand the dire consequences for breaking a promise with a snow witch. The second story, The Cow Head, tells the disturbing tale of a village that is suffering from a crippling drought and famine. Everyone  in the village is slowly starving to death and eating their way through their livestock. After a strange cow-headed stranger wanders into town, the villagers are soon gripped with a ravenous hunger makes the villagers commit a heinous crime. They soon learn that their monstrous crime will not go unpunished, and hell on Earth is unleashed upon them.
I was excited for this final issue as I was looking forward to discovering more about the mysterious Russian oligarch and his strange dinner party. From the beginning I've been intrigued by this character and I was really hoping that he was going to be explored and fleshed out more. Unfortunately, I was left feeling disappointed over the lack of story about this character and the overall conclusion involving him. It actually came across a little rushed towards the end, which is such a shame as I had such high expectations of what was going to unfold. I found that the overall balance of this issue felt off, with the beginning being strong and the end seriously lacking. The two folktales were clever and well-written, with the first taking us on a mysterious journey that had a rather sad and sorrowful ending. I preferred this story as I believe it felt more well-rounded and developed than the second. For me, the second story was entertaining but predictable. I did love the art and imagery, and found that the final pages of this story to be visually epic, however, the story itself trailed off in a strange and disjointed way.
The art by Francesco Francavilla and Irene Koh is absolutely lovely. Both artists perfectly captivated me with their detailed and engaging illustrations. Irene Koh's art is beautiful and moving, capturing the sensuality of the tale. The snow witch is strikingly drawn, and she perfectly matches the picturesque snow-covered landscape. Francesco Francavilla art is wonderfully graphic and intense. I've always loved his dark and textured drawings, finding that they perfectly suit horror stories. The grotesque scenes were my favourite, with each paged filled with all manner of hideous monstrosities and vile deeds. It's a feast for the eyes, with an abundance of horrific and evil things spilling out of the pages. Colourist, Jose Villarrubia cleverly captures the elemental shifts in each story, making the first story feel icy and cold with cooler colours, and the second story arid and hot with a warmer and richer colour palette.
Overall, I found this issue to be lacking. I so desperately wanted this series to end strongly, but the whole conclusion felt too rushed. If you've been following this series I still recommend picking this issue up as there are elements that work well. I only wish that the conclusion was stronger to match the wonderful introduction that we saw to this series.
I'm giving this issue 3.2 out of 5 stars!
---
COMIC DETAILS
CREATIVE TEAM: Anthony Bourdain, Joel Rose, Irene Koh, Francesco Francavilla and Jose Villarrubia
PUBLISHER: Dark Horse Comics
GENRE: Horror
PUBLICATION DATE: May 09, 2018
REVIEWER: Dana Folkard