Hardware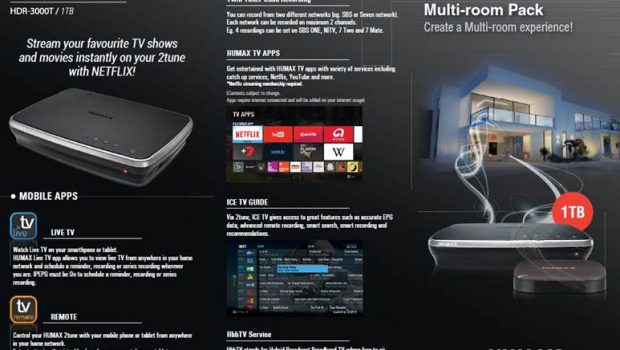 Published on August 30th, 2017 | by Admin
HUMAX Multi-room Pack Review
Summary: The HUMAX Multi-room Pack provides multimedia to every corner of your house!
Personal Video Recorders (or PVR's) have been around for awhile now but as technology advances, so do these machines and Humax have put together their new HUMAX Multi-room Pack that comes with a 2Tune HDR-3000T/1TB PVR plus their Expresso H3 streaming box. Although the main use for this device is to record from free to air television, it also supports online apps such as NetFlix, YouTube and HbbTV (Hybrid Broadcast Broadband TV) plus Freeview! Add in the ability to access multimedia content via your network, including transferring content to smart devices and the ability of streaming Live TV to other devices that don't have access to an aerial and this is only the beginning for the HUMAX Multi-room Pack.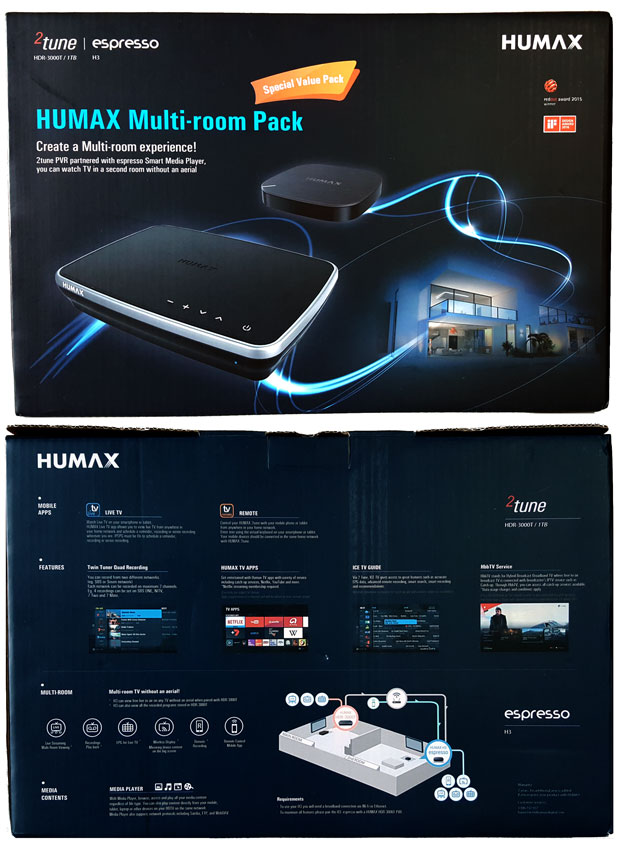 Humax also ensure that the users has everything they need to connect this device to their television and setting up its streaming box, the Expresso H3. The installation process of the HDR-3000T was extremely easy. The first step was to connect the device to your antenna and then to the TV. With that in mind, you do need an extra antenna cable to loop the free to air channels back to your TV plus a HDMI cable to connect the HDR-3000T to it. After that, you connect the power cable and also the Wi-Fi dongle (2.4Ghz). Once done, you just go through the simple installation wizard which sets up your network (Ethernet or Wi-Fi), an update of firmware, channel scan and then you're ready to use the Humax HDR-3000T. Furthermore, there is even a tutorial to surf the channels, access the various apps plus recording TV shows on the PVR.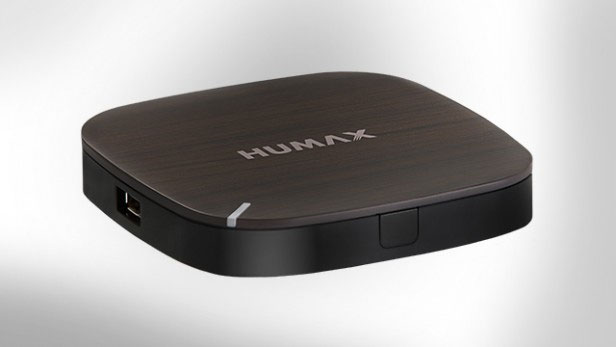 The remote control for the HDR-3000T is well designed and feels quite sturdy. Thankfully the designers haven't cluttered it up with useless features because in reality, you only use a handful of buttons which include volume, channels, home, guide, OK, back and exit. Sure there are other buttons but most people (myself included) don't need to know the fiddly nature of other buttons on controllers. More so, channel surfing is a breeze on the HDR-3000T and it's quite a responsive PVR unit in that everything comes up fast. Catch-up TV is a little slower but that's because it's accessing the net but once loaded, we had no issues whatsoever.
Navigating the menu of the HDR-3000T is quite good and by pushing the guide button, it brings up what's playing on Live TV. By pushing the home button, you can access other elements of the HDR-3000T like its apps or searching for shows to record. In relation to its EPG or electronic program guide, it does keep 7-days and for recording, you can choose to select 'repeats' and include padding such as adding an additional 5 minutes before the show starts or 15 at the end. It also supports a very generous buffer of up to 2 hours!
Another cool aspect about this device is that you can setup favourites and in terms of resolution this product supports 1080p or can be downsized to 576i but overall, the picture quality was sharp, vibrant and very clear.

If you're away from this PVR, you can setup remote recording and by registering your PVR on the Humax website (myhumax.net), it allows you to access the HDR-3000T from anywhere in the world or your home for that matter. If you want to setup quite a few shows on your HDR-3000T, I would recommend you access myhumax.net from a PC or Mac because it easily allows you enter multiple 'season passes' opposed from the slow text input from the remote control. The video quality of the recordings was quite decent and like other PVR's, you can pause, rewind and fast forward which is great to skip those pesky ads on free to air TV.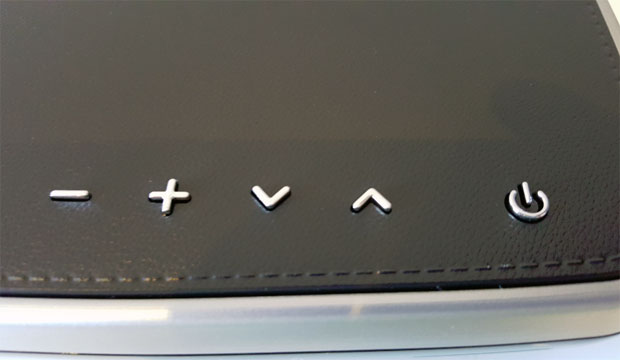 It should also be noted and although there are some apps for catch-up TV, the easiest way to access this functionality is via accessing catch-up TV directly from the channel you are watching (e.g. 10, 9 or 7 Mate) That is, by pressing the red button on the remote control, it will access catch-up TV if that channel supports like iView or Ten Play. Freeview is of course the other alternative. Lastly for parents wishing to ensure that their children don't stumble across any inappropriate content, the HDR-3000T does support a Parental Control feature which is accessed through the general setting via the menu system.
As mentioned, the HDR-3000T does come with some inbuilt apps such as Plus7, SBS On-demand, Netflix (subscription required), SMH.TV and even social media sites like Twitter. There is a slight pause when accessing these apps but once they connect to the net, data is streamed quite fast and we had no issues with pausing while it was trying to catch-up. There is a web browser that uses the Opera interface and although nothing special, it does allow you to surf the net or access other multimedia content online.
Another cool aspect is the ability to use your smart devices to access live TV and information recorded on the HDR-3000T via the Humax app. Furthermore, you can stream video, music and photos from your PC which does increase the overall scope of this product or you can connect an external device like a flash drive of even a hard drive… now let's talk about the Expresso H3!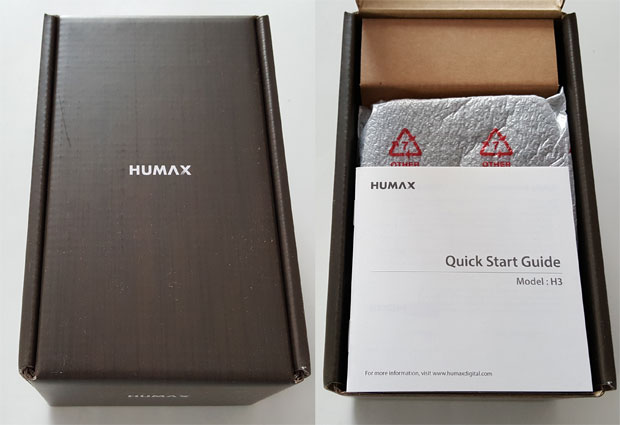 The Humax Expresso H3 is basically a very small streaming box which allows you to connect your multimedia network and free to air TV to another TV or monitor that may not have aerial access. Netflix users will also appreciate the dedicated Netflix button on the remote and on the main Humax interface which offers users a wide range of additional and affordable priced content. Although not a major issue, streaming live TV is buffered and does suffer a small delay if accessed through your Wi-Fi.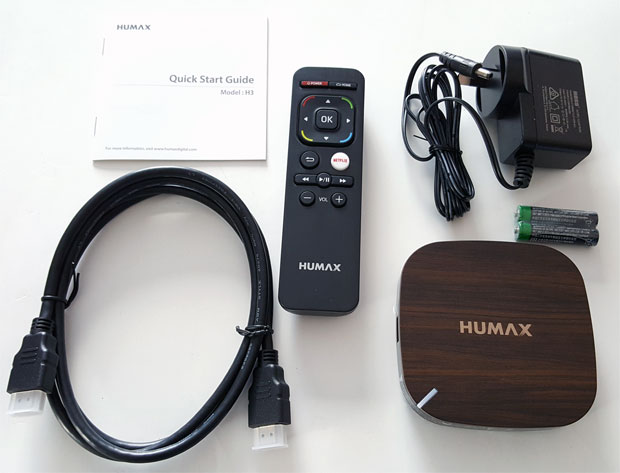 The build quality of both the 2tune HDR-3000T and the Expresso H3 is quite decent and nothing feels cheap or flimsy. I also loved the faux wooden panelling effect on the Expresso H3 which gives it this classy look that would not look out of place anywhere in your home or office. On the back of the Expresso H3 is the HDMI, Ethernet and SPDIF ports plus a connection for the power adapter.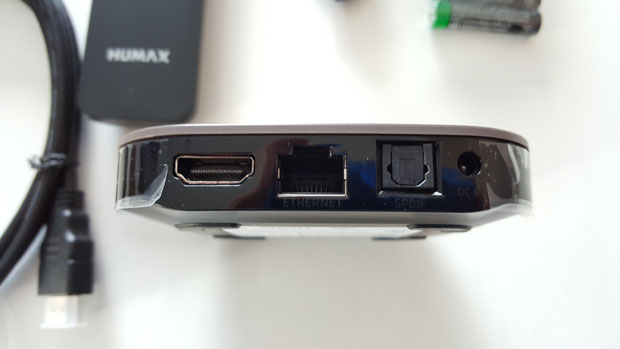 When powered, the light in the top left hand corner will light up indicating that the device is on. The remote control is also quite streamlined with just a handful of buttons. These buttons include power, home, navigate, back, Netflix, rewind, play/pause, fast forward and finally two volume buttons. Unlike more complicated remotes, this is all you really need and Humax really excel at this process.

The first step to installing your HUMAX Multi-room pack is to install the 2tune HDR-3000T 1TB PVR and by connecting it to your TV, following the wizard, you'll be up and running in no time. Just like the HDR-3000T, the installation of the Express H3 is just as easy and once again takes the user through an easy to navigate and follow wizard. However the first step is to connect the Express H3 to its transformer, then the power and finally connect the HDMI cable to your monitor or TV.
Once this is completed, the Expresso H3 starts the simple to use wizard. The wizard for the Expresso H3 prompts the user for the following information;
Language (e.g. English)
Selecting your wireless network and inputting the password (skipped if connected to a LAN)
Instructions on how to pair your mobile as a remote
Selecting your time zone (e.g. Sydney GMT+10:00)
Accepting the HUMAX privacy policy, general terms and conditions and licensing agreement
The unit will also check if there are any new updates that can be skipped if needed.
Once this process is completed, you're ready to access your new Expresso H3 unit.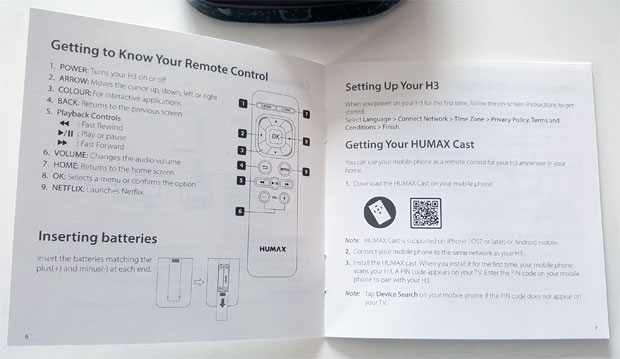 The interface of the Expresso H3 is quite easy to navigate which is made more so thanks to the very responsive remote control that also includes two AAA batteries. Although the Expresso H3 comes with three installed apps, you can install additional applications from interactive children's book to internet radio and even exercise programs. Furthermore, anything that is recorded from your 2Tune HDR-3000T 1TB PVR can be viewed from the Expresso H3 which really increases the scope of what this product can do.
n terms of wireless vs wired, a wired connection is far superior, however we were able to watch live TV and access multimedia content from our HDR-3000T quite well with the occasional inability to connect. If you're stick with wireless, you can purchase a powerline device which basically sends your network through your pre-existing electrical wiring in your home.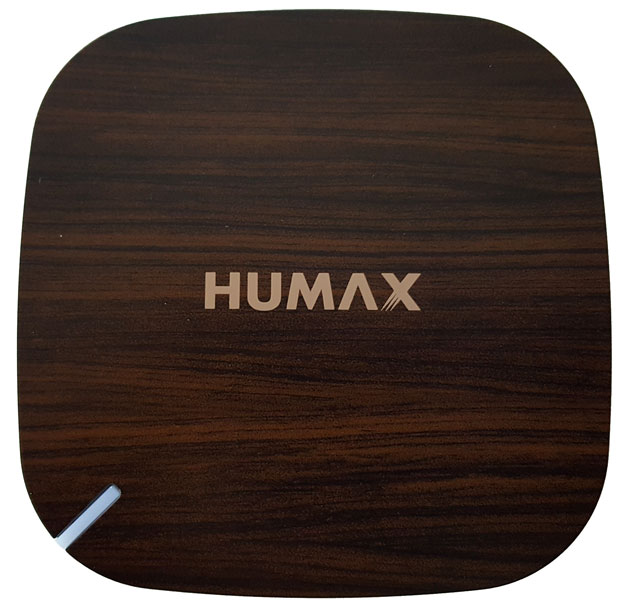 Another highlight of the Expresso H3 is the ability mirroring which basically allows you to stream your movies, photos and music from your smartdevices (e.g. Galaxy S7 or iPhone 7) straight to your HDTV. With that said, you also have access to EPG and recording options, including the ability to watch Live TV on smart devices. All in all, it's quite a well-designed product from Humax that really delivers your multimedia needs.
Final Thoughts?
The Human Multi-room Pack is a great option to expand your multimedia content in your home, especially with the inclusion of the Expresso H3 which provides users with an excellent streaming device to expand your multimedia content in your house, including smart devices and vice versa. Furthermore, it supports HD video plus digital audio and the only slight drawback is the limited number of apps available, however Netflix and YouTube are our top two picks. Additionally, the TVPlayer app is good for streaming live TV to other televisions or monitors in your house that may not have aerial access and not only is the installation easy, it's also easy to navigate, boasts an excellent build quality and comes with a 2-year warranty!