Hardware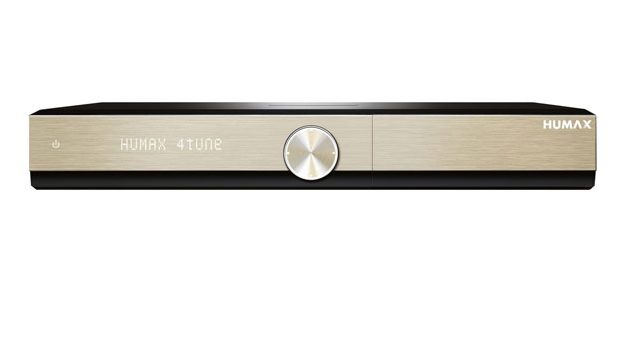 Published on January 2nd, 2017 | by James Wright
Humax 4tune HMS-1000T PVR Review
Summary: The Humax 4tune HMS-1000T PVR is a true entertainment system for not just TV but also multimedia and
Although PVR's (Personal Video Recorder) have been around for a while now, I'm still looking for the allusive TiVO replacement because back in the day it was one of the most responsive and easy to use systems. Unfortunately TiVO never took off in Australia but thankfully PVR's have and this is where the Humax 4tune HMS-1000T comes into the picture which boasts a wide gamut of features and relatively easy to use features.
There's also some elements that Humax's competitors don't have and these are quite impressive when it comes to capturing and sharing your TV love. Furthermore, this device has been modified to support all the needs of Australia from access to its local networks, both through your antenna and the internet plus it's also a Freeview compatible device. Add in sharing multimedia files plus apps for smartphones and he HMS-1000T is quite an entertainment beast!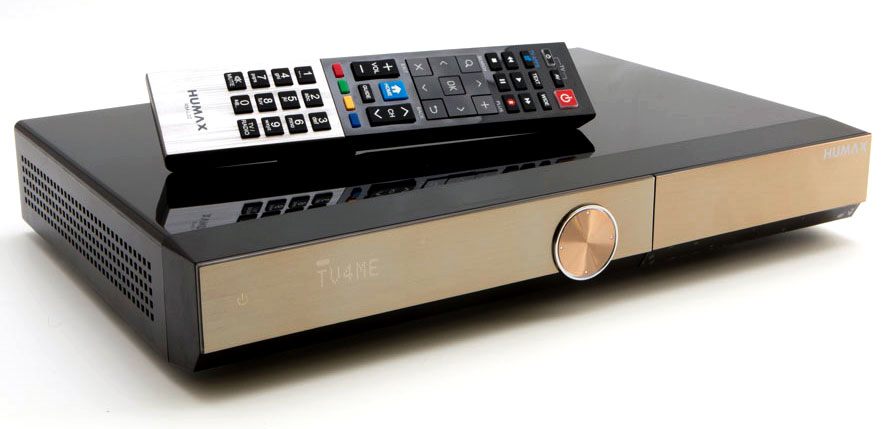 One of my favourite features of the HMS-1000T is the incorporation of 4-tuners which means you can record four different networks at the same time such as ABC2, 7Two, SBS and Ten Digital. Generally most PVR's have 2-tuners and the extremely cheap ones have only one. However Human have expanded this feature by allowing the user to also stream to mobile devices on your home network plus watch a recording, all while it's recording four other channels.
You can even stream live-TV to mobile devices as well which a rather impressive feature. Add in a 1 terabyte hard drive with the option of replacing the drive plus the usual PVR features like pause/rewind live TV, the electronic program guide and the ability to record your favourite TV series and HMS-1000T definitely ticks all the right boxes.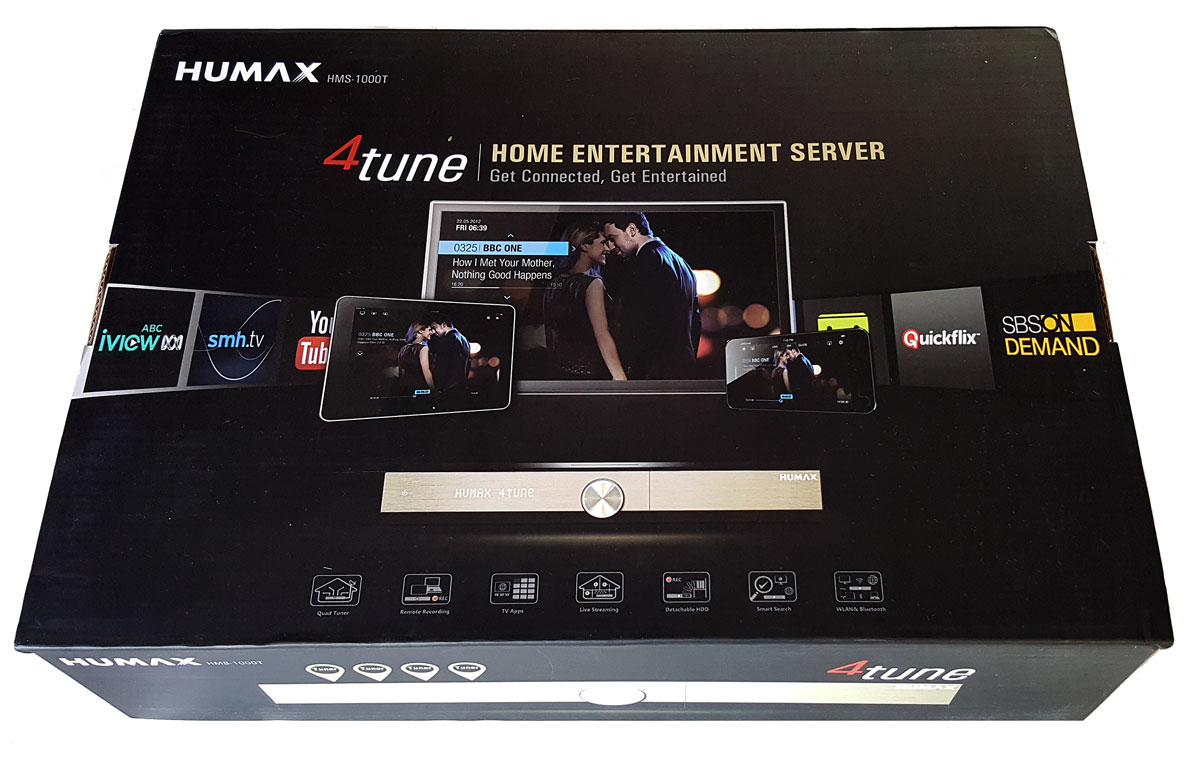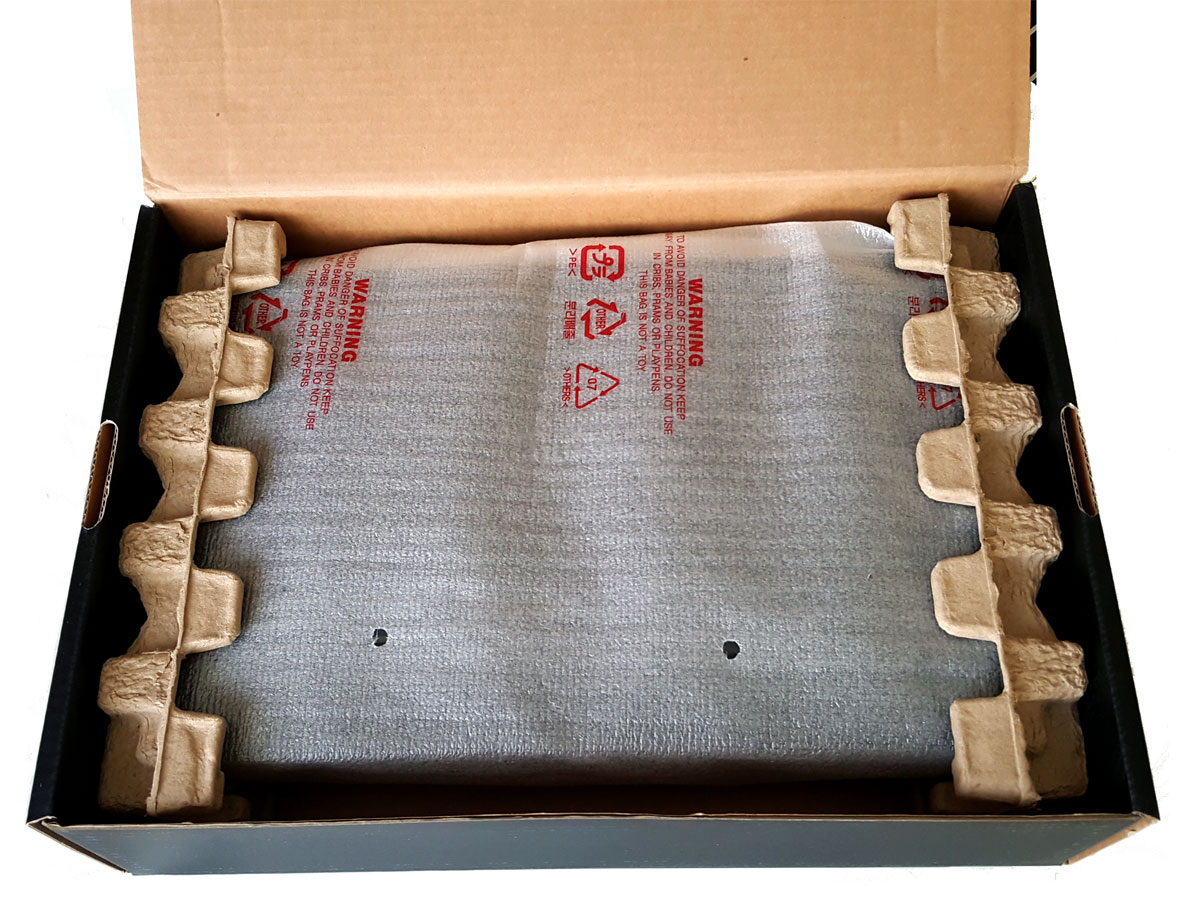 Another feature of the HMS-1000T is that it is HbbTV (Hybrid Broadcast Broadband TV) compatible which basically links entertainment services to your TV, including multi-screen devices. In essence, it's expands your TV options beside just your local networks. In terms of expanding your entertainment, you can even connect external devices into the product in order to access additional multimedia content which is great for attempting to keep everything in one accessible bundle.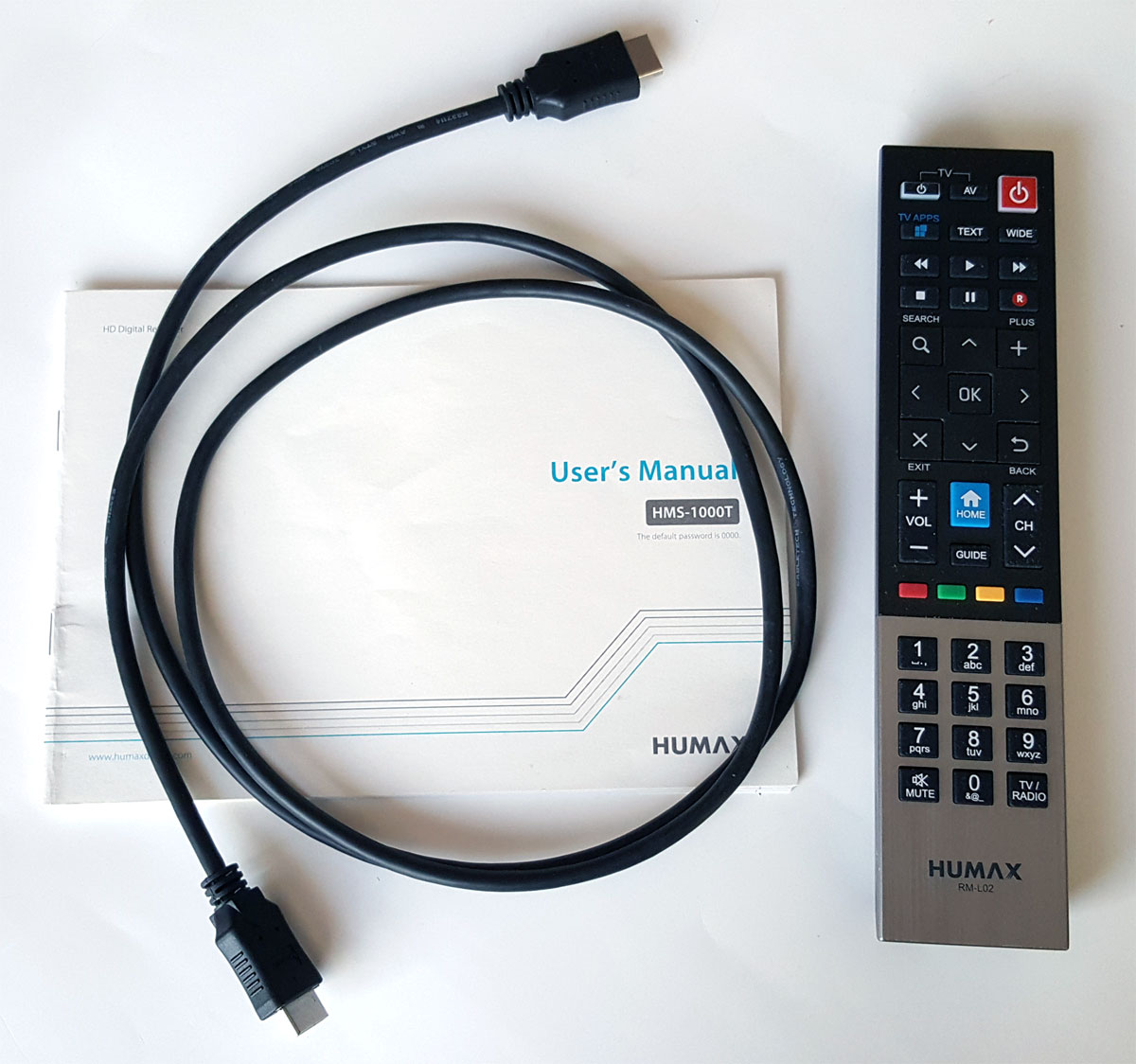 Like others PVR's, it comes with a 15-day EPG, including access to catch-up services like SBS On Demand or ABC iView. Given that, you do need a wired or wireless connection to access the internet and it should also be noted that the HMS-1000T supports Bluetooth as well so you can connect external speakers if need be.
The appearance of the Humax 4tune HMS-1000T is aesthetically pleasing and is not as harsh as some similar devices on the market. It does scream highend with its glossy black casing and metalic brush face with Champagne colouring which also incorporates a collection of LED's to inform the user of what the device is doing such as which channel you are on or if you're watching something from an external USB device.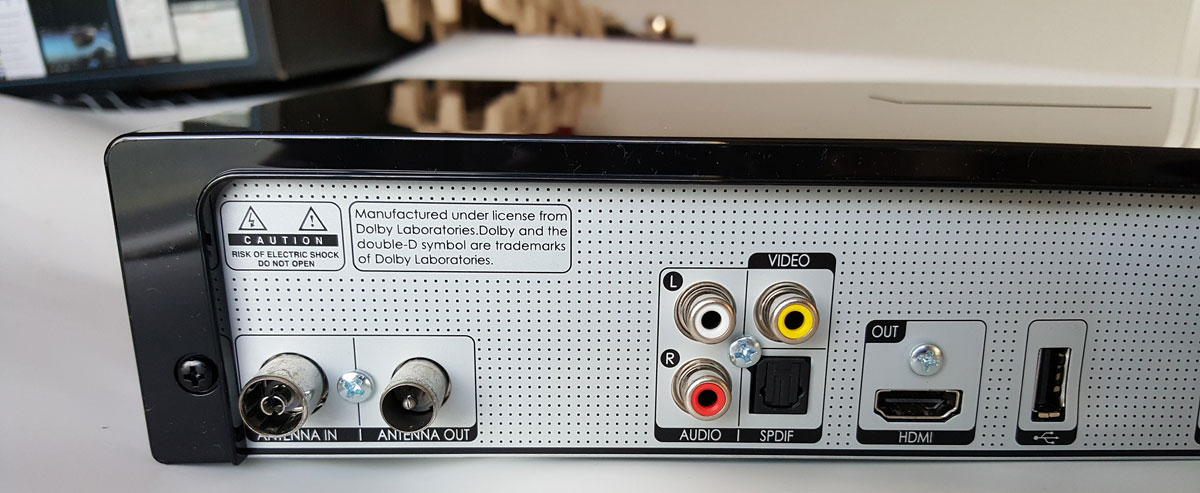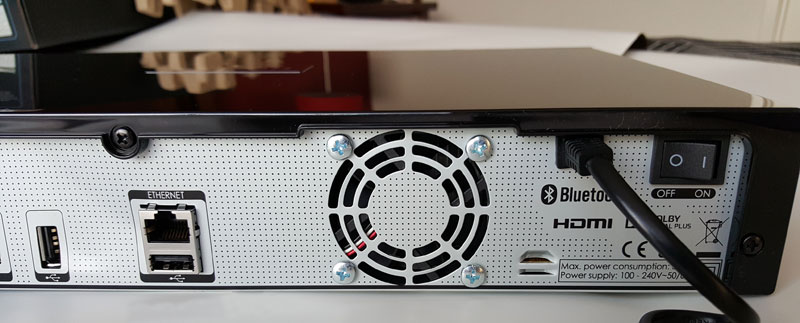 On the front of the HMS-1000T is the touch sensitive power button on the right and a control dial in the middle for additional user functionality for volume and channel change. Furthermore, additional USB or SD cards can be inserted on the front which flips down, including a 2.5″ hard drive bay for drives up to 1 terabyte in size. In order to use an external hard drive, you do need to mount it into the carriage that comes with the product and the HMS-1000T will then proceed to format it. At the back of the unit are the connections for antenna in, antenna out, analogue RCA (video/audio) sockets, SPDIF, HDMI, USB x 2, Ethernet plus the power button.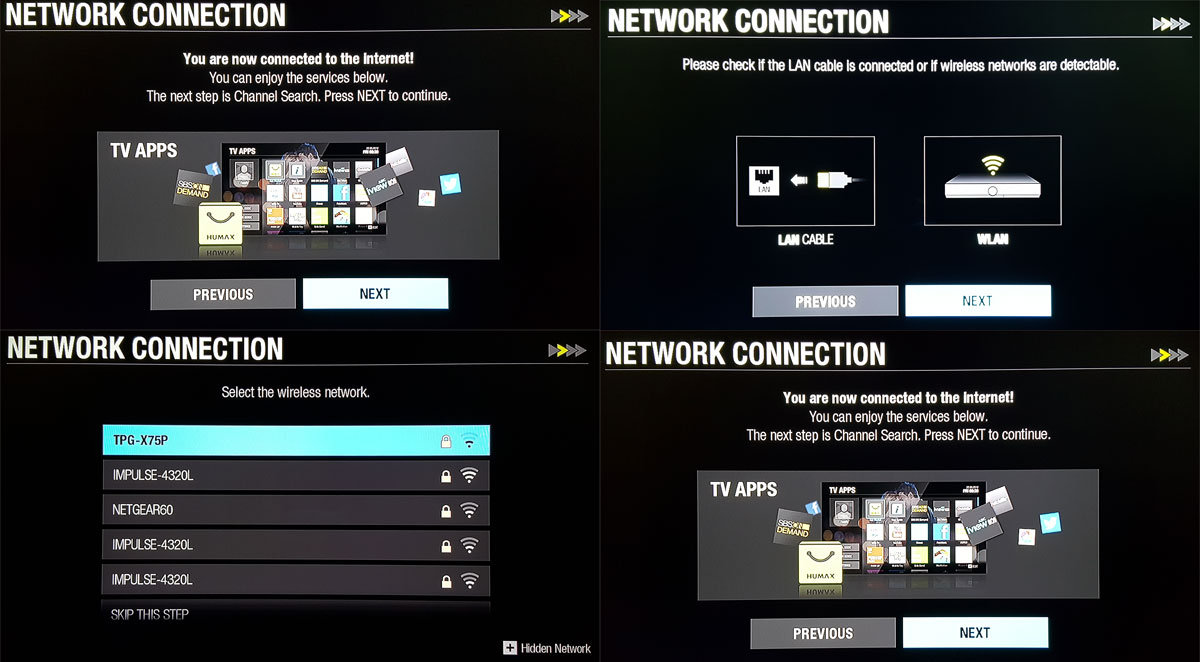 Installation of the HMS-1000T is a breeze and once powered on, it prompts the user through a very easy to follow wizard which tunes in your local TV networks, setting up your internet connection (either wired or wirelessly) plus linking the system to your HbbTV account.The installation wizard takes you through four phases that include Region Selection, Network Connection, Channel Search and finally the Quick Booting Mode. One interesting element is that the device also searches for the latest firmware before going to step 3, however you do need to reenter your WiFi details again.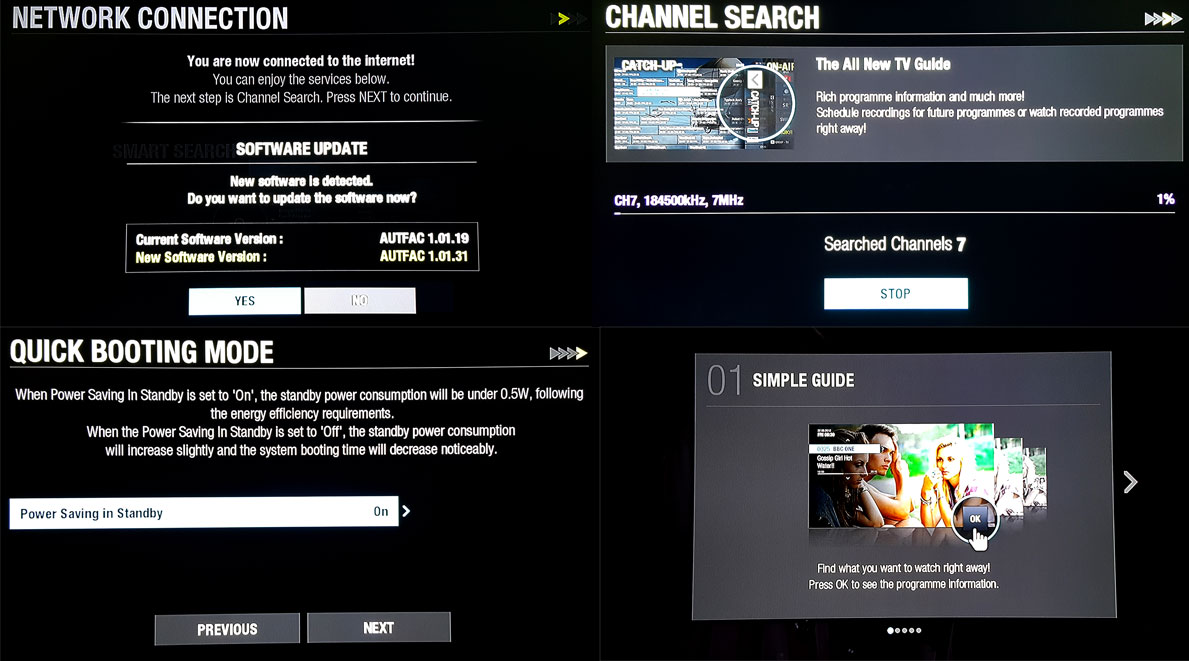 The entire installation of the HMS-1000T took just around 10 minutes which included downloading the latest firmware plus searching for channels and when finished, we were ready to watch free to air TV, access catch-up services or even use some of the apps on the device like Netflix or YouTube. You can further customise the HMS-1000T via the settings, however for most people the installation wizard is generally the only prompting required to set up this PVR.
Recording TV shows is done through the press of a button and you also have the option of recording entire series which can be done through the HMS-1000T or even remotely. For instant recordings, you just push the record button on the remote control and presto, it commences.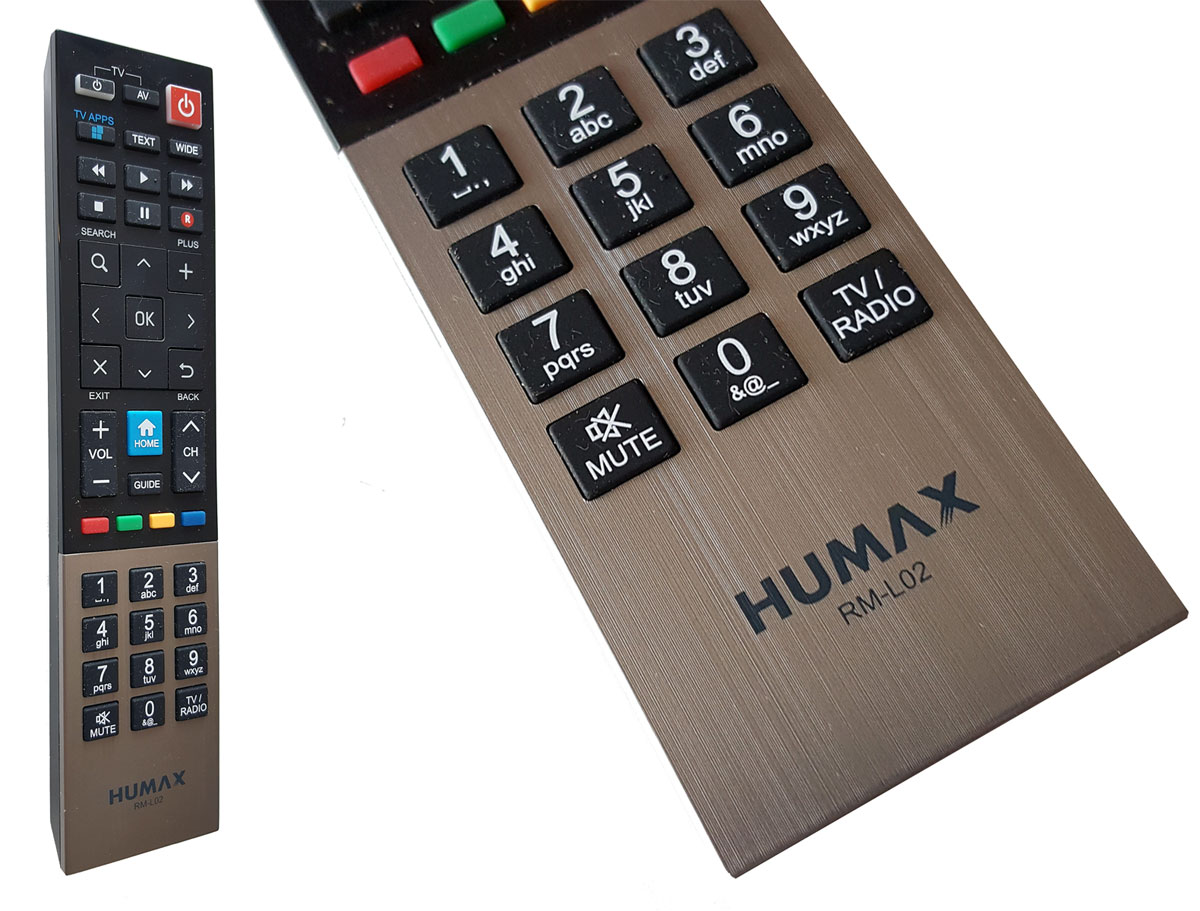 In relation to the remote control, I must admit that it's quite a well-designed unit with the buttons well placed and I like that luxury look at the bottom with its brushed metal appearance. Another feature is that you can use smart phones for the remote control as well which gives you full access to the HMS-1000T and it does make typing easier. However in terms of recordings and because Free to Air TV is always running late, you can adjust the padding in order to extend the recording time.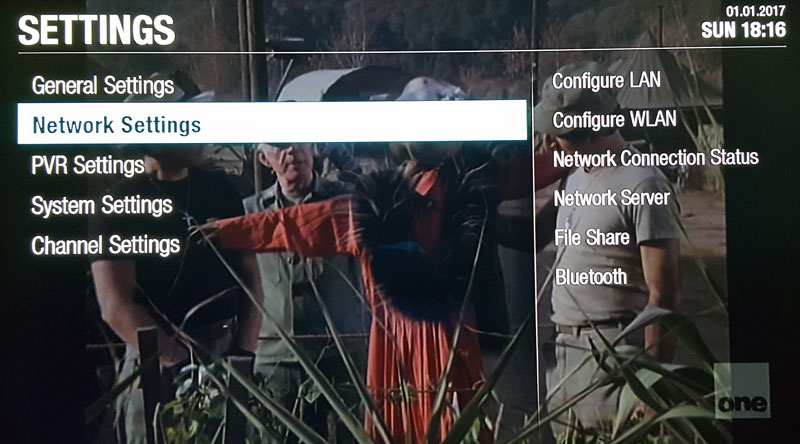 For those users who want to turn this PVR into a fully-fledged entertainment system, you can even link the HMS-1000T to your PC or compatible device in order to download multimedia directly onto this system. Navigating this function is relatively straight forward and some computer knowledge is require to maximise this feature.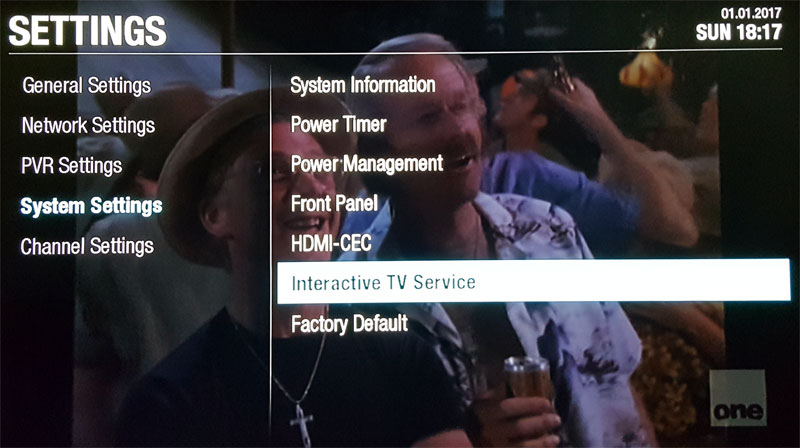 The alternative is connecting an external storage device but we found the ability to directly download content to the HMS-1000T very useful thanks to its compatible with DLNA devices. In order to stream to portable devices, you need to install the appropriate app on your smart device which is linked to HbbTV and was very easy to set up. You basically get the features from the HMS-1000T but minimised on your smart device and watching Live-TV on our Samsung Galaxy S6 was a treat, including our iPad.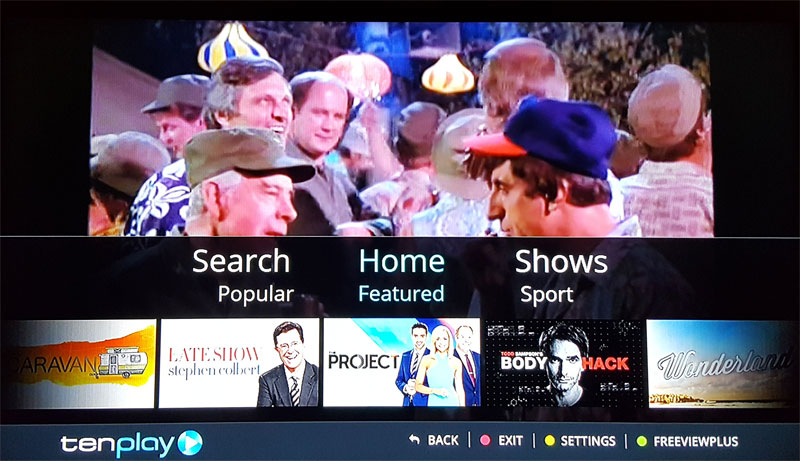 The apps available for your smart devices include Live TV, TV Remote and Media Player and this last app allows you to stream recordings directly to your smart device. In terms of responsiveness, the HMS-1000T is quite fast, especially navigating channels or using catch-up TV.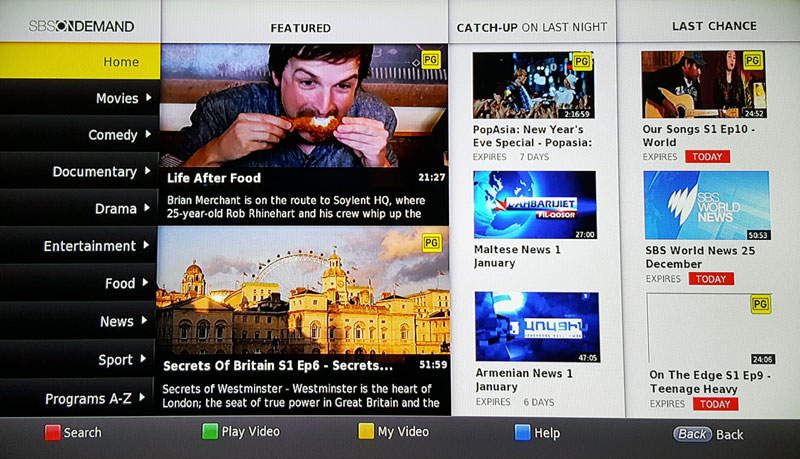 Final Thoughts?
The price of the Humax 4tune HMS-1000T is around $600AUD (January 2017) and given the amount of features, it's definitely value for money, particularly if you love your television like we do. Furthermore, the HMS-1000T comes with a 2-year warranty and great support should you need some help. Oh… is it my TiVO replacement? It sure is!!!
Recommended!