Comics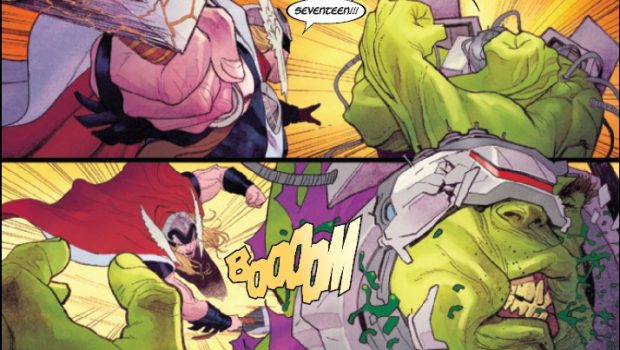 Published on May 17th, 2022 | by Tim Chuma
Hulk vs. Thor: Banner Of War Alpha #1 (2022) Review
Summary: BANG A GONG, WE ARE ON! This is just the setup and you are expected to follow the seperate character stories but it is good to check out here at least.
It's on for young and old as Hulk and Thor finally face off against each other for not the first time but there is something different in this case. Expecting a big show even the Watcher is waiting at their battle ground with a crowd. The Hulk is currently in Starship Hulk mode with Bruce Banner controlling from his "mind palace" and Thor is recovering from the loss of Odin who has possessed Mjolnir.
For this series they are meeting up in this issue and then the story splits and you have to follow it in both the Thor and Hulk comics so a bit annoying if you are not already buying both and want to follow the full story. This is not as bad as what happened with the War of the Bounty Hunters but not unexpected.
It does get straight into the action and you don't really need to know the backstory even though I knew a little bit of the stuff about the Hulk going in it did tend to drag on. I don't follow Thor as much and I still caught his story going through and did not seem lost on either.
Well worth a look even if you just want to get this one as a one-shot and maybe check out the character series you are more a fan of going forward.
Comic details:
Writer: Donny Cates
Penciler: Martin Coccolo
Cover Artist: Gary Frank
Publisher: Marvel
Published: May 11, 2022