Comics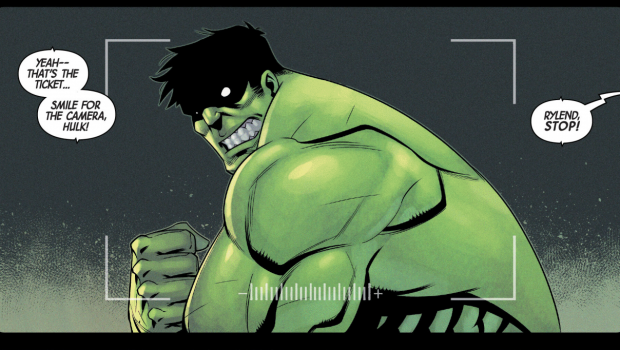 Published on May 29th, 2023 | by Howard Smith
Hulk Annual #1 REVIEW
Nothing is more important than getting a shot of The Incredible Hulk in action!
In Hulk Annual #1, the tale of the big green monster isn't told directly from Bruce Banner's perspective. Instead, it follows a film crew through a camera seeking an Emmy for their documentary with The Incredible Hulk in the frame. Karla, Manny, Tony, and Rylend set out for their next big score in Viridian, New Mexico, but they bargained for more than they could handle once they ran into Bruce Banner himself. Mistaken as a civilian in need of assistance by Karla, Banner warns the film crew to run away as fast as they could. A terrifying behemoth appears, and all hell breaks loose with the crew caught in the crossfire. Luckily for them, The Incredible Hulk intervenes and a monster brawl ensues. With the camera constantly rolling throughout the mayhem, one of the crew members becomes greedy and tries to get a better camera shot, but ends up making the situation worst. In conclusion, it is discovered that this is only the beginning of something far worst to come.
David Pepose (Fantastic Four, The O.Z., Savage Avengers) ends his comic book run with Hulk Annual #1 on a high note for fans of the series. Despite his exit, Pepose doesn't leave without giving readers excitement, calamity, and gamma havoc. Viewing the story from the perspective of a camera added a first-person experience that performed smoothly. It was as if the readers themselves were there with the film crew. Essentially, readers have a front-row seat to see what's happening and are strapped in. Rather than write a typical story where Bruce Banner wakes up, transforms into The Hulk, and starts fighting a monster, the story introduces normal people who are trying to film a documentary for infamy. On top of that, Pepose adds a new informative detail about Bruce Banner before he was involved in the gamma radiation accident. It's brief, but it still matters to his overall origin.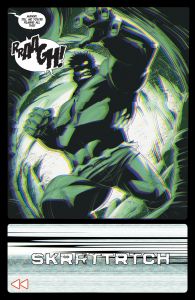 Aiding Pepose on his last run of the series, Caio Majado (Maeve Rising Warrior, Edge of Spider-Verse, Princess vs. Zombies) does an amazing job on the artwork for the comic book. Majado's illustrations are gentle on the eyes and reading them is a pleasure. The way Majado's art style flows on the pages is superb. While the panels and pages are riddled with detail, Majado understands that not being too fancy with the level of detail is the path to take when making a story involving the Hulk. There's something about the way Majado composes his craft on a page that's very interesting to take notice of. Speaking of noticeable, Gary Frank (Action Comics, Gen13, Dark Angel) and Brad Anderson (Batman, Black Panther, Junk Yard Joe) combined their skilled talents to create a cover that stands out among other titles for Hulk Annual #1. The degree of defined detail in the close-up of Hulk is astonishing.
The colors by Edgar Delgado (A-Force, Astonishing X-Men, Doctor Strange) and lettering by Cory Petit (Cable & Deadpool, Emma Frost, Fear Itself) were key components in making sure this annual for Hulk remained enjoyable. If anything, it seemed like Petit and Delgado had the most fun working on creating this comic book together. However, it's the final issue from Pepose so they gave their best on finishing strong.
While Hulk Annual #1 ushers in a new era for Bruce Banner and The Incredible Hulk, readers can start here if they are just getting into The Incredible Hulk comics or veterans who are ready to see what happens next. It serves as both a starting point and continuation that readers might want to add to their collection for further developments in the new story coming soon. Readers may find this comic book at local comic book stores or online where copies are sold. The Age of Monsters is coming!
Comic Details
Writer: David Pepose
Artist: Caio Majado
Color Artist: Edgar Delgado
Letterer: VC's Cory Petit
Cover Artists: Gary Frank, Brad Anderson
Editor: Wil Moss
Publisher: Marvel Entertainment