Comics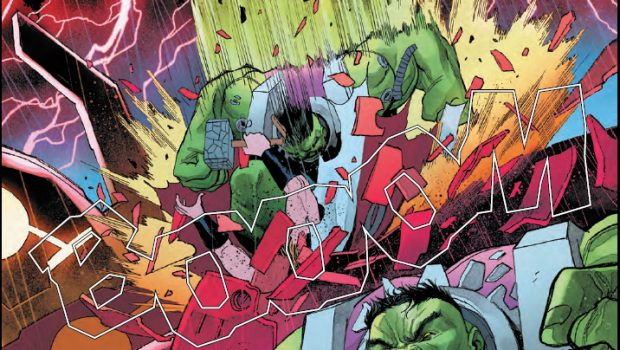 Published on May 31st, 2022 | by Tim Chuma
Hulk #7 (2021) Review
Summary: This picks up from the last entry in the story which was really just them hitting each other so you wouldn't have missed much. Worth a look if you are into these two characters.
Part three of the Hulk vs Thor "Banner of War" series and Tony Stark driving a Hulkbuster suit made out of the body of an Eternal gets involved, leading to explosive results. For some reason Hulk has eye lasers now and things do not turn out how Tony expected.
This is another crossover series where it goes from one character's comic to the other to continue the story. For some reason I thought this was going to be the second part of the story but it turns out to be the third. A lot of people hitting each other seems to have happened in the part I missed seemingly and all the audience has now cleared out.
It was not that hard to pick up the story considering it is mostly action how much you get out these depends on if you are on Hulk or Thor's side. Not sure if anyone is in the right in this case as it seems to be a lose-lose situation no matter who comes out on top this time.
Still worth a look if you like the Hulk doing things you wouldn't normally expect and are still on board for the whole "starship Hulk" storyline until the end.
Comic details:
Writer: Donny Cates
Penciler: Martin Coccolo
Cover Artist: Gary Frank
Publisher: Marvel
Published: May 25, 2022