Hardware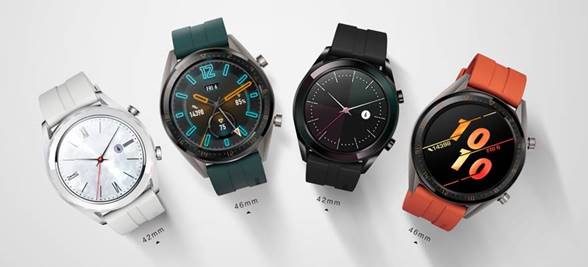 Published on July 27th, 2019 | by Admin
HUAWEI Watch GT Active and Elegant officially launch in Australia
Innovative smartwatches deliver up to two-week battery life, industry-leading fitness and wellness tracking capabilities in a premium and classic watch design
Huawei Australia has today launched the latest editions of the best-selling HUAWEI Watch GT – Active and Elegant – which will be available in Australia from late August at Mobileciti.
The new releases feature a classic wristwatch design, ultra-long battery life, sophisticated activity tracking and fitness coaching, making them the perfect companion for savvy Australians, always on the go.
"Huawei is Australia's fastest growing technology company and we are delighted today to launch new products which complement our world leading smartphones," said Larking Huang, Managing Director of Huawei Consumer Business in Australia.
"We believe this is the perfect companion for Aussies who are always on the go. The Watch GT series has already drawn much acclaim globally for its ultra-long battery life, sophisticated activity tracking and fitness coaching.
"We have seen huge interest from consumers across the world, with more than two million Watch GTs sold since October last year. The incredible sales of this watch makes Huawei one of the top 3 global smart watch sellers in the world and we are excited to launch the latest devices in Australia."
Referencing leading analyst firm IDC's data report for global wearable vendors in the first quarter of 2019, Huawei has achieved year-on-year growth of +282.2 per cent compared to the same quarter last year, shipping five million units in total which puts it among the top three global wearable vendors.
From running a marathon to commuting to work, the HUAWEI Watch GT caters to Australians' busy lifestyles. Boasting a long-lasting battery life with typical use – Elegant up to one-week without charge, and Active a whopping two-week battery life – both editions feature a low-energy, dual-chipset system and intelligent (AI) power-saving algorithm, allowing consumers to switch between performance and efficiency modes, ultimately maximising battery life.
Durable and difficult to scratch, the HUAWEI Watch GT is slim and stylish.  Featuring a Fluroelastomer strap to both improve the watch's overall texture and create more durability and comfort, the HUAWEI Watch GT also comes in variety of watch faces to suit every occasion – from the gym to a cocktail party.
The HUAWEI Watch GT Active edition is available in Titanium Grey with an orange or green Fluroelastomer strap and the HUAWEI Watch GT Elegant edition is available in Magic Pearl White and Tahitian Magic Black Pearl, with a colour matched Fluroelastomer strap. What's more, the sleek and stylish Watch GT Elegant Edition features a ceramic bezel, achieved through a unique ceramic colouring process. To create the Magic Pearl White watch face, the watch undergoes a diamond-level cutting process that creates 48 small triangular cuts and is then precisely polished. When reflecting light at different angles, the face portrays an array of different colours.
Perfect for fitness and health conscious Australians, the Watch GT supports a range of indoor and outdoor workout activities from climbing and trail running, to indoor cycling and swimming. It also features Triathlon mode allowing users to track open water swimming, outdoor cycling, and outdoor running including transition time.
With the TruSeen™ 3.0 heart rate monitor, it can track your heart rate 24-hours a day in real time and with high precision. In Sport mode, the Watch GT allows individuals to adjust their workout's intensity based on a pre-set target. In rest mode, the smartwatch can automatically monitor and record resting heart rate.
The HUAWEI Watch GT allows users to better manage their health with smart tracking capabilities for a range of daily activities such as walking, and even sleep. With TruSleep™ 2.0 smart sleep technology, the smartwatch allows users to monitor sleep quality and accurately identify typical sleep issues. The smartwatch can also offer over 200 suggestions for the improvement of sleep quality through real-time heart rate monitoring, sleep breathing and smart data analysis.
The HUAWEI Watch GT Active and Elegant editions retail at $399 AUD, and will be available at Mobileciti from late August 2019, with more retail partners to be announced.
For more information visit https://consumer.huawei.com/au/. For answers to the most common questions and points of confusion visit Huawei Answers.