Hardware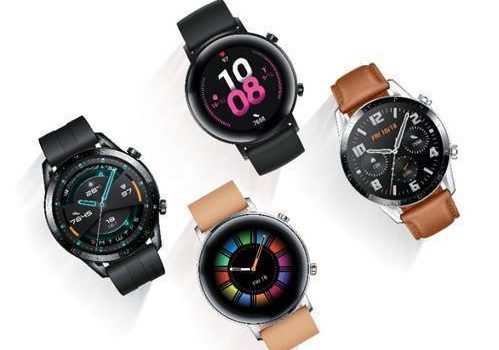 Published on November 14th, 2019 | by Andrew Bistak
Huawei Watch GT 2 Series — Smartwatches with Style for Health-Conscious Aussies
Huawei has unveiled its next generation women's and men's smartwatches, the Huawei Watch GT 2 Series — available in 46mm and 42mm versions. Powered by Huawei's Kirin A1 chip, the new collection supports Bluetooth calling (46mm version), up to two weeks of battery life1 (46mm version), enhanced sport and health management features, and aesthetics to match any style.
Driven by Huawei's renowned battery capabilities, active Aussies can stay on the move for days alongside the Watch GT 2. The 46mm versions can function continuously for up to two weeks on a single charge, with both the heartrate monitor and notifications enabled. The 42mm options can operate continuously for up to one week in classic mode.
Watch GT 2 Series offers full-scale monitoring of up-to 190 data sources, including location, heartrate and movement, and provides data analysis before, during and after exercise, acting as a wrist-based personal trainer. Aussies can easily boost their fitness motivation in the run-up to summer with tailored analyses and tracking of 15 sports, ranging from swimming to triathlons.
Larking Huang, Managing Director of Huawei Consumer Business Group Australia said, "We're excited for Aussies to get their hands on the Watch GT 2, which will impress on functionality and style.  The new range offers health benefits across all aspects of people's lives, from daily activities, to exercise and even sleep. Importantly, our approach goes beyond physical fitness to include mental health tools too. Huawei understands that each customer is unique, and this is reflected in the diverse Watch GT 2 designs that cater to different personalities. The powerful, practical features, combined with a choice of aesthetics, means the Watch GT 2 Series has everything Aussies could need from their smartwatch.
"The original Huawei Watch GT saw over 2 million global shipments, making it the most popular product Huawei has ever made. The exciting features that come with the second generation mean the Watch GT 2 has even more potential to impress."
Huawei Watch GT 2 Series also supports the mind as well as the body. Huawei TruSleep™ 2.0 scientifically tracks and diagnoses six common types of sleep issues, and Huawei TruRelax™ offers all-day stress monitoring and calming breathing techniques.
Building upon the previous generation, the Huawei Watch GT 2 Series features full AMOLED HD screens that achieve stunning levels of colour and contrast, and a sleek borderless design. The 46mm variants are crafted with an all-in-one 3D glass surface that offers a wider look and feel, while the 42mm variants suit those looking for a more compact device.
Available in Sport, Classic, Elite and Elegant models, spanning fluoroelastomer plastic, leather and metallic straps, the Huawei Watch GT 2 Series suits any lifestyle.
1 Calculated using a standard usage profile; actual battery life depends on how the watch is used and for how long
WATCH GT 2 46mm
WATCH GT 42mm
Sport
Classic
Elite
Sport
Classic
Elegant
Available from 15 November
Available from 16 October
Available from 6 December
Available from 21 November
Available from 6 Dec
Coming soon
RRP $399
RRP $429
RRP $499
RRP $369
RRP $399
RR $449
Available at JB HiFi ,Harvey Norman, , The Good Guys, Mobileciti, Amazon, Kogan, Huawei Authorised Experience Shop
Available at , JB HiFi, Harvey Norman ,The Good Guys,  Optus Selected Stores, Mobileciti, Amazon, Kogan, Huawei Authorised Experience Shop
Available at JB HiFi, Harvey Norman, Huawei Authorised Experience Shop
Available at JB HiFi, Harvey Norman, Huawei Authorised Experience Shop
Available at JB HiFi, Harvey Norman, Huawei Authorised Experience Shop
Coming soon
Specifications
Item
Description
Dimensions
L × W × D(46mm): 45.9 mm × 45.9 mm x 10.7 mm

L × W × D(42mm): 41.8 mm × 41.8 mm x 9.4 mm

10.7 mm and 9.4 mm is the thickness of the watch measured at its thinnest point (the distance from the surface of the watch to the bottom cover and does not include the sensor area).

Weight
46mm: Approximately 41 g (without the strap)

42mm: Approximately 29 g (without the strap)

Material
Watch body: metal and plastic; Strap: fluoroelastomer, leather, and metallic watch strap
Watch strap
46mm: The watch strap has a width of 22 mm and is suitable for wrist sizes ranging from 140–210 mm

42mm: The watch strap has a width of 20 mm and comes in two wrist sizes – 130–200 mm (Sport edition) and 130–190 mm (Classic, Elegant edition)

Screen
46mm Size: 1.39-inch

42mm: Size: 1.2-inch

full-color AMOLED, full-screen touchscreen which supports up, down, left, right swiping, touch, and touch and hold commands

46mm Resolution: 454 x 454, 326 ppi

42mm Resolution: 390 x 390, 326 ppi

Wakeup modes
Lift-to-wake, Press-to-wake
Battery capacity
46mm: 455 mAh

42mm: 215 mAh

Battery
Non-detachable lithium-ion polymer battery
Battery weight
46mm: Individual battery weight: 7.5 g

42mm: Individual battery weight: 4 g

Charging port
Magnetic thimble charging port
Charging base
Magnetic charging base (without cable)
Charging time
< 2 hours (25°C ambient temperature)
Charger voltage and current requirements
5 V 0.5 A/1 A/1.5 A/2 A
Theoretical battery life
46mm: 2 weeks

42mm: 7 days

(calculated using a standard usage profile; actual battery life depends on how the watch is used and for how long)

CPU
HUAWEI Kirin A1
Memory capacity
46mm: 4 GB ROM, 32 MB RAM

42mm: 4 GB ROM, 16 MB RAM

Bluetooth frequency
2.4 GHz, BT 5.1, supports BLE/BR/EDR
GPS
GPS, GLONASS
Sensors
l Accelerometer sensor

l Gyroscope sensor

l Magnetometer sensor

l Heart rate sensor (PPG)

l Ambient light sensor

l Air pressure sensor

l Capacitive sensor

Motor
Supported
Microphone
Only 46mm series Supported
Speaker
Only 46mm series Supported
Physical buttons
Power button, Multifunction button; supports touch, touch and hold, and double tap commands
Water resistance level
5ATM
Ambient operating temperature
–20°C to +45°C
Humidity
5% to 95% (non-condensing)