Hardware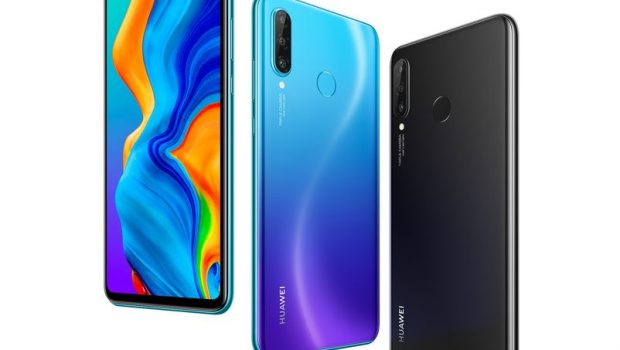 Published on June 27th, 2019 | by Admin
Huawei P30 Lite Review (June 2019)
Summary: Huawei P30 Lite is a good midrange smartphone, particularly with the camera!
Welcome to the Huawei P30 Lite, the baby sibling of the P30 and P30 Pro which was released earlier this year and is basically a cut-down version of these two more powerful models but at a fraction of the cost. At the moment, the P30 Lite retails for $499.00AUD (June 2019) in Australia. However before we jump into our review, let's check out the official specifications of the Huawei P30 Lite below.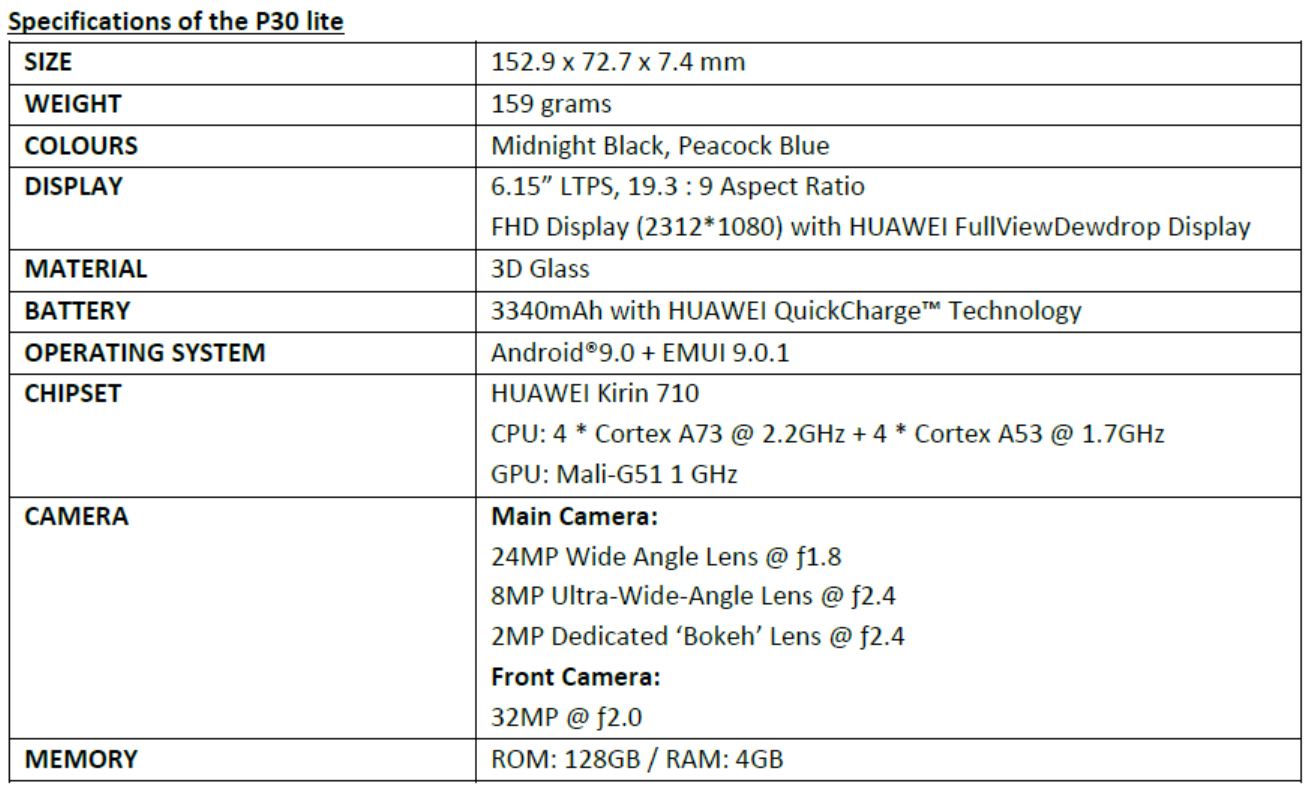 As you can see from the specifications, it's a midrange smartphone, however you may have noticed the impressive camera specification an of course 128GB of storage! It's also got some power under its case for fast access and of course gaming.
Aesthetically, the P30 Lite mirrors its older and more powerful siblings, however there are a few subtle differences with the main one being a slightly lower build-quality and that the fingerprint reader is located on the back which works just as well as the on-screen reader on the higher P30 models. It also comes in two colours that include midnight black (reviewed) and peacock blue and while it is not a metal case, it looks metallic.

Box Contents
1x Huawei P30 Lite Dual Sim (128GB)
1x Headphones
1x Charger
1x

USB

Type-C cable
In terms of design, the front still has the teardrop notch for the front camera, the right has the volume/power buttons and on the bottom of the phone is the 3.5mm headphone jack, USB-C port and the speaker. On the back is the triple camera and flash. With that said, it's easy to see how the P30 Lite is closely related to the P30 and P30 Pro and it's quite a lightweight phone at just 159 grams and measures at 153 x 73 x 7.4mm.
While the specifications are obviously lower than the P30 and P30 due to the price point, we're not here to get into a debate on what is missing as the P30 Lite has been designed for users on a budget but a smartphone that still delivers the important elements of what they need in their day to life.
The P30 Lite is powered by a HiSilicon Kirin 710 octa-core CPU with 4GB of RAM and 128GB of internal memory storage, including a microSD card for additional storage plus a 3340mAh battery. The 6.15″ LCD touch screen (which is quite responsive) supports a resolution of 2312×1080 that does produce exceptionally sharp and clear images with vibrant colours that is ideal for surfing the net, playing games and of course taking photos. While the speaker is "okay", external headphones are far superior and with the inclusion of a headphone jack, it makes connecting other audio devices considerably easier opposed to just Bluetooth.
Given the price point of the P30 Lite, it's quite impressive that it comes with three lenses and while not Leica lenses, it still boasts a powerful 48MP with a f/1.8 lens, an 8MP ultrawide lens plus a 2MP depth sensor that creates that blurring effect for backgrounds (e.g. portrait shots). The camera app that comes with the P30 Lite is easy to navigate and quite responsive. Depending on light, the auto-focus of the camera works well, however it does struggle in low-light but it still one of the better contenders in this price bracket.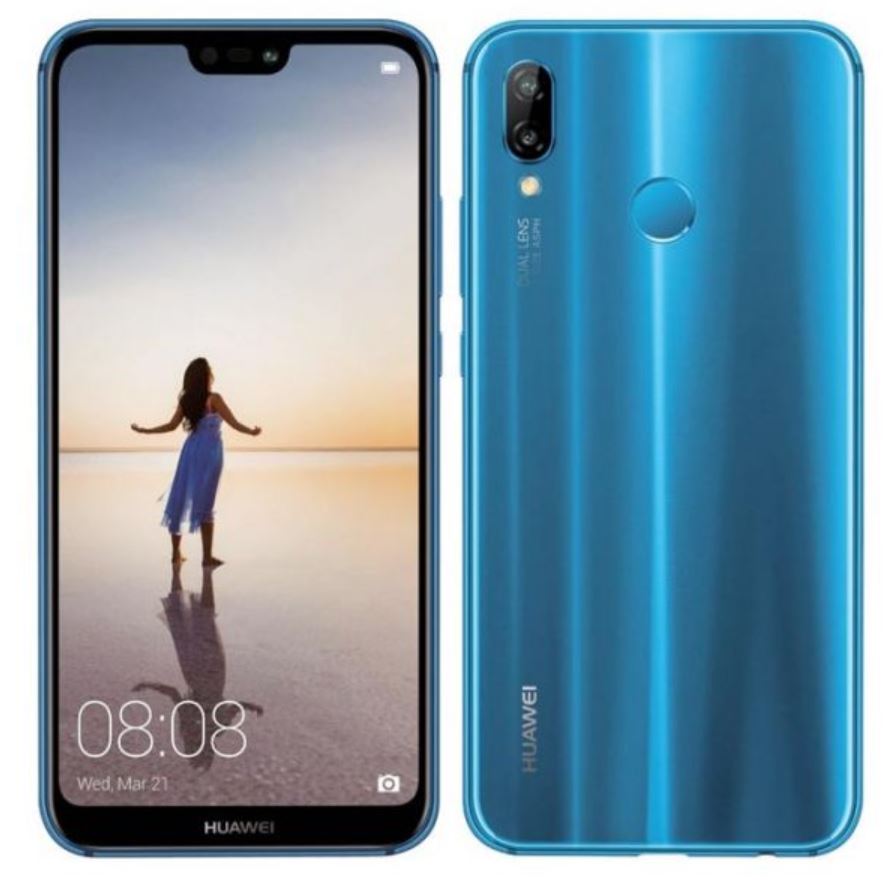 The modes in the phone app include night, portrait, photo, video and more. Under the more mode, this gives you access to further settings like Pro, Slow-mo, 3D panorama and stickers. There's also a fun feature called AR and effects mode in the main app which turns you into an emoji (several) or adds some funky special effects like giving you glasses or making you a pop star which provides a fun distraction for the smartphone user. While the focusing can be a little slow at times, the P30 Lite still produces some exceptional images and here's a handful of photos taken on this smartphone for our review.
Gallery
In terms of setting up the P30 Lite, it is a very easy process and we were up and running in just a few minutes. Although the smartphone is powered by Android 9 Pie with the excellent EMUI 9.0 interface, there are a few Huawei elements built into the phone, however unlike Samsung, we don't consider this bloatware. With that said, hopefully the US blockade on China and more importantly Huawei will be lifted soon because I would hate to see Android leave these smartphones.
As mentioned, the P30 Lite is powered by a HiSilicon Kirin 710 octa-core CPU with 4GB of RAM and makes accessing the phone a zippy experience. We had no issue with apps and games such as Fortnite, Asphalt 9: Legends and Injustice 2 that worked quite well, including PUBG. Very rarely did the phone struggle while playing games. In terms of bench-marking, we used 3DMark and PCMark to see where the P30 Lite compares to its competitors. With the results as seen below, the P30 Lite is more a workhorse then a gaming phone but once again still has the grunt to play those higher intensive titles… provided they are well optimised.
The battery (3340mAh) of the P30 Lite is a decent size and while using it for surfing the net, taking calls or playing music, you easily get more than a day of use. However for anything more intensive such as playing games or watching streaming videos, you'll need a boost for charging but with the USB-C connection, powering your phone again is almost a moot point as it can give you a 41% battery charge in just 30 minutes.
Final Thoughts?
With a recommended retail price of $499AUD, the Huawei P30 Lite is a great option for smartphone users on a budget and while it is missing some of the high-end features of its bigger P30 siblings, it still provides an impressive experience for this midrange phone and as part of its launch in Australia, those who purchase a P30 lite will also receive a free pair of Huawei FreeBuds lite, valued at $199 RRP (available only while stocks last).
Overview
Beauty in Every Shot
Every face is different and unique. HUAWEI's AI-driven Selfie technology beautifies your self-portraits based on your unique face shape and type. The technology maps the contours of your features and creates a custom algorithm to ensure you always show your best side.
Wider View. Wider Possibilities
Broaden your perspective with the HUAWEI P30 lite's 120° Ultra-Wide Angle lens and capture expansive landscapes in stunning shots that leave nothing out of sight. Shoot without limits.
Your Smart Camera Assistant
Give your photos a boost with powerful AI scene recognition technology. The HUAWEI P30 lite front camera can identify more than 8 categories in real-time while the rear camera can recognise 22 different categories. Settings like colour, lighting and contrast are automatically adjusted to produce dazzling photos.
Stunning Display
See, do and create more with the all-new HUAWEI P30 lite Dewdrop Display. Big, bold and beautiful, the 6.15″ FHD display with a delicate Dewdrop notch is a gorgeous canvas for you to live your life in brilliant colour. Plus, the screen has TÜV Rheinland Eye Comfort Certification and is designed to be easier on the eyes for a more comfortable viewing experience.
Sleek Design
Stylish and streamlined; the HUAWEI P30 lite fits comfortably in the palm of your hand. The slim 3D curved glass design is crafted for easy grip and one-handed use. It's available in two colours, including an eye-catching iridescent gradient colour finish.
Room For More
Available Memory: 4 GB + 128 GB
HUAWEI P30 lite's improved RAM and storage means there's more room for the things you love. Enjoy greater flexibility with space for the content or files you use everyday like music, photos, videos and apps.
A Battery that Goes the Distance
Don't let your battery slow you down. With HUAWEI 9V2A Quick Charge, the powerful 3,340 mAh battery charges faster and lasts longer – letting you get on with your fast-paced life. Watch videos, play games and browse all day, nothing will stop you with the HUAWEI P30 lite.
Level up Your Gaming
Ready. Set. Play. The revolutionary graphic processing technology powered by GPU TURBO 2.0, enhances performance for a faster, smoother and more powerful gaming experience. It's a mobile game-changer
The World at Your Fingertips
Exploring has never been easier – or more convenient. HUAWEI's AI-powered HiVision technology transforms your phone into an intelligent assistant for everyday life. Simply scan to unlock a world of possibilities.
DISCOVER ON THE GO
The HUAWEI P30 lite uses powerful AI technology to automatically identify and display information about objects around you such as pets, flowers and even the calorie count of food. A useful tool for the curious explorer.
FEEL AT HOME ANYWHERE
HiVision's AR translation breaks down language barriers and makes travelling a breeze. Scan to translate foreign languages in real-time – everything from street signs to restaurant menus. You'll be ready for anything.
SEE IT. SCAN IT. SHOP IT.
Shop anywhere and anytime with HiVision. Simply scan the item you want and our AI technology will find it online for a faster, more convenient shopping experience.
Add Fun to Every Call
Make every call more entertaining with custom video ringtones. The HUAWEI P30 lite elevates the classic ringtone by letting you set your favourite video as the ringtone for your different contacts. Let the fun begin!
Key Features
6.15″ full HD screen
2312 x 1080 pixels
Kirin 710 CPU processor
4GB RAM
128GB ROM
Rear camera:
Tri-lens camera: 24 MP (Wide Angle Lens, f/1.8 aperture) + 8 MP (Ultra Wide Angle Lens) + 2 MP (Bokeh Lens), supports autofocus.
Front camera:
Single camera: 32 MP, f/2.0 aperture, supports fixed focal length.
3,340 mAh battery
Dual SIM