Hardware
Published on August 4th, 2019 | by James Wright
Huawei MateBook 13 (Space Grey) Review
Summary: The Huawei MateBook 13 (Space Grey) ticks all the right boxes for a notebook and more importantly is powerful and looks like a high-end product!
There's no denying that Huawei make excellent technological products and their Mate Pro 20 was one of the best smartphones of 2018. Thankfully with the ridiculous trade war sparked by the US against Huawei now focusing on more amicable outcomes between America and China, this is now the perfect time to check out this company's latest notebook, the MateBook 13.
Ready, Press, Go
HUAWEI MateBook 13's one-touch power button with optimised BIOS lets you power up and quickly log in. Safe, fast and user-friendly.
Similar to last year's notebooks from Huawei, the MateBook 13 successfully combines the latest technology with great performance and of course impressive aesthetics on this clever "ultrabook". Furthermore, there are two different models of the Huawei MateBook 13 available in Australia.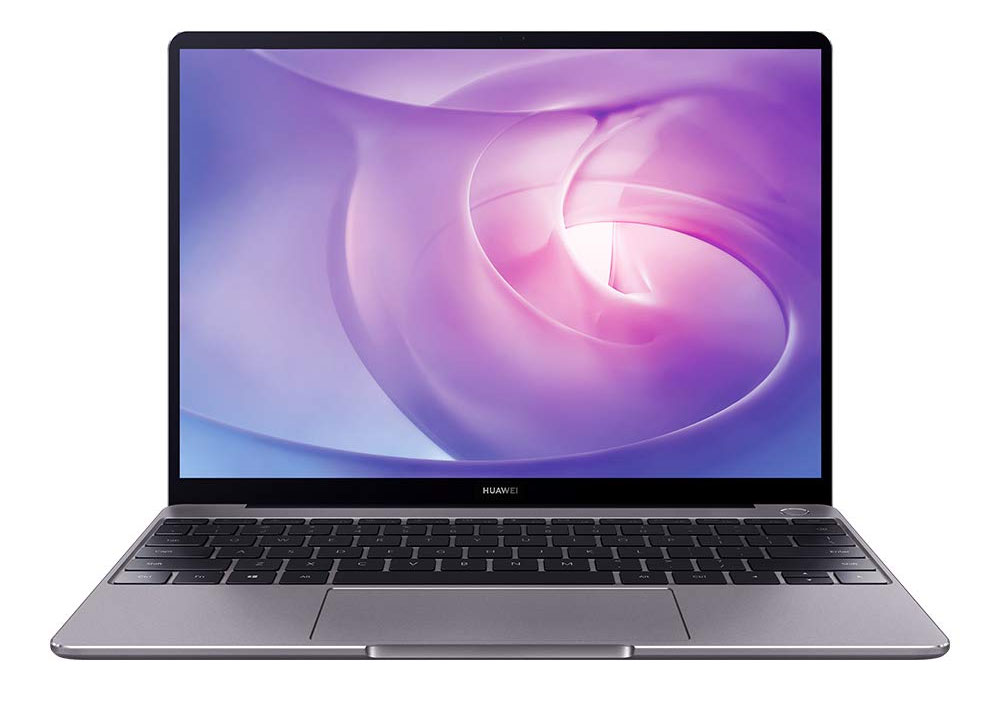 Depending on your budget or performance needs, the models include Space Grey (Intel Core i7) at $2199.00AUD (July 2019) and Mystic Silver (Intel Core i5) for a RRP of $1799.00AUD (July 2017). While both models share many similarities such as their build and screen quality, the main differences between the Space Grey and the Mystic Silver are CPU, SSD size and a dedicated NVIDIA graphics card on the higher MateBook 13.
With that said, Huawei's MateBook X Pro from last year created positive headlines across the globe, so how where does their new MateBook 13 fit in the grand scheme of things? Well before we make any comparisons or commence our benchmarks, let's check out the official specifications from Huawei on both models below;
Huawei MateBook 13 Space Grey
Model No: Wright-W29B (VMC-00088)
Huawei MateBook 13 Mystic Silver
Model No: Wright-W19C (VMC-00087)
CPU
8th Generation Intel® Core™ i7-8565U
8th Generation Intel® Core™ i5-8265U
SSD
512GB
256GB
Video
Dual Graphics with 2GB GDDR5 NVIDIA® GeForce MX150 and Intel® UHD Graphics 620
Intel® UHD Graphics 620
RAM
8GB LPDDR3 2133MHz
Screen Size
13.9 in Full HD LCD touchscreen (2160 x 1440), 10-finger multi-touch support, Refresh rate 60Hz
Operating System
Windows 10, 64-bit
Audio
Dolby Atmos Sound System
Ports

2 x USB 3.1 Gen 1 Type C
2 x mics input
1 x headphone jack

Battery
Lithium polymer 41.7Wh/3660mAh (up to 9.8 hours)*
Camera
HD (720p, 0.9MP) webcam
Wireless
IEEE 802.11a/b/g/n/ac, Frequency 2.4/5GHz with 2×2 MIMO Antenna
Bluetooth
Bluetooth 5.0
Dimensions
11.26 x 8.31 x 0.57 in (286.00 x 211.00 x 14.90 mm)
Weight
2.87 lbs (1.3 kg)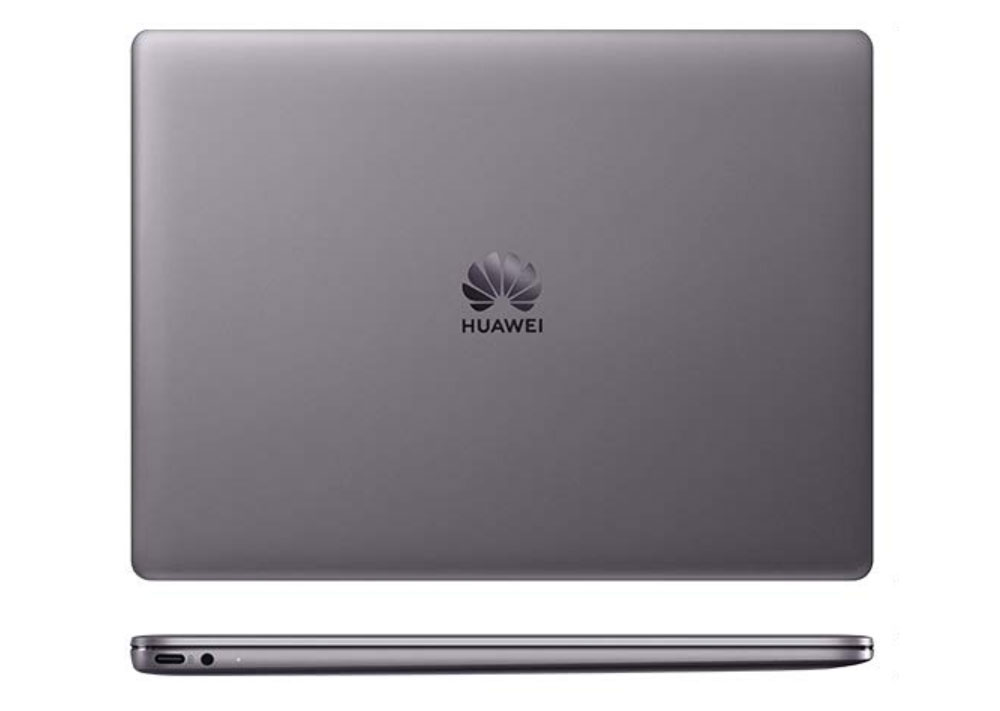 As you can see from the specifications, the MateBook 13's are almost identical besides colour, CPU, SSD size and graphics. Compared to last year's MateBook X Pro, the higher end MateBook 13 is a worthy replacement and if you're looking for a bargain, the Microsoft store boast fantastic savings on both models at the moment.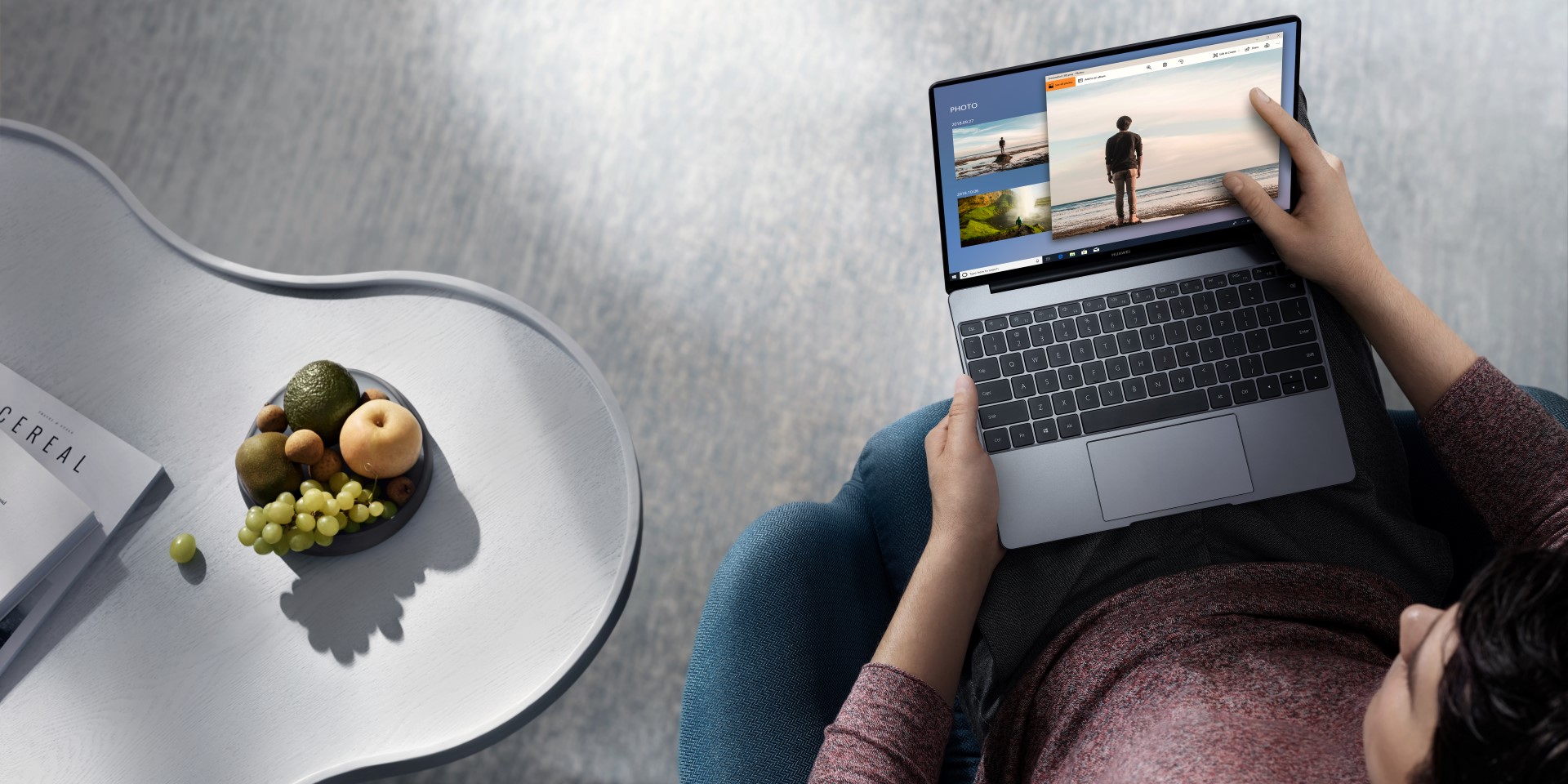 The only thing missing from both the MateBook 13's is Thunderbolt 3 but the USB-C connection still offers fast charging and is a more mainstream platform. Of course additional RAM would be also be beneficial such as 16GB. However as an additional incentive to purchasers, the MateBook 13's come with a one year subscription to Microsoft Office 365 Personal.
Charging Fast and on the Fly
The HUAWEI MateBook 13 comes with a pocket charger that's much more than a charger. It can Quick Charge your laptop and your phone with multi-functional connectors, giving you 2.5 hours of office use from a 15 minute charge*, no matter where you are. It's fast, eco-friendly and portable; it fits in your pocket and fits your life.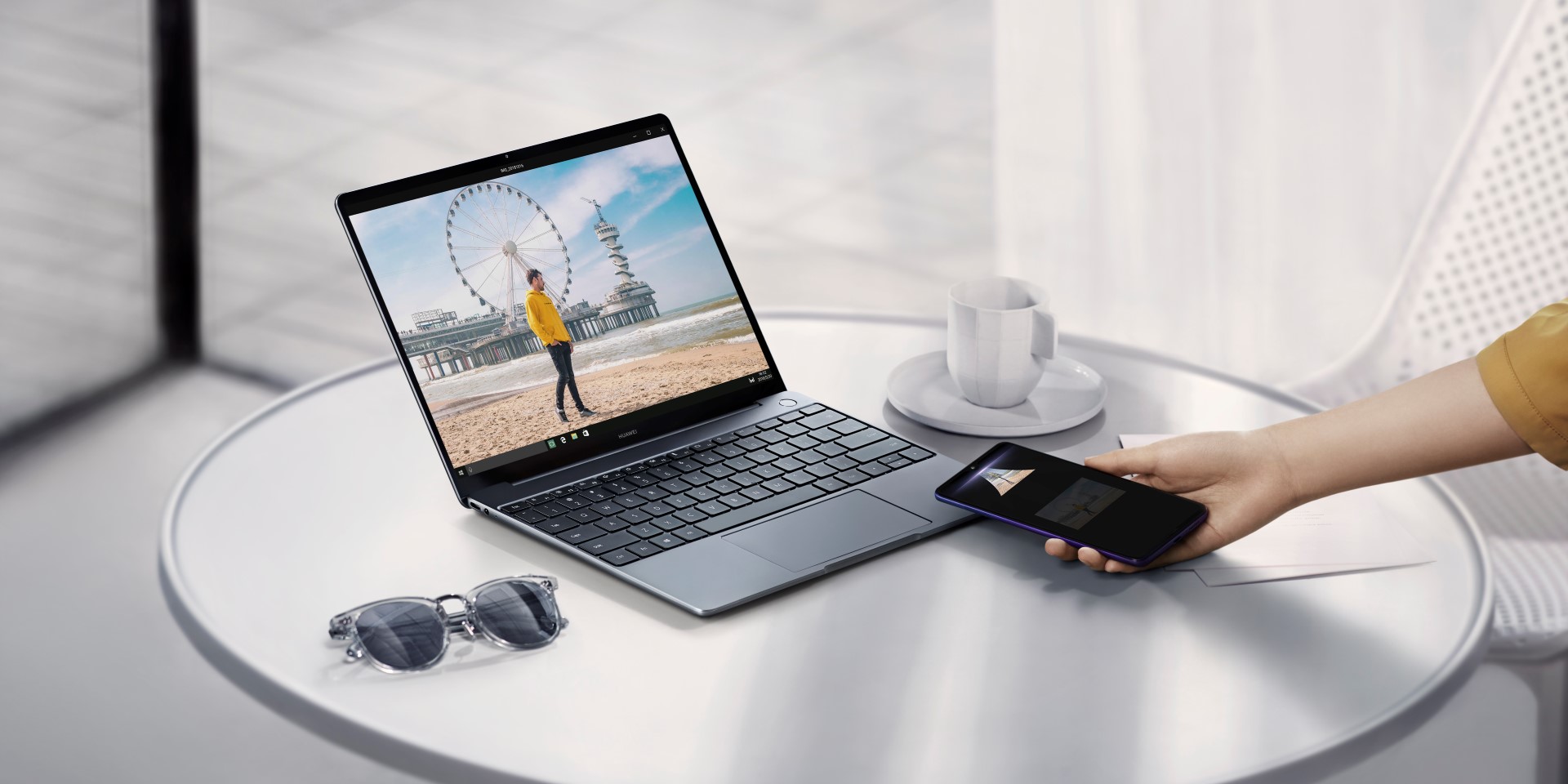 Initial Thoughts
Well-packed from Huawei, the first thing that we noticed out of its packaging was its luxurious  super-thin design with an aluminum frame that is quite light at jut 1.3kgs and more importantly has an excellent touch-screen display that really makes colours pop thanks to its brightness (300+ nits ) with exceptionally sharp images and text. In terms of appearance, it does has some parallels to Apple's Macbook, not that we're complaining.
The Huawei MateBook 13 is powered by a Lithium polymer battery that will last up to 9.8 hours, however this is dependent on a number of factors but during our tests, we did manage to get a decent amount of hours which hovered around 8 to 8.5 hours. The audio quality of the MateBook 13 was impressive with good mids and highs, including decent bass that was perfect for music and films. The notebook is also compatible with Dolby Atmos that is ideal for listening to movies and once again, the speakers included in this notebook are impressive.
Easy on the Eyes
The HUAWEI MateBook 13's state-of-the-art screen can filter up to 30% of the blue light that strains the eyes over time. Simply select Eye Comfort Mode to automatically adjust white balance and colour tone to protect your retina and avoid eyestrain, allowing you to work and play in optimal comfort for as long as you like.
Once powered, we went through the wizard to setup the MateBook 13 that was completed in just a few minutes, including setting up the fingerprint reader which also doubles as a power-button. Keys were responsive as was the touchpad, however we did need to adjust the later and you still can't compare this to a traditional mouse… however you can easily connect one.
Nonetheless, once setup, we did notice that the Matebook 13 is a very "zippy" machine in terms of speed and performance with extremely fast boot-up times and load times for various applications, even with just 8GB. Supporting the user with maintenance is the Huawei PC Manager that basically monitors your MateBook 13 for any problems or potential warnings or updates required to make this PC run smoother.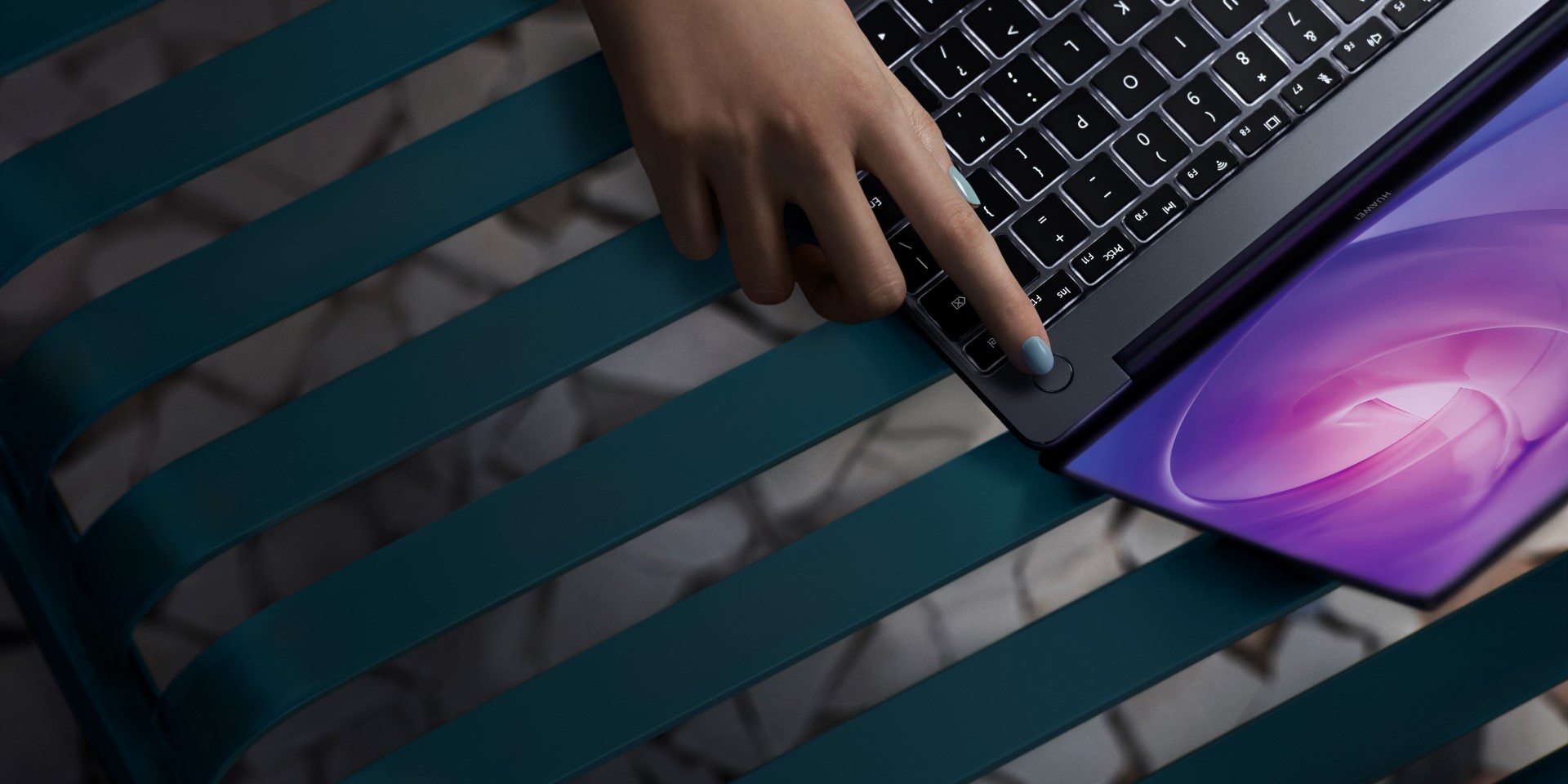 Benchmarking
In order to test the notebook, we used a variety of benchmark programs to give us an honest overview of the Huawei MateBook 13 and while this is not a gamer's laptop, it's performance was still good, even with the limited RAM and dual graphics card.
3DMark is a computer benchmarking tool created and developed by UL, (formerly Futuremark), to determine the performance of a computer's 3D graphic rendering and CPU workload processing capabilities. Running 3DMark produces a 3DMark score, with higher numbers indicating better performance. The 3DMark test scored 994 which puts it above most notebooks that is the market that Huawei are targetting.
Next up was CrystalDiskMark which is an open source disk drive benchmark tool for Microsoft Windows. The hard drive within the MateBook 13 flew like Superman with impressive results across the board. Compared to standard SSD's, it is 6-times faster for read times and just over 4 times faster for read times.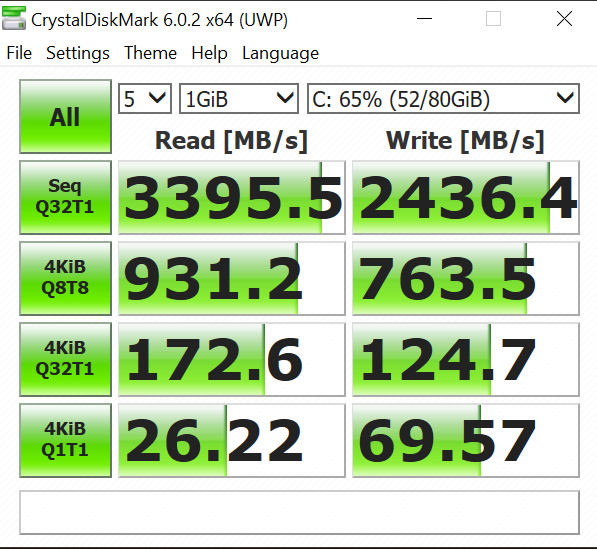 Following CrystalDiskMark was PCMark 10 and  features a comprehensive set of tests that cover the wide variety of tasks performed in the modern workplace from a Windows 10 point of view. In other words, it runs real-world simulations that gives a great overview of the collective speeds. As a work laptop, the Huawei Matebook 13 scored a respectable 4134 that once again puts well-above notebooks and was slightly behind a PC gaming rig designed for VR.
Similar to PCMark 10 is Geekbench that is a cross-platform processor benchmark, with a scoring system that separates single-core and multi-core performance, and workloads that simulate real-world scenarios. Like the previous results, the MateBook 13 scored on the upper end of the echelon when it comes to work-use, even with the 8GB of RAM.
Our last test was the Final Fantasy XV Windows Edition Benchmark that uses the Final Fantasy XV engine to determine how your system stacks up in this gaming environment. As expected, the Matebook 13 did score low due to the graphics card and RAM however once again this is not a gaming laptop. Even so, we did manage to play games such as Conan Unconquered and even Overwatch with lower settings, so it is possible.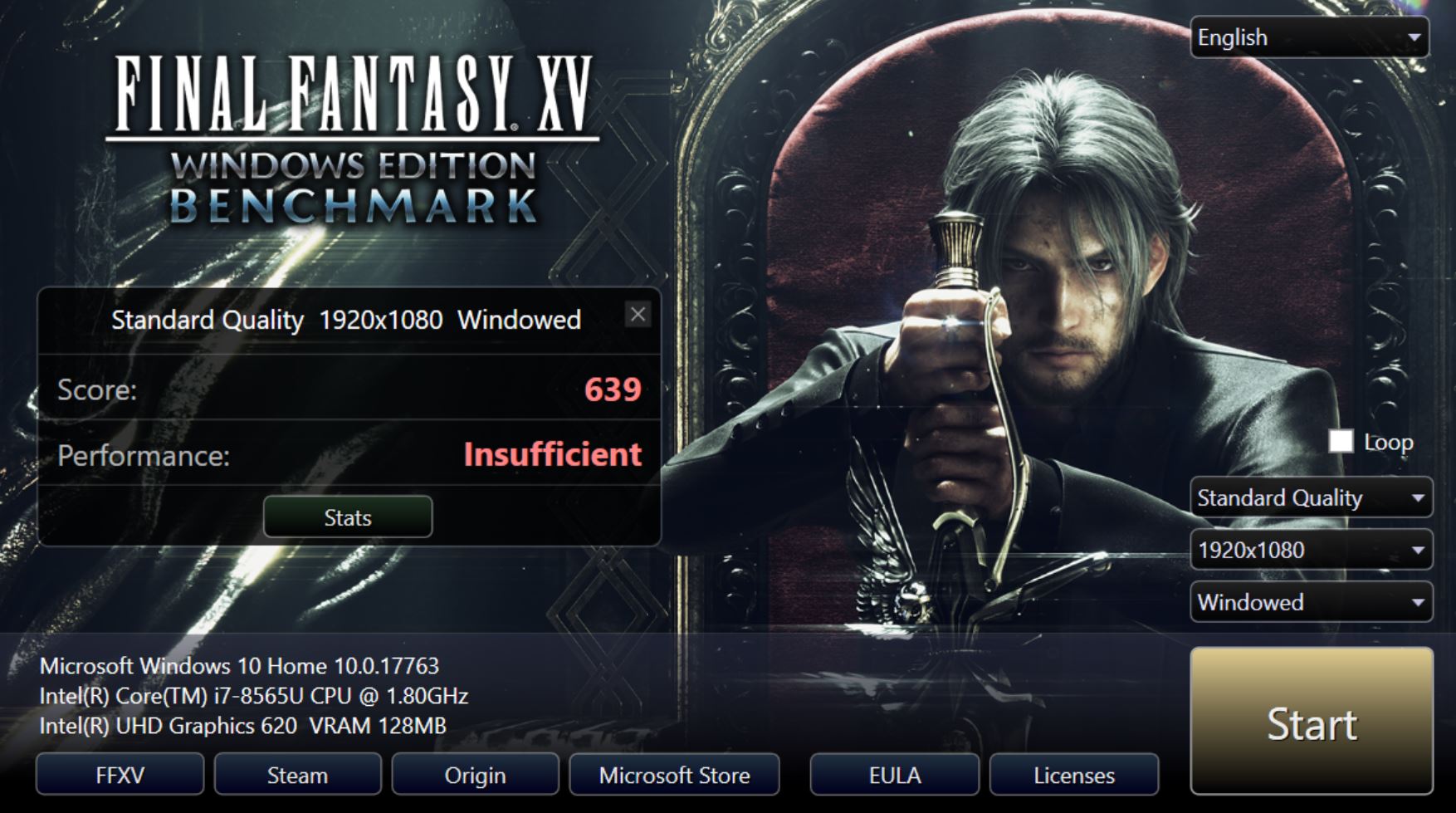 Final thoughts?
The Huawei MateBook 13 is premium notebook or ultrabook that is not only stylish but packs a relative good punch in terms of performance. It's definitely a good all-round notebook that ticks all the right boxes, including decent battery life. The only couple of short-falls is the lack of Thunderbolt 3 and additional RAM but overall, the Huawei MateBook 13 is still a great product.
Product Gallery