Hardware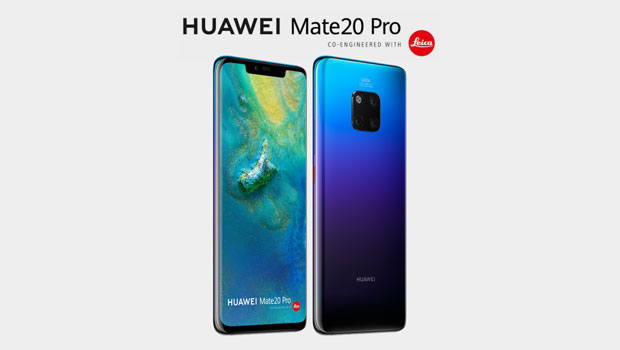 Published on February 27th, 2019 | by Andrew Bistak
HUAWEI MATE 20 PRO REVIEW (Feb 2019)
Summary: The future is here with the Huawei Mate 20 Pro!
Welcome to the future of smartphones as Huawei set the benchmark high with their Mate 20 Pro which was launched late in October 2018 and is the successor of the Mate 20. As you're probably aware, the Huawei Mate 20 Pro is a high-end smartphone and from the very first moment you lay eyes on this device, the aesthetics are quite striking from its curved edges, super thin bezel to its overall build quality. It is love? Maybe!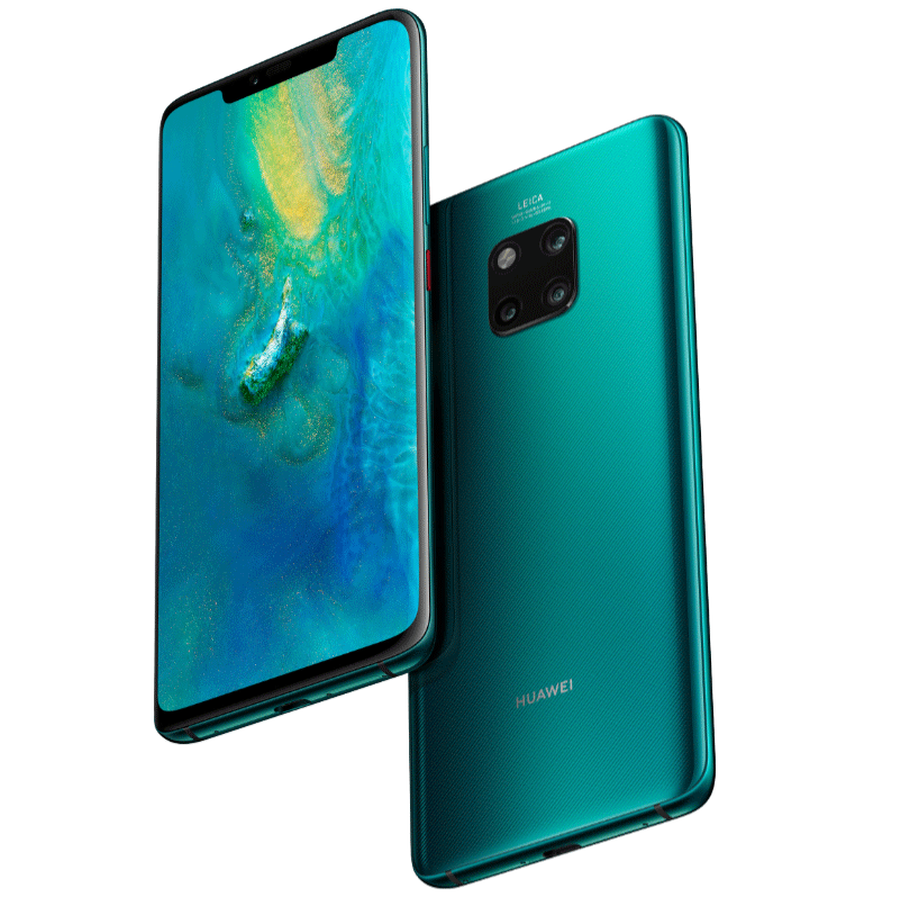 Needless to say, it is impressive to say the least and the back really shimmers in the light thanks to its optical pattern glass texture which does not leave fingerprints. I was actually quite surprised at how resistant the phone is to fingerprints and smudges, although some do get through but for the most part, it's almost bullet proof to dirt. The dimensions of the Mate 20 Pro are 157.8 x 72.3 x 8.6 mm with a weight of just 189 grams so it's a good size phone.
Box Contents
Handset x 1
Type-C Earphones x 1
Charger x 1
Type-C Cable x 1
Eject tool x 1
Quick Start Guide x 1
Protective case x 1 (not for WEU and NEU)
Warranty card x 1
Type-C to 3.5 mm headphone jack adapter x 1
Given the curved edges, it does add additional grip and feels good in your hand(s) while you are using it and should you accidentally drop this smartphone into water, it has an IP rating of 68. This allows the phone to be immersed in 1.5 metres of water for up to 30 minutes, however I don't think Huawei or PR Company Well Above would be too impressed if we tried to verify this feature. Given the quality of this phone and the leaps and bounds in technological advances from Huawei, I'm 100% sure that is. Furthermore, the IP68 rating also makes the Mate 20 Pro dust resistant as well, so you can take this to the beach and beyond. Lastly the back of the phone has non-slip technology which adds to the overall grip on the Mate 20 Pro.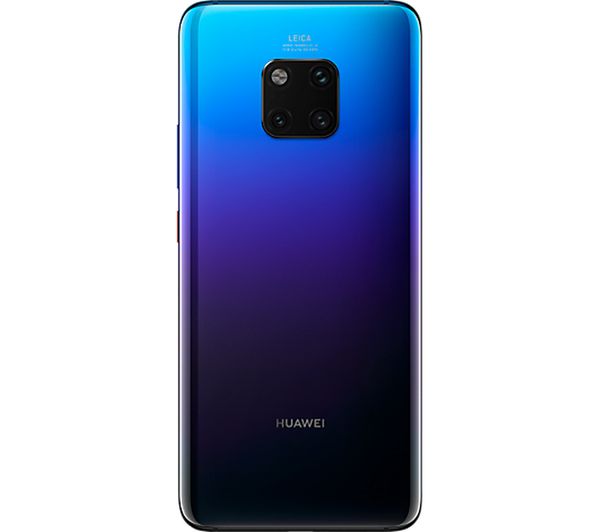 The Huawei Mate 20 Pro is powered by the world's first 7nm Mobile AI Chipset (Kirin 980), has a Mali G76 MP10 GPU for graphics, comes with 6GB of RAM and as a 128GB ROM which makes this smartphone ideal for high-end gaming. The CPU is also an 8-core chip (2 x Cortex-A76 Based 2.6 GHz + 2 x Cortex-A76 Based 1.92 GHz + 4 x Cortex-A55 1.8 GHz) and the phone comes with the Android 9.0 (aka Pie) which has been tweaked for the Mate 20 Pro. Given these elements, it is a fast beast!
The 4200 mAh battery that comes with the phone will give you plenty of power and adding to the functionality of the Mate 20 Pro is fast charging with the included 40-watt charger. So if you're phone is bordering on becoming flat, you can get an almost full charge (70%) in just 30 minutes. Adding to this is that the phone supports Qi charging which is wireless charging and truly allows you to 'cut' the cord and in a clever twist, you can even charge other Qi devices through the Mate as well by placing the phones back to back. This means you could charge the latest iPhone and Samsung mobiles from the Mate 20 Pro! In relation  to battery usage, we easily got more than a day usage from this phone and we only needed to charge every third day for regular usage.
The 6.39" OLED touch screen on the Huawei Mate 20 Pro supports a resolution of up to 3120 x 1440 which puts it in an elite group, however the standard setting is 2340 x 1080 which still looks impressive as colours pop in HDR glory for videos with icons and text very crisp. Movies look great as does gaming, whether displayed on the screen or wirelessly projected onto a Smart TV. In this mode, you can even still send messages or take calls without the streaming being interrupted. Another great feature of streaming to a Smart TV is the desktop mode (aka EMUI 8.0) which basically turns your TV into a computer.

In terms of button placement, they are located on the right side of the smartphone which includes volume and an on/off button. On the bottom of the device is the USB-C port plus the SIM/memory tray and like other phones on the market at the moment, there is no 3.5mm port, however you can use the included USB-C dongle to connect wired headphones. One element of note is that if you want to expand the memory of the phone, you need to purchase the NM (Nano Memory) through Huawei which is their own proprietary card and allows sizes of up to 256GB.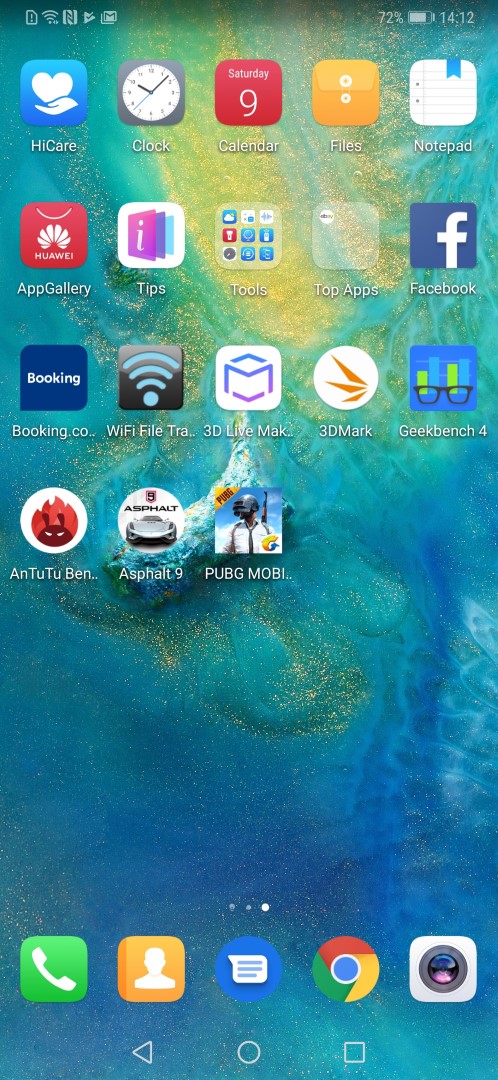 Setting up the phone is similar to other Android phones and once you have setup your region, connected it to your Wi-Fi and Google Account, you're ready to go. I like how Huawei include an onscreen fingerprint reader beneath the screen which makes unlocking simpler by holding your finger there for a few seconds and although a useful feature, it can sometimes be hit and miss. Then you have the 3D Face Lock that flawlessly allows you to unlock your phone even faster due to the 3D Depth Sensing Camera which projects over 30,000 points. Face scanning is also great for quickly unlocking the Mate 20 Pro for making tap and go payments.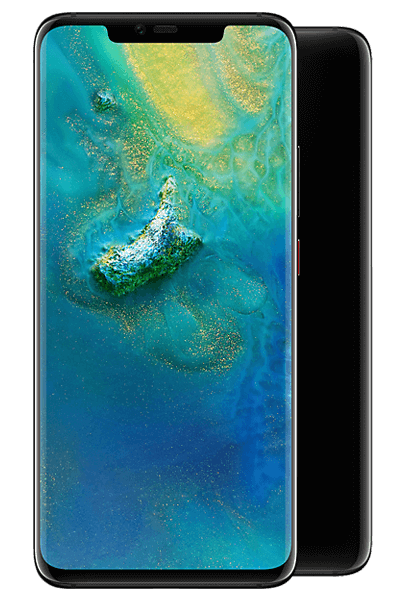 Although we ran a plethora of benchmarks on the Mate 20 Pro, we already knew it would score high compared to its competitors and according to 3DMARK with the test Sling Shot Extreme, this smartphone can outperform 96% of other devices. Adding to the power, the Ice Storm Extreme reported that this device was 92% better than all the other results collated by this company.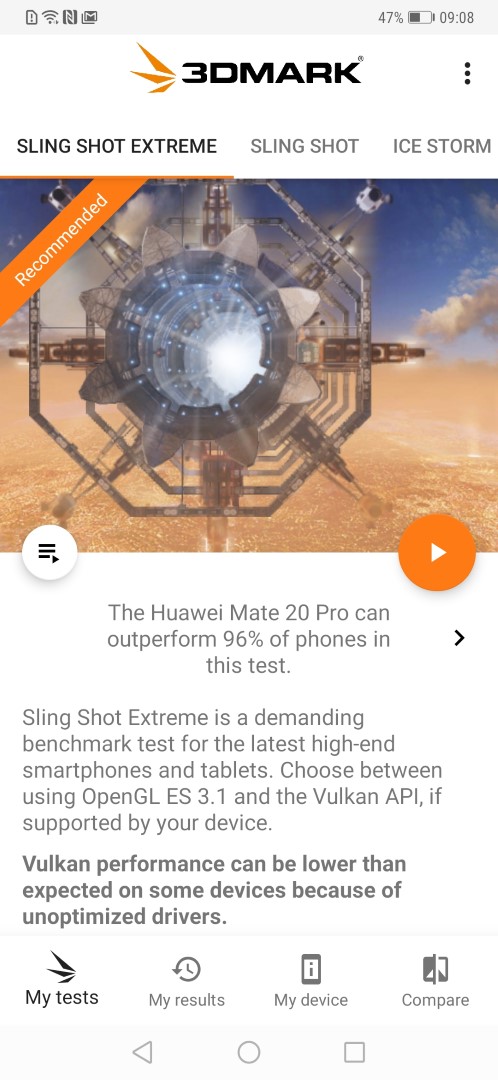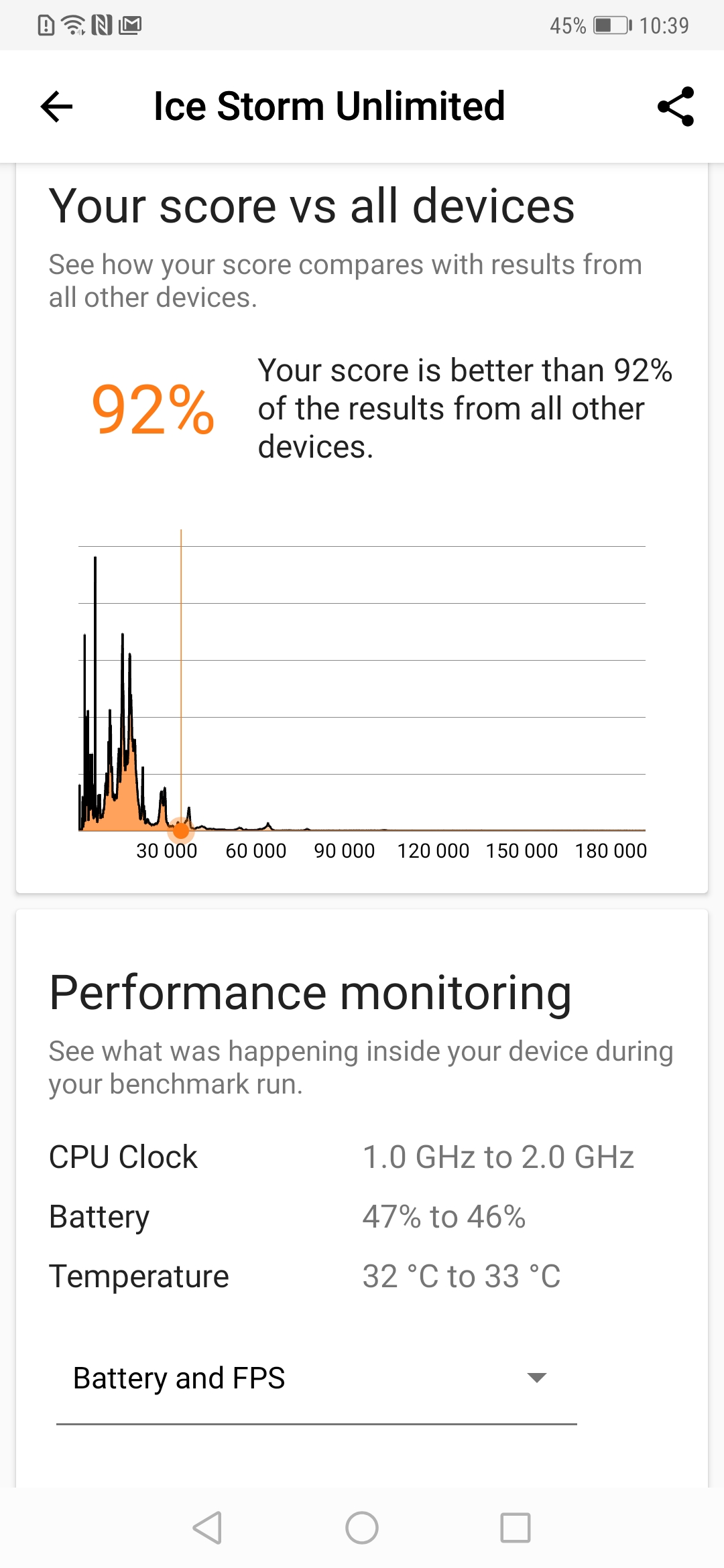 Another useful benchmark was Geekbench with the Mate 20 Pro scoring 3347 for its single-core score and 9761 for its multi-core score. These results once again put this smartphone on the top end of the spectrum when it comes to performance and power.
When it comes camera features and more importantly photo quality, Huawei should be commended because the end result is stunning due to the Leica Triple Camera. The back of the Mate 20 Pro is comprised of three lenses which is includes 40MP (f/1.8), 8MP telephoto (f/2.4) and a 20MP ultra wide (f/2.2) lens which really increases the scope of your photos. So while it offers your traditional point and shoot modes, there's plenty of manual overrides to be found. As a result, this camera takes some very high quality photos and the Mate 20 Pro definitely gives some DSLR's a run for their money.
For added ease, there is an AI feature which helps in choosing the right settings which certainly makes this phone a true point and shoot camera. The AI can recognise more than 1,500 different scenarios and categories to help you capture the perfect photo. While some cameras like the Oppo R17 Pro have a 2 x optical zoom, the Huawei Mate 20 Pro ups the ante with 3 x optical zoom and without the need for a protruding lens. Colours were also quite realistic without them being overtly saturated and further to this, the smartphone takes some decent low light images and check out the samples included in this review. While images are clear and crisp, this phone has an excellent portrait mode (background blurring) and allows you to take some spectacular portraits as once again it turns you into a professional photographer.
Using the 3D depth sensor, you can even animate objects like toys or even a coffee cup by scanning it in and then adding animations to it like running, Kung Fu or even ballet. Although a cool functionality, there is a few catches which includes downloading an additional app called 3D Live Maker that is a little clunky to use. It would have made more sense to have this included in the camera app. Another attribute that is included in the camera app is the 3D live Emoji function as you turn your face into a cartoon character with all your emotions, including mouth movement. Lastly, the video capabilities are equally as good and as expected the Mate will allow you to capture 4K, including adding live effects (e.g. filters like vintage or background blue) to help spice up your videos. The lowest video resolution is 720p (1280 x 720) and it goes all the way up to 4K UHD (3840 x 2160), plus the option of either H.265 (higher efficiency) or H.264 (better compatibility). Needless to say, videos were quite smooth that were captured with this phone.
Huawei Mate 20 Pro Gallery
Selfie lovers will irrevocably enjoy the cameras on this phone which of course are linked to social media (including wide angle) and the Mate 20 Pro even records how long you have been on the phone for, such as time spent on apps which will be a handy feature for some. As a phone, voice and digital calls were exceptional clear, not to mention video calls thanks to Google Duo and whether this was through the cellular network or Wi-Fi, we had no issues whatsoever or with Bluetooth devices. The in-built speaker is decent, however it is not loud as some other smartphones on the market and like every other mobile device on the market, headphones are the key for high quality audio.
As mentioned, the Mate 20 Pro comes with the Android 9 which is super responsive on this smartphone. Not only does it boot fast but apps load almost instantaneously and navigating the O/S is a breeze. The main apps on the first screen of the Mate 20 Pro include Phone Manager, Themes, Music, Video, Health, Google Apps Folder Play Store, Email, Settings, Gallery, including a Google Search bar. At the bottom there is your regular shortcuts for phone, contact, messages, chrome and camera. The front screen also displays your local time, date, region and weather which can be customised by holding a finger on the screen.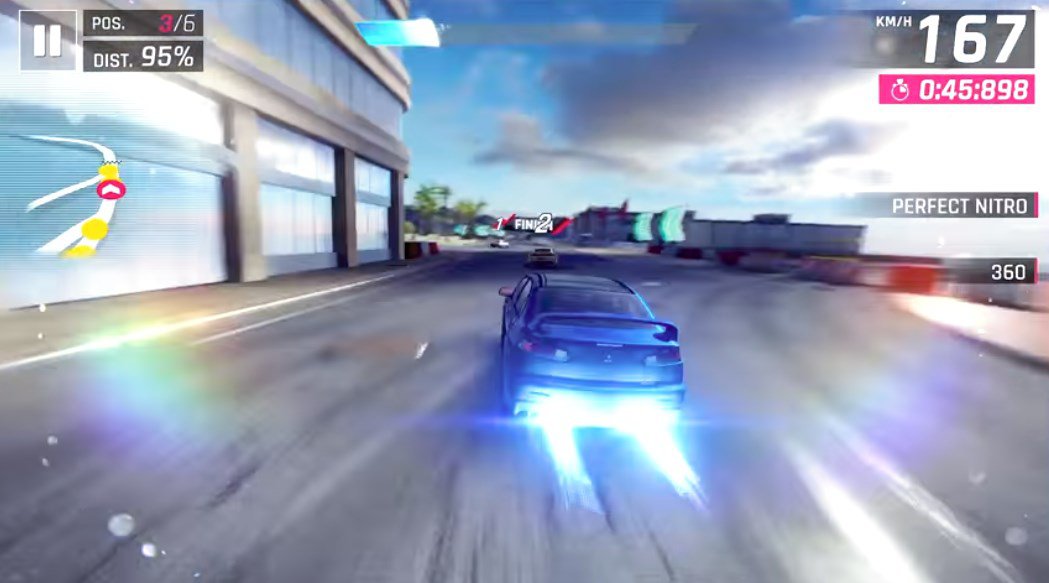 As mentioned, gaming booms on the Huawei Mate 20 Pro due to the 8-core processor but Huawei throw another feature into the mix called Performance Mode. This mode basically pushes the device to its maximum potential in order to ensure a faster gaming experience. On the flipside, the battery will be drained faster and the Mate 20 Pro does become a little warm but it is nothing to be worried about. We tested a plethora of games on this smartphone that included as Transformers Forged Fight, Asphalt Extreme, Marvels Contest of Champions and Tekken Mobile, PUBG Mobile, Darkness Rises and Middle-Earth: Shadow of War. At the end of the day all games looked and played exceptional well and definitely gave us a high-end console experience, particularly when we streamed them to our Smart TV with no issues of framerate.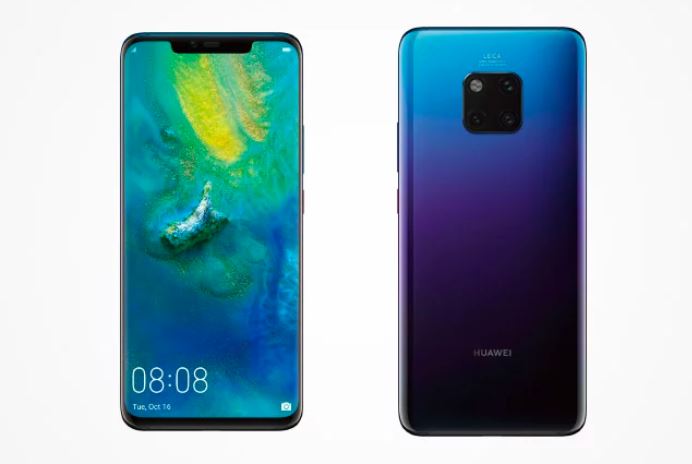 Final Thoughts?
The Huawei Mate 20 Pro is a heavenly beast that provides the user with a powerful smartphone with equally powerful and very useful features. The cameras that come with the Mate 20 Pro are extraordinary and allow to take some amazing shots by just pointing and shooting. Those playing games or wanting to take 4K videos will appreciate the grunt of the CPU and when matched with its impressive aesthetics, long battery life, Huawei give the user the full package when it comes to a high-end and quality smartphone. So if you're in the market for one of the best, this phones ticks all the boxes!
Highly Recommended!
For more information please visit https://consumer.huawei.com/en/phones/mate20-pro/