Hardware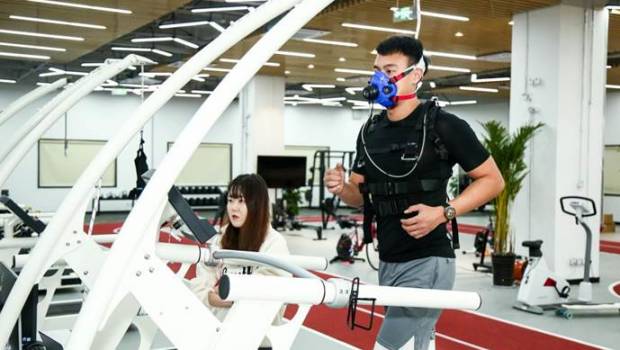 Published on December 14th, 2020 | by Adrian Gunning
Huawei launches its brand-new HUAWEI Health Lab
Huawei has announced the implementation of its brand-new HUAWEI Health Lab in Xi'an, China. HUAWEI Health Lab researchers, engineers and developers will jointly explore the innovation and application of new sports and health technology, bringing the scientific and convenient sports experience to global consumers.
The brand-new HUAWEI Health Lab includes an experimental smart wearable product testing area and a sports health innovation area. In the experimental smart wearable product testing area, the engineers have set up more than ten reliability tests based on strict standards. All of the HUAWEI smart wearables will stand up to destructive test repeatedly. Only those products that passed the test will be introduced to the market and eventually provide services to consumers. With more than 20 professional research devices, researchers simulate multiple exercise scenarios, collect fitness and health data, and continuously optimise Huawei's fitness and health data algorithms. In this way, all of the consumers with a different physical condition can obtain accurate fitness and health data from our wearable products.
"Smart wearables are tiny gadgets, but they bare big thoughts which guide consumers to a more scientific workout experience and a healthier way of life," said Richard Yu, CEO of Huawei's Consumer Business Group (BG).
"Today, Huawei's smart wearables are among the most popular devices on the market, and as a response to consumers' trust and loyalty, Huawei is committed to stay innovative, enhance R&D capabilities, and improve the professionalism in the field of sports and health technology to offer global consumers a scientific and healthy lifestyle," said Yu.
Huawei unveils its brand-new HUAWEI Health Lab for professional enhancement
In 2020, HUAWEI launched seven smart wearables to the market. Smartwatches such as HUAWEI WATCH GT 2, HUAWEI WATCH GT 2e, and HUAWEI WATCH FIT have won acclaim from global consumers for their professional fitness and health functions and product experience.
According to the market research report of IDC, a world-renowned market consulting firm, Huawei's wrist wearables ranked number one in the second quarter of 2020.
To provide global consumers with more advanced smart wearable products and ultimate fitness and health experience, Huawei's smart wearable and fitness and health R&D team spent nine months integrating existing R&D resources and introducing new professional research devices. After re-location and planning, Huawei's smart wearable and fitness and health R&D team has built the brand-new HUAWEI Health Lab to enhance innovation capabilities further.
Create precise algorithms and simple scientific workout experiences through complex R&D tests
The secrets to the birth of these scientific features are housed in the HUAWEI Health Lab. Over 40 researchers, developers and testers work together closely in the lab, actualising their passion for an active and healthy lifestyle with help from a wide range of specialised research equipment and innovative research methods. Behind the convenient health and fitness experience offered by Huawei wearable products, there is always a complex R&D process happened within the HUAWEI Health Lab.
During the development phase of HUAWEI WATCH GT 2 Pro's Golf Driving Range Mode, the indoor golf simulation device plays an important role. After 20,000 swings, more than 2,500 sets of professional data were collected, which algorithm engineers used to tune the algorithms to ensure that the feature provides the best possible experience for consumers.
To capture health data such as maximum oxygen uptake, running posture, heart rate and calories burnt when running, researchers at HUAWEI Health Lab has designed a core data collection system for running with the help of a foot pressure treadmill, cardio-metabolic mask, heart rate belt, optical gesture capture system and professional treadmill.
In 2020 alone, researchers have collected 10,900 hours of running data and a running mileage of around 105,000 kilometres[1]. These data are continuously verified and optimised by data algorithms to restore the actual physical state of people when they are running and are eventually applied to Huawei's wearable products.
Multi-disciplinary research group continually advancing Huawei's smart sports experience
"In the HUAWEI Health Lab, research equipment is not the only important element, but also our researchers and their innovative solutions," said Rico Zhang, President of Smart Wearable and Health Product Line in Huawei Consumer Business Group (BG). HUAWEI Health Lab is staffed by researchers and developers with a wide range of professional backgrounds, spanning many areas across the spectrum of sports and human sciences. They include professionals from sports and human physiology, training and physical education, sports rehabilitation, medicine, software engineering, algorithmic engineering, bioscience engineering, material hardware, structural design and test engineering.
"Together, this multidisciplinary group of researchers and developers have combined and exchanged their expertise to create an innovative new research methodology, turning this laboratory to an innovative workshop for a healthy lifestyle and enable smartwatch to act as a wrist-bound personal trainer, helping consumers to exercise scientifically and live a healthier life," said Zhang.
The first floor of the HUAWEI Health Lab is dedicated to reliability tests. Huawei's product testing engineers reference to the national and international standards in using mechanical equipment and software to simulate extreme usage scenarios and conduct durability tests on the hardware and software of Huawei's wearable products.
There are hundreds of reliability tests designed by the product team. Among them, a quarter of the test items belong to the extreme durability test. For the Huawei smartwatches and bands that are going to the tests, this is undoubtedly a journey of no return. If the test fails, they will be disassembled to analyse and sent to the factory to destroy.
"In the future, Huawei will continue to increase the investment in the field of sports and health, and build another sports health laboratory in Songshan Lake, Dongguan which will collaborate closely with more than 10 of Huawei's global science institutes, sharing R&D resources to build an innovative, industry-leading, and open Huawei sports health ecosystem. We also aim to provide consumers easy to use, professional and accurate health and fitness products," said Zhang.
With the rapid expansion of Huawei's sports R&D facilities matching the brand's growing repertoire of wearable devices to suit different consumer needs, the future certainly looks bright for Huawei's Smart Wearable and Health Product Line. For more information, please visit https://consumer.huawei.com/auor contact your local representative.
[1] Data comes from HUAWEI Health Lab.