Hardware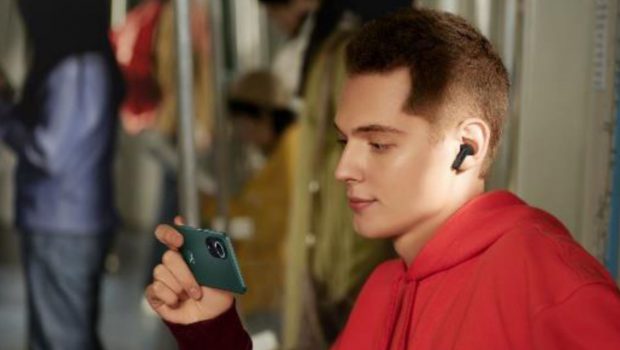 Published on March 7th, 2023 | by Adrian Gunning
HUAWEI launches affordable FreeBuds 5i amidst inflation
Huawei Consumer Business Group (BG) today launched its latest Hi-Res certified True Wireless Stereo (TWS) Active Noise Cancelling Earbuds, HUAWEI FreeBuds 5i.
With 46 per cent of Australians aged 18 to 34 years preferring earbuds1, the HUAWEI FreeBuds 5i are the perfect entry level earbuds offering a high-quality listening experience at a truly affordable price.
Offering an industry leading listening experience, with tuned design, noise cancellation and audio capabilities, the HUAWEI FreeBuds 5i inherits the sterling sound quality and active noise cancellation (ANC) from the FreeBuds series.
With Gen Z wallets kept at bay, the HUAWEI FreeBuds 5i also packs a stylish appearance and available in three fashionable colours to suit any style – 'Isle Blue', 'Nebula Black, and 'Ceramic White'.
Following R&D research and consumer feedback, The HUAWEI FreeBuds 5i are shorter in length and 11% lighter than its predecessor. The three different silicone ear tip sizes ensure a customised and comfortable fit2 to suit any discerning ear lobe.
AUDIOPHILES DELIGHT
HUAWEI FreeBuds 5i features a wider frequency response and full-link high-resolution sound designed to provide a more immersive and detailed listening experience for high-definition audio sources3, with greater clarity and richness of sound at low, medium and high frequencies.
1 Statista Headphones Australia 2023.
2 HUAWEI FreeBuds 5i is 11% lighter than HUAWEI FreeBuds 4i. Data comes from Huawei labs
3 The LDAC™ transmission protocol needs to be enabled on the playback device connected to the HUAWEI FreeBuds 5i.
Enabling LDAC™ can improve audio quality, while possibly affecting the battery life and causing freezes, depending on the operating environment.
With many these days choosing to wear one earbud to multitask, the FreeBuds 5i reduce low frequency loss whilst still delivering crystal clear audio with its 10mm dynamic driver unit which works in tandem with its polymer composite diaphragm. This unique feature ensures the listener hears every drum beat, string and key sounds.
It will also please those that like their music tuned up, the HUAWEI FreeBuds 5i will deliver surging booming bass and outstanding audio performance, making it an ideal choice for pop music lovers.
Featuring smart AEM EQ, which identifies the shape of your ear canal and adjusts the EQ settings accordingly, provides users with a personalised and optimal listening experience at every press of the play button.
PORTABLE YET POWERFUL
Weighing only 4.9g4 makes the FreeBuds 5i the perfect companion for listening to music, taking phone calls, watching movies and videos, gaming or exercising.
HUAWEI FreeBuds 5i is equipped with active noise cancellation, call noise cancellation and a transparency mode. Users will be spoilt for choice with three versatile options to choose from which adapt the effects to surroundings whether it be in a busy airport, train station, cafe or office5.
'Ultra' offers deeply enhanced noise cancellation popular for those who travel in busy airports and train stations. 'General' mode means you can still enjoy immersive music in crowded restaurants or cafés. Whilst 'Cozy' will assist in keeping you focused by reducing noise in workplace, libraries, and quiet environments.
Serving as an anytime listening companion the HUAWEI FreeBuds 5i deliver up to 28 hours of battery life when used with the charging case6. The bonus is if the listener forgets to charge them the night before a simple 15 minute charge will give the user an additional four hours of use7.
CLEVER CONNECTIVITY AND EFFORTLESS TRANSFERS
HUAWEI FreeBuds 5i offers seamless connection with two devices for automatic call switching.
The dual connection feature works with HUAWEI all-scenario devices including smartphone, tablet, PC and Watch, as well as with Android, iOS and Windows smart systems.
4 ±0.2g. Actual product size and weight may vary depending on the configuration and manufacturing process.
5 Noise cancellation may reduce your ability to perceive alarms and alerts in your environment. Please make sure that the ambient environment is safe before enabling this feature.
6 Battery life data comes from Huawei lab tests. The earbuds can support 28 hours of battery life at a medium volume level when playing audio in AAC format, with ANC disabled. Actual battery life will vary depending on the volume level, audio source, environmental interference, enabled features, and usage habits.
7 Fast charging data comes from Huawei labs. Fast charging will only take effect when the battery level of the earbuds is low. The earbuds can provide 4 hours of battery life at a medium volume level when playing audio in AAC format, with ANC disabled, after being charged for 15 minutes by a charging case with a battery level of over 80% or with a cable. Actual battery life will vary depending on the volume level, audio source, environmental interference, enabled features, and usage habits. Users can switch between music, meetings and calls between devices without manually switching connectivity.
GAMERS… HUAWEI'S GOT YOU COVERED

When earphones are connected to devices there is nothing more annoying than the delay between the sound played and the image played on a device. The HUAWEI FreeBuds 5i feature enhanced chip performance and algorithm optimisation to lower gaming latency8 ensuring onscreen actions are more immersive and rewarding.
Pricing and availability
HUAWEI FreeBuds 5i RRP is $159 and will be available for purchase in Australia from 20 February 2023 from Amazon and Huawei Authorised Experience Stores.
Launch offer: From the 20 February to 30 March, consumers can receive the HUAWEI Scale 3 as a gift with the purchase of HUAWEI FreeBuds 5i, valued at $79.